Last month I needed a quick idea for my son's kindergarten party.  We decided on a snowman theme, so I thought snow man snacks were in order!  There are a lot of cute snowman-themed snack ideas around, but they're all so complicated.  I don't want to hand draw faces onto marshmallows, tie licorice whip scarves or even stuff an orange mike-and-ike in a doughnut.  I just wanted stuff I could stick in a bowl and eat.  So I had our designer whip up these cute printables and after I posted a picture on Instagram and offered to share them, lots of you emailed me.  What I hadn't predicted, was that 90% of those people were hosting "Frozen" Snowman-themed parties.  I have three sons, so we saw the movie, thought it was cute, and that was that.  Apparently if you have daughters, they are in full-on Elsa mode and planning  parties around her sidekick.  Since according to the weather report on the national news, winter is still in full swing, I figure lots of you could still use these.  They make an especially great little snack/activity for play groups and preschools, too.  Enjoy!
The water bottle wraps are sized for the little mini bottles of water.  They're half the size of the standard ones and so perfect for little hands.  Costco sells them, but not all Costco stores stock them, so you might want to call and check first.  One of the stores in my area had them, the other didn't.  You can often find these little bottles at office supply stores, too.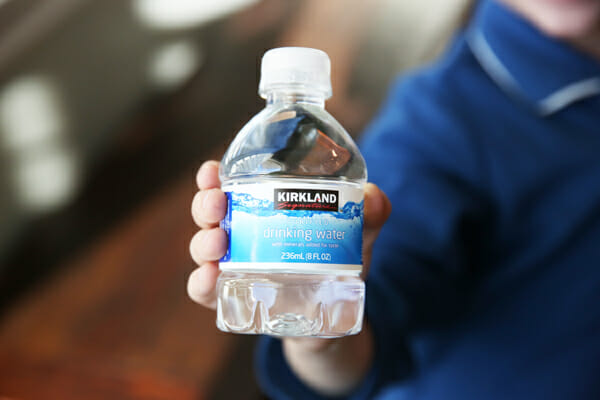 Tricky way to get away with serving plain ol' water 😉

Just a tip: when you're cutting these labels out, cut them horizontally across the whole sheet, but don't cut off the short ends.  You'll see what I mean when you look at the sheet.  You'll need the full width of the paper to wrap around the bottle.
There are two different sets of individual cards, these are my favorites, but there's also a sheet made like the very first image in this post, with a snowman in the middle of all the signs and the little "parts" in the corners.
You can get creative here- in fact I'd love to hear any ideas I don't mention!  These are just meant to be cute, not to actually "build" a snowman.  Just a fun play on words.
For the snow balls, I used powdered doughnut holes (and that was by far the most popular item at our party!)  Marshmallows would also be an easy option.
This isn't the right item at all, but I was out of stick pretzels!  Obviously use the sticks.
For the buttons, anything little and brown will work.  Chocolate-covered raisins, chocolate chips, Jr. Mints, Rolos…I used Whoppers.
And since it's all about balance (especially with the little ones) Carrot noses are little baby carrots.  A great way to serve these for little fingers is to use little cups- you could use a small dixie cup, a treat cup (like photo'd) or check the aisle of the grocery store with the foil and plastic bags for little disposable plastic snack containers.  They're smaller than a muffin cup and perfect for stuff like this.  Squirt some ranch dressing right into the cup and then add a few carrots.  It's a fairly non-messy way to serve carrots and ranch.
That's it.  For little mouths, it's a good amount and variety for a little snack.  Have fun with it!
Here's an image for pinning- hover your mouse over that image for the Pin button to appear!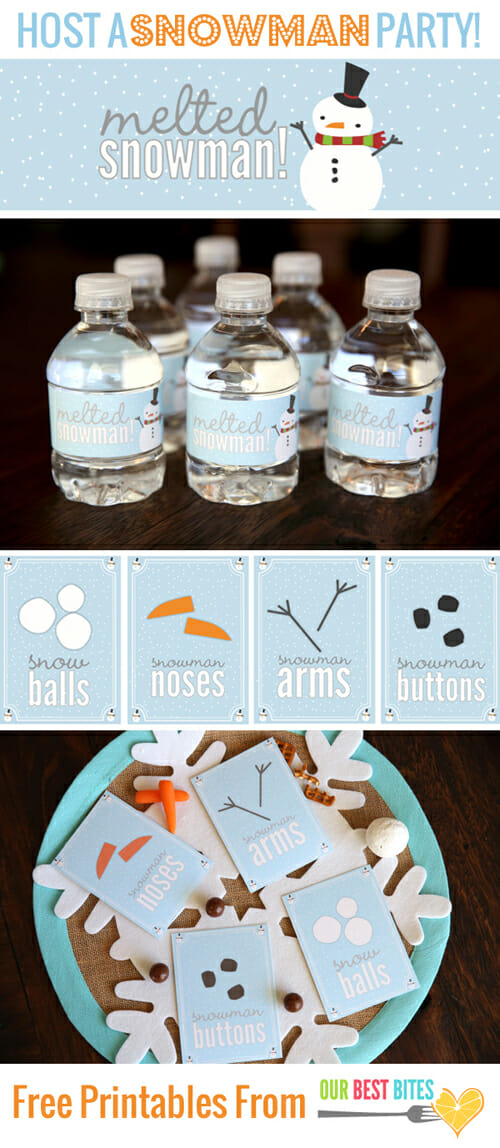 Click Here to Download the Printables!
If you haven't checked out the new Shop yet, click on over and take a peek!