The other night I had to run to the grocery store.
I generally do everything humanly possible to not take all of my children to the store with me at the same time, but this particular night I had no choice. It was just about bed time and everyone was cranky already when I realized I would need to pack them all up to get some things I'd need early the next morning. It was as chaotic as I had predicted, with general arguments and whining ensuing over which two would get to drive in the race car part of the cart, why we couldn't buy doughnuts and Cheetos, and why Mom made them put back the 12 packs of gum they grabbed while in the check-out lane. By the time I was trying to get everyone back into the car to head home, almost everyone was screaming (including me.)
I was half-bent over in the car trying to get car-seats buckled without getting kicked in the face, when I emerged and saw a gentleman standing at the end of my car. With a sweet smile he said, "I'm sorry, I didn't mean to startle you, I just wanted to see if I could offer you a hand. Can I take your cart for you?" I assumed he was passing by on his way into the store anyway and thanked him kindly. My cart was still full of groceries so we quickly unloaded them. The man told me he had a few grandchildren now, but he had raised three boys of his own and remembered what it was like to have your hands full.
We only chatted for a brief moment; I thanked him again and off he went, wheeling my giant race car cart back into to the store. As I was driving away, I noticed the man coming back out of the store. It wasn't until then that I realized he had armfuls of his own groceries and he had trekked all the way across the parking lot to help me before returning to his own car.
And that's when I felt a few little girly tears welling up in my eyes. And I suddenly felt an immense surge of gratitude for someone I didn't know, for an act of kindness that was so simple, yet so meaningful to a stressed out, tired Momma at the end of a long day.
I wish I knew who that man was so I could thank him with a big plate of cookies, now that I'm not so frazzled. But since I don't, I'm going to serve up some virtual cookies in his honor and as a little reminder of how important it is to look beyond ourselves and find opportunities to do kind deeds, and also to pay it forward when they're received. I'm so thankful for little reminders of goodness in the world. It seems the media, and social media are constantly throwing the disturbing, the depressing, and the shocking in our faces that sometimes it's nice to recognize plain ol' warm fuzzy moments. Here's to you Mr. sweet-parking-lot-guy-who-made-my-night. Have a virtual cookie!
Sometimes "snickerdoodle" recipes are nothing more than sugar cookies, rolled in cinnamon sugar. And sometimes they're puffed and fluffy. A true snickerdoodle isn't fluffy; it's chewy. It should sink down after baking so it gets a crinkly top and perhaps most importantly, it should have a signature tang, from this: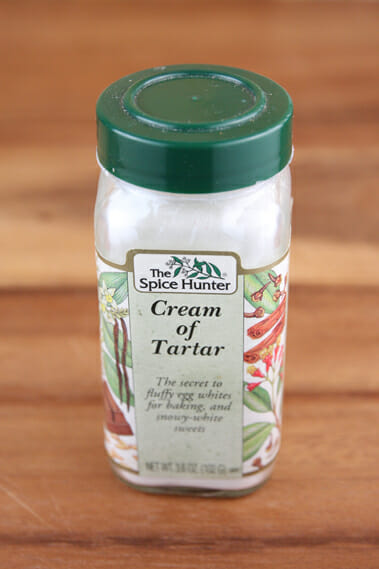 Have you ever wondered what cream of tartar even is? It's actually a by-product of the wine making process. It's a residue that's formed as the grapes ferment. It has many uses in cooking, maybe most commonly to stabilize egg whites in meringues, but it also prevents crystallization of sugar so it's often used in syrups, caramels, candies, and icings. It's a common ingredient in baking powder as well, so in certain recipes it's used for it's leavening abilities. You can buy it near the seasonings and spices in the grocery store, or sometimes near the baking soda and powder. In this particular recipe, it does aid in leavening, but also adds the unique flavor. I've heard people say before that they love snickerdoodles, but they don't like the taste of the cream of tartar in them. If that's the case, then you don't really like snickerdoodles! I love this particular recipe because the cookies taste so buttery and have the perfect chew, and y'all know I love a chewy cookie.
Start by creaming a combination of butter and shortening, with sugar for several minutes. Then add the dry ingredients and mix until combined.
Do you have one of these beaters for your KitchenAid? You should.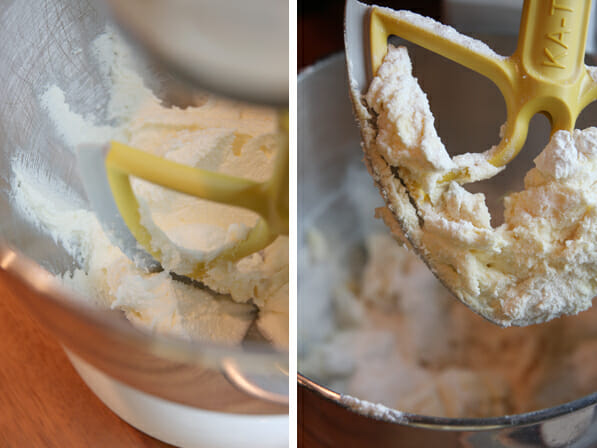 The dough is quite soft; don't don't don't add more flour.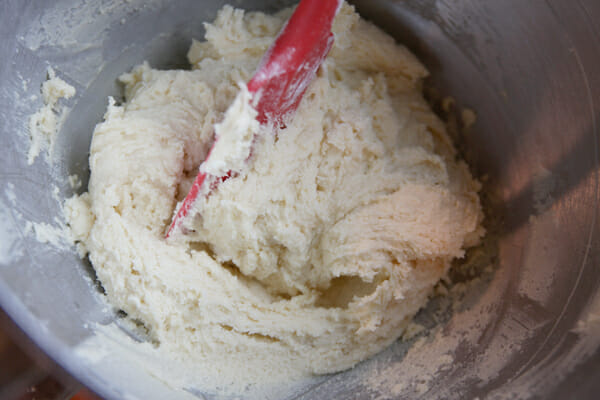 Roll the dough into balls and give them a dip in some cinnamon-sugar. Give your finger a dip too.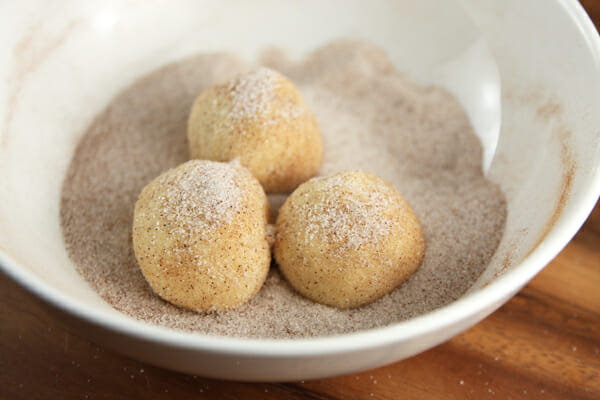 Place them on parchment lined cookie sheets, and remember they'll spread, so give them a little space.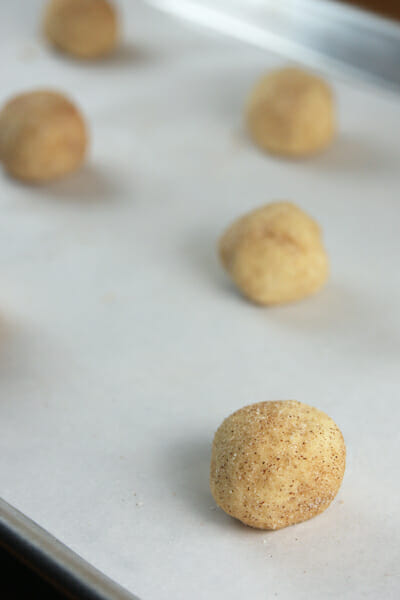 Cooking time here is pivotal; if you overcook these snickerdoodles then they will be "thin and crispy" instead of "soft and chewy". The trick is to watch the edges first; they should be just set, but the centers should still look raw between all of those cinnamon cracks. The cookies will be pillowy and puffy looking while in the hot oven,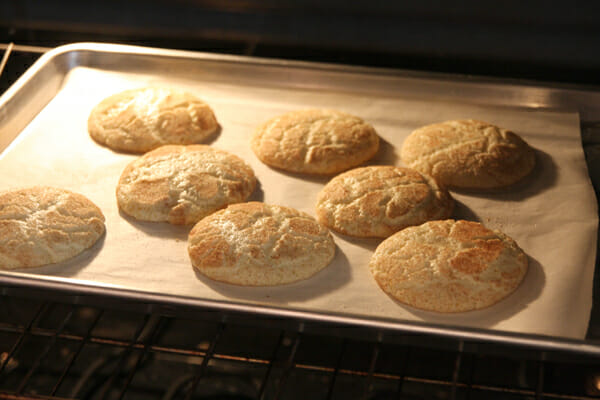 and when they come out they'll start to fall- which is what they're supposed to do!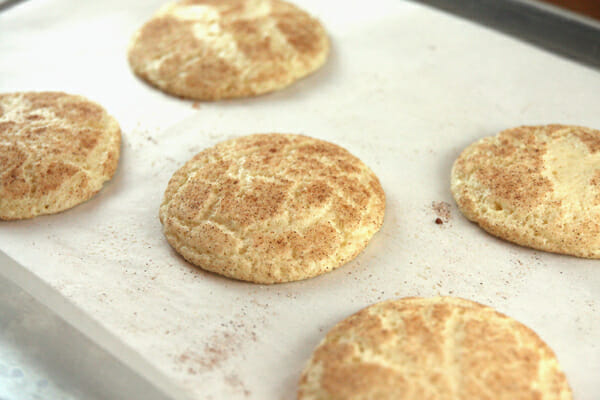 That's how they get those beautiful crackly tops. After they've cooled, they'll flatten out even more.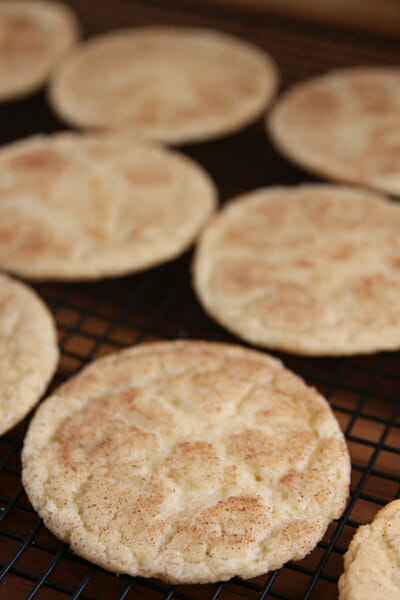 When cooked just right; they're perfection. And when cooked just wrong- they actually still taste super good, so either way you'll get your yumminess.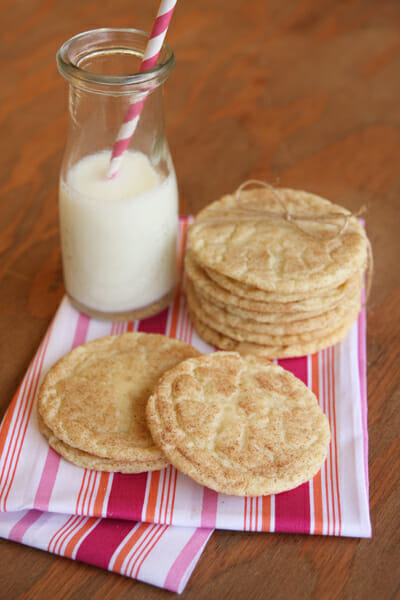 Fill up your cookie jar, or eat a few and then hide them in the depths of your freezer if you have no self control. Like me no one I know.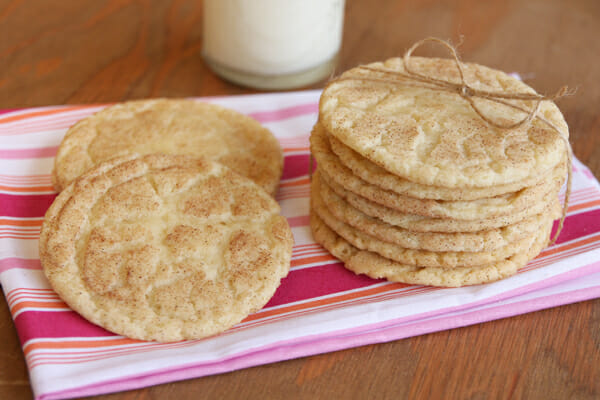 Once cooled, those slightly under-cooked centers become perfectly cooked and yield a soft, chewy, buttery, interior.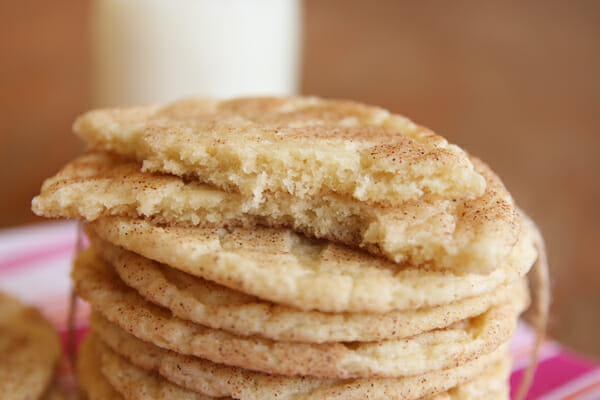 Go on. You know you want to make them.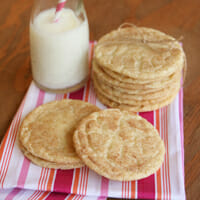 Soft and Chewy Snickerdoodles
---
Description
A true Snickerdoodle recipe, in all of it's glory!
---
1 3/4 cups

sugar (

12.25 oz

), divided

1 tablespoon

ground cinnamon

2 1/2 cups

(

12.5 oz

) all-purpose flour

2 teaspoons

cream of tartar

1 teaspoon

baking soda

1/2 teaspoon

table salt*

8 tablespoons

(

1

stick) unsalted butter* (not margarine) at room temp

8 tablespoons

vegetable shortening

2

large eggs
*if using salted butter, just omit table salt
---
Instructions
Preheat oven to 375 degrees. line 2 baking sheets with parchment paper. Combine 1/4 cup sugar and cinnamon in shallow dish and set aside. Whisk flour, cream of tartar, baking soda, and salt together in medium bowl.
Beat butter, shortening, and remaining 1 1/2 cups sugar together on medium speed until light and fluffy, 3-6 minutes. Beat in eggs, one at a time, until incorporated, about 30 seconds, scraping down bowl as needed.
Reduce speed of mixer to low and slowly add flour mixture until combined, about 30 seconds. Give dough final stir to ensure that no flour pockets remain.
Working with 2 tablespoons of dough at a time, roll into balls. Working in batches, roll dough balls in cinnamon sugar mixture to coat and set on prepared baking sheet spaced 2 inches apart.
Bake 1 sheet at a time until edges of cookies are set and just barely beginning to brown, but centers are still soft and puffy, about 10-12 minutes. The cookies should look raw between the cracks and seem underdone. Let cookies cool on baking sheet for 10 minutes, then transfer to a wire rack and let cool to room temperature. Makes about 2 dozen 3-4 inch cookies.
---
And now for the questions-I-already-know-are-coming section…
Q: These look great! But can I leave out the cream of tartar or substitute something else? I don't have any and I think it tastes funny.
A: No ma'am. Or sir. Or whoever you happen to be. In the words of CI, "Cream of tartar is essential to the flavor of these cookies and it works in combination with the baking soda to give the cookies lift; do not substitute baking powder." If you don't like cream of tartar, then guess what? You don't like Snickerdoodles! Make a sugar cookie instead.
Q: Did you know that shortening causes obesity, birth defects, chronic foot odor, and the avian bird flu? It's true. I refuse to use it, and you should too. After I'm done lobbying congress to stop the production of Crisco, can I make these with all butter?
A: Can you make them with butter? Of course you can. You could also make them with margarine, applesauce, or a bucket of rocks. You all should know by now how much we support butter usage, so of course they will taste yummy. But shortening plays a key role in this cookie. Combined with the butter it gives optimal texture while allowing the flavor of the butter to come through. If you leave the shortening out, cookies will spread more, have a crispier texture, and lack chewiness. Will they taste good? Of course! Just know we call for ingredients for a reason.
Q: Hi, I want to make these but I live in [insert foreign country of your choice here] so I don't understand all this nonsense about cups and tablespoons. Can you please convert the recipe to every other existing measuring system for me?
A: One word, my friend: Google.
Q: Sara, how do you know all the things we're going to ask before we ask them??
A: I'm a genius.
*Disclaimer: These posts contain affiliate links.