So I've been on the hunt for a good cut biscuit for a long time. We have our Cat Head Biscuits, which are magical in just about every way, but they're also very, very large (as big as a cat's head, not actually made with the heads of cats–let's just clear that up before things get weird.) We have scones. We have flavored biscuits. But no good ol' circle-shaped Southern-style biscuits. And I've made a lot (Alton Brown, I love you, but that biscuit recipe of yours that I tried was as disappointing as staying in a hotel with a toddler for the first time.)
And then I found this recipe on Food.com. It was simple (so it didn't involve two different kinds of fat, three different kinds of flour, and the tears of virgin unicorns), it was fast, and it had rave reviews. So I decided to give it a shot. And these biscuits were everything I was hoping for–quick and easy, fluffy and layered (but not too flakey), perfect for butter and jam or biscuits and gravy.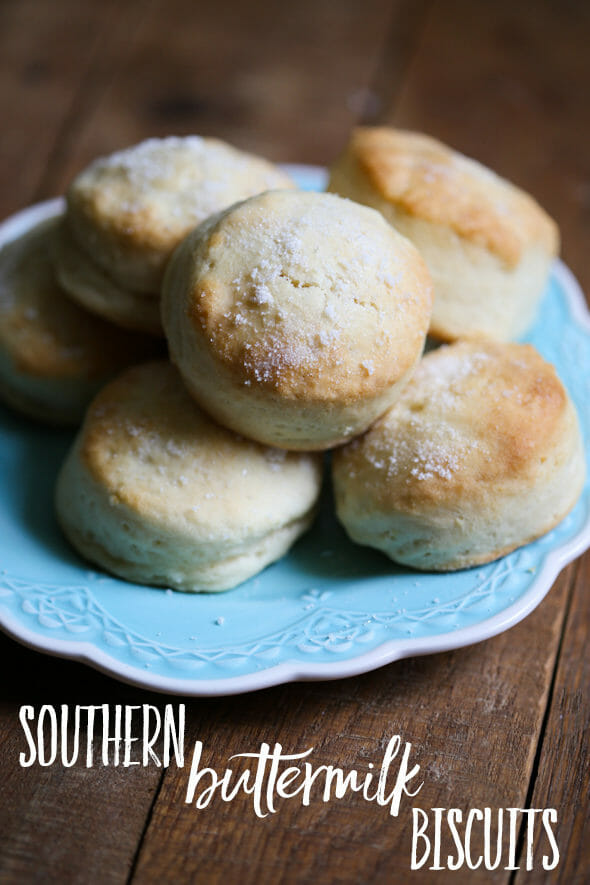 Preheat your oven to 450 F and line a baking sheet with parchment or a silicone baking mat.
You're going to need 2 cups of all-purpose flour (lightly spooned into measuring cups and leveled with a knife), some baking soda, baking powder, and kosher salt.
A food processor reeeeeeally comes in handy here. I know, I know, people have been making biscuits by hand since the beginning of time, and it's still totally do-able. But. It's really easy to over-mix the dough when you're doing it by hand and it's just really easy, period, to do it in a food processor. This is the newer version of the machine that I have and I highly recommend it–I've had mine for about 10 years and KitchenAid has been nothing but a delight to work with (and they're not paying me to say it–long before my food blogging days, the handle of my work bowl cracked and I was outside the warranty window and they sent me a whole new machine. I've been hopelessly loyal to them since.)
Combine the dry ingredients in the bowl of your food processor…
and pulse the dry ingredients a few times. Then chop up 6 tablespoons of cold butter.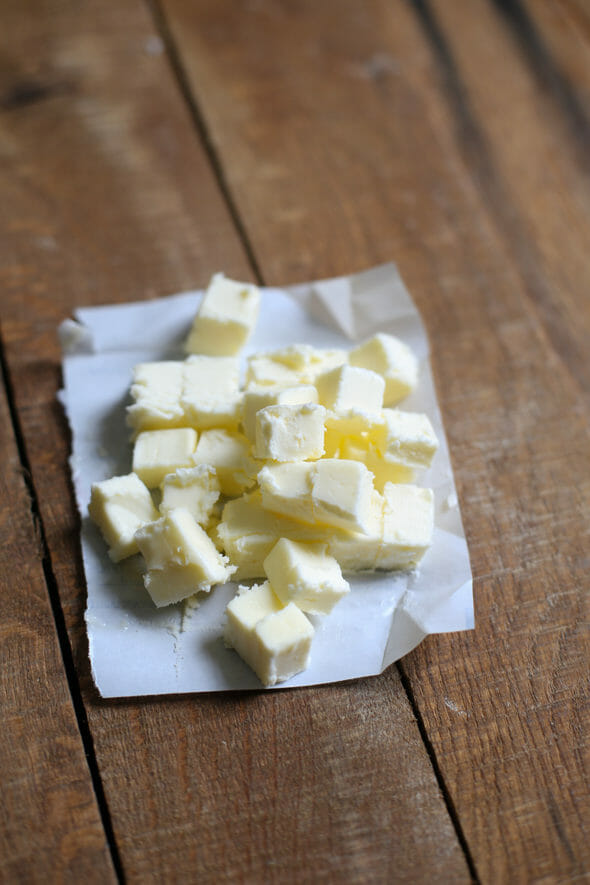 Add the chopped butter to the flour mixture and pulse until it resembles coarse meal.
Add 1 cup of buttermilk or plain kefir (remember when I talked all about that here? Yeah, that happened.) Pulse until just combined. The mixture should be quite moist and sticky.
Flour a work surface and turn the dough out onto the floured surface.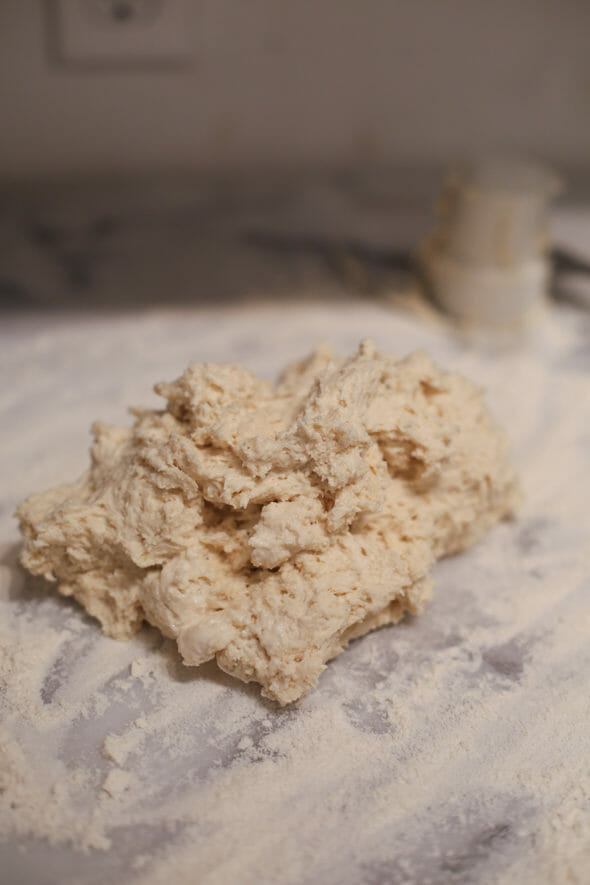 With floured hands, gently pat the dough down until it's about 1″ thick. Fold the dough in half horizontally, then vertically, repeating until you've folded the dough 5 times.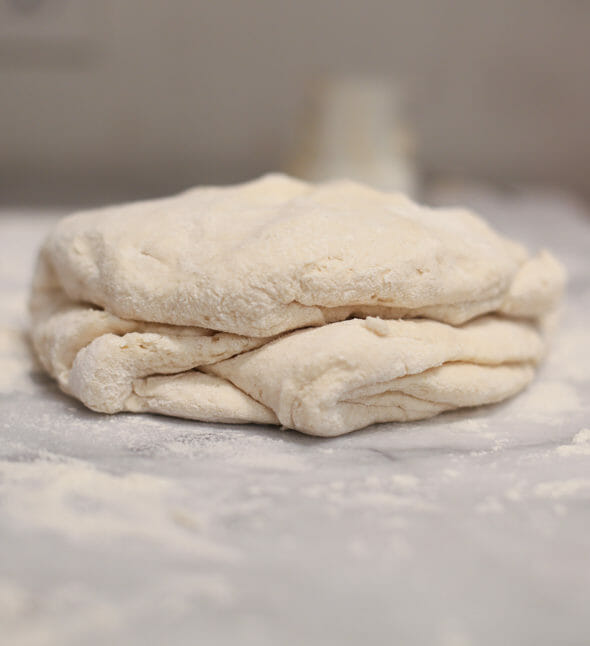 Gently pat (don't roll…just leave that rolling pin alone and no one will get hurt) the dough into a disc about 1″ thick. Be sure to handle the dough as little as possible–the less you touch it, the better your biscuits will be.
Using a biscuit cutter that's about 2″ in diameter, cut the biscuits out–I get about 8, then gently press the scraps together and can get two more biscuits that aren't nearly as soft and delicious as the first 8. Place them on the baking sheet. These will not spread at all, so you can stick them close to each other–the closer they are, the softer they'll be. I could have gone a little closer. I like my biscuits soft.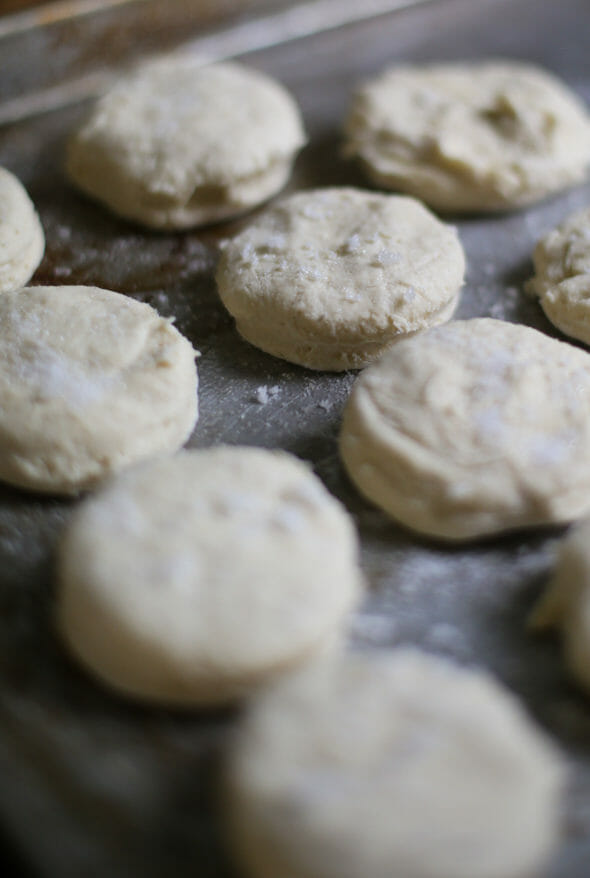 If you want, brush some melted butter on top and sprinkle them with a little sugar. It's hard to go wrong with butter and sugar, even if you're planning on going savory with these guys.
Bake the biscuits in the preheated oven for 10-12 minutes or until just golden on top–you really don't want to overbake them. Remove from the oven and serve however you want–hot, cold, right now, tomorrow. It doesn't matter. You made biscuits and you should get a medal.
Print
Southern Buttermilk Biscuits
---
2 cups

unbleached all-purpose flour, lightly spooned into a measuring cup and leveled with a knife

1/4 teaspoon

baking soda

1 tablespoon

baking powder

1 teaspoon

kosher salt (reduce to

1/2 teaspoon

if using salted butter)

6 tablespoons

very cold butter, cut into chunks

1 cup

buttermilk or plain kefir
---
Instructions
Preheat oven to 450 F.
Place dry ingredients in the bowl of a food processor fitted with a chopping blade and pulse a few times to combine. Add chopped butter and pulse until the mixture resembles coarse meal.
Add buttermilk and mix until just combined. The mixture should be very moist.
Dust a work surface with flour and dust your hands with flour. Transfer the mixture to the floured work surface and gently pat until about 1″ thick.
Fold the dough in half horizontally, then vertically, repeating so you fold the dough a total of 5 times. Gently pat into a circle about 1″ thick and use biscuit cutters (I use 2″) to cut the dough. You should be able to get about 8 biscuits, then gently pat the scraps back together and cut two more biscuits. Place close to each other on a baking sheet and brush with melted butter and lightly sprinkle with sugar.
Bake for 10-12 minutes or until the tops are golden. Remove from oven. These can be served at any temperature.
---
Notes
The key to these biscuits being light and fluffy is handling the dough as little as possible. Mix, fold, and press the dough just enough to get the job done.