We're thrilled to be bringing you another stunning recipe, featuring AMERICAN HERITAGE® Chocolate- and offering an amazing giveaway as well! You all already know that we love this chocolate because we share a love with the brand of both Baking and American History. This holiday season, AMERICAN HERITAGE Chocolate has partnered with Chef Justin Cherry, who specializes in creating modern recipes based on recipes straight from the pages of historic manuscripts.  In their new (free!) Historic Holiday Baking Guide, you can try a collection of these recipes with an ode to our nation's culinary history (like this beautiful pound cake!)  If you have kids focusing on their schooling from home this year, what an amazing way to teach a little history in the kitchen!
GIVEAWAY!
The bonus for you? When you click here and download this recipe book, you are automatically entered to win our amazing Baking Bundle!  It includes a KitchenAid Stand Mixer, a Nordic Ware Anniversary Bundt Pan, AMERICAN HERITAGE® Baking Chocolate and this cutest-ever Kids Baking Set!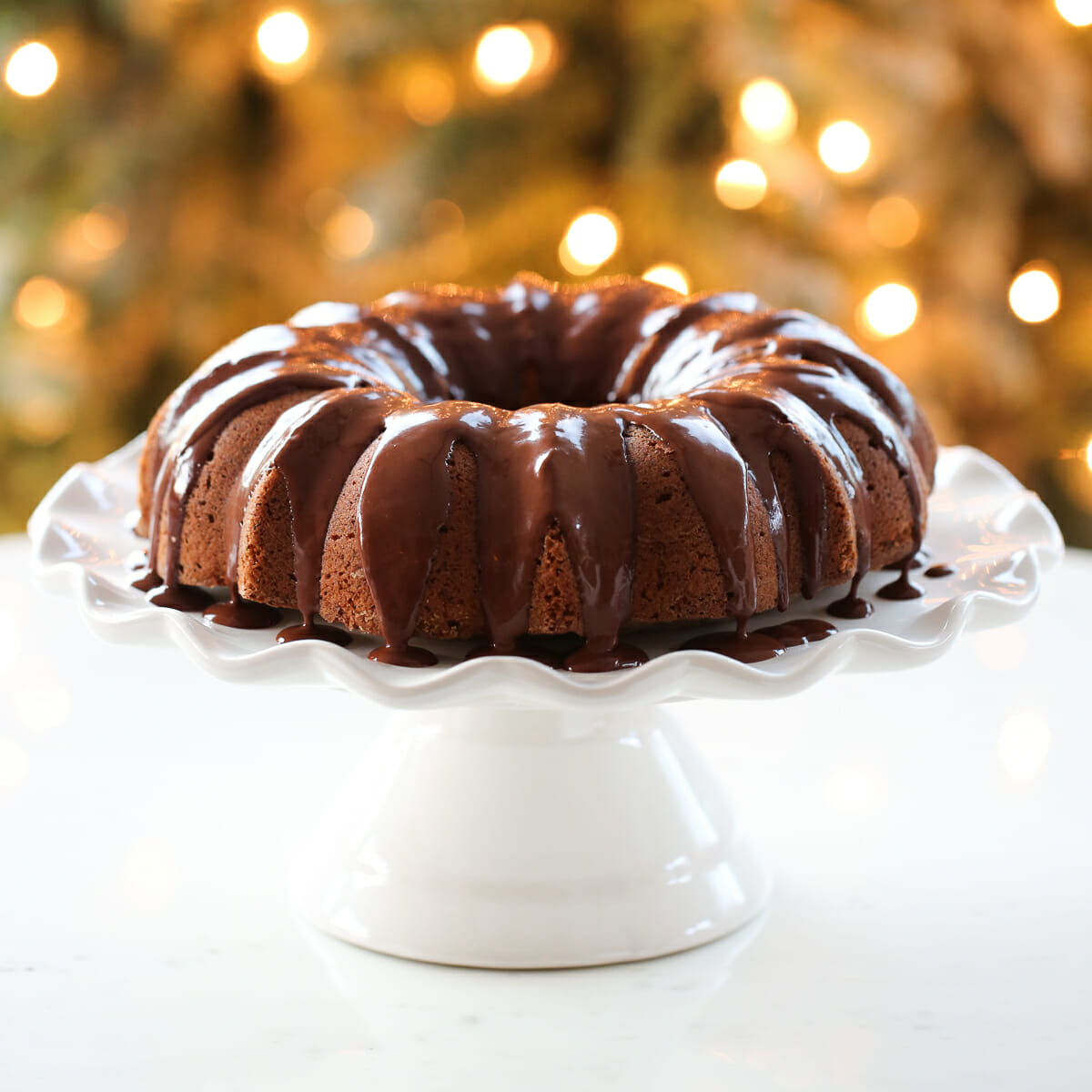 How to Make this Speckled Chocolate-Glazed Pound Cake
This recipe is from a family who settled in Maryland in the late 17th century. This style of cake was quite common being heavily egg-based with no leaveners. It gets its signature chocolate speckles from using grated chocolate.  You can purchase AMERICAN HERITAGE Finely Grated Baking Chocolate, based on an authentic historic recipe from the 18th century,  in ready-to-use bags right on Amazon!  This high quality chocolate has hints of vanilla, orange, and cinnamon and adds a unique flavor you can't find in any other chocolate.  We love the finely grated texture that makes it easily scoop-able right out of the bag.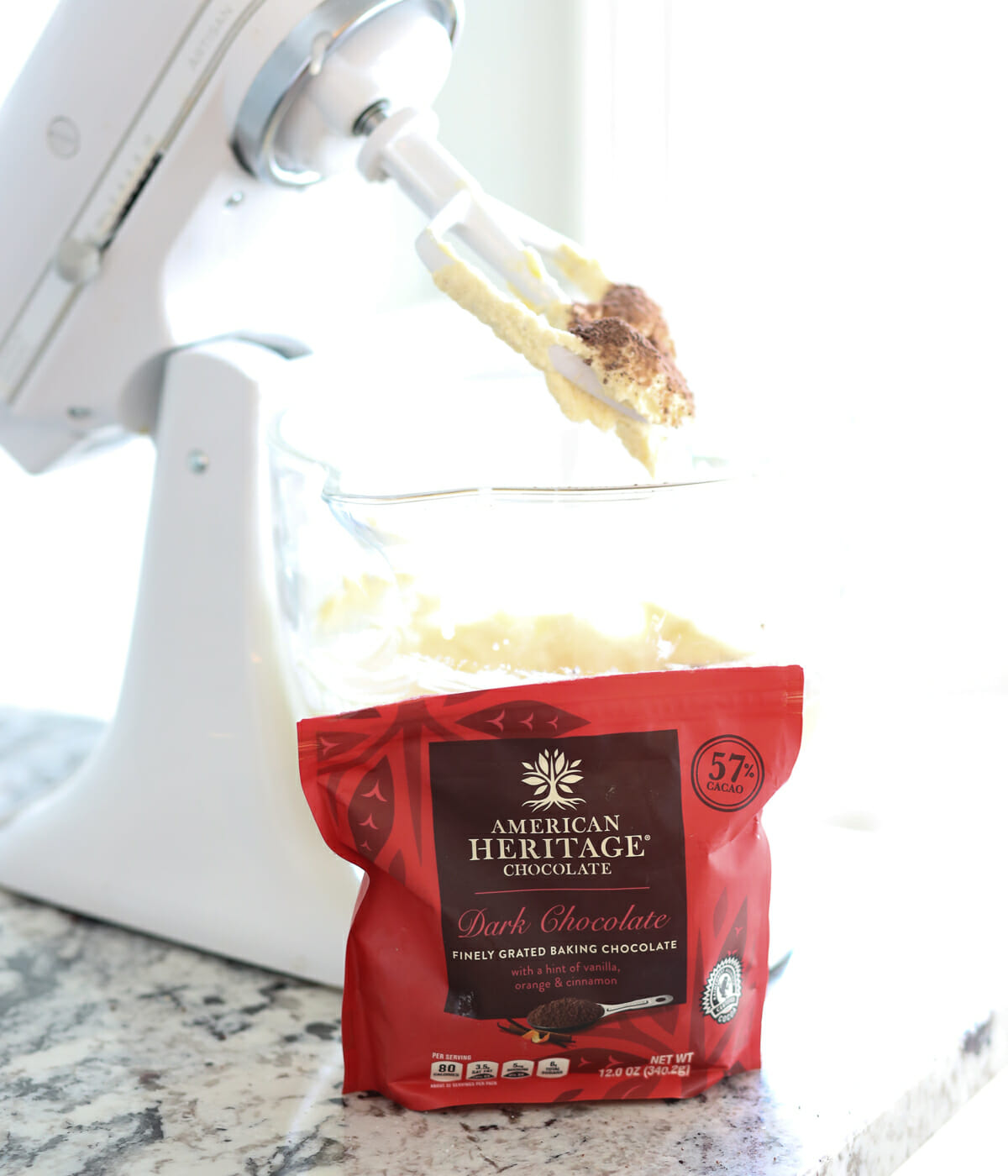 You can see how the finely grated chocolate distributes throughout the cake, adding flavor, that melts into the tender crumb as it bakes.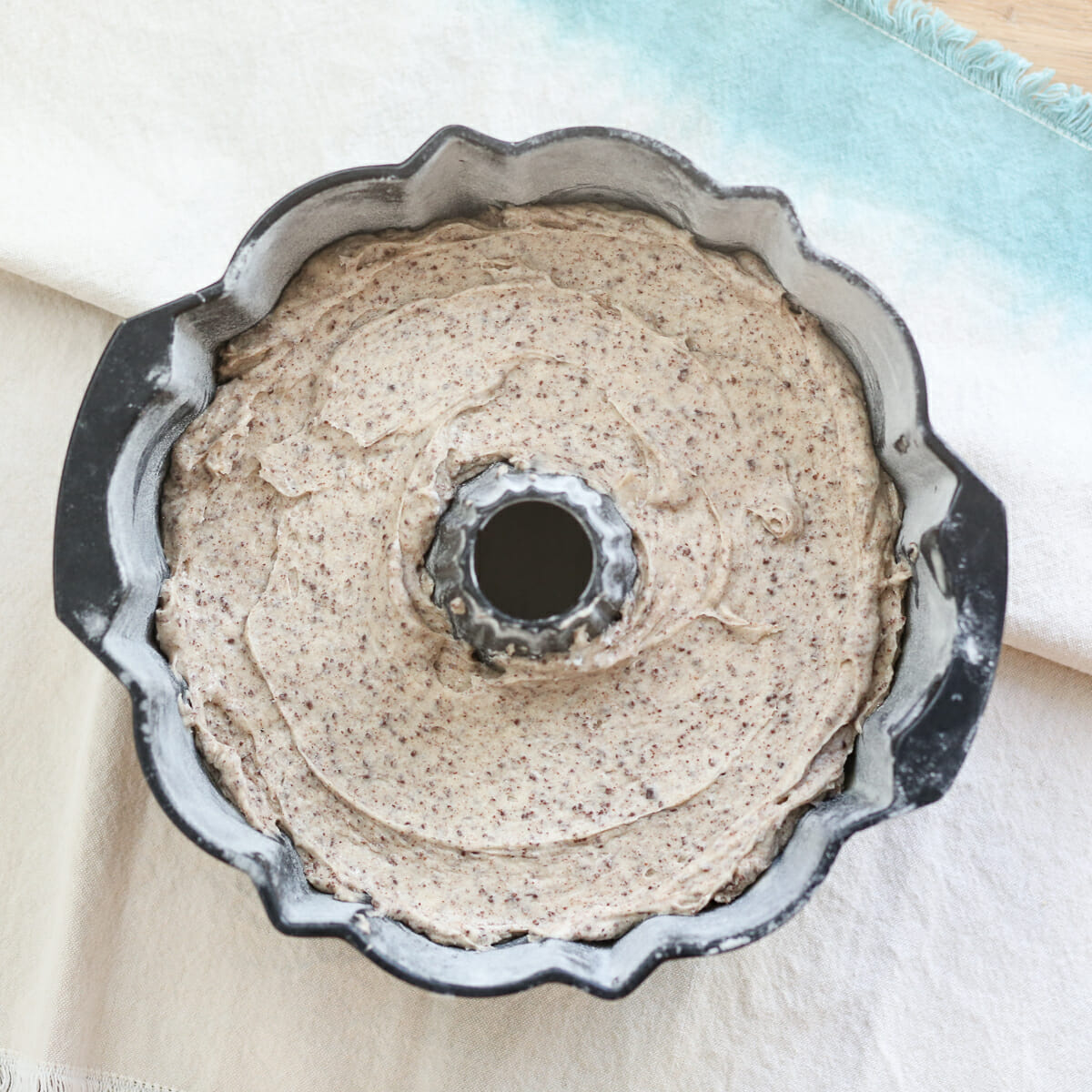 Once the cake has cooled enough to remove it from the pan, you can invert it onto a cake platter to await the finishing touch: a rich chocolate glaze.
How to Make the Chocolate Sauce
This simple ganache comes together quickly with AMERICAN HERITAGE Chocolate, heavy cream, and just a touch a buttermilk-which adds a delicate balance to the flavor. You'll also see an egg white whisked in for body and sheen.  I actually chose to forego the egg white and instead added an extra 2 tablespoons of finely grated baking chocolate instead.
Drizzling warm chocolate over a perfect bundt cake is one of life's greatest simple pleasures.  There's plenty of ganache, so feel free to be generous!
This cake is as delicious as it is gorgeous.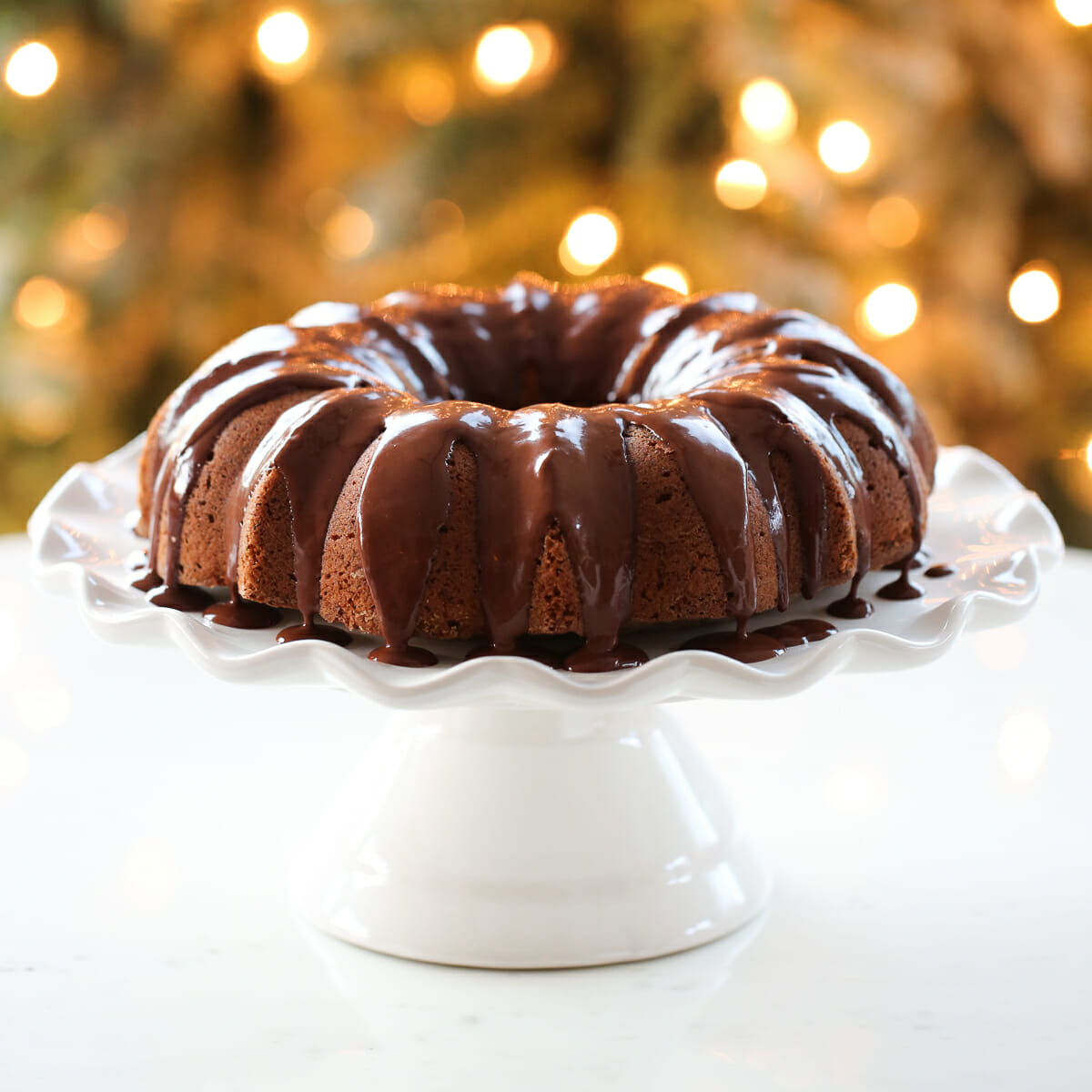 The crumb is rich and buttery, and the little flecks of chocolate add to both the presentation and the deep flavor profile.  The addition of silky warm chocolate sauce makes for the perfect holiday (or any time!) dessert.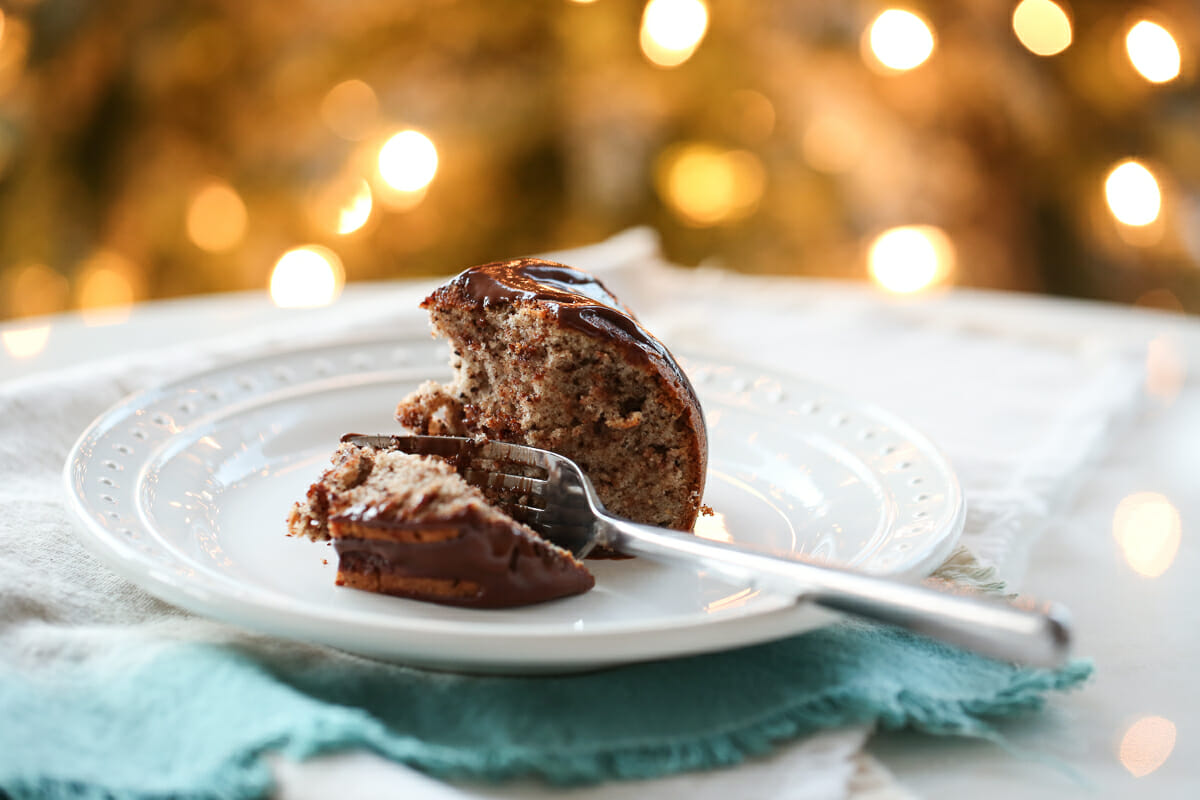 Remember to Click Here to download your own copy of the AMERICAN HERITAGE Historic Holidays eZine and be automatically entered to win our fabulous Baking Bundle!
Print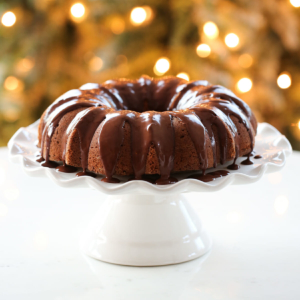 Pound Cake with Grated Chocolate
---
Description
This recipe is based on an original which appeared in an account book of the early 19th century, but the recipe is from a family who settled in Maryland in the late 17th century. This style of cake was quite common being heavily egg-based with no leaveners. The addition of chocolate is a modern approach but it's like they were meant to be together!
---
FOR THE CAKE:
2 cups all-purpose flour
1 1⁄3 cups sugar
1 cup butter softened
2⁄3 cup AMERICAN HERITAGE Finely
Grated Baking Chocolate
1⁄2 cup heavy cream
5 eggs separated
1 tsp freshly grated nutmeg
1⁄2 tsp salt
FOR THE CHOCOLATE SAUCE:
1 egg white
1 cup AMERICAN HERITAGE®
Finely Grated Baking Chocolate
1 cup heavy cream (slightly warmed)
1⁄4 cup Buttermilk
---
Instructions
Step 1: Cream butter and sugar together in tabletop mixer
until smooth. Mixing on slow, add the egg yolks then the
heavy cream, stopping to clean the beater if necessary. Next
add the salt, nutmeg, and chocolate. Mix thoroughly. Add
flour 1⁄2 cup at a time until all is mixed in. Transfer to another
bowl using a spatula, and set aside.
Step 2: Preheat the oven to 350°F. Whisk the egg whites
with the whisk attachment of your mixer until they form stiff
peaks. Fold the egg whites into the other mixture gently.
Grease a 10-inch bundt cake form very well. Pour the batter
into cake form. Bake at 350°F for 45 minutes.
Step 3: For the chocolate sauce, slightly warm the cream
over low heat and add the chocolate and stir. Next add the
buttermilk and remove from heat. When the sauce is warm to
the touch, whip in the egg white and temper. Drape the sauce
over the cake and enjoy!
---
Terms & Conditions: this giveaway is sponsored by AMERICAN HERITAGE® Chocolate. Giveaway open to US residents only.