Hey just a heads up! St. Pat's sale going on in our Shop!  Use code "Luck" for 15% off your order!  Click Here to shop your heart out. 
Now, If you follow my friend Mel, you've probably seen the rock salt roasted chicken she raves about.  I've honestly never had much luck with oven-roasted whole chickens so I was excited to give her unique method a try.  Then I noticed her Honey BBQ version and when I saw it was rubbed in a seasoning mix and glazed with honey, I knew exactly what I was going to do.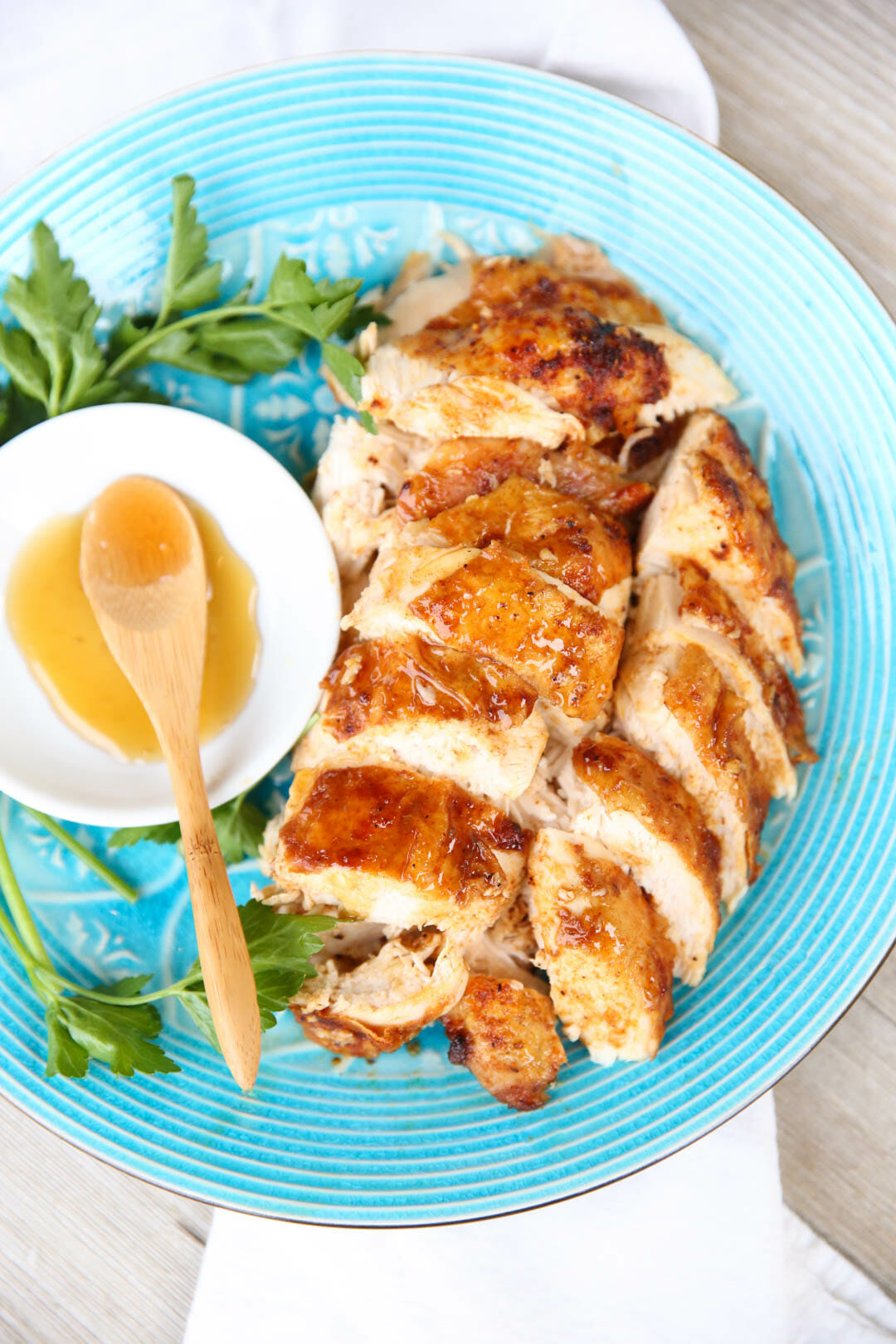 One our most beloved recipes around here is this Spicy Honey Chicken (if you don't like spicy, don't be turned away, I actually make it with zero heat.)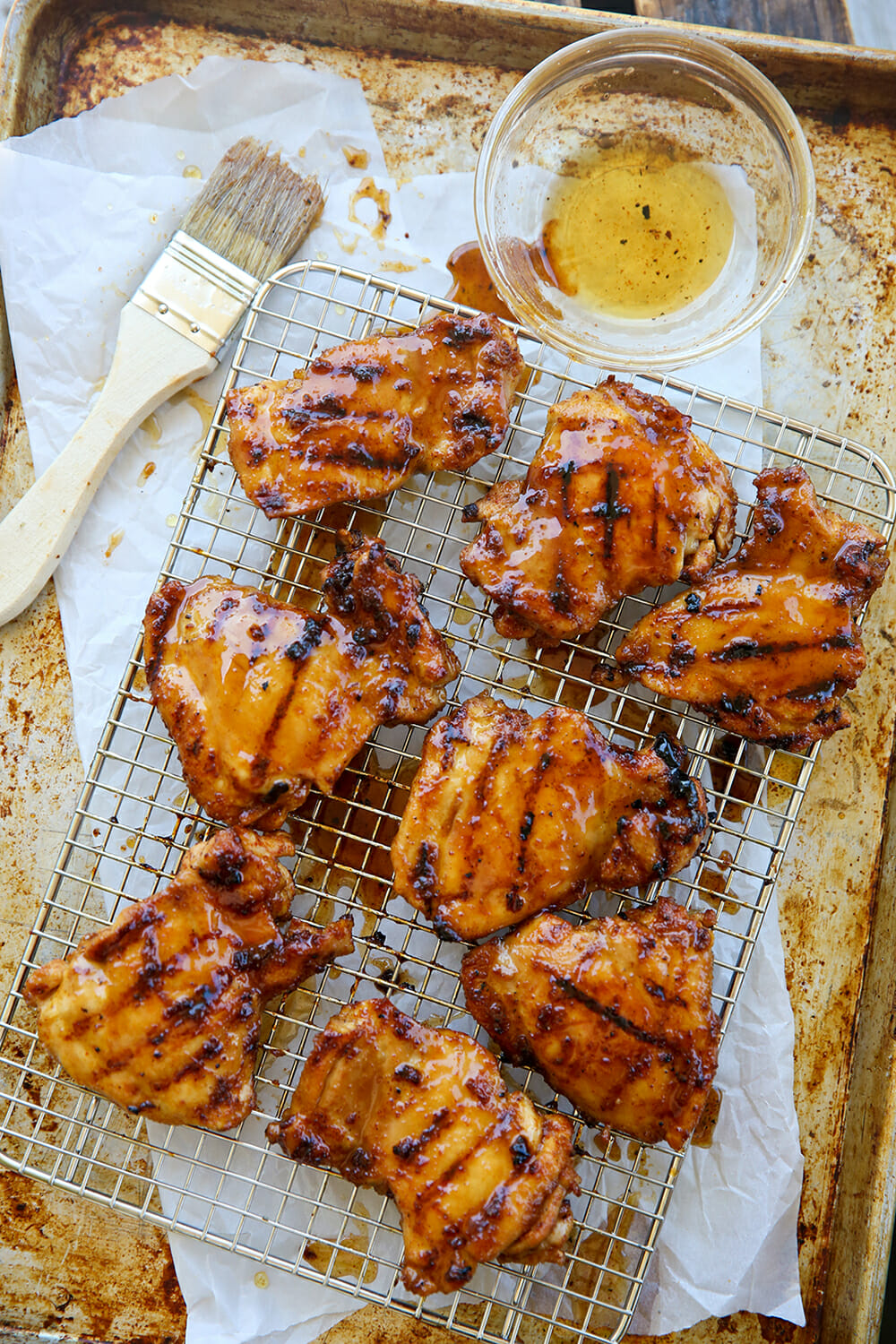 They're spice-rubbed chicken thighs, grilled to perfection and then drenched in the most amazing honey-apple-cider-vinegar glaze.  I decided to marry these two recipes together and it proved to be a good decision.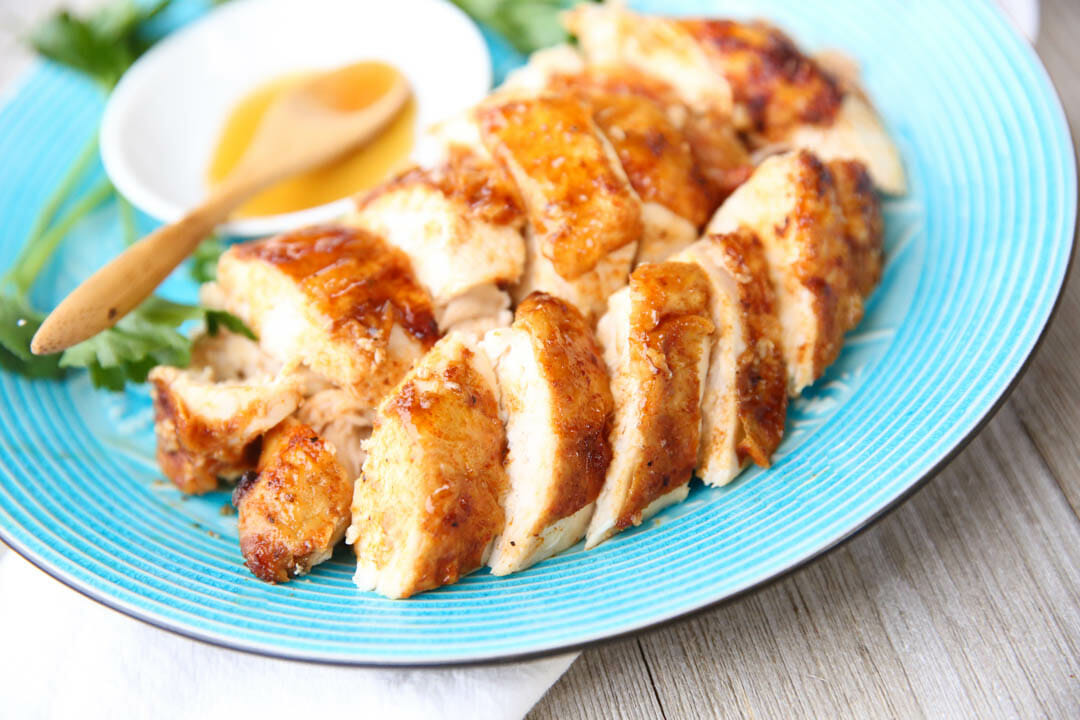 So the interesting thing about this method is that your chicken roasts on top of a pile of rock salt.
I don't know all the science-y answers as to why this works, but I do know that salt does magical things to meats; it's why we brine so many cuts of meats in a salt water solution before cooking, and why when you let a steak sit salted, at room temperature before grilling, it turns out a million times better.  And no, none of these things make your food actually taste overly salted.  So for this recipe you'll want an entire box of rock salt, often labeled "Ice Cream Salt".  You can find it near all the other salt at the grocery store, often on the bottom shelf.  The entire box cost me $1.27 so it's not expensive.
You'll spread it out in a 9×13 pan and your chicken will sit right on top of it.  I stuffed a lemon, and parsley and garlic inside the bird and then rubbed my chicken down with our Smoked Bacon Extra Virgin Olive Oil.  This is such a perfect use for that oil; it adds the perfect smoky, meaty flavor.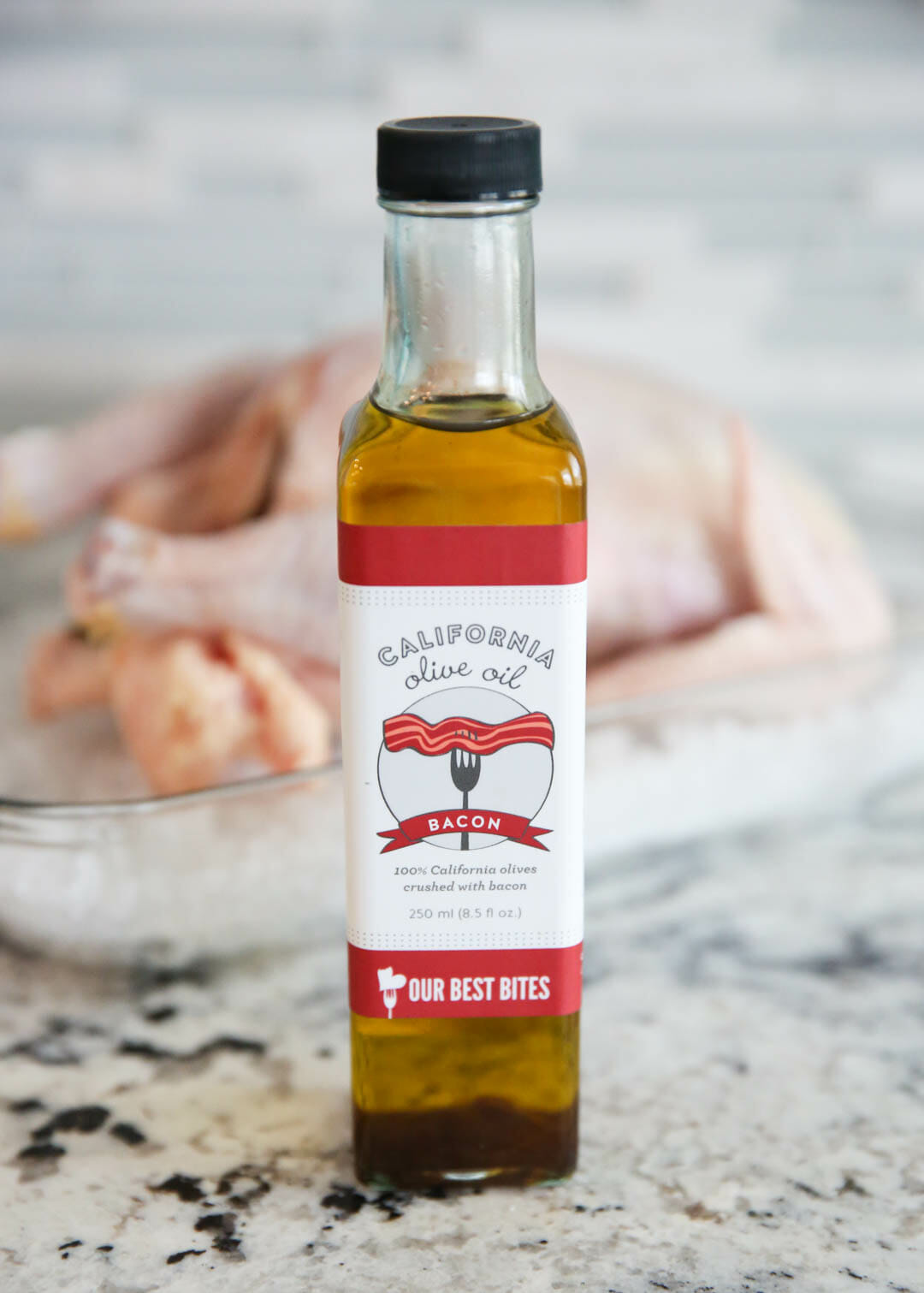 Then I sprinkled on our Spicy Honey Spice Mix of  garlic, chili powder, onion powder, coriander, kosher salt, cumin, and chipotle chili powder (if you don't want any heat, go light on the chipotle or leave it out all together.)
You'll roast the chicken on one side for half the time, then flip it over and finish roasting.  My Dad always did this with our Thanksgiving turkey, with the idea that roasting breast-side down at first causes the juices to accumulate in that part, and flipping them over at the end creates a nicely browned, but super juicy breast section.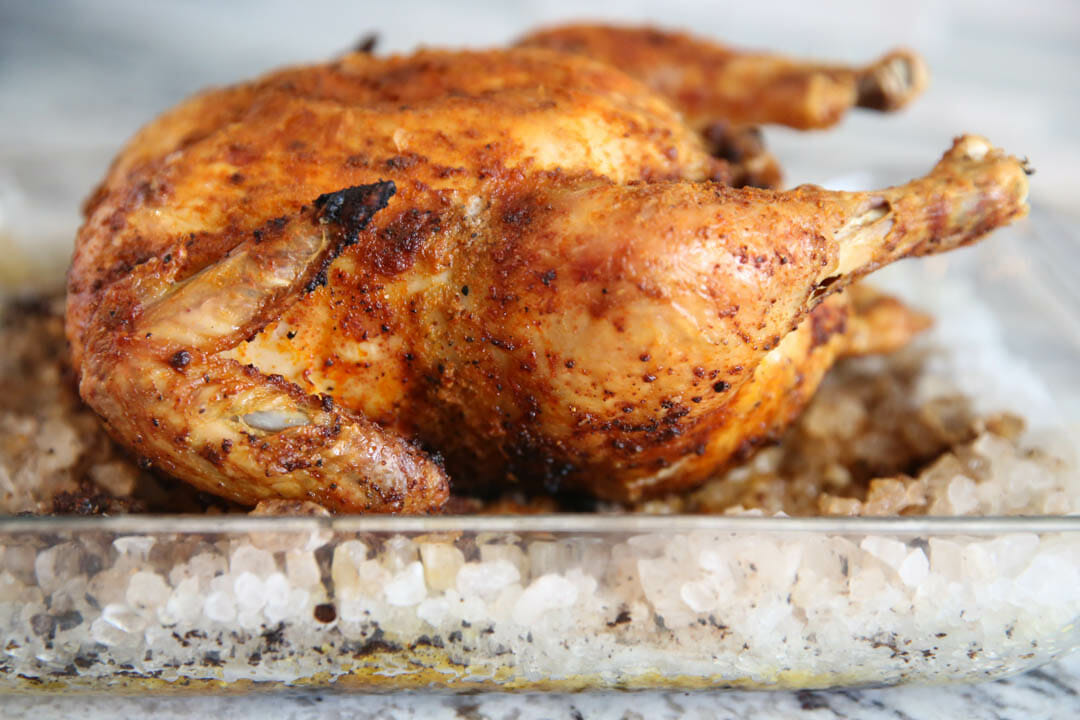 When it comes out all done, you'll cover it in that sweet and savory glaze.  When it combines with the spice mix it's absolute perfection.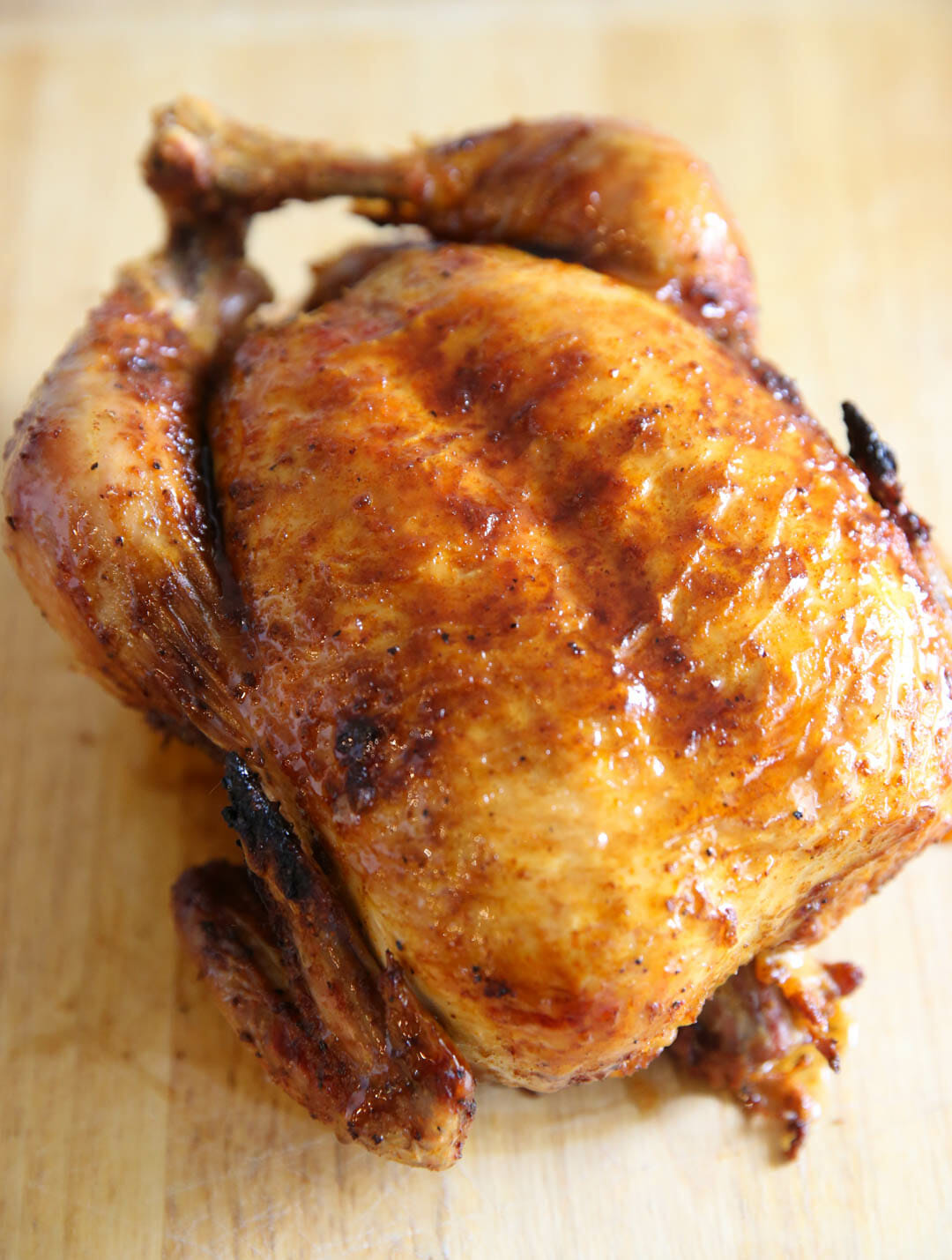 This was definitely one of the best roast chickens I've ever made.  Seasoning and honey glaze aside, I'll definitely roast regular chicken like this again; it's the closest I've gotten to a good Costco roast chicken quality- which is yes, my gold standard haha.  The meat was tender and juicy and everything was evenly cooked.  Try to slice carefully to keep some of that skin on and then definitely pour leftover juices and glaze over the chopped up meat.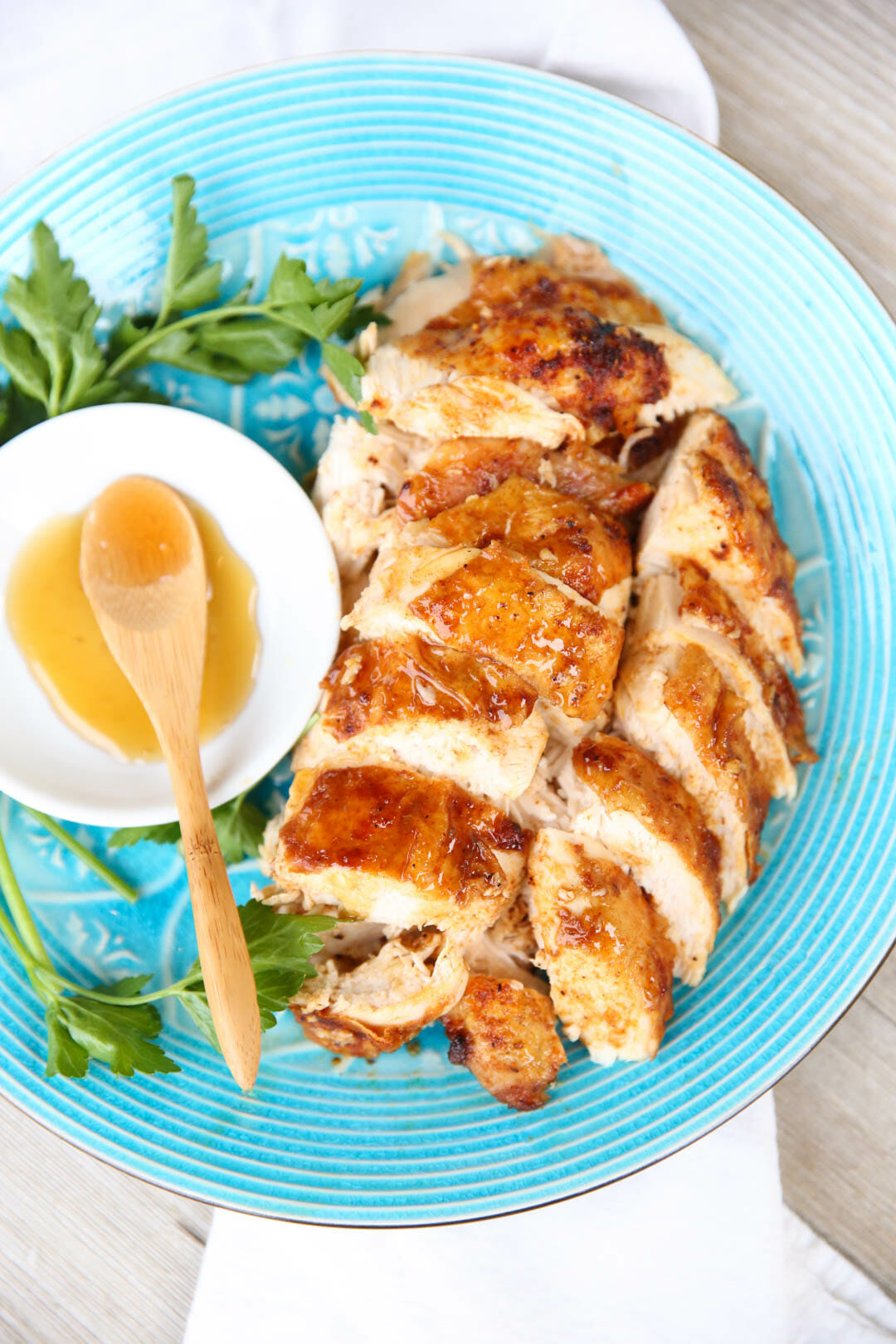 Spicy Honey Whole-Roasted Chicken
Recipe adapted from Mel's Kitchen Cafe
Ingredients
4lb box Ice Cream/Rock Salt
3-5lb whole chicken, insides removed and cavity rinsed
1 whole lemon
big handful fresh parsley
3-4 garlic cloves, peeled and smashed
1 tablespoon Bacon Extra Virgin, or oil of your choice
2 t granulated garlic
2 t chili powder
1/2 t onion powder
1/2 t coriander
1 t kosher salt
1 t cumin
1/2 t chipotle chili powder
1/2 C Honey
1T Cider Vinegar
Instructions
Preheat oven to 400 degrees.  Line a 9×13 baking dish with foil and empty entire box of salt into it, spreading out in an even layer.  Cut lemon in half and stuff inside cavity, along with garlic and parsley.  Rub chicken with olive oil.  Combine all spices in a bowl and then sprinkle over chicken, rubbing in on all sides.
Place chicken on top of salt, breast-side down and bake for 40 minutes.  Flip chicken over and continue roasting until an instant-read thermometer registers 165 in the thickest part of the breast.  Remove from oven and tent with foil for 5 minutes.  Combine honey and vinegar.  Use a silicone brush to brush glaze over chicken and then slice.  Use any extra glaze, and that accumulated on your cutting board, to drizzle back over the cut chicken.