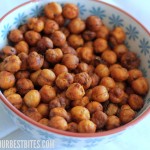 Roasting canned chickpeas results in a delicious, crispy snack. I adapted this recipe from What's Gaby Cooking. I also had to hide the leftovers because I was afraid I was going to eat them all at once. They are crispy, crunchy, salty, a tiny bit spicy, and a perfect little snack. They make a great addition to salads and wraps as well. If you're short on time, check out these Crispy Air Fryer Chickpeas as well.
Ingredient Notes
Chickpeas – Chickpeas are also called garbanzo beans. You'll find them in can on the canned bean aisle at your grocery store.
Spices –  Feel free to mix things up here as you like. As written, this recipe produces an addictive, slightly spicy snack. Pro tip: dust some extra seasonings on after cooking to really boost the flavors.
How to Make Spicy Roasted Chickpeas
You'll need some extra-virgin olive oil, kosher salt, cayenne pepper, garlic powder, paprika, cumin, and a 15-ounce can of garbanzo beans. Preheat your oven to 400. Rinse and drain your garbanzo beans and pat dry. Set aside.
In a medium bowl, combine the spices and olive oil. Toss the chickpeas in the spices and spread the seasoned chickpeas onto a lined baking sheet.
Place the pan in the oven and roast the chickpeas for 20 minutes.
Remove the pan from the oven and use a spatula to gently toss/turn/mix up the chickpeas. Place it back in the oven for another 15-20 minutes. You don't want them to be burned, but they should be browning and crispy. Allow the chickpeas to cool and then snack immediately.
Serving Suggestions
These roasted chickpeas make a great snack on their own. They could be added to a fun snack board, tossed on a salad, or added to a wrap. See Air Fryer Chickpea instructions here for a sped of version of this delicious snack!
FAQs
How do you store them?
These crunchy chickpeas are best eaten quickly after cooking.  They do tend to lose their crunch over time, especially if they were not cooked to completely crunchy.  If they have the tiniest bit of chew to them after cooking, they will turn soft after storing.  So make sure you are cooking them long enough to be crunchy, and after that I've had good results storing them both in an air tight container, and also just letting them sit out in the open in a bowl.  I would avoid zip-top bags.
Did You Make This?
I'd love to hear from you! Snap a picture and tag me on Instagram, and then come back and give this recipe a rating!
Print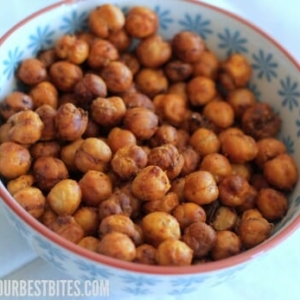 Spicy Roasted Chickpeas
---
1  15-ounce can chickpeas
1  1/2 teaspoons extra-virgin olive oil
1/2 teaspoon kosher salt
1/2 teaspoon paprika
1/4 teaspoon cayenne pepper
1/4 teaspoon cumin
1/2 teaspoon garlic powder
---
Instructions
Preheat oven to 400° F. Drain and rinse chickpeas and pat dry with paper towels. Set aside.
In a medium bowl, combine the spices and the olive oil. Toss the chickpeas in the spice mixture and spread the seasoned chickpeas over a lined baking sheet. Bake for 20 minutes and then remove the pan from the oven.
Use a spatula to toss the chickpeas, then replace the pan and cook for another 15-20 minutes or until browned (but not burned) and crispy. Allow to cool. Snack away.
---