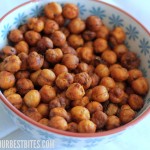 So we're I'm kind of flip-flopping my posts here–this recipe really belongs back in January with all the healthy recipes and Monday's French Toast really belongs here today because, let's face it, legumes tossed in garlic are not the most romantic little things in the world, no matter how tasty they are.
Sara and I are flying to Utah and back this weekend, so we might be a little slow responding to emails and questions. Well…slow-er. I've also found that in the past few weeks, crowds and pants make me grumpy, so, in an effort to prevent me from saying things I might regret, I'm bringing lots of healthy snacks with me, lest I find myself foodless, trapped next to crazy people (I seem to have unbelievable luck in very often sitting next to weirdos on airplanes) in a pair of uncomfortable pants. The very idea of it makes me feel like I need a few deep cleansing breaths. Or a Xanax. Neither of which I can really take right now.
I adapted this recipe from What's Gaby Cooking. I also had to hide the leftovers because I was afraid I was going to eat them all at once. They are crispy, crunchy, salty, a tiny bit spicy, and a perfect little snack that is almost guilt-free.
You'll need some extra-virgin olive oil, kosher salt, cayenne pepper, garlic powder, paprika, cumin, and a 15-ounce can of garbanzo beans. Someday I'll teach you guys a song all about garbanzo beans. I know y'all can't wait. Is it weird that that and the Irish folk song about a girl who murders her entire family are the two songs I remember most from my childhood?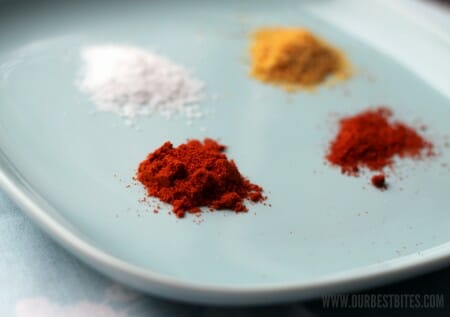 I just got pictures of the spices because they were prettier. Sorry about that.
Preheat your oven to 400. Rinse and drain your garbanzo beans and pat dry. Set aside.
In a medium bowl, combine the spices and olive oil.
Toss the chickpeas in the spices…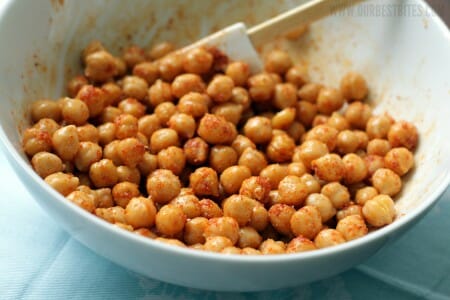 and spread the seasoned chickpeas onto a lined baking sheet.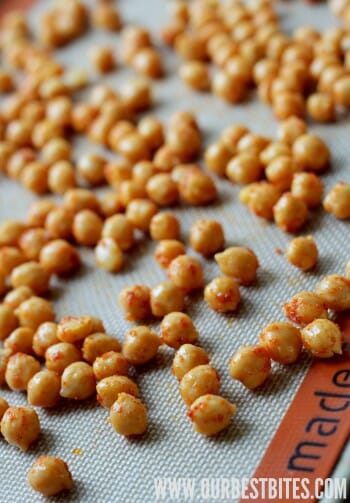 Place the pan in the oven and roast the chickpeas for 20 minutes. Remove the pan from the oven and use a spatula to gently toss/turn/mix up the chickpeas. Place it back in the oven for another 15-20 minutes. You don't want them to be burned, but they should be browning and crispy. Allow the chickpeas to cool and then snack immediately.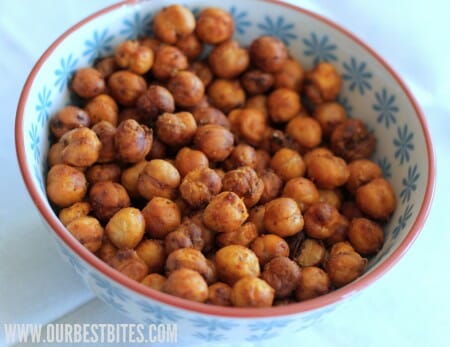 Spicy Roasted Chickpeas
Recipe adapted from What's Gaby Cooking by Our Best Bites
Ingredients:
1 15-ounce can chickpeas
1 1/2 teaspoons extra-virgin olive oil
1/2 teaspoon kosher salt
1/2 teaspoon paprika
1/4 teaspoon cayenne pepper
1/4 teaspoon cumin
1/2 teaspoon garlic powder
Instructions:
Preheat oven to 400 degrees. Drain and rinse chickpeas and pat dry with paper towels. Set aside.
In a medium bowl, combine the spices and the olive oil. Toss the chickpeas in the spice mixture and spread the seasoned chickpeas over a lined baking sheet. Bake for 20 minutes and then remove the pan from the oven. Use a spatula to toss the chickpeas, then replace the pan and cook for another 15-20 minutes or until browned (but not burned) and crispy. Allow to cool. Snack away.