Split Pea Soup with Ham is one of my ultimate comfort foods! Even my pickiest eaters have loved this recipe from the time they were small, and we still call it "Swamp Soup" around our house.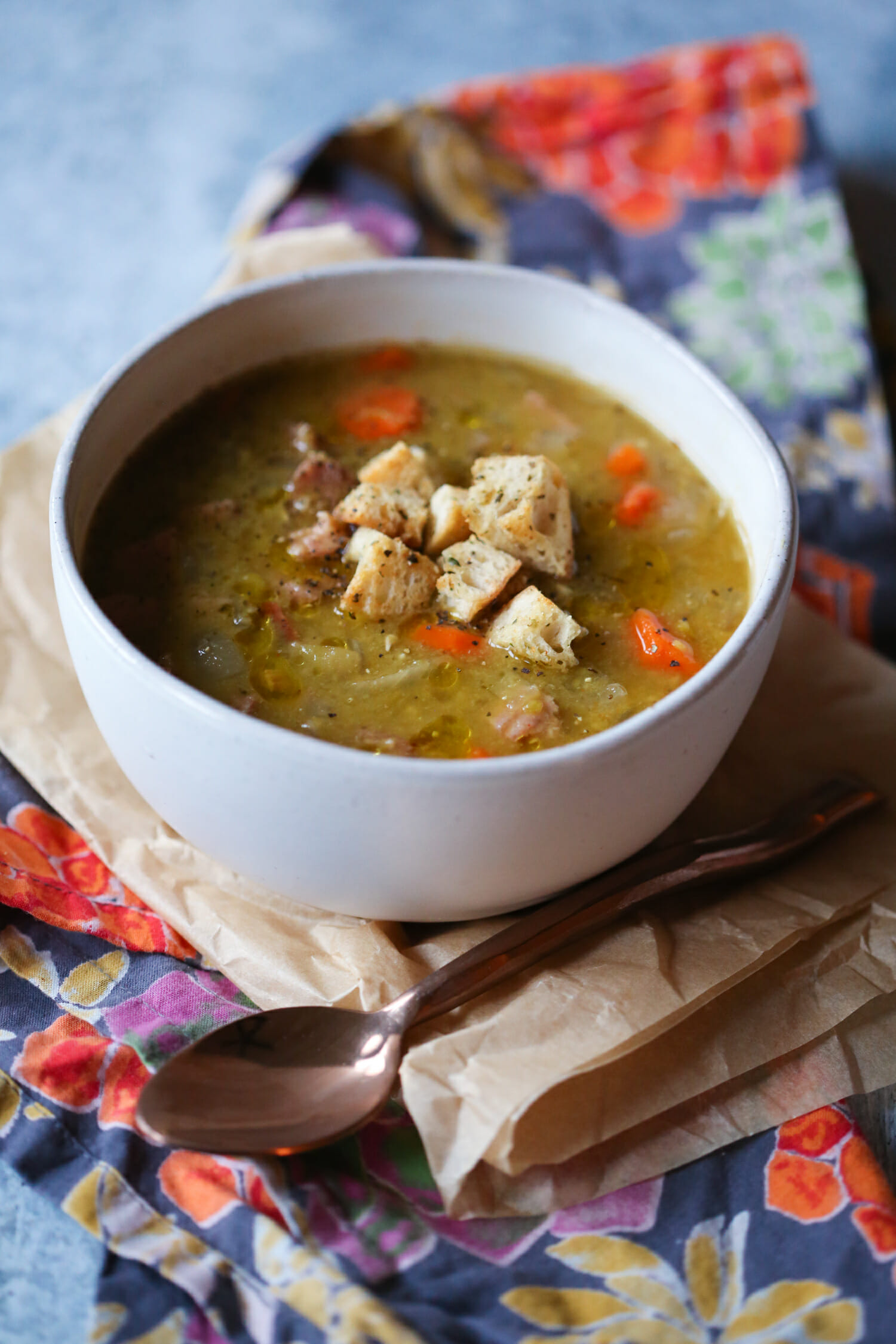 Keep reading after the recipe for more information!
Print
---
Description
This split pea soup with ham is one of my family's all-time favorite comfort foods! Throw the ingredients into the crockpot first thing in the morning and it will be ready by dinnertime or scroll to the bottom for Instant Pot instructions.
---
1 pound dried split peas, rinsed and sorted
2 quarts chicken or vegetable broth or 8 cups water + 8 tsp. chicken or vegetable bouillon or soup base
1 pound bone-in ham, diced into small pieces and trimmed of excessive fat
4 medium carrots, peeled and chopped
1 medium onion, chopped
4–5 cloves garlic, minced
1 teaspoon Italian seasoning
1/2 teaspoon marjoram
1/2 teaspoon smoked paprika
pinch of thyme

1 bay leaf
1 teaspoon malt vinegar
---
Instructions
Place all the ingredients in a slow cooker and cook on low for 6-8 hours or on high for 4-5 hours. You can also cook it on high until it starts to boil and then turn the setting on low until you're ready to serve the soup. Soup is best when it's had about an hour to sit after removing from heat. Top with Sourdough Garlic-Herb Croutons. Makes 8 1 1/2-cup servings.
Any refrigerated leftovers will probably be very thick. It can be thinned with a little chicken broth, water, or hot ham water. (Just kidding about the hot ham water, but bonus points if you know what I'm talking about.)
instant pot instructions
Add ingredients to the Instant Pot, seal, and cook on high for 15 minutes. Quick release the pressure, then stir to combine.
---
Notes
Nutritional Information
Per 1 1/2 c. serving
Calories: 165
Fat: 5.2
Fiber: 5.5
Carbs: 17.6
Protein: 19
The Background
I've mentioned a time or two that I was a little girl when my mom died, so I really don't have as many food-related memories of her as I would like to. I can't pinpoint a specific memory that I have of my mom and split pea soup like I can with my dad and his doctored-up Campbell's Bean with Bacon Soup and toast on Sunday nights or Chicken Cacciatore in the Dutch oven or cinnamon rolls and egg casserole on Christmas morning. But somewhere in the back of my brain, I know that Split Pea Soup with Ham is somehow linked to my mom and that those are good memories.
I usually end up making this a few times a year after some ham-related festivity because I have to start getting really creative in thinking up ways to use up all the leftover ham. However, my kids have also decided that in spite of the visual evidence to the contrary (my son says it "looks like swamp"), they all love it and are more than happy to eat it up when I make it. In fact, my son has asked for it for his birthday on more than one occasion. And since it also happens to be super healthy–full of protein, fiber, and good carbs!
How to Make Split Pea Soup
You start with a pound of dry split peas (.77 for a bag–not too shabby, right?!), herbs and spices, chicken or vegetable broth, carrots, onions, garlic. You'll also need a tiny bit of malt vinegar which ends up being the secret ingredient; my soup kept feeling like it just needed more depth and I found the malt vinegar in the back of my cupboard and it just made the flavors pop. Finally, you'll need ham. Ideally, you can use a ham bone leftover from some hammy large dinner, but you don't want to use said ham bone if it the ham was seasoned with stuff like brown sugar, cloves, etc.–that'll add a weird flavor to your soup. I like to get a bone-in ham steak from the grocery store.

You can also buy ham pieces sold at the grocery store close to the regular hams. Don't be scared, it's just pieces of ham that have fallen off while a ham was being spiral-cut, so you still get that spiral ham, it's just in smaller pieces and quantities and perfect for cutting up and using in soup. Aside from the spiced, sweet hams, the ones you want to stay away from are the super-lean cubes of ham (not enough flavor) or lunch meat (it will fall apart).
Then all you need to do is place the peas, carrots, ham, onion, and garlic in a slow cooker or Instant Pot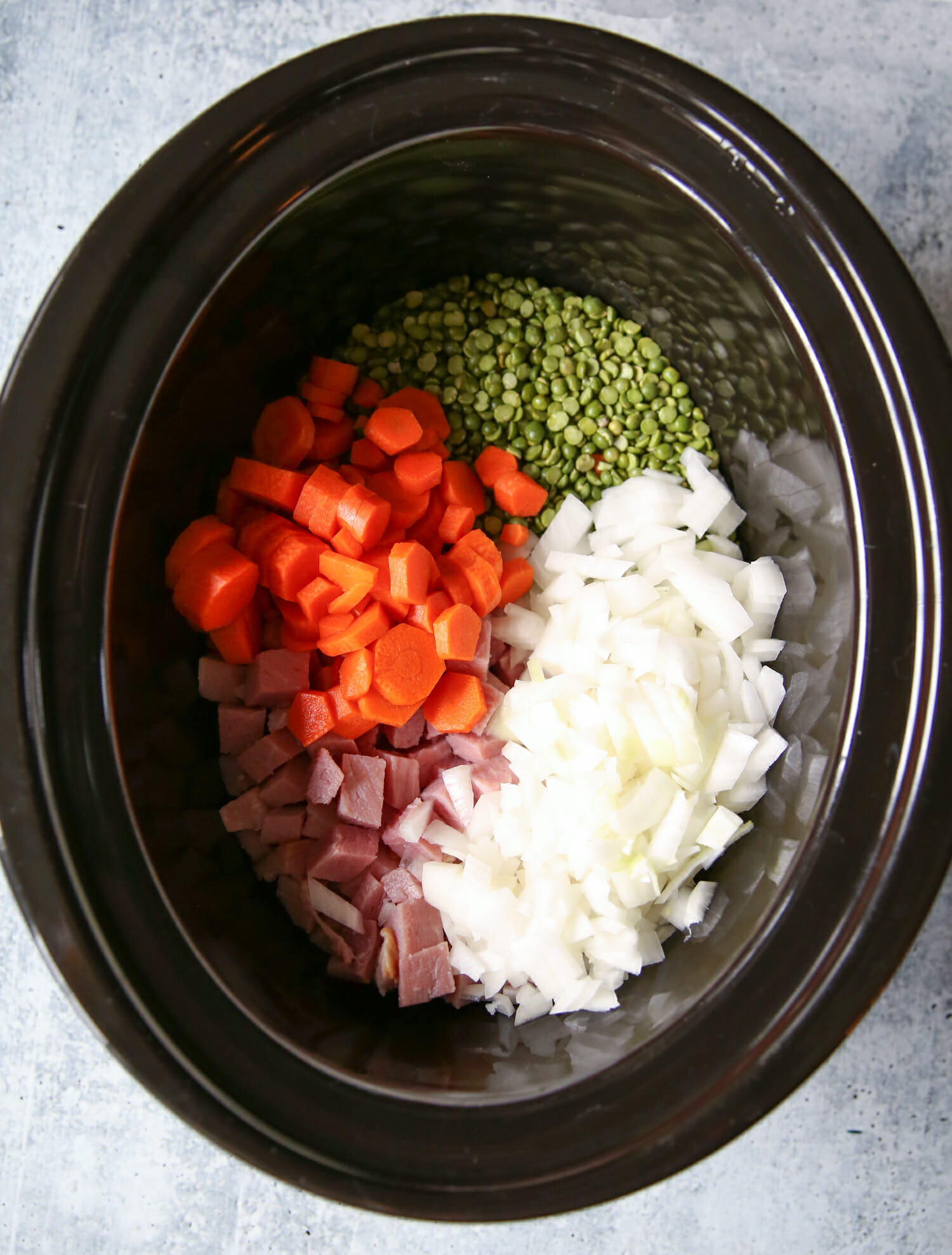 herbs and spices…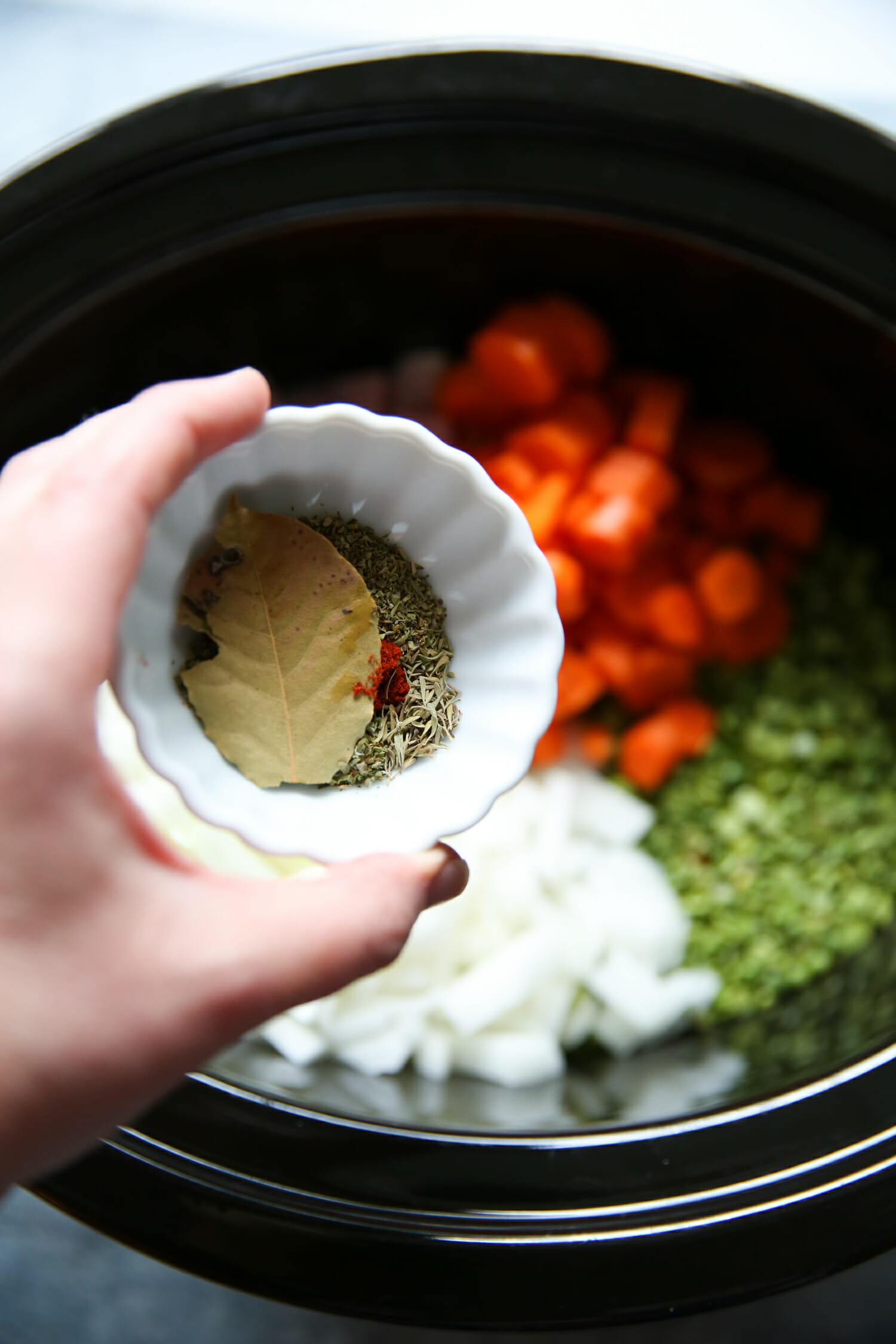 and chicken broth…
and set it to go! You can cook it on high for 4 hours, low for 6-8, or high until it boils and then turn the setting to low until you're ready to serve it. If you're at a high altitude, you may need to plan on more cooking time. You can also cook it for fifteen (15!) minutes in the Instant Pot. You'll want the peas completely and (this is kind of a dirty word in the food biz) mushy. They will fall apart and thicken the soup and yes, contribute to that swamp-like appearance. It's just the name of the game; if they're undercooked, they'll be crunchy or taste like raw peas.
Remove the bay leaf and season with salt, pepper, and hot sauce if desired. This soup is better when it's had about an hour to sit after cooking. It may separate–just stir it up to make sure you're getting a little of everything.
See? Swamp.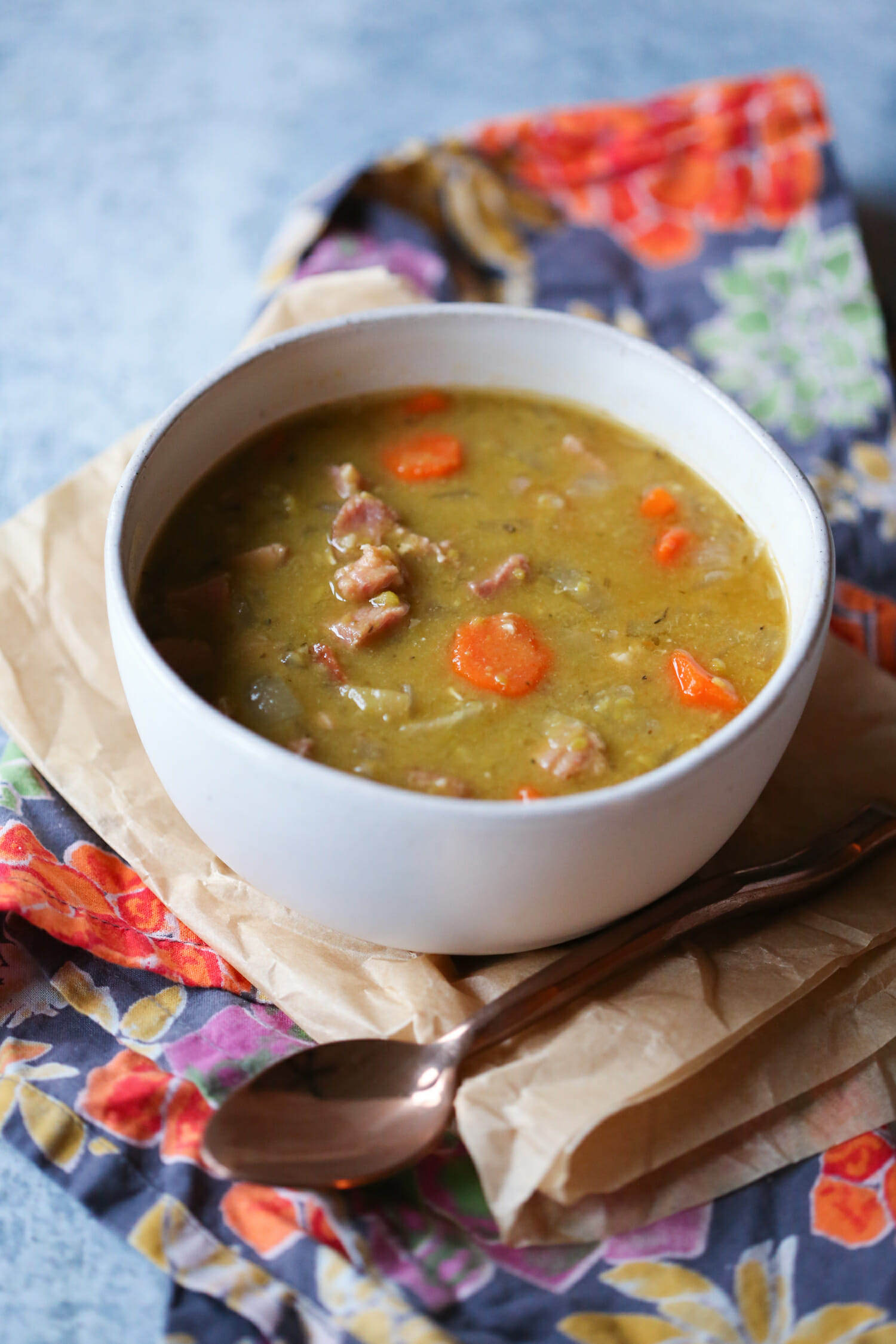 The leftovers might also be quite thick; just heat it up and then add a little water or broth (or hot ham water a la Lindsay Bluth) until the desired consistency is reached. This soup is awesome topped with Sara's Sourdough Garlic-Herb Croutons (and I really, really encourage the whole sourdough part; it just matches the soup so well!)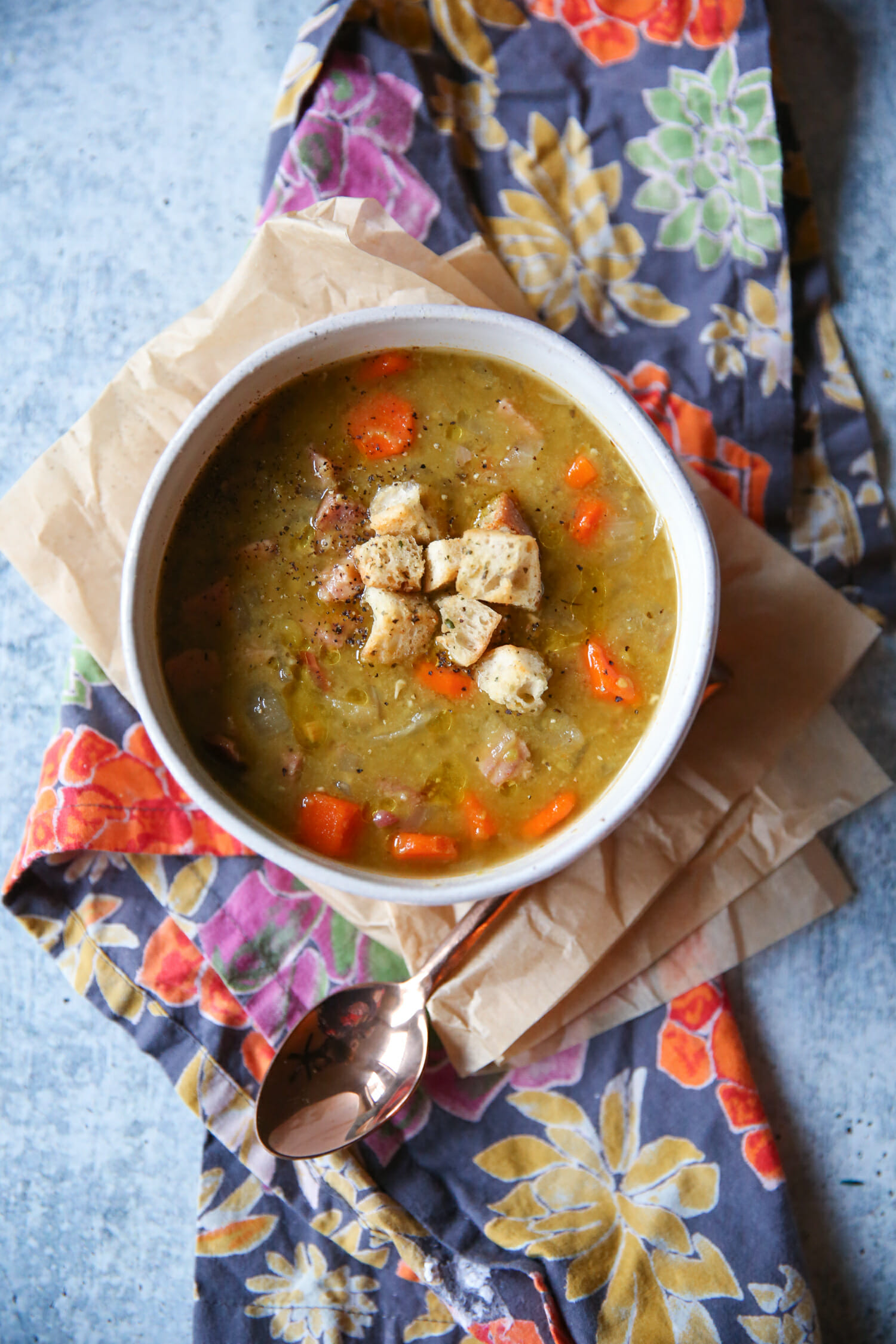 This soup is perfect for cold, yucky days and nights like we're having here in Louisiana right now!