White beans lend a creamy texture to this hearty, flavorful soup.  Smoky bacon and a classic vegetable trio round out the flavors.  It's filling and nourishing, and perfect for dunking a chunk of crusty bread or a toasty sandwich.  Cooking it in an electric pressure cooker (Instant Pot) makes it quick and easy!  Scroll past recipe for step-by-step photos and instructions on how to make my Pressure Cooker Bean and Bacon Soup.
Print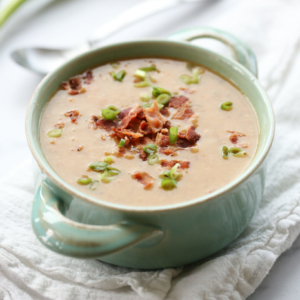 Pressure Cooker Bean and Bacon Soup
---
Description
Creamy white beans and smoky bacon are the stars of this hearty, nourishing soup.  Perfect for dunking a chunk of crusty bread or a toasted sandwich.
---
8 oz bacon, diced in small pieces (Cook extra if you'd like to save some to sprinkle on after for a garnish)
1 med-large carrot, diced small
2 ribs celery, diced small
1 small onion (or 1/2 large), diced small
4 cloves garlic
6 cups broth (beef or chicken works)
1 cup water
1 lb white beans (such as cannellini or great northern)
1/4 teaspoon black pepper
1/2 teaspoon smoked paprika
1/2 teaspoon dried thyme
1 teaspoon salt
1/2 teaspoon Worcestershire sauce
optional: 1/4 teaspoon liquid smoke, more if desired
(super optional:  garnish with sliced green onions.)
---
Instructions
Place beans in a colander, remove any impurities and rinse them with cold water.
Turn pressure cooker to saute mode. Cook bacon until crisp and use a slotted spoon to remove and drain on paper towel.  Leave about 4 tablespoons of the bacon fat in the pan.  Add carrot, celery, and onion and saute for about 3 minutes. Add garlic and cook for another 30 seconds.
Add broth and water, beans, pepper, smoked paprika, thyme, and salt. Add cooked bacon back into pan. Cook for 45 minutes on high pressure.
When finished, let pressure cooker rest for 10-15 minutes before releasing pressure, stir in Worcestershire and liquid smoke. Use an immersion blender to partially blend soup to thicken.  Alternately, you could take 2-3 cups of soup and pulse in a blender and then add back into pot.
If desired garnish with green onions.
---
Keywords: bean and bacon soup
How to Make Bean and Bacon Soup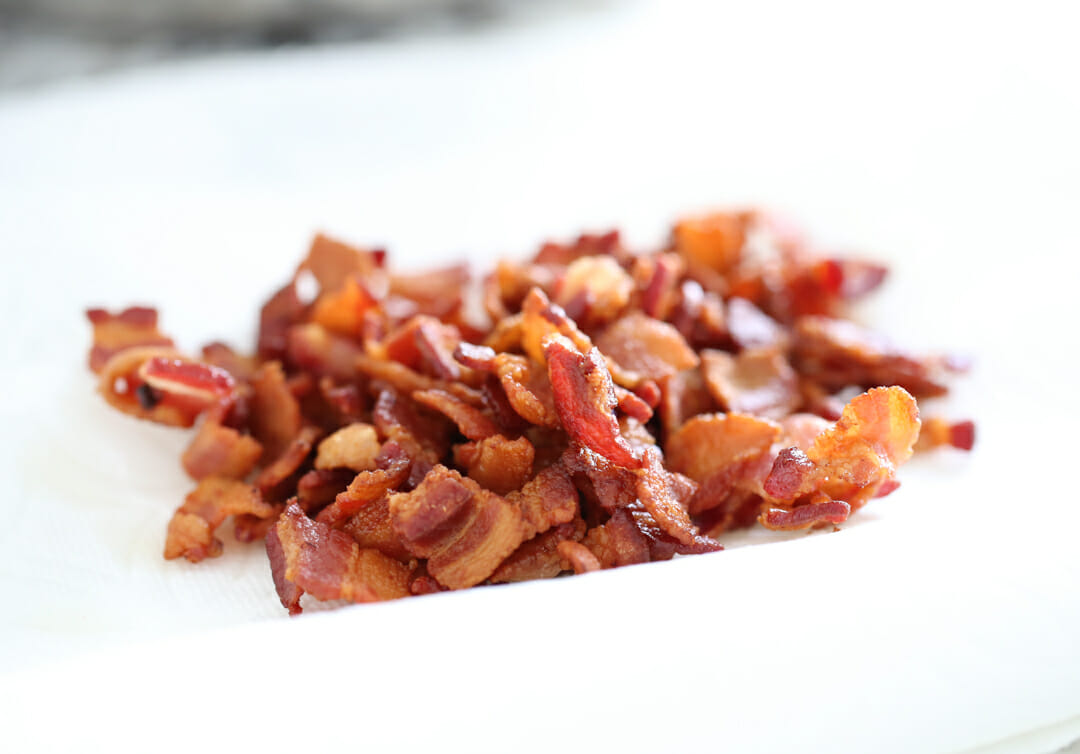 This bean and bacon soup starts, appropriately, with bacon.  After cooking the bacon, you'll saute your vegetables in the rendered fat.  This imparts smoky bacon flavor throughout the dish.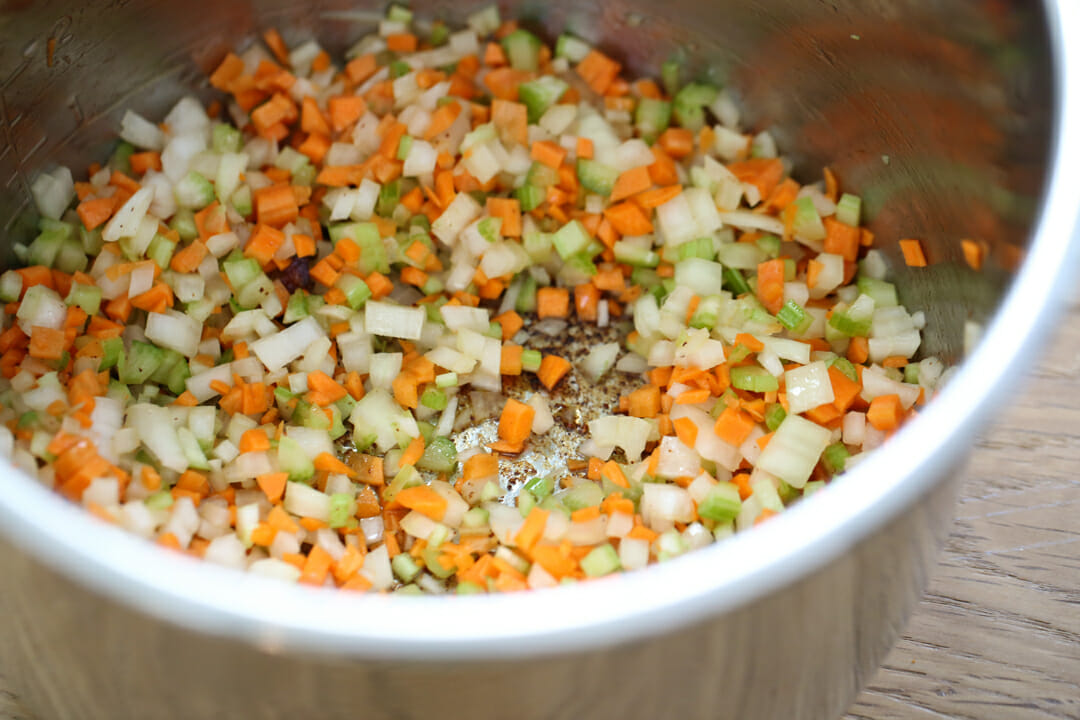 What Beans to Use in Bean with Bacon Soup
White beans are not only nourishing, but they add in incredible creaminess to the finished soup.  Two popular white beans are cannellini and Great Northern.  Either variety will work great here.  Sometimes there are bags of beans labeled simply, "White Beans" and that should be fine, too!  You'll want to rinse them in cool water first and remove any impurities that sometimes sneak into the bags.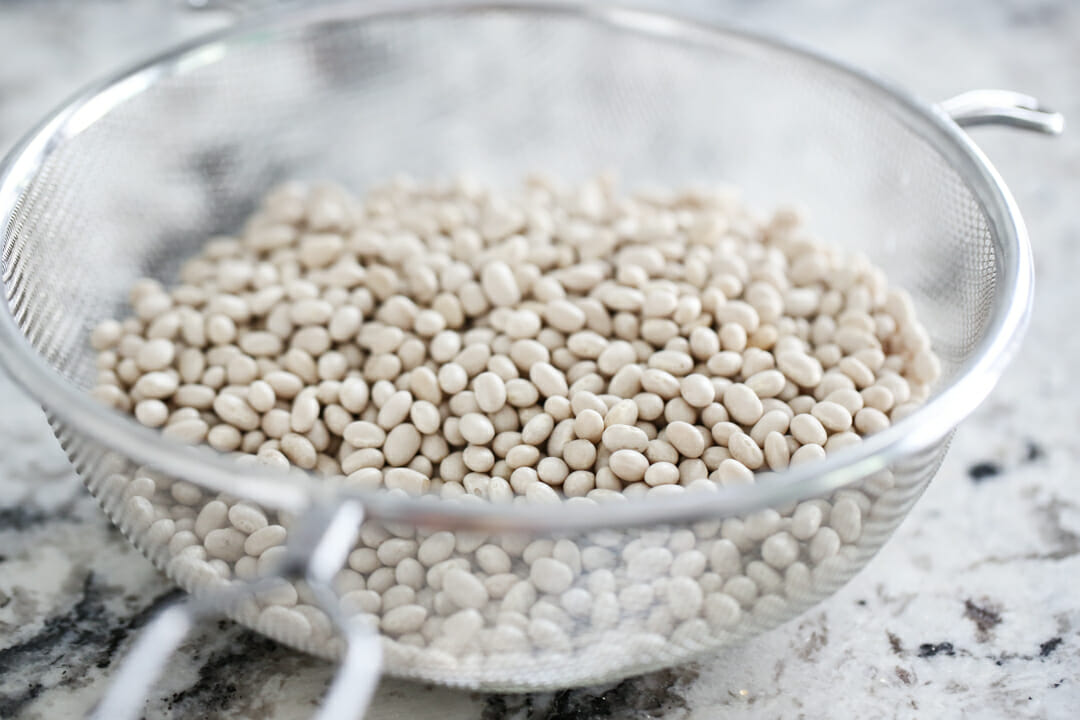 How long do I cook Bean and Bacon Soup in my Pressure Cooker?
One of the best features of an electric pressure cooker is its ability to cook beans so quickly.  I process this soup at high pressure for 40 minutes.  I do not soak my beans ahead of time because I don't usually plan that far in advance!  If you do choose to soak your beans for 8+ hours, the soup would cook much faster.  When it's done, I like to take my immersion blender and pulse it around a little until it's slightly smoother and thicker. If you don't have an immersion blender, you could transfer half the soup into a blender and puree and then return it to the pot.
What should I serve with Bean with Bacon Soup?
This soup is full of flavor and so comforting.  We love to dip grilled cheese sandwiches, or eat it with a loaf of the best overnight crusty artisan bread.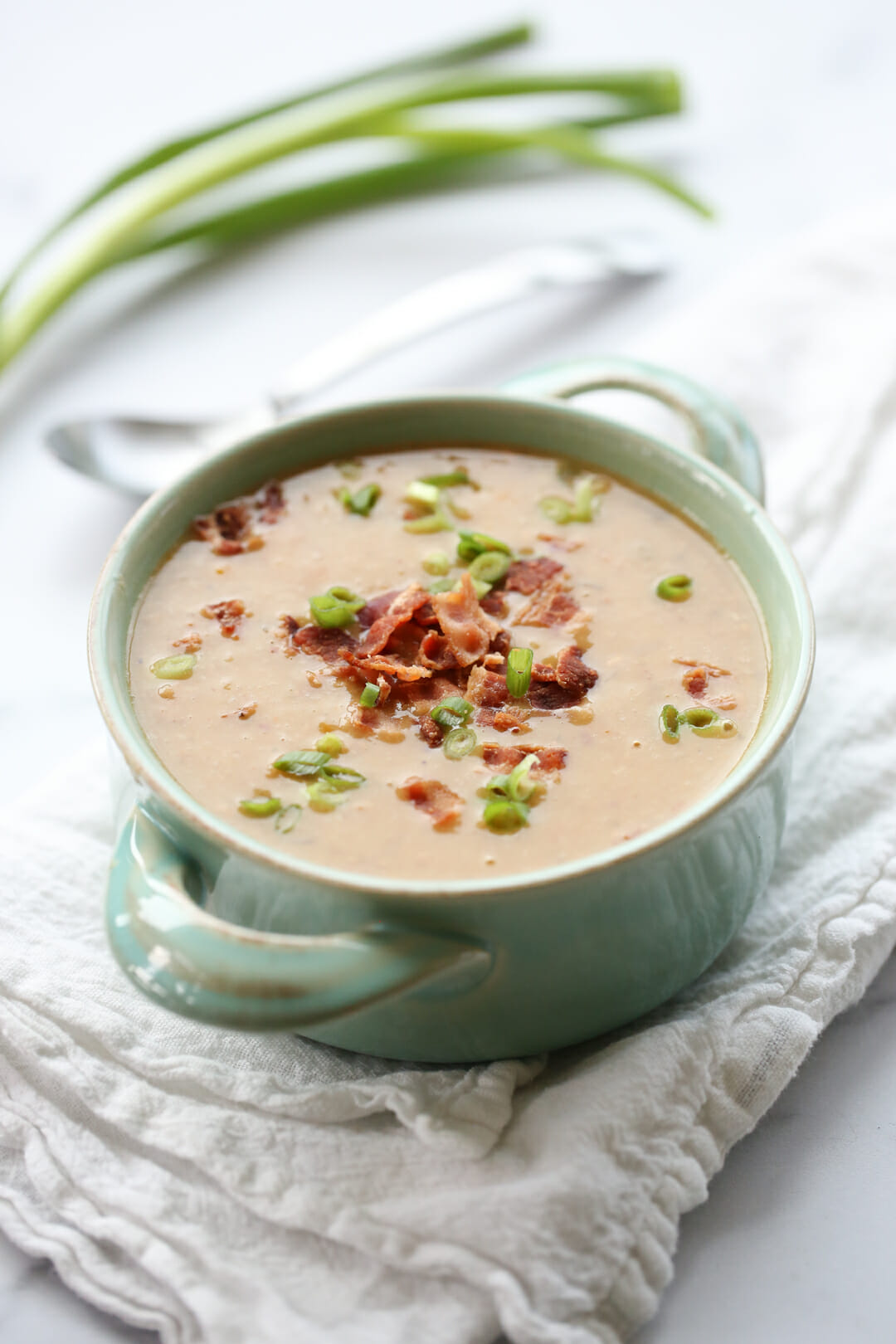 In the mood for soup?  Check out our Soup Collection for tons more delicious recipes!