Warm, tender steak slices rest on a bed of crunchy lettuce topped with creamy avocado, bright red onion, juicy mango slices, and some sweet, crunchy caramelized macadamia nuts.  It's all drizzled with a sweet and savory dressing you might want to drink from a glass.  This Steak and Mango Salad is truly restaurant quality!  One of our ALL time favorites, here on Our Best Bites.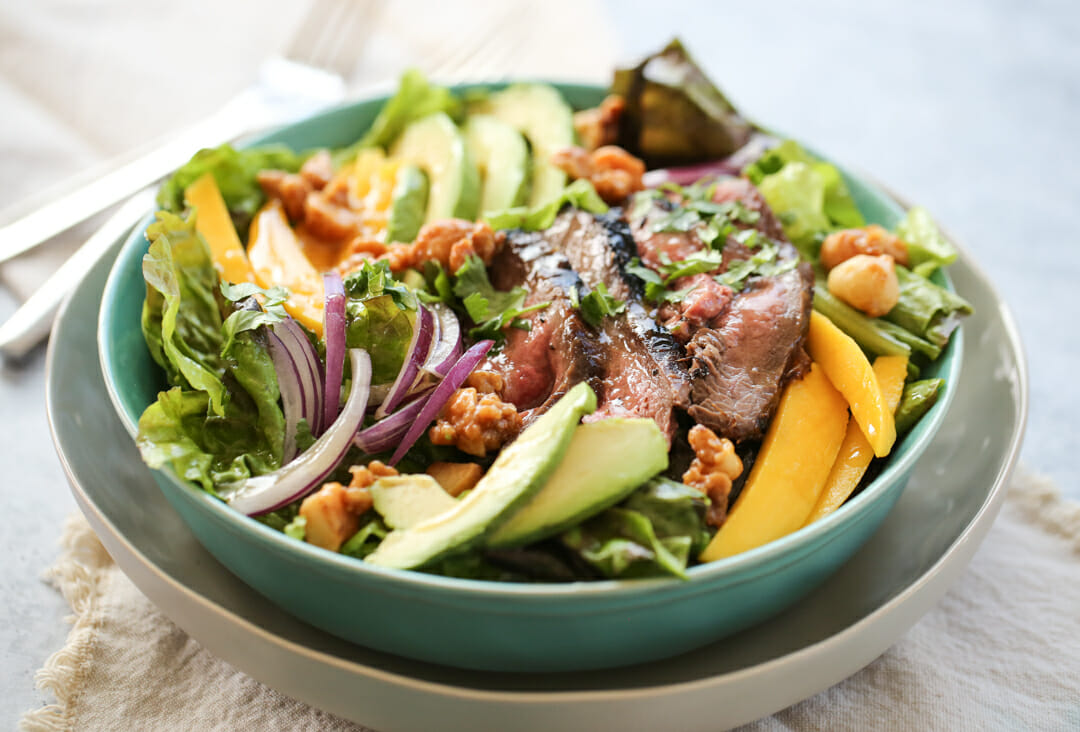 Step 1: Prepare Flank Steak

One thing that simplifies this Steak and Mango Salad is that you'll make one dressing and you'll pour part of it over your meat for a marinade, and save the rest for your salad dressing!  After marinading the meat, cook it on the grill, or in the oven.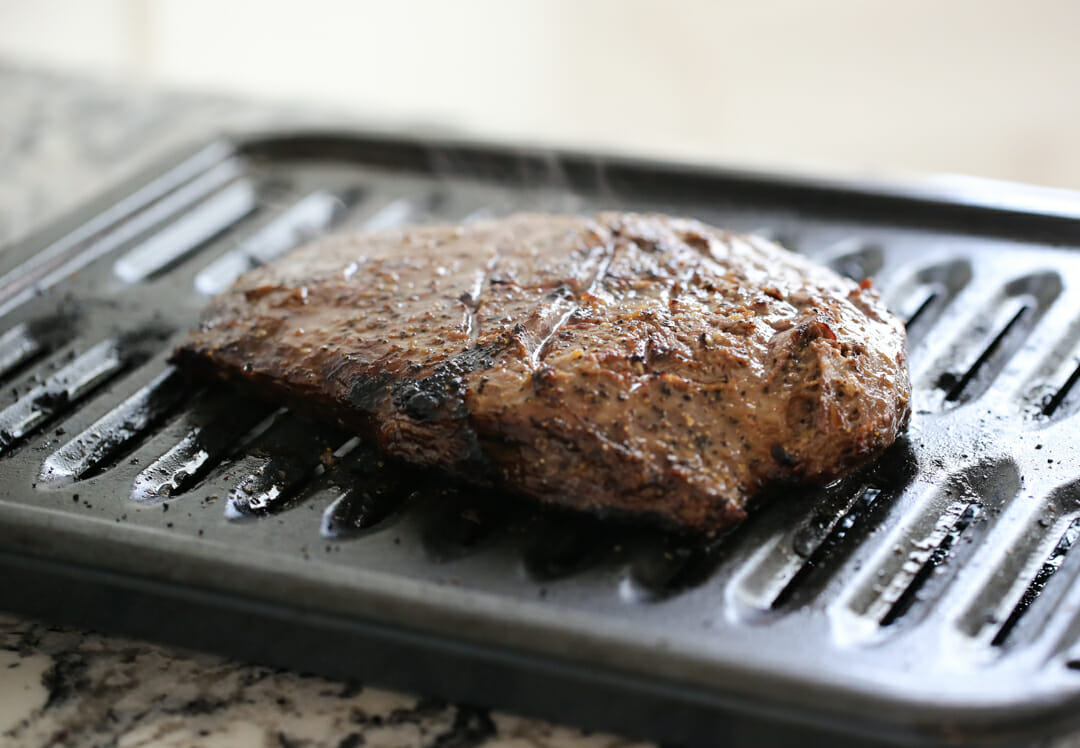 Step 2: Prepare Salad Ingredients
While steak is cooking and resting, prepare lettuce and slice mango, onion, and avocado.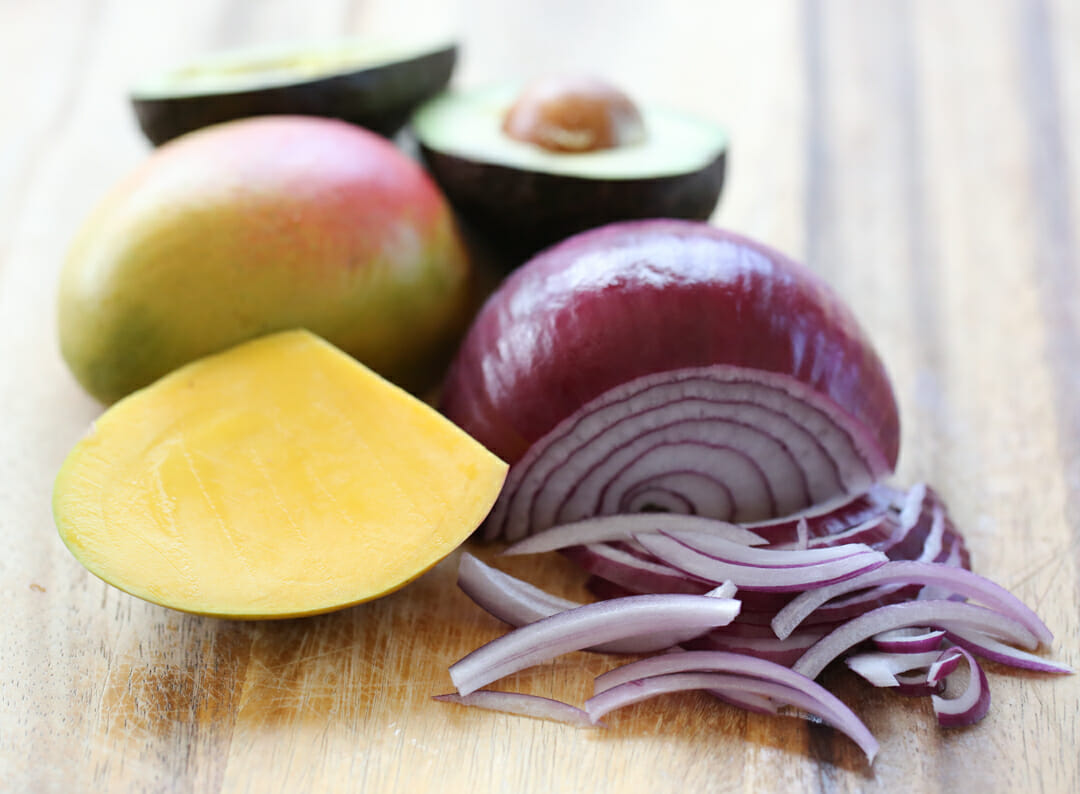 Step 3: Assemble Salad
Place steak over lettuce with mango, avocado, and red onion. Sprinkle with candied macadamia nuts and cilantro and then drizzle with reserved dressing.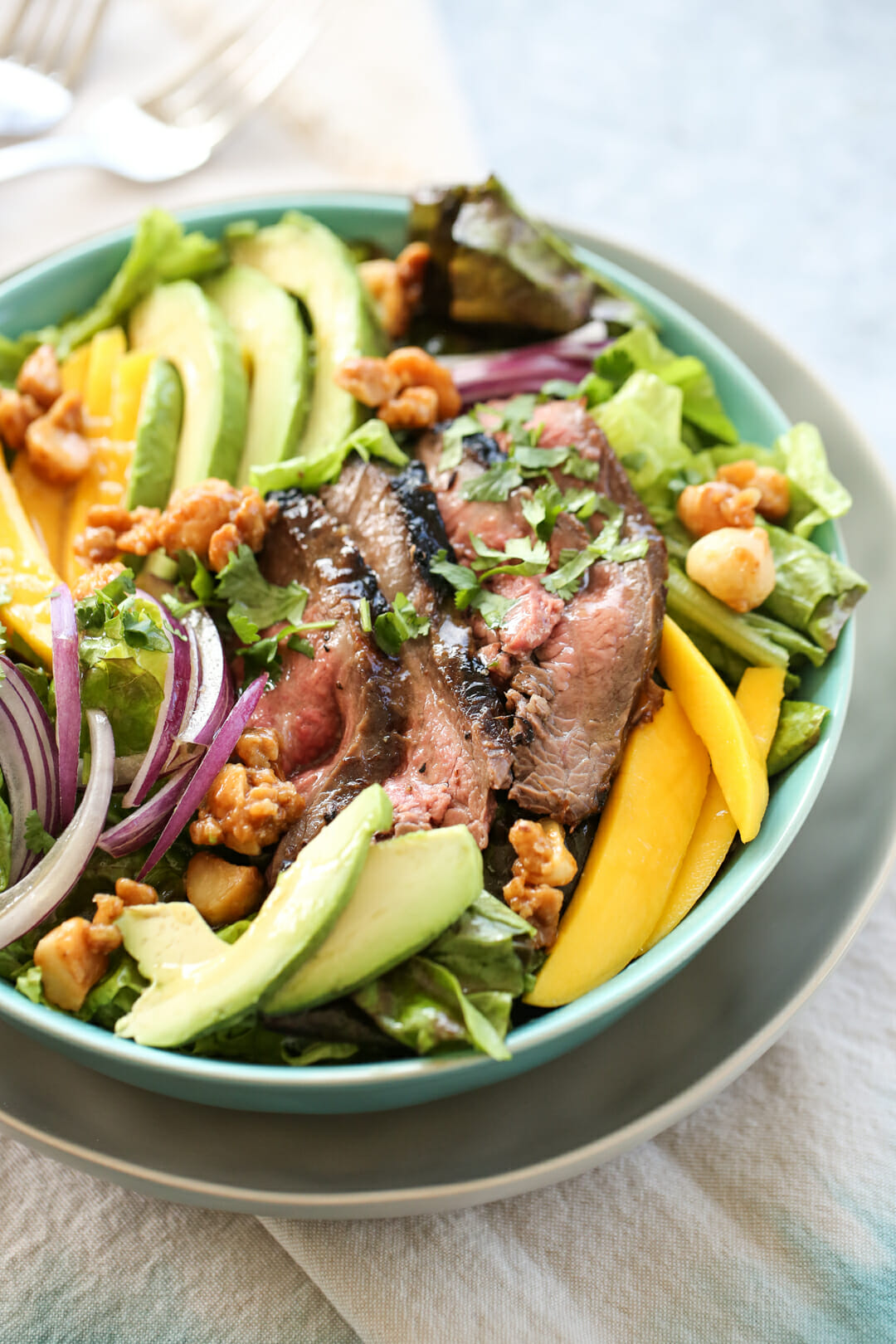 Makes 4-6 large dinner salads or 6-8 smaller side salads
 
Print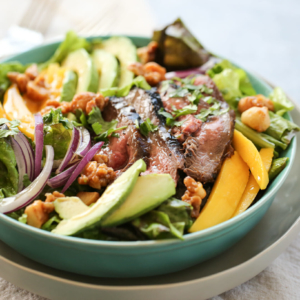 ---
Description
An amazing combination of sweet and savory.  Tender flank steak, mangos, avocado, red onion and crunchy caramelized macadamia nuts.
---
1-ish pound flank steak
1 head romaine or red-leaf lettuce
1 red onion, thinly sliced
2 mangoes, sliced
1 large, or 2 small avocados sliced
1/2 cup roughly chopped cilantro
1/2 cup macadamia nuts, caramelized (Click here for instructions, can make a day ahead)

Dressing & Marinade
1/2 cup fresh squeezed orange juice
6 tablespoons fresh lime juice
6 tablespoons soy sauce
1/2 cup brown sugar
1 1/2 tablespoons fresh grated ginger
4 cloves garlic, pressed or finely minced
3/4 cup canola oil


---
Instructions
In a bowl, whisk together the orange juice, lime juice, soy sauce, brown sugar, ginger, and garlic. Whisk until sugar is dissolved. Continue whisking while slowly drizzling in the oils until combined. Alternately, you could vigorously shake all the ingredients together in a mason jar.
Reserve about 3/4 cup of this mixture for the salad dressing and place the rest of the mixture in a zip-lock bag.
Lightly score the flank steak in a diagonal pattern on both sides. Place steak in the zip-lock bag with marinade and leave in fridge for at least 8 hours, preferably overnight.
Remove steak from fridge about 30 minutes prior to cooking and leave at room temperature. Heat outdoor grill to med-high heat. If an outdoor grill is not available, use the broiler, or an indoor grill pan. Remove steak from bag and let excess marinade drip off.  Sprinkle steak lightly with salt and pepper.  Cook for about 5-8 minutes on each side or until it reaches an internal temperature of about 135 for medium rare. (In order to stay tender, flank steak should still be pink in the middle, but nicely seared on the outside.) When done, remove from grill and wait at least 5 minutes before cutting to let the juices redistribute. While steak is cooking and resting, prepare other salad ingredients.
Divide lettuce onto plates or bowls and top with slices of mango, avocado, and red onion.
Slice steak into thin strips against the grain and add to salads. Sprinkle macadamia nuts and cilantro on top and then drizzle with reserved dressing (make sure to shake well before pouring.)
---