Strawberry Chocolate Dessert Nachos are the perfect easy, throw-together, family style dessert or special snack for two.  Baked Cinnamon Sugar Chips are really easy to make using normal tortillas that are brushed with butter and cinnamon sugar and toasted in the oven!  The crispy chips are then topped with sweetened strawberries, melted chocolate and a little whipped cream for an easy, yet decadent dessert.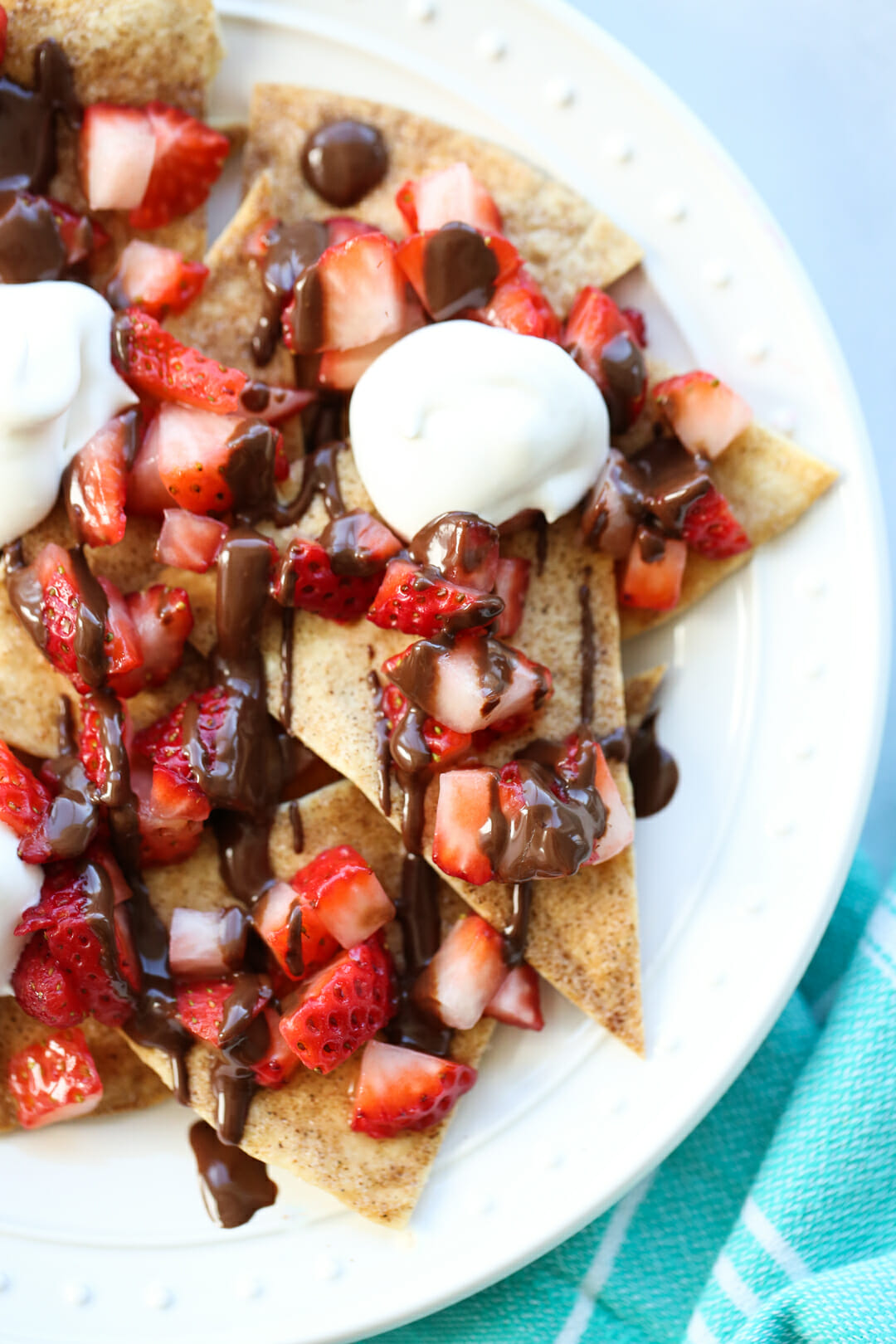 Print
Strawberry & Chocolate Nachos
---
Description
Baked Cinnamon-Sugar Chips topped with sweetened strawberries, melted chocolate and a little whipped cream for an easy, yet decadent dessert.
---
1 1/2 cup chopped strawberries
2 teaspoons sugar (add more if you like your berries with a nice syrup)
3 tablespoons chocolate chips (I prefer semi-sweet but use whatever you like)
1 teaspoon coconut oil
3 large flour tortillas
melted butter
2 tablespoons sugar mixed with heaping 1/4 teaspoon cinnamon
cinnamon
Whipped cream
---
Instructions
Preheat oven to 400 degrees. Line a baking sheet (or 2) with parchment or foil for easy clean up and set aside.
Place strawberries in a bowl and sprinkle with the 2 teaspoon sugar (or more if desired.) Set aside.
Brush tortillas with melted butter and sprinkle with cinnamon-sugar.  Cut into wedges and place on lined baking sheet.  Bake chips for about 10 minutes or until the edges just turn golden brown.  Remove from oven and let cool.
Place chocolate chips and coconut oil in a small heat-safe bowl and heat in 30 second intervals until melted and smooth.
To assemble, place cooled chips on a platter or large plate. Spoon strawberries over them, drizzle with chocolate and top with a few dallops of whipped cream.
---
How to make Baked Cinnamon Sugar Chips
Cinnamon-Sugar chips are so easy to make.  You really don't need measurements, but I've provided some in the recipe in case that's helpful to you!  Simply brush flour tortillas with a little melted butter and then sprinkle cinnamon-sugar on top, cut them into wedges and bake them in the oven until golden and crisp.  It only takes about 10 minutes and they cool off fast!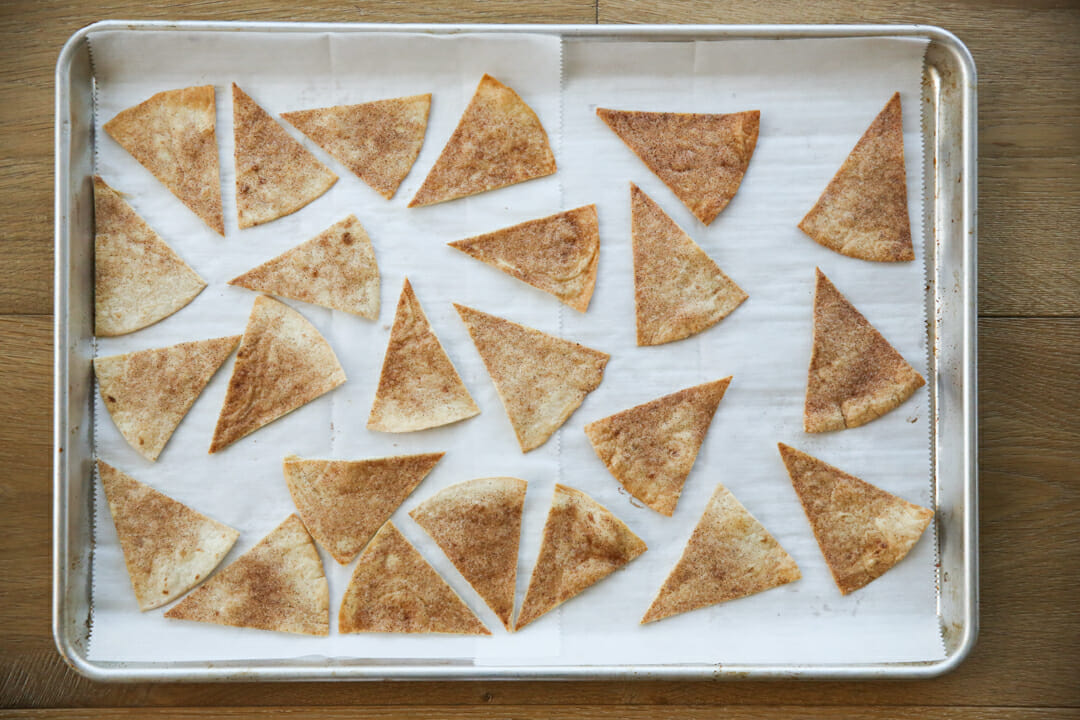 How to Make Sweetened Strawberries
This isn't rocket science, but many people don't know the secret to a beautiful, flavorful fruit syrup is simply- sugar.  I add just enough sugar to these chopped strawberries to sweeten, but if you'd like more of a syrup, simply add a little extra sugar.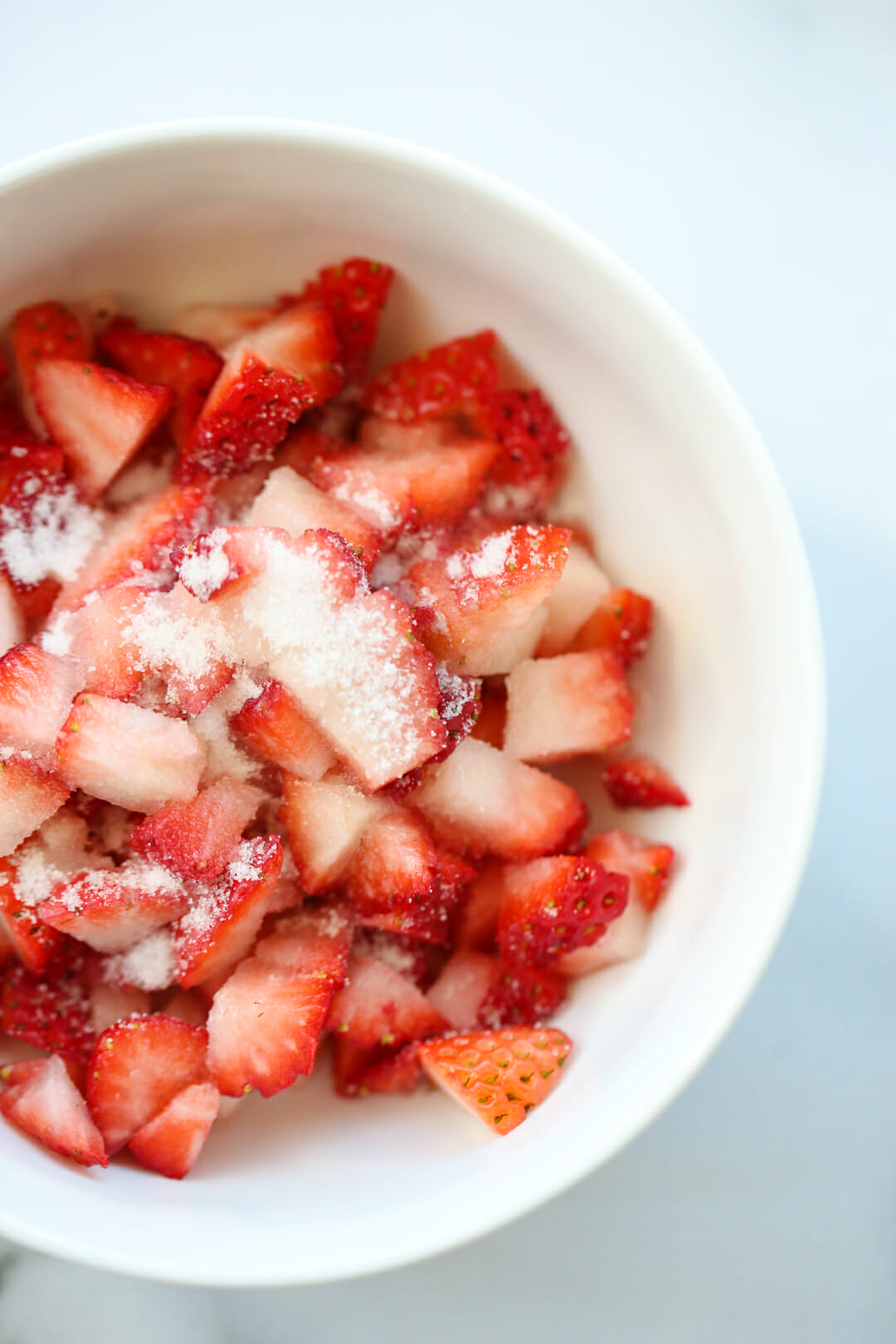 How to make Drizzling Chocolate
Another little secret, but this time for easy chocolate sauce that drizzles like a dream: fat.  I prefer coconut oil, but any neutral-flavored vegetable oil works great, or even shortening or butter.  Just a little bit melted in with your chocolate will keep it at a nice drizzling consistency.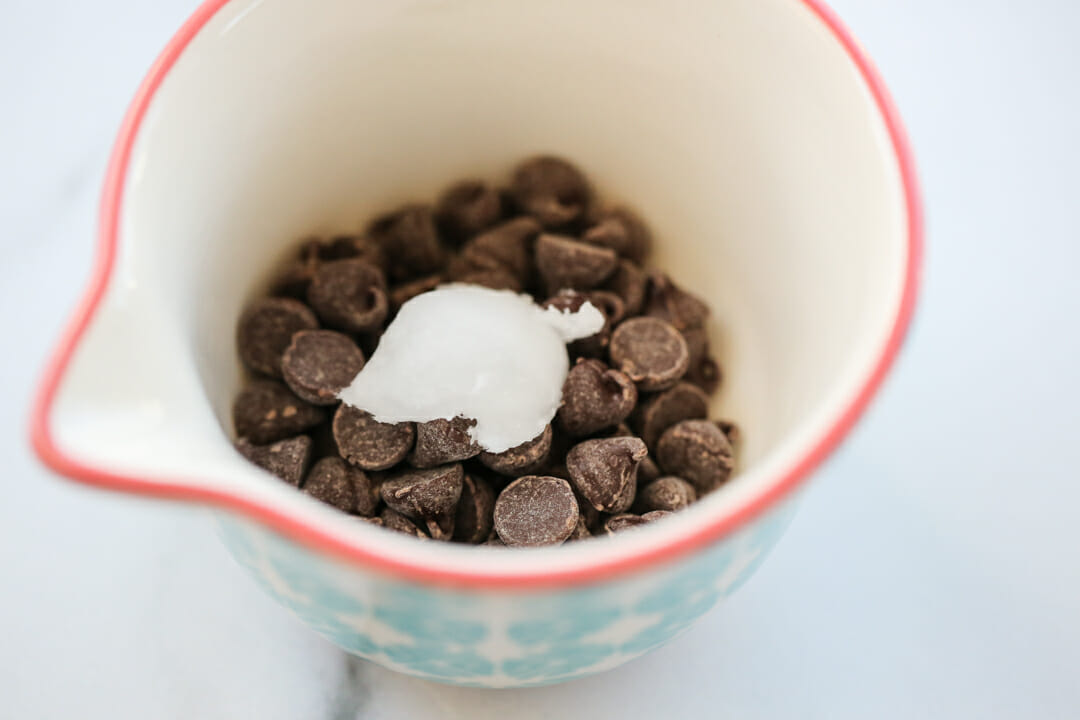 Assembling your Strawberry Chocolate Nachos
Simply lay out your chips, spoon on your strawberries and drizzle with chocolate.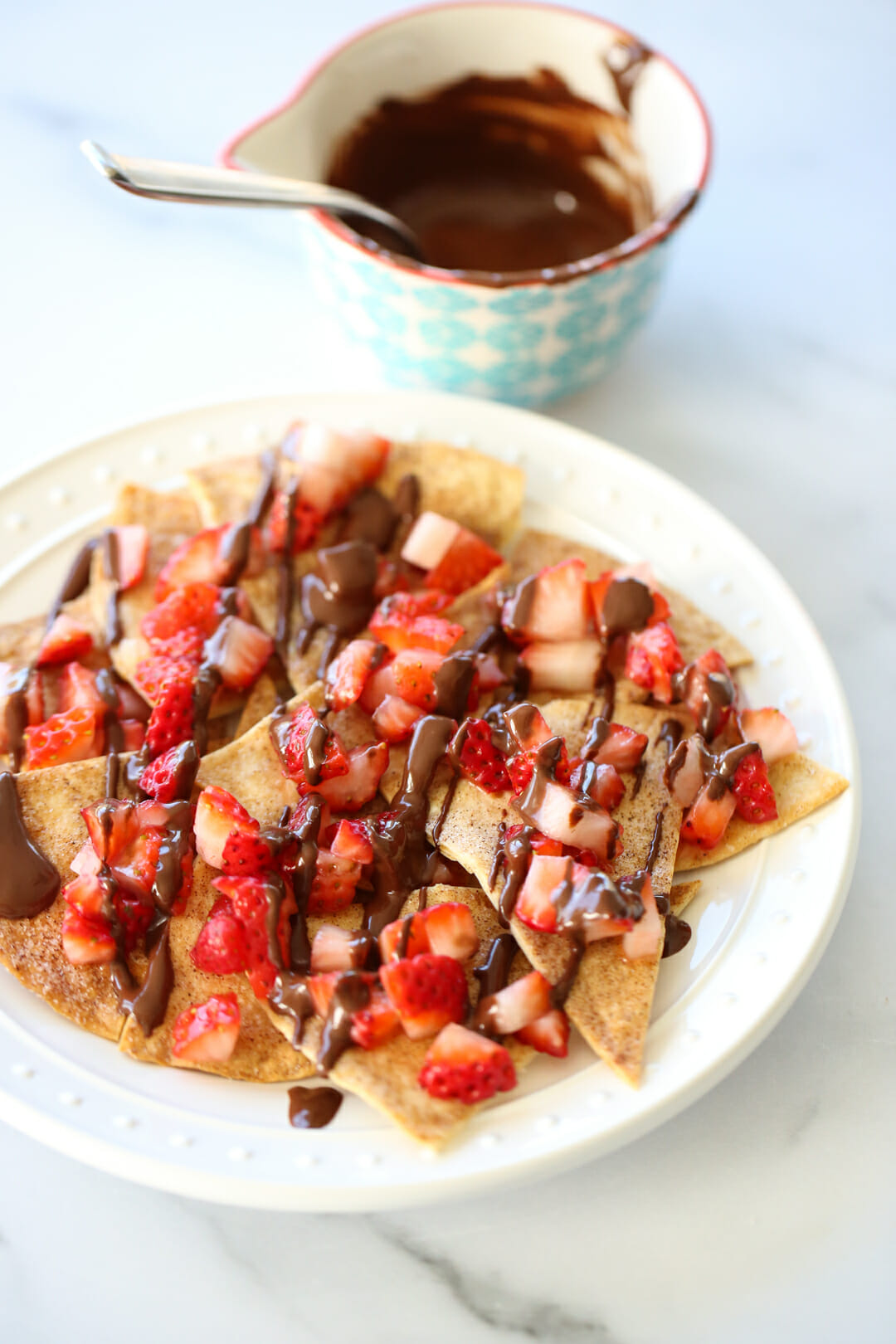 They are wonderful just like this, or if desired, you can add a little whipped cream.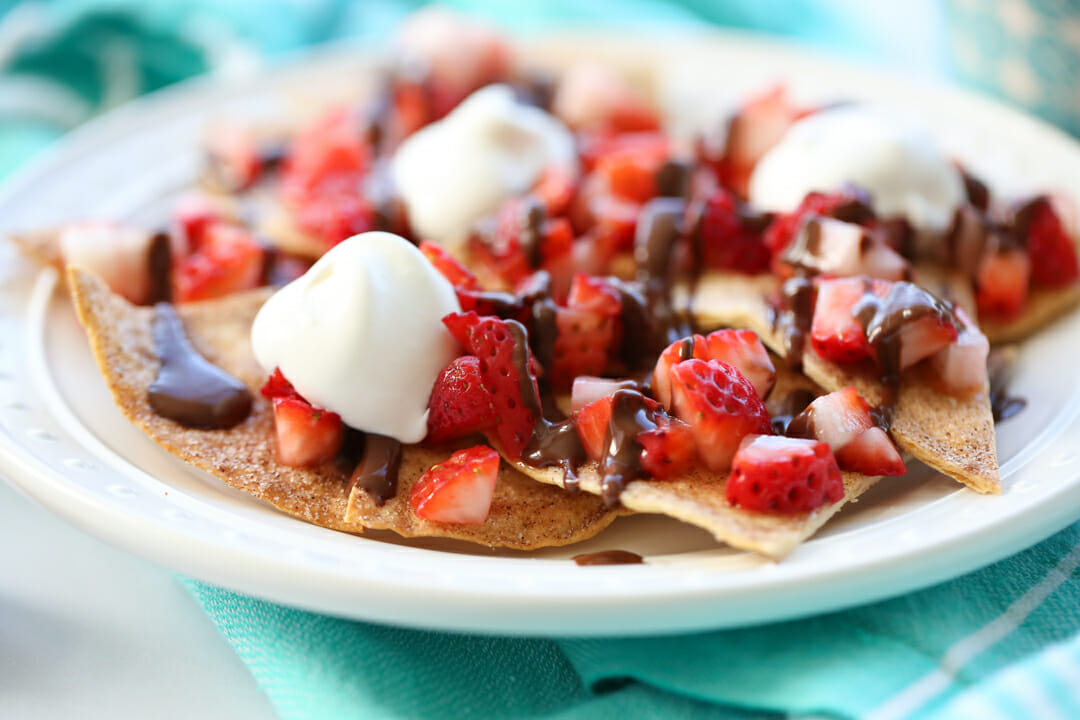 This is such a fun treat that works great for throwing together on a big platter and letting everyone eat together, or putting together individual servings for a unique dessert.  As written this recipe serves 3-4 people.  Just multiply or eyeball to serve a crowed, the recipe is very flexible!