Isn't it weird how summer is somehow the laziest and also the busiest time of year? Late nights, traveling, houseguests, sports, camps, swim lessons, competitions–it's glorious and exhausting. Throw in the fact that it's eleventy billion degrees outside and, at least for my family, all those factors lead to a whole lot of nights at the drive thru if I'm not careful.
Summer Dinner Solutions!
We're here to help. We've been doing this meal plan thing now since the spring of 2017 and we've kind of gotten it down to a science. In March, we released our Fit & Fast Plan, which was 6 weeks of calorie-smart dinners and desserts and you guys loved it so much, we decided to up our game. During the last few months, we've thrown all our creative energy into our favorite menu plan so far–and we did something we've never done before. Our Summer, Simplified plan is 7 weeks of BRAND-NEW dinner recipes!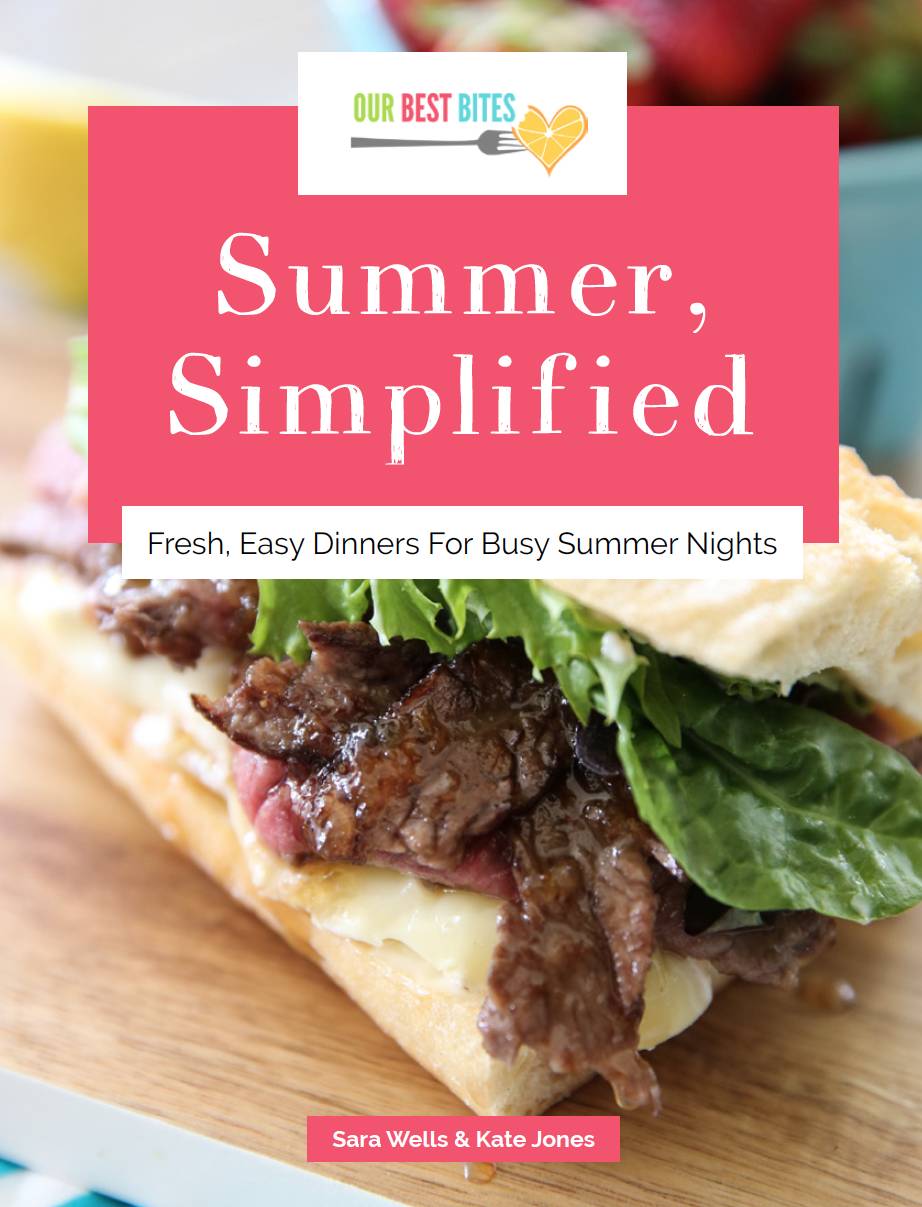 Even in our books, we had lots of new recipes, but there were also always some that were already on the blog. That's not the case here; we have 35 brand-new recipes (5 dinners a week; we figured we'd give you a little wiggle room for eating out, entertaining, or leftovers). And not only that, but they can all be made in 30 minutes or less. And you don't have to turn on your oven for a single one of them; they're either no-cook or use the stovetop or Crock Pot (or pressure cooker). And it's not peanut butter and jelly sandwiches sandwiches. It's things like Pesto Pasta Salad, Tropical Quesadillas, Steak Street Tacos, Pizza Waffle Dippers, Cold Sesame Noodle Bowls, BLT Pasta Salad, and Pork Flatbread Pizzas.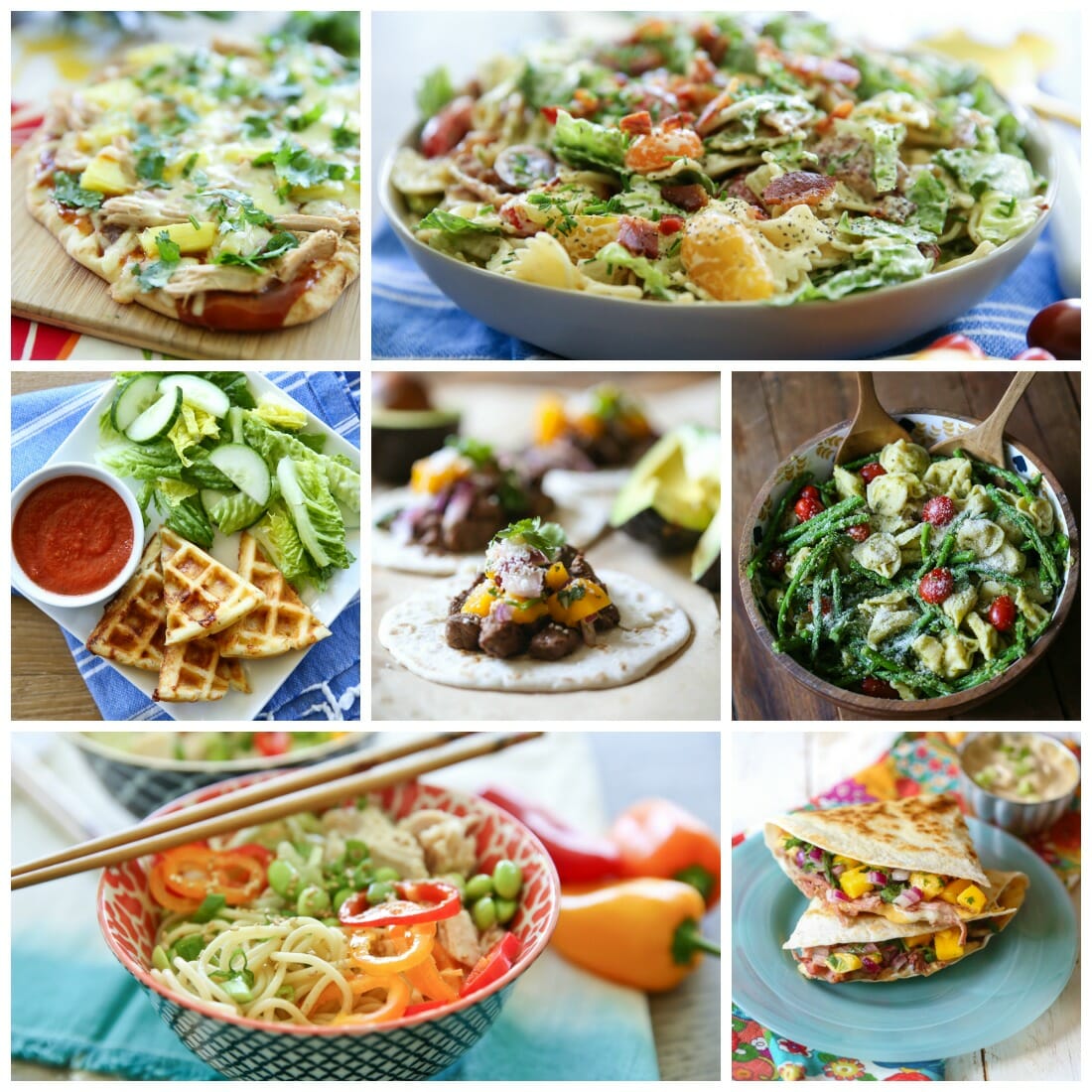 We're so excited to have teamed up with the incredibly talented Kri at Kriativ Co. to professionally design these meal plans. That means they're extra-beautiful and, if you'd like, you could send this to some place like Office Depot or Staples and have them print it for you, almost like a magazine.
Like all our meal plans, we've carefully arranged each week so you're buying only what you need and are using up as much of the "rollover" ingredients as possible. Each week comes with customizable shopping lists, action plans, and make-ahead instructions to make enjoying mealtime with your family as enjoyable as possible! Going to the beach? On a picnic? To the ballpark? So many of these meals are easy to transport, perfect for dinner away from home without resorting to $7 hot dogs.
What Do I Get?
In addition to the brand-new recipes, grocery lists, and planning tips, we've also included two beautiful lifestyle collections. The first is 50 Fun Summer Activities for Kids.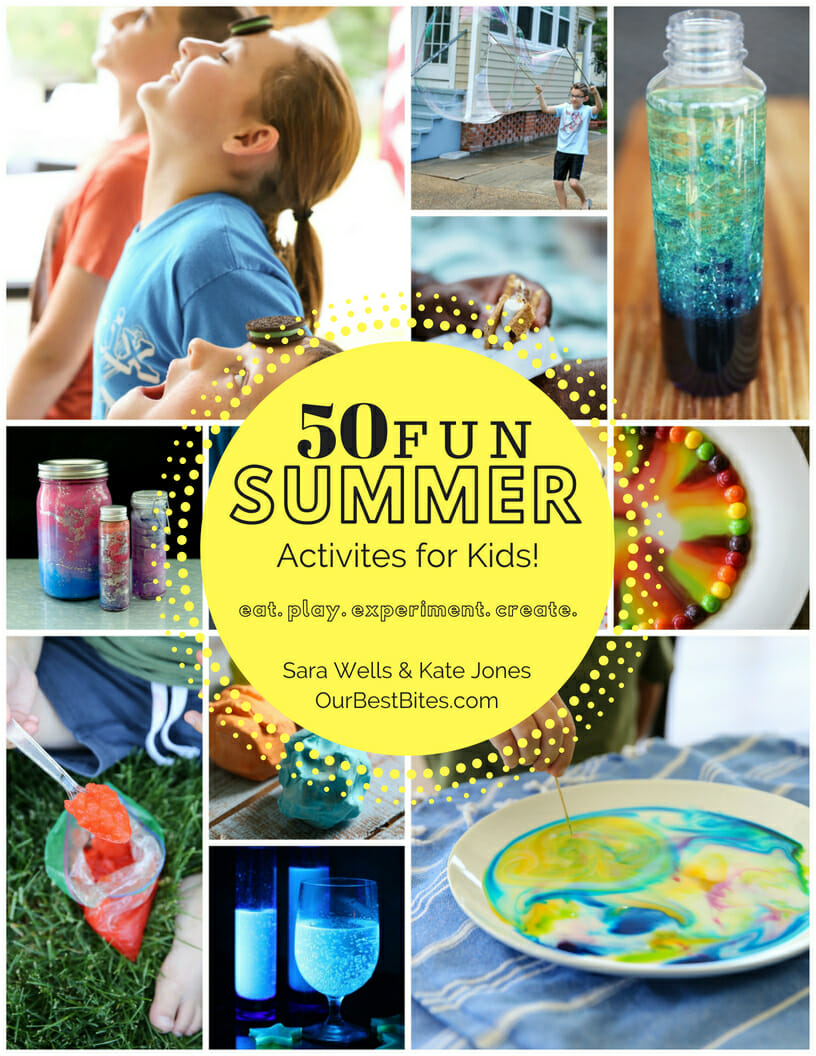 This amazing bonus content includes crafts, recipes, activities, and other ideas all collected in one place to keep your family busy all summer long.
We've also included 20 Outdoor Games for Families.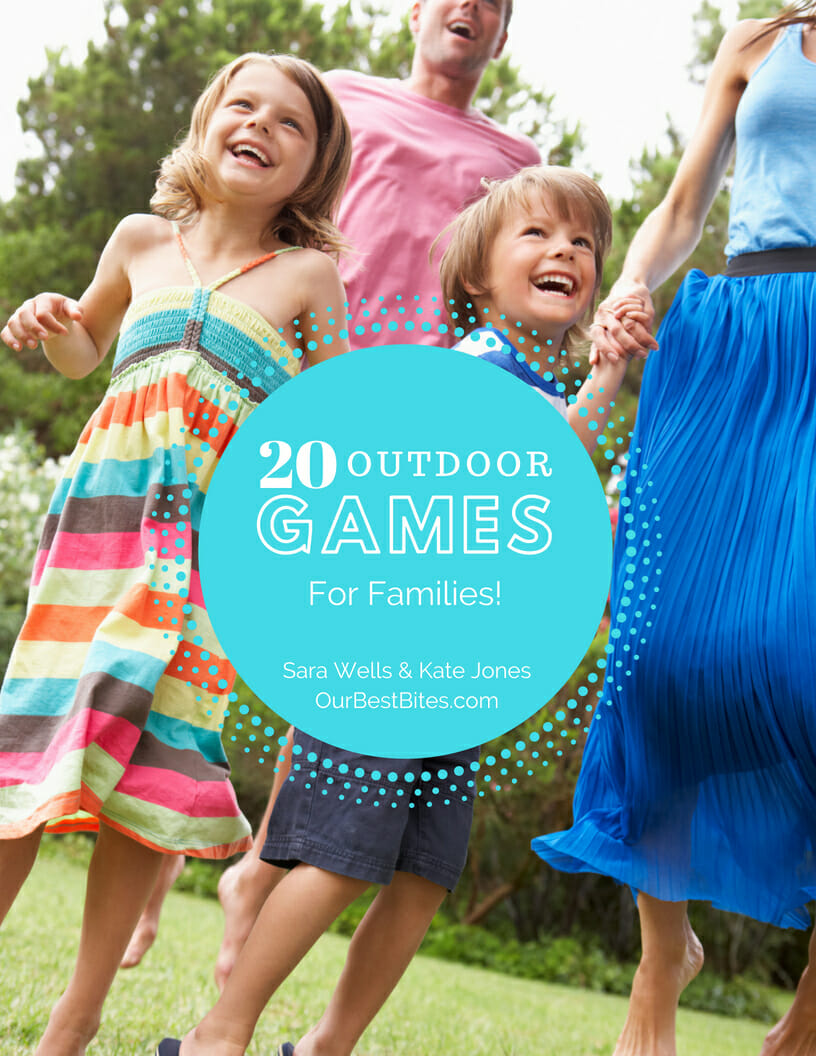 Planning a family reunion? All the kids in the neighborhood at your house all summer long? Have a summer birthday party and looking for ways to keep everyone busy? Youth camp? We've got you covered. These games and activities are perfect for large groups!
And we're also throwing in one more thing…
We put this eBook together back in 2016 and it was a hit! We've heard from so many of you about how much it's helped your confidence level at the grill, and we couldn't agree more. It's everything you need to know about grilling in one valuable resource that'll become a staple in your kitchen! Our 100+ page guide is valued at $24.99 on it's own, and it includes how-to instructions on grilling absolutely perfect steaks every single time, outdoor entertaining hacks, the BEST recipes from our own grills that our families adore, the how-to on creating gourmet restaurant-quality burgers at home, tips on mastering grilling perfectly flavored vegetables and desserts, and BONUS: it even includes a gorgeous 30 page BBQ printable party pack, perfect for any summer shin-dig. All of it is included as a free bonus in our Summer, Simplified meal plan!
This Summer, Simplified meal plan isn't just a meal plan… it's an entire package of goodies!
We're so excited about this project that we've got a pretty amazing giveaway to celebrate its launch!

Yep. You're seeing that right. We're going to fill that Yeti cooler full of some of our favorite summer products and send it to one lucky winner. Anyone who buys our Summer: Simplified meal plan within the next seven days will automatically be entered to win the following!
There's also a good chance we'll throw some of our favorite treats and smaller items in there. The giveaway closes at 11:59 pm Mountain Time on Friday, July 6. The winner will be selected from those who purchased Summer: Simplified before that time and will be contacted to make delivery arrangements.
Ready to Make This Official?
So are you ready to let us handle the meal planning for the rest of the summer so you can do more of what you love? (We know that means spending time with your family and also probably hiding from them just a little bit. Don't worry, this plan will give you time to do both.) Click HERE to purchase Summer, Simplified and begin simplifying your summer right away!