I know we keep promising an actual meal around here and then keep getting sidetracked with fun Halloween stuff so I'm finally going to give you something dinner-worthy!  (Not that doughnuts or cookies aren't dinner-worthy, because they totally are.)  I actually do have another dessert to share and I let all of you Facebook fans vote what would go up today.  I'll be honest, I stopped counting half way through (I didn't know that many people would pipe in!) and when I tallied up the votes dinner won by ONE vote over dessert.  It was seriously that close!  But no fear; the dessert is coming next week 🙂  This is actually a little variation from one of the recipes I contributed to the Good Bite Weeknight Meals: Delicious Made Easy.  It's one of my go-to meals when I need something warm and filling without a lot of fuss.  I love it because it's a basic sweet and sour sauce (for which I almost always have the ingredients for) and you can really throw any vegetables in there that you happen to have around and you've got a better-than-takeout meal in under 30 minutes.  Much healthier than take-out too!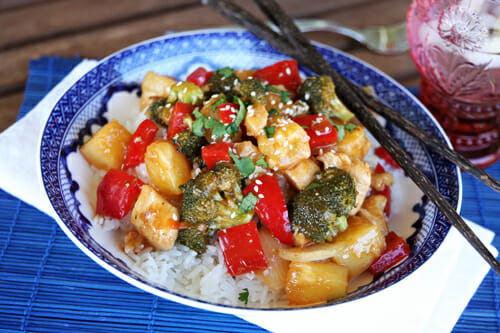 Somehow I forgot to take photos of the sauce preparation, but it's super easy.  you'll just combine a little cornstarch and cold water and stir those together and then add some other yummy stuff like soy sauce, pineapple juice, ketchup, brown sugar, etc.  So pretend you're looking at that right now.  Are you visualizing?  Take your time…okay good.
Now, start by sauteing some boneless, skinless chicken breast with some fresh garlic and ginger in a large skillet or wok.  You could also use pork tenderloin, or chicken thighs.  I'm going to give you a little hint about pans too.   I'm using a stainless steel pan here because it's easier to photograph than my black nonstick ones.  If you use a stainless steel pan, you may have to add a little extra oil to make sure the garlic and ginger don't burn.  In a nonstick pan I never have that problem because there's naturally a little extra moisture.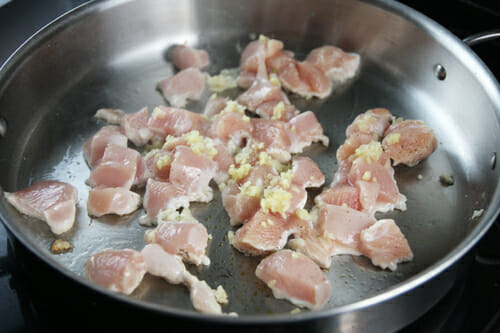 You'll also notice when the chicken finishes cooking, you've got lots of brown bits stuck to the bottom of the pan.  These are great; this is what you're looking for when you make pan sauces, but in this case, if we continue with the recipe and cook the veggies, those brown bits will turn to black bits and that's no good.  So remove the chicken from the pan and set aside.
And now we'll take advantage of all that flavor and de-glaze the pan! I'm using the juice from my can of pineapple to simmer the browned bits right off and add flavor to the sauce.  If you're using a non-stick pan then you can completely skip this step.  The pineapple juice will just get mixed in a separate bowl with your sauce.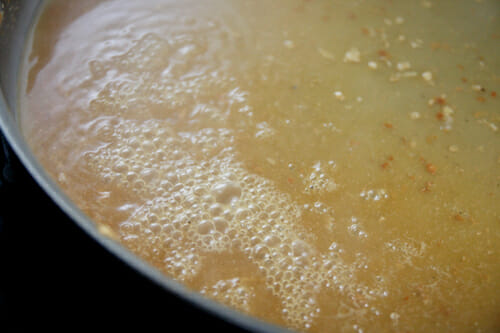 Once the pan is de-glazed, just pour the pineapple juice into the bowl where you started the sauce.
To your clean pan, add a drizzle of oil and some veggies.  I'm using onion, broccoli, and red bell pepper, but really you can be fairly creative here and clean out the fridge.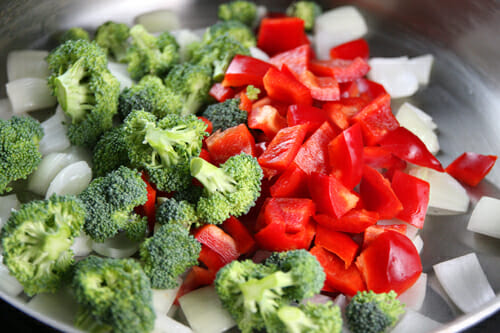 Just cook those for a few minutes until they are crisp-tender.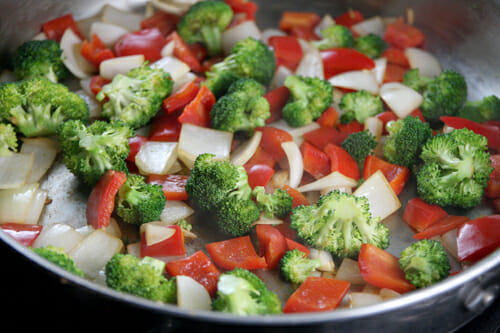 Then you can add your cooked chicken back in, and also your pineapple.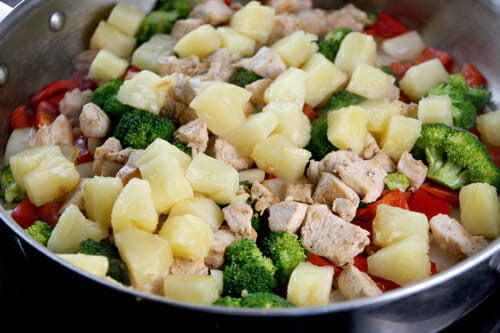 Then you'll pour the sauce in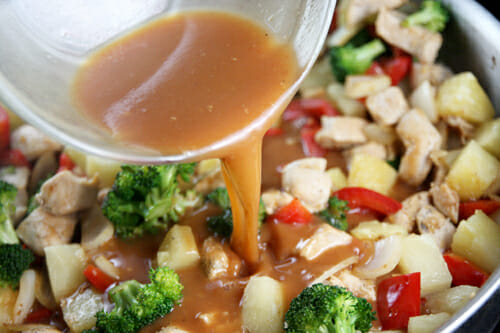 and just let it come to a simmer for a couple of minutes to thicken.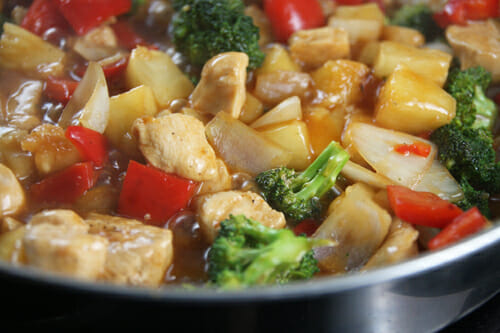 Serve it over brown or white rice.  And if you want, you can sprinkle it with sesame seeds and something green.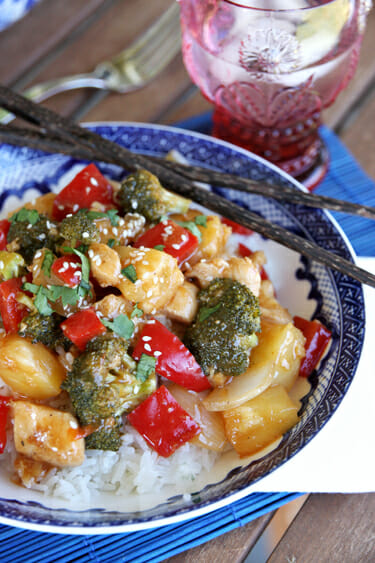 Sweet and Sour Chicken Stir-Fry
Recipe by ourbestbites.com
Ingredients
1 tablespoon cornstarch
1/4 cup cold water
1 8 ounce can pineapple chunks, drained and juices reserved
3 tablespoons ketchup
1 tablespoon soy sauce
2 tablespoons brown sugar
1 teaspoon rice vinegar
3-4 teaspoons vegetable oil, divided
1 pound boneless, skinless chicken breast or thighs diced into 1 inch pieces
(you could also use pork tenderloin, or sliced boneless pork chops)
1/2 teaspoon kosher salt
1/4 teaspoon black pepper
2 garlic cloves, minced
1 tablespoon minced fresh ginger
3 cups broccoli florets
1 medium bell pepper, stemmed , seeded, and cut into 1/2 inch squares*
hot cooked white or brown rice
*In this post, I used half of the bell pepper, and added 1/2 of a diced onion as well
Instructions
Start cooking your rice so it will be ready.
Combine cornstarch and water in a medium sized bowl and stir to dissolve.  Add the reserved pineapple juice*, ketchup, soy sauce, brown sugar, and vinegar to the bowl and stir to combine.
*If you're using a stainless steel pan, save pineapple juice for de-glazing it
heat 2-3 teaspoons of the oil in a wok or large nonstick skillet over medium-high heat.  Add the chicken, salt, pepper, garlic, and ginger.  Stir-fry until the chicken is cooked and no longer pink, 3-4 minutes.  Remove chicken from pan and cover to keep warm.
Add the remaining 1-2 teaspoons oil to the pan and add the broccoli and bell pepper.  Stir-fry over medium-high heat until the vegetables are crisp-tender and the broccoli is bright green, 3-5 minutes.
Return the chicken to the pan and add the pineapple chunks and sauce mixture.  Bring to a simmer and cook until everything is heated through and the sauce has thickened, 1-2 minutes.  Season with additional salt and pepper to taste.  Serve over the hot cooked rice.  If desired, top with sesame seeds and chopped fresh cilantro or parsley.
Serves 4 (or more like 6 if you've got some kiddos in the mix)
We'd love for a couple more of you to enjoy the Good Bite Cookbook "Delicious Made Easy" so we're giving away 2 more copies!  Head on over to The Scoop to enter.  Did you hear that?  The Scoop.  If you're reading this via email, the posts sometimes run together so click here to make sure you are at the right spot!  Do NOT leave your comment on this recipe post.  Comments on this recipe post should be telling me how delicious and amazing this Sweet and Sour Chicken is and how I have great hair and adorable children and am super hot and crazy intelligent.  If you tell me you just want a book I will not be happy.  But I will be happy if you try out this Sweet and Sour and love it as much as my family does!
And whiiile you're over on The Scoop, make sure to check out the other giveaway we have going on right now from America's Test Kitchen!  Click here for all the details; I seriously love this book!