My husband makes fun of me because I have an uncanny ability to remember seemingly minute (and perhaps useless) details related to important life events. Like, he'll say,
"Sara remember the time we went on that amazing date and I got you that super awesome gift and shared all of the inner most parts of my soul with you?"
And I'll instantly know what he's referring to and say
"Um, ya, you mean that one time when I was wearing that gray sweater and my red heels and I had my hair up, but not all the way up, but casually-messy up, and you wore those one pants with the hole in the knee and the flip-flops I bought you in Cali and on the way to the car I dropped my chap-stick?"
And that's when he just stares at me.
I'm convinced this talent will some day win me lots of money on a random game show or something, but in the mean time it can also provide us with some good recipes. See I remember a family bbq from about 2 years ago. I know where we were, but I can't even list the people that were there. What I do remember, and I remember it well, was that my sister-in-law Monica showed up (and yes, I do know what she was wearing) with a little plastic container of awesome cucumbers.
Husband: "Hey Sara, remember that really important family bbq we had where all of those earth-shattering things happened?"
Sara: "Um, ya, you mean the one where Monica brought those awesome cucumbers? Totally remember that."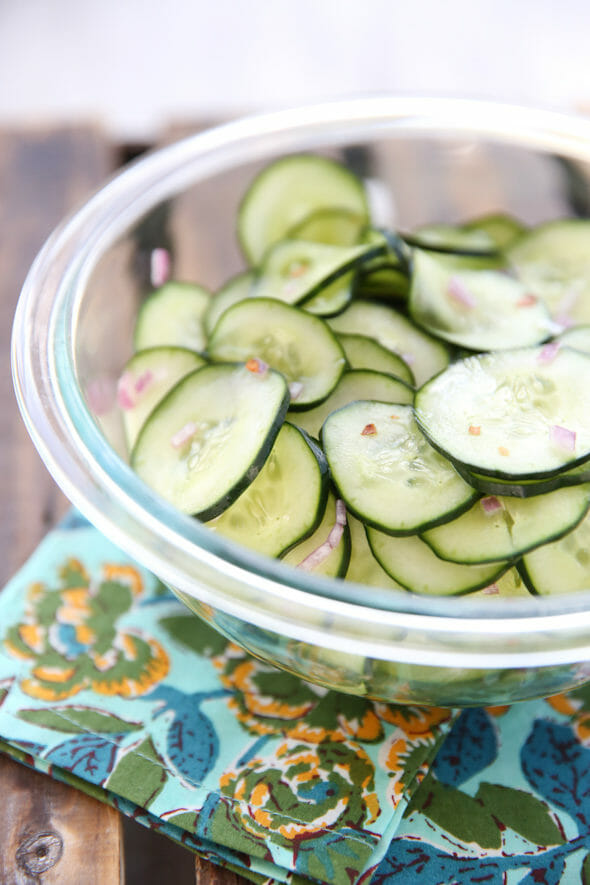 I've remembered that for two years and even though that was the only time I tasted them, I found myself craving them a few weeks ago. So I got the recipe from her and here we are! See? I knew my talent was useful.
These are tangy and sweet with a little bit of a kick. It makes a great side-dish for summer bbq's. There's something incredibly refreshing about cold cucumbers, right? And if you have cukes coming out of your ears garden, then this is especially for you. Aside from eating them plain, we love these on salads or added to lettuce wraps or just plain from the fridge. They're unique and you have to make them to see why I love them so much!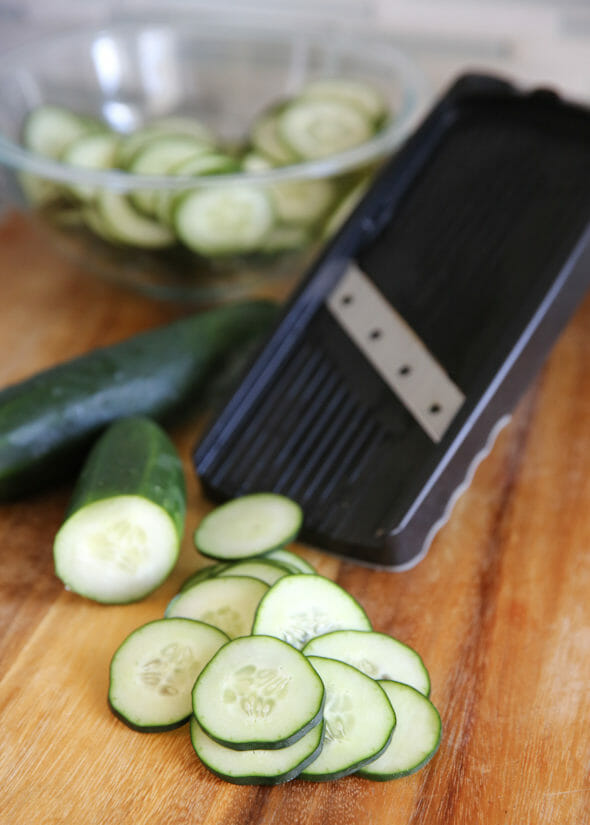 A mandoline will be your best friend here, but you can certainly slice by hand if you'd like. You can do peeled or unpeeled cucumber and you can leave them whole, or cut them in half. Your choice.
Next, place the cucumbers in a colander and sprinkle them with salt. Salting cucumbers draws out the moisture. If you don't do this step, then all of this moisture will come out in the final dish and water it down. I actually salt my cucumbers before making tzatziki as well because otherwise it tends to get watery after sitting in the fridge. I like to set my colander in a pan to collect the moisture and just leave that whole set-up in the fridge for a bit.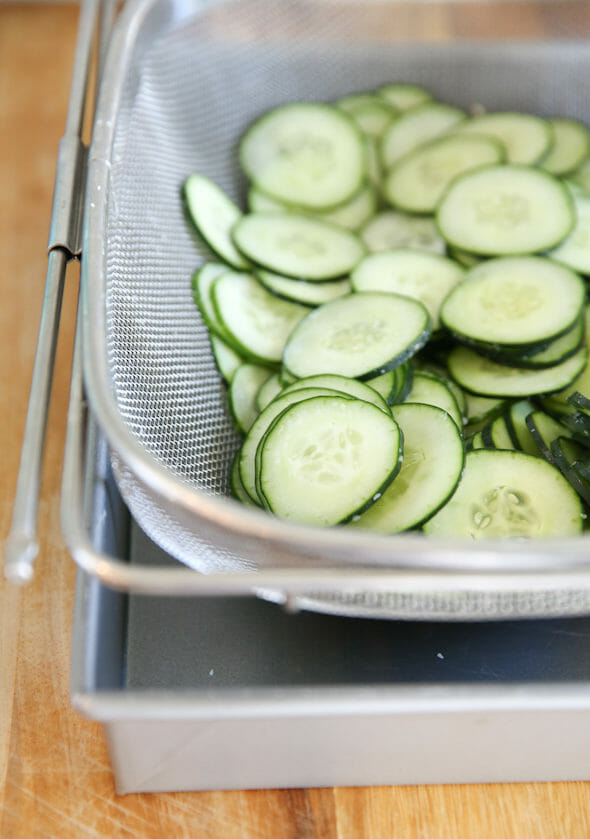 While your cucumbers are draining you can prepare the simple marinade. Heat up rice vinegar, sugar, and red pepper flakes in a pan and after it's reduced add some minced red onion. Honestly, you can leave out the pepper flakes if you don't want any heat. I obviously left them out of this batch, because honestly I forgot. But I don't like a lot of heat and these taste great sans pepper flakes as well.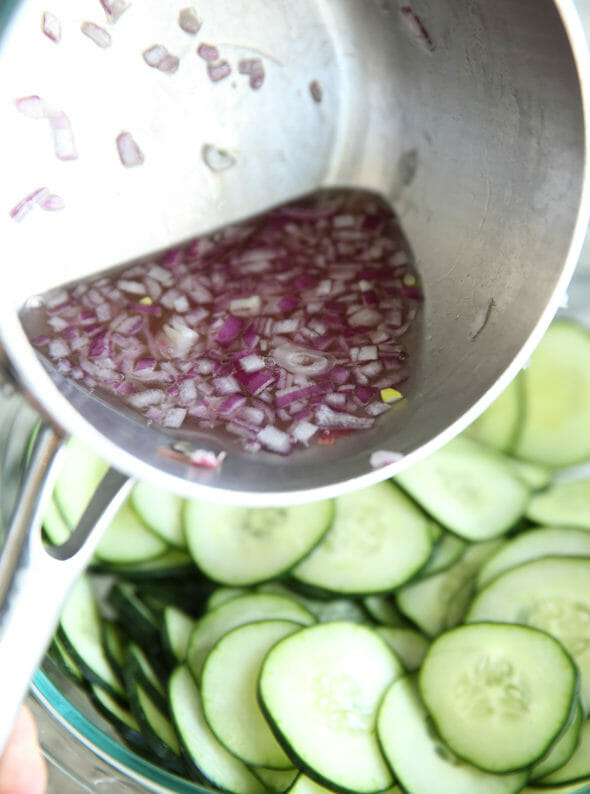 You'll want to let these sit and marinade for a while before you eat them. They get better with time, so give yourself at least a few hours chill time. They're also great the next day, and even several days later. They become more like pickle-texture they longer they sit (which I like!)
It's a great side-dish for any bbq meal, or just along side grilled chicken or steak. Try it out at a pot-luck and listen for the oohs and aahs.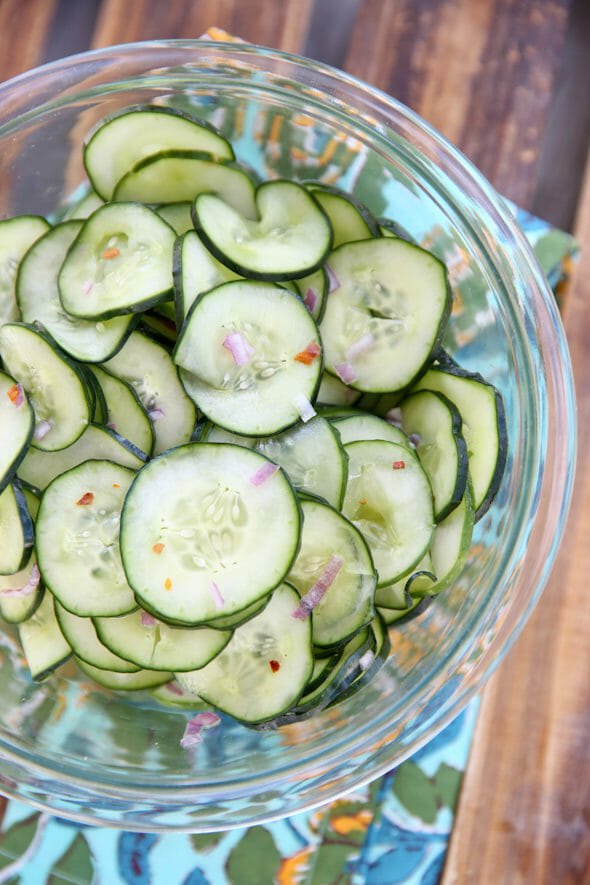 Print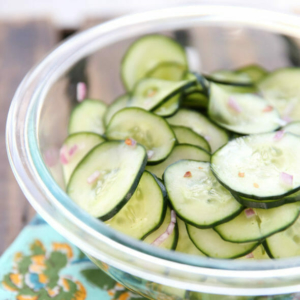 Sweet and Spicy Marinated Cucumbers
---
Description
Marinated cucumbers burst with flavor, making a perfect side dish, or topping to a salad or other meat dishes. We love these on Asian lettuce wraps as well!
---
1

–

1/2

lbs cucumber (about

3

medium), thinly sliced (peeled or unpeeled)

2 teaspoons

kosher salt (if using table salt, use only

1 teaspoon

)

1/2 cup

rice vinegar, seasoned or regular

1/2 cup

water

3 tablespoons

sugar

1/4 tsp

red pepper flakes (optional if you don't want any heat.)

2 tablespoons

minced red onion
---
Instructions
Place cucumber slices in a colander sitting over a bowl, sprinkle with salt and toss well. Let sit for 1 hour refrigerated. Toss the cukes a few times while they drain if you remember. While cucumber slices are draining, prepare marinade.
Combine vinegar, water, sugar and red pepper in a small saucepan; bring to a boil. Reduce heat, cook until reduced to a 1/3 cup (about 10 minutes). If for some reason you boil for too long, just add a little water until you have 1/3 C. Remove reduction from heat and add onion. Let mixture cool to room temp.
When cucumbers are done resting, pat them dry with a few paper towels and then combine with the vinegar reduction. Chill for at least a few hours before serving. They improve with time!
---
Notes
Note: I have successfully made these with sugar substitute (like Truvia) as well.
Tip: Sometimes I like to double the marinade to make them extra flavorful!
this post contains affiliate links