I have three very blue-eyed, blond-haired little boys. People often make comments when they see me with all three of them out and about, that go something like this: "Oh look at those blue eyes! And all that blond hair! Just like their Mommy…" to which I politely smile and say, yes, just like their Mommy. The truth is their Mommy really has no idea what her actual hair color is because she hasn't seen it in years, but yeah, let's just go with blond. We can pretend, right? Now that we're pretending my hair is really blond, let's pretend that all of those Goldilocks stereotypes are true, just so I can tell you about a recent blond moment I had. Because it will make you feel smart. Stick with me.
I giggled like a school girl the day a big box containing this arrived on my doorstep:
Proof that I'm officially a grown up. Kitchen appliances make me giggle like a school girl. I have wanted a wheat grinder forever and I finally got one. It's a Wonder Mill and I love it. There was a time in my life when I wondered when anyone would want to grind their own wheat, or grind their own anything for that matter, and more proof that I'm a grown-up: I see value in it now! I love that I can grind my own ingredients and make all kinds of flours, including those from wheat, beans, rice, and more. It's a great way to add some really healthy grains into your diet and nothing beats how fresh and pure it is.
Now. When I told you all on Facebook how excited I was that I got my Wonder Mill a lot of people made comments about grinding popcorn and how awesome the bread is. Popcorn bread?? I'd never heard of such a thing! But it sounded intriguing. Apparently I hadn't been in the I-grind-my-own-grains club long enough to be aware that it was normal. Not gonna lie; I felt a little left out. And I really wanted some popcorn bread.
It wasn't until I was browsing recipes on the Wonder Mill site that I saw reference to popcorn. And it still took me an amazingly long time to realize that when you grind popcorn kernels, you get… CORN MEAL. Oh my gosh, okay, wow, hello, welcome to earth Sara. That totally makes sense now that I think about it, but somehow I never realized that's what it was. I'm awesome. I want all of you who sheepishly leave comments and write emails that begin with "I feel so dumb asking this because it's a stupid question…." to remember this story, and then ask your stupid question. Because it's probably not stupid!
Another thing I didn't realize is that grinding it is super duper easy. I always assumed a wheat grinder was enormous and heavy and loud, and took up a lot of space, and took forever to put up and take down. And maybe some are, but this one isn't all that big and it's so easy to use. Can you tell I love it?? I just poured a little popcorn in the top:
And seconds later, this comes out the other end- beautiful, perfect, fresh, corn meal. Oh my gosh I'm awesome. I just made my own cornmeal. You have no idea how things like this excite me.
So naturally I had to make some cornbread with it. I set out this particular day to make some whole wheat bread and was totally blindsided by this cornbread recipe. I happen to be really picky when it comes to cornbread. I like it sweet, and moist. I despise the dry crumbly stuff, ew. This one might be my new favorite; so perfect for upcoming summer bbqs! Let's get cookin'.
Start by creaming together some butter and white sugar. Did I mention I like my cornbread sweet? And buttery doesn't hurt either.
If you're wondering, there is absolutely no reason why your butter needs to be cut into small cubes like mine. Unless your microwave literally exploded and you had to purchase another one and wait for your husband to install it for you because you don't want to do it yourself. If that were the case, then you might find yourself wondering how on earth people lived before microwaves, and specifically how annoying it would be to have to actually wait for butter to soften on its own. You might try cutting it up into small pieces to speed up the process. If you're wondering.
Then in goes a can of sweet, creamy corn and also a can of mild green chiles. Green chiles aren't spicy, they just add tons of yummy flavor.
Then we'll add that fresh cornmeal I just made (by myself! I'm practically superwoman!) and also the flour, baking powder and salt.
Lastly, in goes a little shredded cheese. Both Cheddar and Jack. Just a little tip- when I'm buying cheddar cheese for a recipe, like bread, or soup, or a creamy sauce, etc. I always buy medium or sharp, or even extra sharp. Even if you don't like that sharp of a flavor when eating it plain, it's usually much better in a recipe because the flavor is actually strong enough to show through. Mild cheddar tends to just add the creamy melty factor, but not a ton of flavor.
Pop it in a 9×13 pan and bake it up. I just noticed when I typed out this recipe here that it has you preheat your oven to 350 and then reduce the heat to 300 when you put the pan in. I so didn't do that. Now I know why mine baked way faster than it says it does. Sooo if you forget to reduce the heat and cook it at 350 the entire time, it totally works. But it will cook much faster so keep an eye on it.
Really though, this stuff is so super moist, and perfectly sweet and savory. I loved the both the texture and the flavor. It's also super buttery, which isn't a bad thing. I think you could probably even get away with a little less butter- I might try it with 1 1/2 sticks instead of 2 next time just to test that out. I'll be making this one for bbq's all summer long!
Sweet Chile Cheese Cornbread
Recipe slightly adapted from Wondermill feat. Anitra Kerr
1 cup butter (2 sticks), at room temperature
1 cup sugar
4 eggs at room temperature*
1 4 0z can chopped green chiles
1 can cream style corn
1 cup flour
4 teaspoons baking powder
1/4 teaspoons table salt
1 cup cornmeal
1/2 cup grated Monterey jack Cheese
1/2 cup grated cheddar cheese (I like medium or sharp)
*To quickly bring eggs to room temperature, place them in warm water for about 10 minutes before cracking.
Preheat oven to 350 degrees.
Beat butter and sugar together until fluffy, about 1 minute. Add in eggs one at a time, beating well after each one. Add green chiles and corn and mix well. In a separate bowl combine flour, baking powder, and salt. Take a spoonful of flour mixture and toss with grated cheeses (this will help prevent the cheese from sticking together in a big lump.) Add remaining flour mixture, and cornmeal to bowl and stir to combine. Lastly, add grated cheese and mix until well distributed.
Pour mixture into a 9×13 inch baking pan. Reduce heat to 300 degrees and bake for 50-60 minutes or until knife inserted in center of pan comes out with no goopy batter on it. (Why yes, goopy IS an official culinary term.)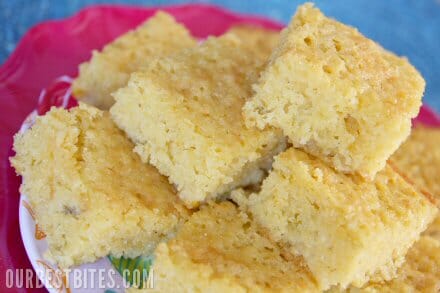 *Disclaimer: This post contains affiliate links.