I've been making this recipe for Teriyaki Chicken Salad Sandwiches ever since my sister brought it to a bridal shower (I can't say how long ago it was without feeling old, and I can't say "a number of years ago" without sounding old, so we'll just say "awhile back.")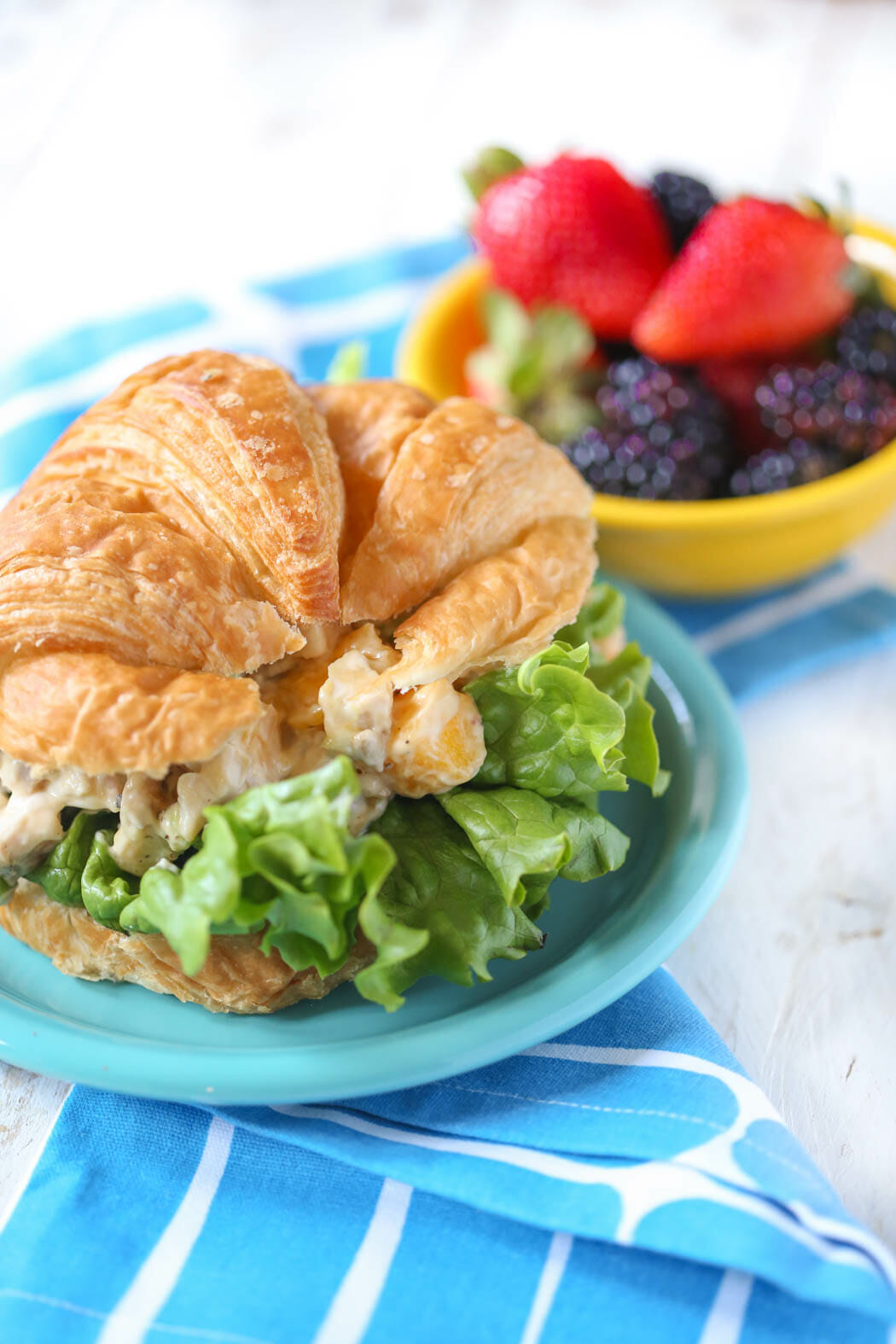 One thing I love about it is that it's flexible and can be adjusted to whatever you have on hand–fresh pineapple on sale? Use it! Mangoes sound like a pain? Pop open a can of mandarin oranges! Have some leftover sunflower seeds from that time your kids basically held you hostage at the grocery store unless you bought some and then they promptly forgot about them? Bam. It's great for hot summer nights, showers or luncheons, or locking yourself in a closet and eating it by yourself because your kids are doing this (this was from a few years ago, but it's still 100% applicable today):
https://www.instagram.com/p/i2ODOYNeqV/?taken-by=kate_ourbestbites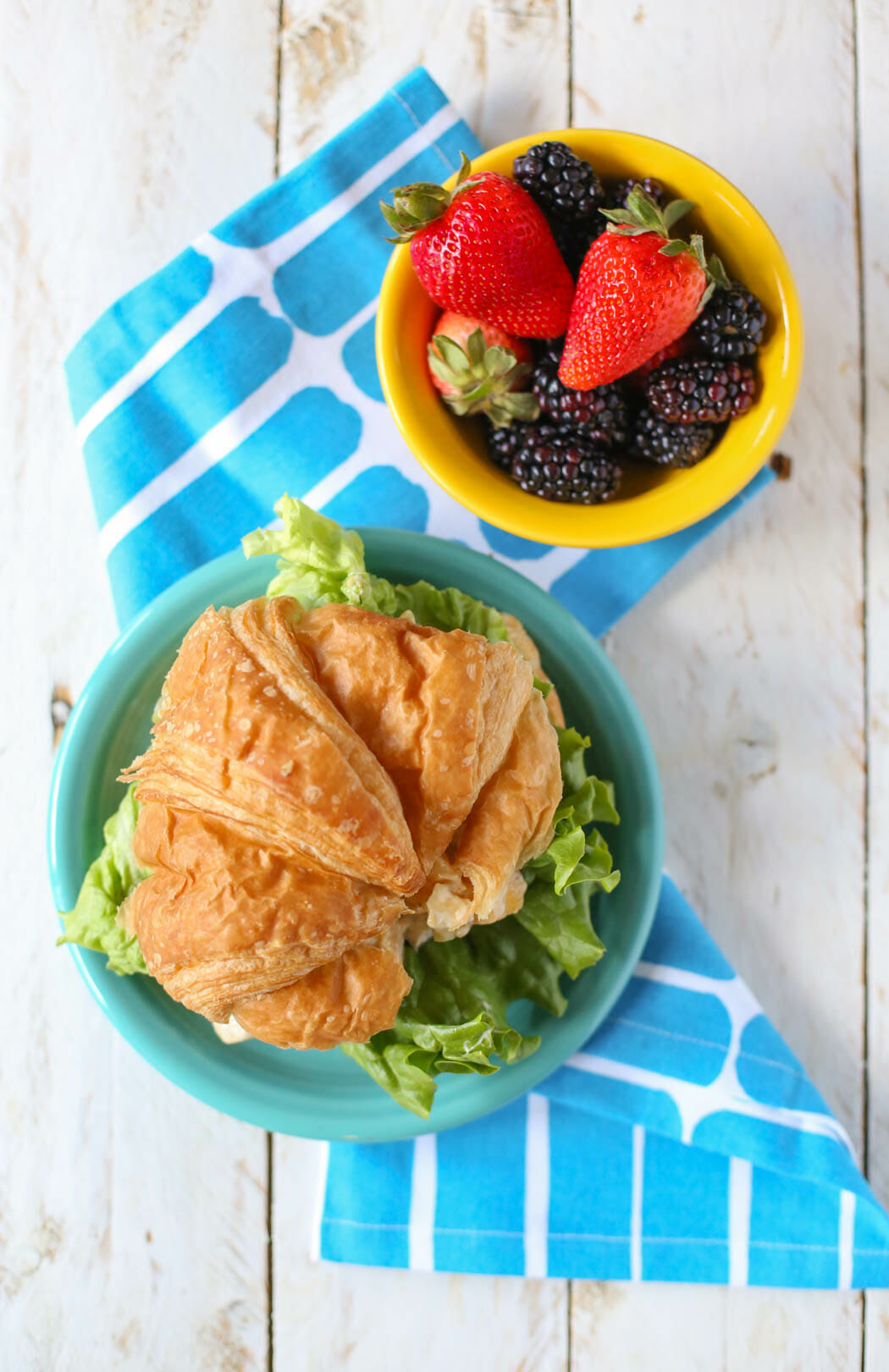 You can grill your own Teriyaki chicken (try whipping up a batch of this Teriyaki Sauce–you can use it in this recipe, too!) or buy some pre-grilled chicken at the store. Usually I'm 100% for using rotisserie chicken in chicken salad, but this recipe tastes so much better when you used grilled chicken. Toss it together with some diced celery and green onions, a little mixture of mayonnaise and Teriyaki sauce (you need something a little thicker like Kikkoman Teriyaki Baste and Glaze or our homemade sauce), cubed mango (click here for an awesome tutorial on how to manage that pesky fruit!)!, diced pineapple (fresh is awesome, but canned works well, too), and sliced almonds or shelled sunflower seeds. Then just serve it on sliced croissants with a leaf of lettuce!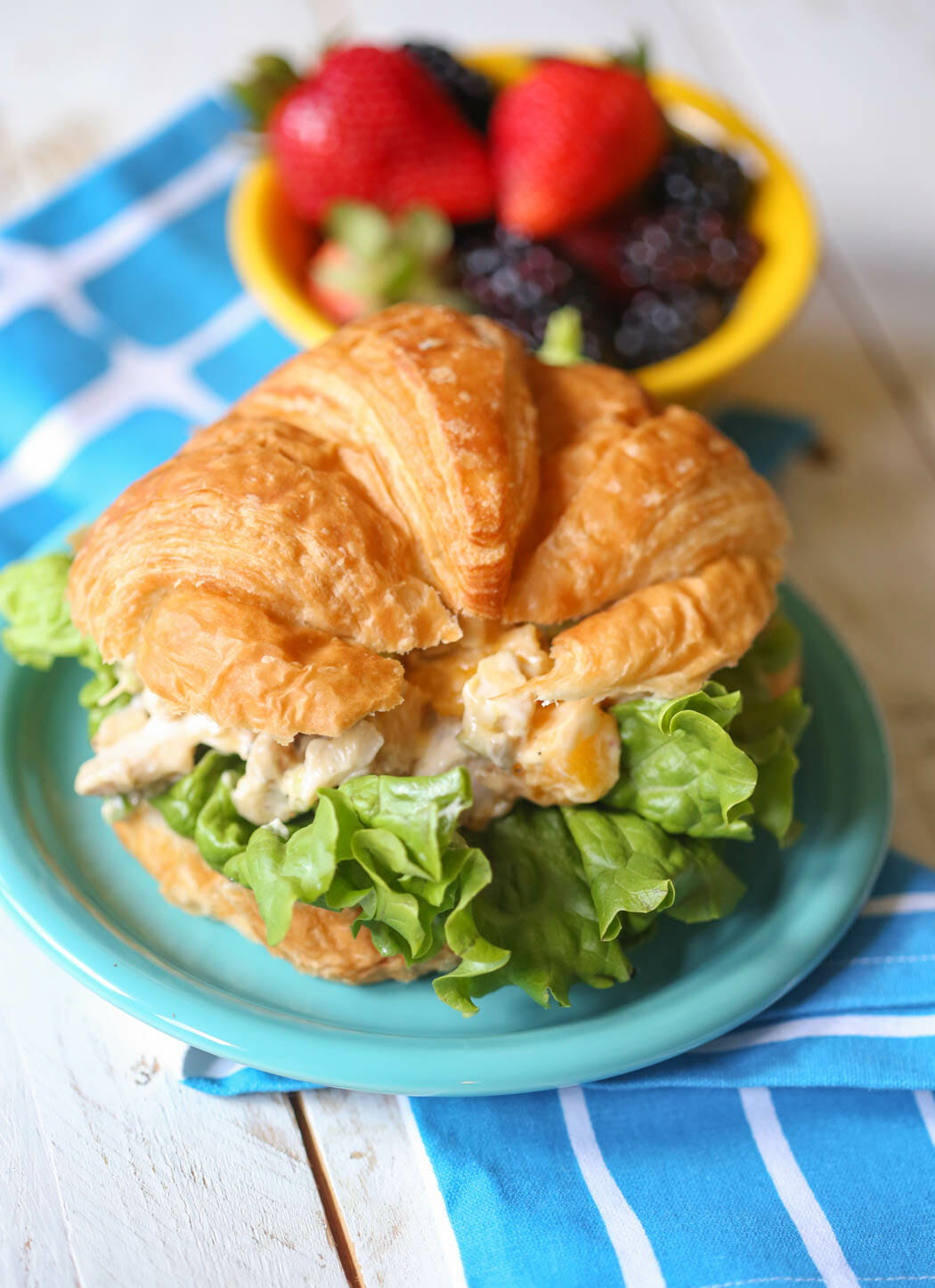 Print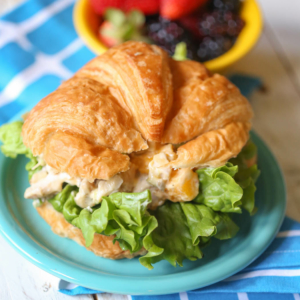 Teriyaki Chicken Salad Sandwiches
---
Description
This cool and refreshing twist on chicken salad sandwiches is perfect for showers, luncheons, and hot summer nights!
---
2 chicken breasts
Kikkoman Teriyaki Baste and Glaze
2 stalks celery, finely chopped
1/3 cup sliced green onions, chopped
1/4 cup sliced almonds, toasted
1 mango, cut into small cubes (or 1 small can of Mandarin oranges, drained)
1 small can pineapple tidbits OR roughly-chopped chunks
1/3-1/2 c. light mayonnaise
Salt and pepper to taste
Croissants
Lettuce leaves
---
Instructions
Marinate chicken for at least 4 hours. Grill for about 7 minutes per side. While chicken is grilling, combine celery and green onions in a small mixing bowl or a plastic storage container with a lid. When chicken is done, allow to stand for about 10 minutes and then cut into bite-sized pieces. Toss with celery and onions and then add mayonnaise and mix thoroughly. Start with 1/3 cup and go from there. Add 2-3 (or more) tablespoons of Teriyaki sauce to taste. The thickness of the Kikkoman Baste and Glaze (or the homemade recipe) is important because it helps keep the dressing from becoming too runny. You want to add some of the yummy Teriyaki flavor, but you also don't want it to be overwhelming. Refrigerate for several hours.
Right before serving, add mango, pineapple, and nuts. Season with salt and pepper to taste. You may need to add more mayo and/or Teriyaki; if you need it, go for it! Serve on a lettuce leaf in a croissant or a pita (or by itself if you feel the urge!)
---
Notes
substitutes and variations
Chicken breasts: 2 pre-grilled chicken breasts or 8-12 ounces grilled chicken
Teriyaki Baste & Glaze=1 recipe of our Teriyaki Sauce
Sliced almonds=sunflower seeds
Mango=1 small can drained Mandarin oranges
Canned pineapple=1/2 cup chopped pineapple