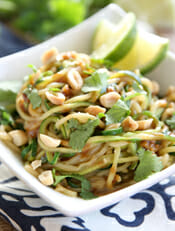 Several weeks ago I shared a post about Zucchini Noodles (click here to see it) and I included this photo of these Thai Peanut Zoodles and everyone was asking for the recipe, to today's the day!  How many of you have Spiralizers now?  It's been one of my most favorite kitchen gadgets lately.  It lets you easily adapt so many traditional pasta recipes to lighter versions.  This particular recipe is simply a lightened version of one of our most popular Our Best Bites recipes: Thai Peanut Noodles.  I just made a few simple tweaks and swaps and cut down the calories to just over 200 calories per serving!
Lightening up a classic
One of the ways I'm cutting back on calories here is by using some powdered peanut butter.  I use PB2, which you can find in some grocery stores and health food stores, but I just order mine from Amazon.  Powdered peanut butter has a fraction of the calories and fat as normal peanut butter, but in this recipe, I still feel like you need some regular peanut butter, for both taste and texture.  I found that by combining the two and using a little regular peanut butter and a little powdered, you get the best of both worlds.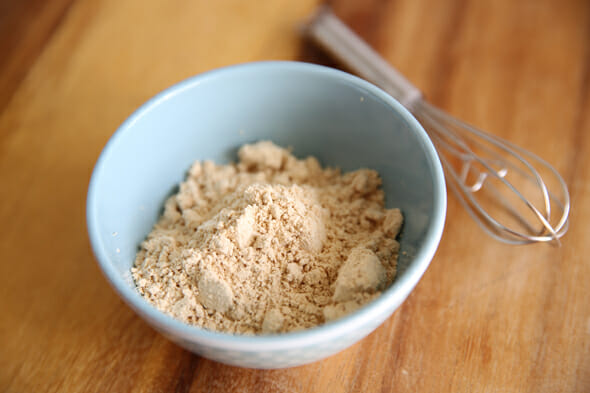 I'm also cutting back on liquids from our traditional Thai Peanut Noodles, because zucchini noodles provide extra liquid to thin the sauce.  So don't be concerned at the thickness of the sauce, it becomes the perfect consistency when tossed with the noodles.  I also suggest using granulated chicken bullion here so you don't have to open a whole can of broth for just a couple of tablespoons.
how to make thai peanut zoodles
Fresh garlic and ginger add quick flavor and our Lime Extra Virgin Olive Oil is the perfect compliment here.  (One of our few flavors available on Amazon– and the price recently dropped!)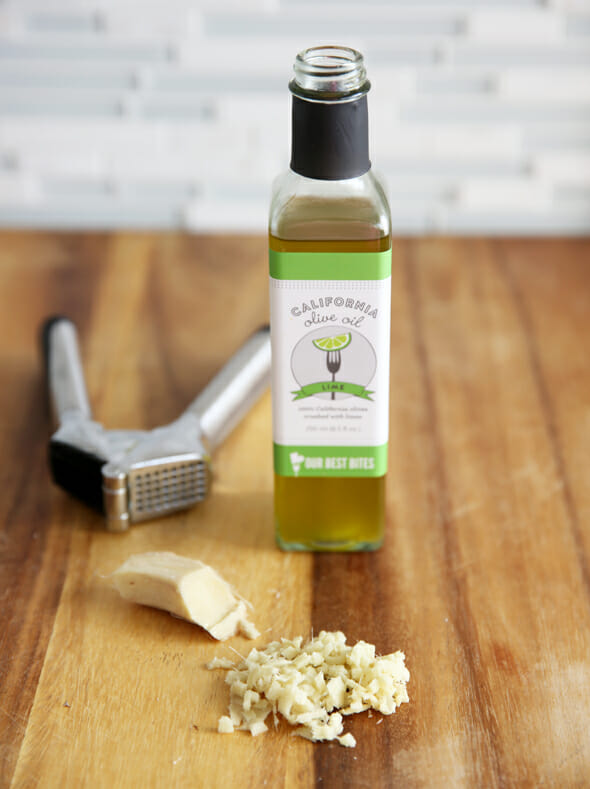 I do suggest you use my tip in my Zoodle post about extracting liquid from your zucchini noodles first.  This sauce will get particularly watery if you don't.  You'll also want to use the biggest skillet you have.  The noodles will cook better if they can spread out so the heat can distribute evenly and moisture can evaporate.  If you crowd them in a small pan, they will end up boiling.  To be honest, the photo below is actually from a different recipe- you'll want to use a skillet bigger than that!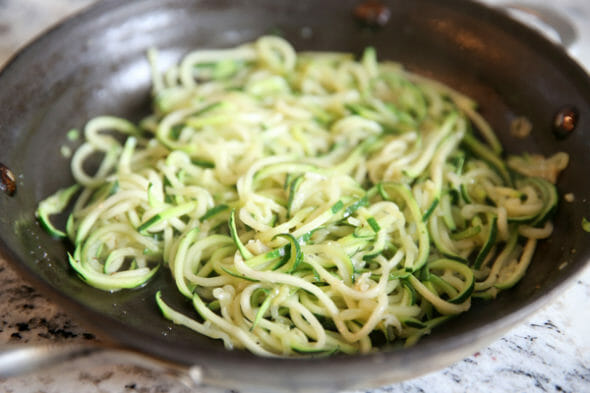 Top them with fresh cilantro, chopped peanuts, and a squeeze of fresh lime juice.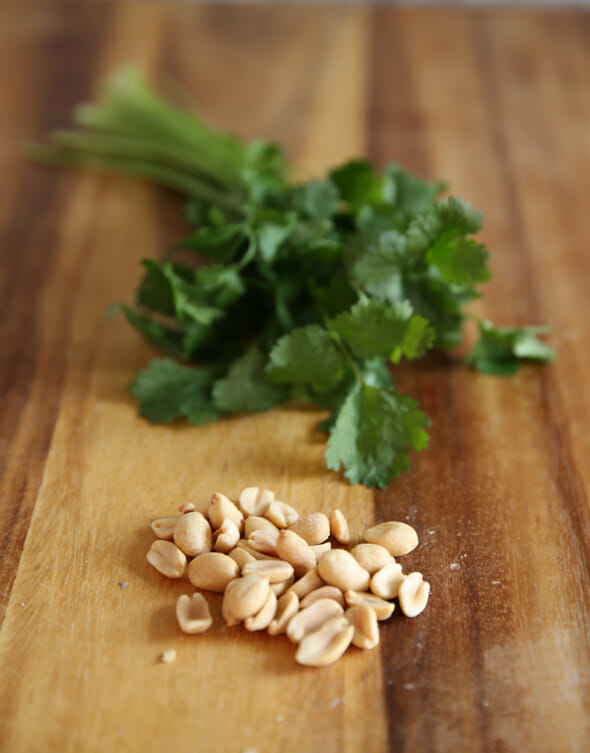 These work great as a vegetarian main dish, or along side your favorite grilled meat as a side.  You get all of the bright, fresh flavors of the original, but with a fraction of the calories!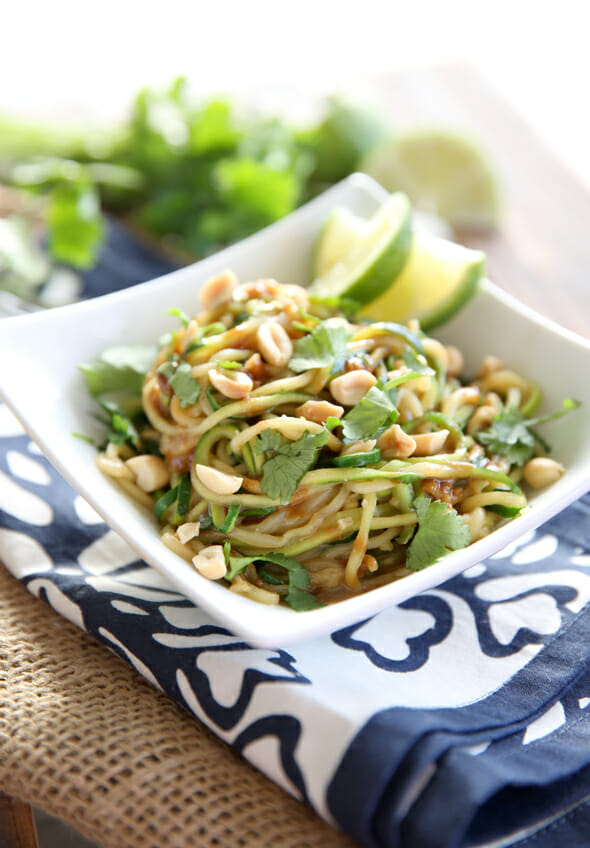 Print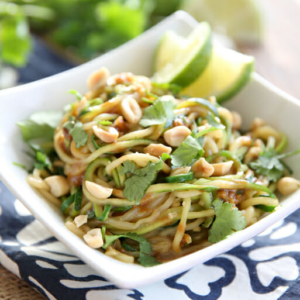 ---
2

large zucchini (about

12 ounces

each)
kosher salt

2 tablespoons

chicken broth

3 tablespoons

PB2 powdered peanut butter

1/2 teaspoon

creamy peanut butter

2 teaspoons

honey

1 tablespoon

low-sodium soy sauce

1 teaspoon

olive oil (I recommend our Lime Olive Oil)

2

cloves garlic, finely minced or pressed

2 teaspoons

fresh minced ginger

2

green onions, chopped
handful of cilantro to taste (about 1/4 cup, more if desired)
lime wedges

2 tablespoons

chopped peanuts or cashews
---
Instructions
Run your zucchini through a Spiralizer to form noodles.  Place zucchini in a large mesh strainer over a bowl or the sink and toss with a sprinkling of kosher salt (I eyeball it, about 1/4 teaspoon should be fine).  Let sit for 30-60 minutes, till much of the liquid is extracted.  Press zucchini with a few paper towels to absorb any excess.
Place chicken broth, powdered peanut butter, regular peanut butter, honey, and soy sauce in a very small sauce pan and whisk to combine.  Set aside for a moment.
Heat an extra large skillet to medium high heat and add olive oil.  Add garlic and ginger and stir until fragrant.  Add zucchini noodles and toss often with tongs for 2-3 minutes.
While zucchini is cooking, turn heat on peanut butter sauce.  Heat until simmering, constantly stirring, until hot and bubbly.  Mixture should thicken within a minute or so.  Set aside.  When noodles are tender-crisp, add peanut sauce and toss to combine.  Add green onions and cilantro and toss well.  Serve immediately and squeeze a fresh lime wedge over each serving.  Top with nuts and additional green onions and cilantro if desired.
---
---
Nutrition
Serving Size:

2

Calories:

191

Sugar:

13g

Sodium:

974mg

Fat:

11g

Saturated Fat:

1g

Carbohydrates:

16g

Fiber:

4g

Protein:

9g

Cholesterol:

1mg
If you're interested in delicious lighter fare, make sure to check out our brand new book, 400 Calories or Less, is available now!