Most of you know that if I'm not in the kitchen, you can find me in the garden.  My husband and I met while studying horticulture in college (he went into medicine and I cook for a living, funny how life takes you places, right?)  and if you follow my Instagram hashtag #SaraGardensBoise you know I am obsessed with flowers!  In fact, I've shared before that I often pick up a fresh bouquet on my regular grocery runs each week, often at Albertsons, because I just think flowers brighten up any space at home.  It doesn't need to be a special occasion!  You guys know I love growing my own flowers too, and my kitchen table is most often seen with some sort of floral arrangement, like these ones I picked from my yard.  But unfortunately I don't always have flowers in my own yard, and I definitely don't have them in ready-to-go arrangements!
That's why I pretty much dropped my jaw to the floor when I found out that Albertsons wanted to pair me up with celebrity event designer, floral expert and party pro Debi Lilly for an afternoon of floral styling in my very own kitchen.  It was such a treat to meet Debi; this incredibly talented lady has worked with people like Lady Gaga, Martha Stewart and Oprah.  She touches flowers and creates pure magic!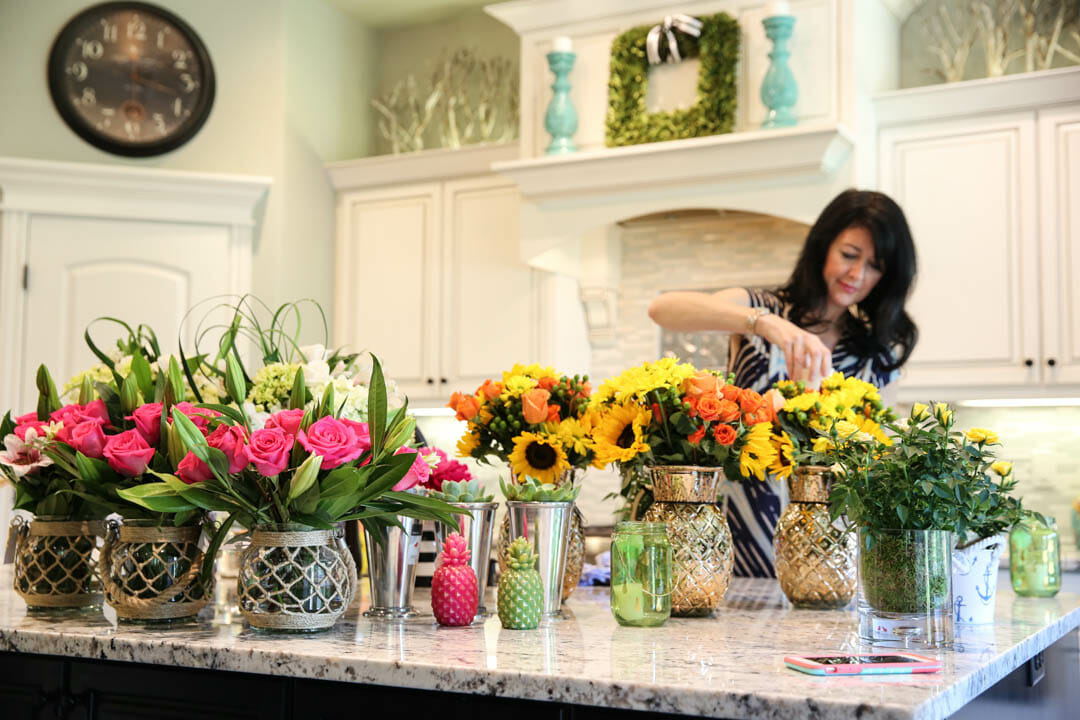 Flowers are definitely one of my love languages.  When I need a quick gift for a friend, or I need something to cheer up a neighbor, my go-to are the double F's: food or flowers.  Every time.  I love adding a really stylish container so the gift keeps giving, after the fresh flowers are gone.
I love it when my own garden is in full bloom and I can go pick there, but otherwise I rely on stores to grab blooms and I cannot tell you how many times I have been disappointed by floral departments in grocery stores.  The one store however, that consistently rocks the florals is Albertsons.
The debi lilly design™collection, available exclusively at the Albertsons family of stores is convenient, and so on-trend.  If you've never taken time to check it out, take a walk through the flora department at your local Albertsons and you'll see what I mean.  Aside from gorgeous styled arrangements, you'll find the best selection of containers and gift items to go along with it and they are SO affordable.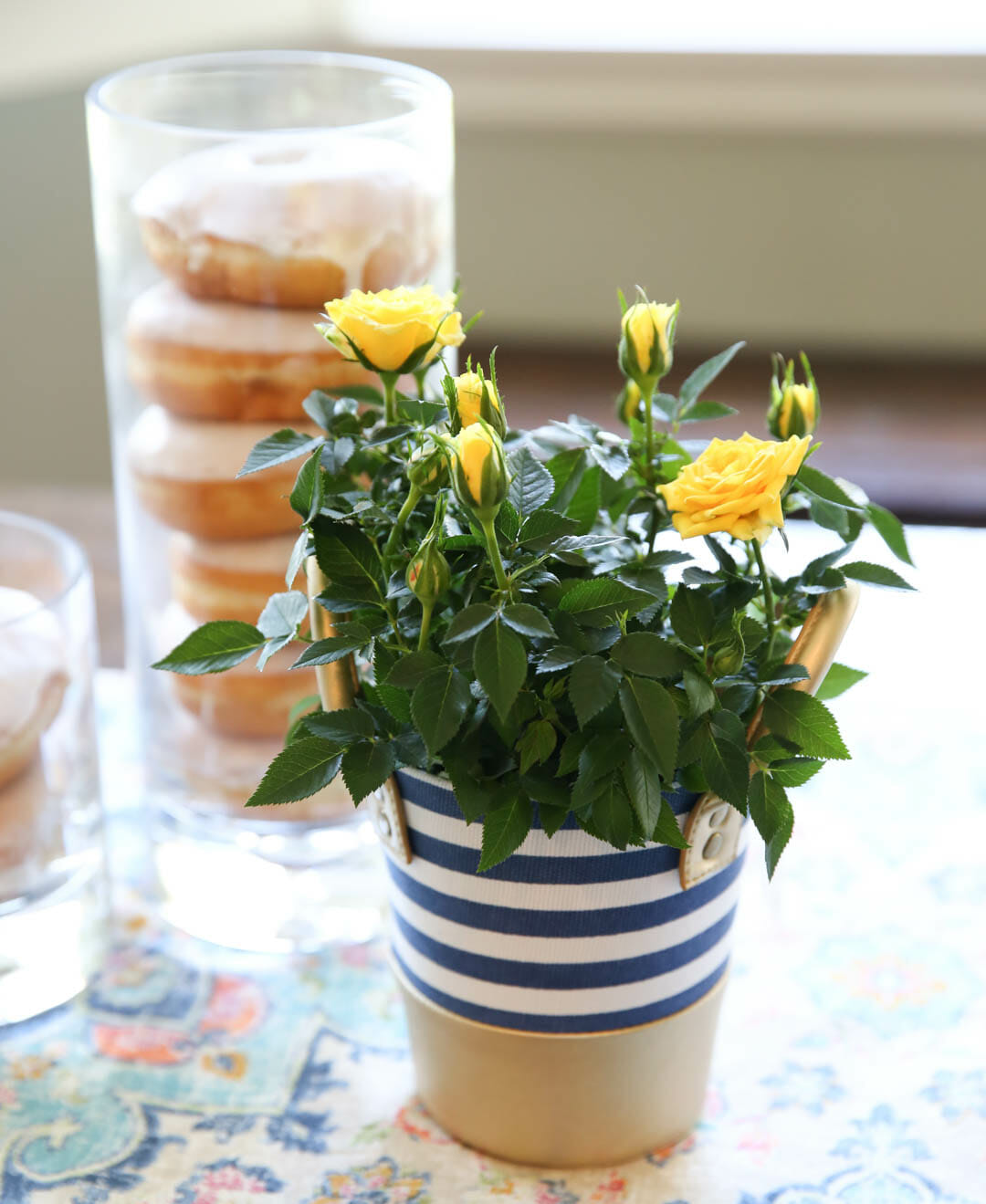 One thing I love about the Debi Lilly brand is that everything is designed to be multi-functional.  So you can grab a gorgeous vase for a flower arrangemen, but then put a candle inside when the flowers are done, or decorate a shelf or outdoor area.
Debi showed me three great looks for summer using easy-to-find products in the debi lilly collection Albertsons stores- can my kitchen table just look like this all the time please?!
This first showcases a look that's trending right now, which is loose, cottage flowers.  Almost old fashioned, in that stylish hipster way.  Fluffy hydrangeas, stunning roses and striking lilies in shades of creams and whites (look at those blue glass containers!)
I also loved the long blades of grass in there.  Debi showed me you can make a simple "loop" like that to add a really modern look to any arrangement.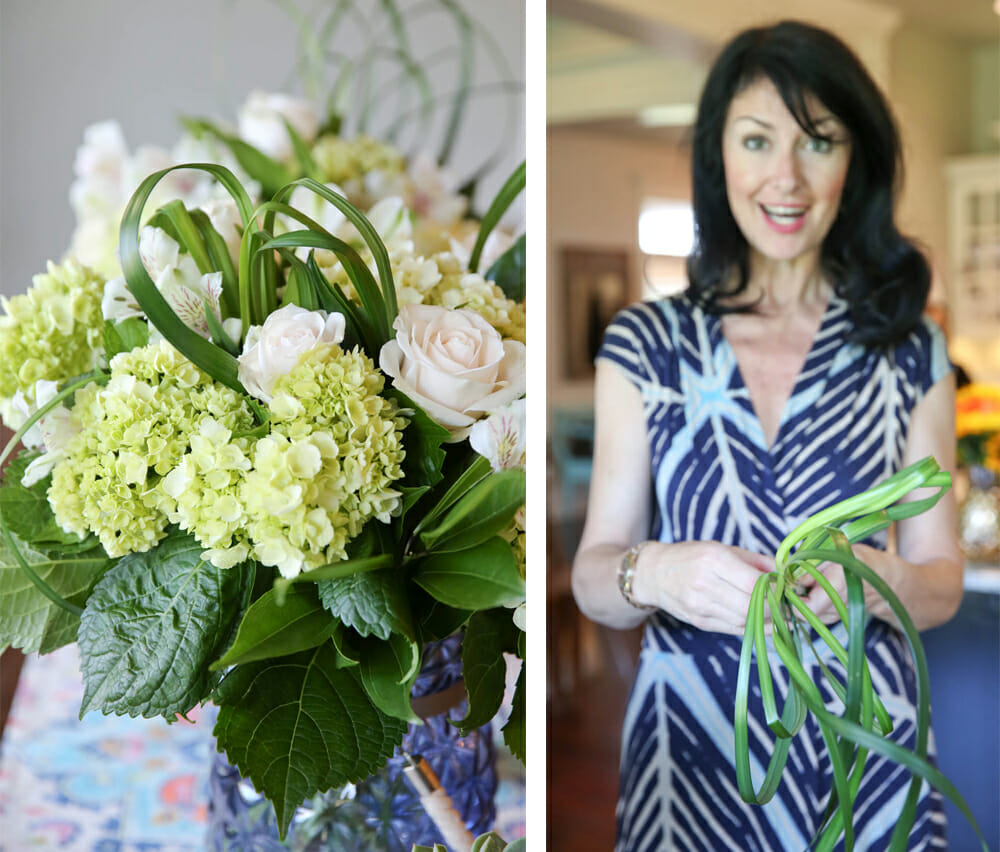 One of my favorite things are these Julep Cups.  They're less than $10 and totally gorgeous.  That little succulent fits perfectly right in there.  Literally took seconds and would look amazing down the center of a table all by themselves.  Debi showed me how they also look great turned upside-down with a battery-operated scented candle sitting on top and I think they'd be lovely filled with a little treat, too.  So many great uses and such a perfect gift.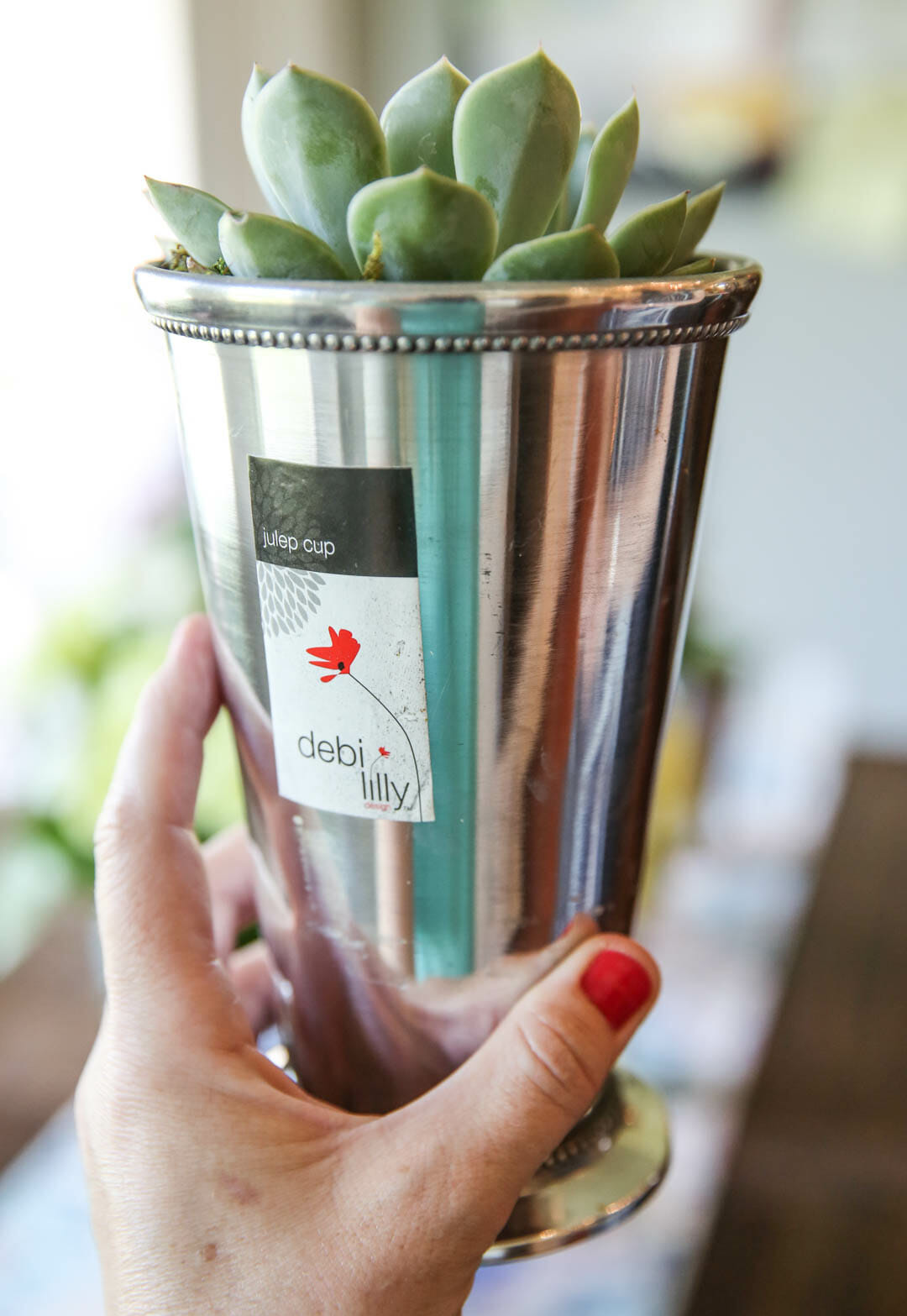 This second look made me want to throw a bridal shower or a girls' brunch or something.  I love the bright pink roses and lilies and look at those nautical glass containers- aren't those the coolest??  They would be so cute on a patio with candles in them.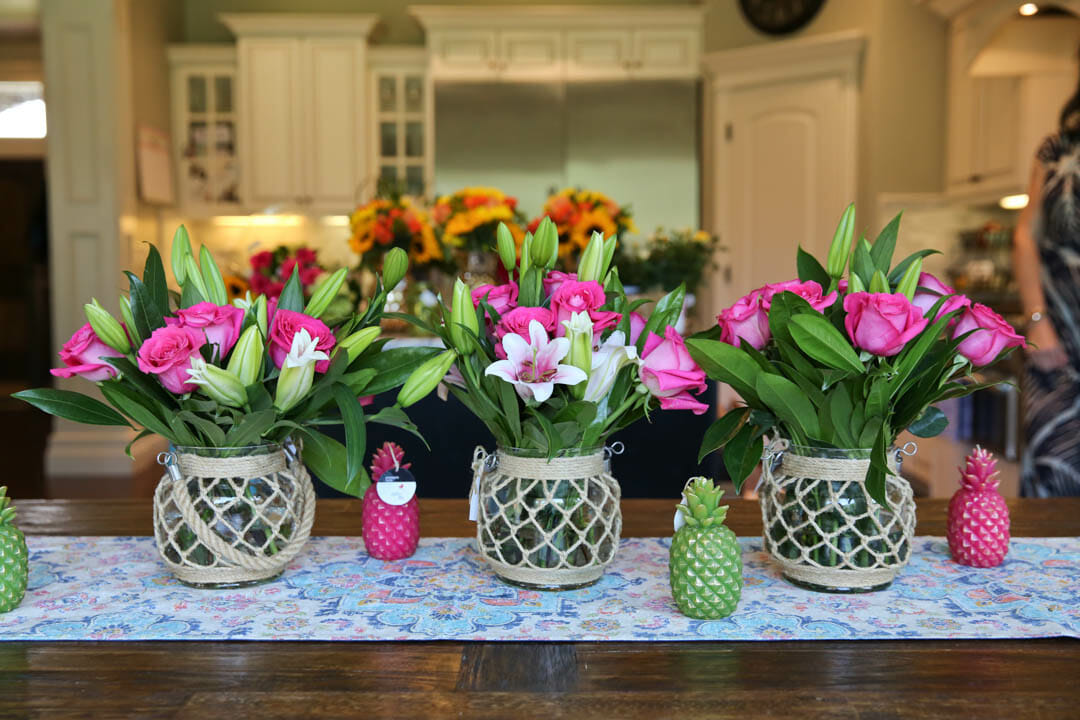 And speaking of candles- look at those PINEAPPLE candles.  Are those not the cutest? They would make an adorable place-setting, or even a little gift for guests.  Again, totally affordable and easy to grab right at the grocery store!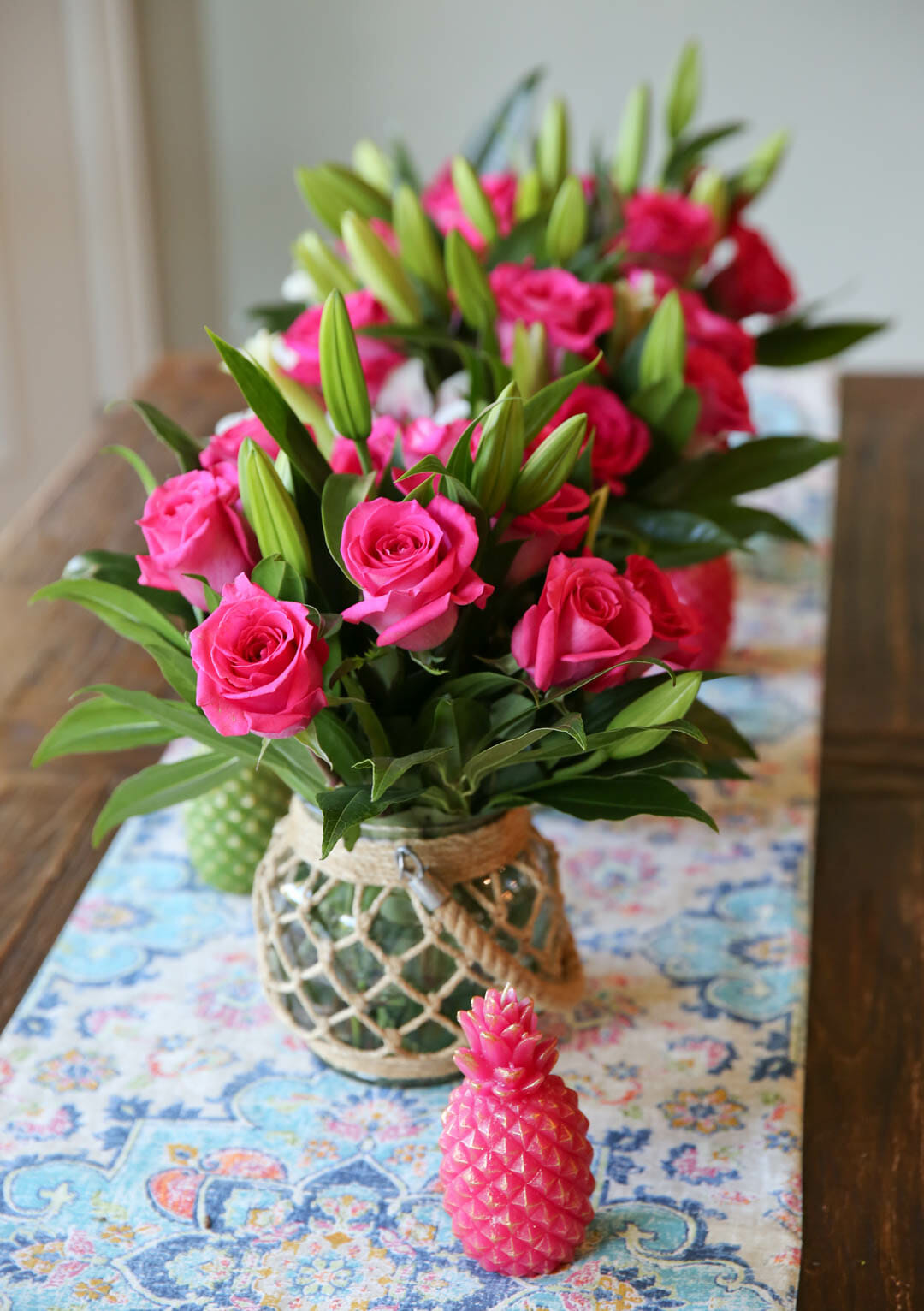 Lastly, this vignette just screams summer.  Look at that floral arrangement with all of the sun-shiny yellows and oranges.
And those vases.  You don't even need flowers- grab that pineapple and it looks so great just sitting on a shelf or book case as an accent piece.
There are so many great containers to pick from and everything is created in multiple color schemes and sizes so you can literally grab-and-go.  Those darling mason jars come in several colors and would be SO cute hanging from a garden pergola or artfully scattered on an outdoor dining table with candlelight!  Can't you just imagine that?
These glass vases are an example of the stunning quality; you can't tell by the photo but these are heavy. Solid glass that you would expect to cost a fortune from a design retailer, but you can find them right in your local Albertsons store!  Debi showed me some great ways to use tall cylindrical vases like these that I hadn't thought of before, like doughnuts!  She said she also likes to use them for brunch bars and fill them with things like granola and yogurt and berries; I thought that would be so fun.
I could talk about flowers ALL DAY, but you should really just swing into Albertsons to take a look for yourself; it's honestly one of my favorite places to grab stylish accents for my home and gifts for others.
And lucky for you- Albertsons is going to let one of YOU go grab something gorgeous for your own home!  One lucky reader will win a $25 gift card to grab a stylish accent or floral piece to brighten up your home or gift to someone you love.  We haven't done a comment entry in a while and we LOVE to hear from you!  Leave a comment on this post telling me your most favorite flowers to have in your home and one of you will win a gift card to use at an Albertsons near you!
This post is in partnership with Albertsons, a store we love and shop at.  All opinions as always, are our own!