photo by The TomKat Studio
A lot of you have been requesting labels for our Tin Can Treats, and I'm so excited to share them today!  Mostly because they're so stinking cute.  And that's because I didn't make them!  The fabulous Kim, from The TomKat Studio whipped these up for us.  Aren't they fabulous?  If you've never been to Kim's blog before, you must head over there and poke around.  But make sure you have some time because you will get sucked in by all of the eye-candy and spend hours bookmarking things you think one day you will have time to do.  Kim makes such beautiful things and I'm glad she shared a bit of her talent with us!

Photos by The TomKat Studio
How about that cute message?  Thanks to YOU readers for that fun idea!  I asked for some ideas on our Facebook page, and thought this was perfect.
Now, if you haven't made our Tin Can Treats before, read this tutorial.  These are the perfect, unique little gift for teachers, neighbors, friends, etc.  You can fill them up with homemade goodies (like Easy Pretzel Turtles or Peppermint Bark Popcorn) or store bought candy or trinkets.  You can even fit gift cards in there- what a fun way to gift that, right?
Kim has made a full wrap around label for us (plus tags!), so there's no need to cut and paste and piece things together, just wrap that label right around and then pop a little tag or two on top!  There are two sizes available, a larger tag (seen above), and a smaller one that fits these mini cans.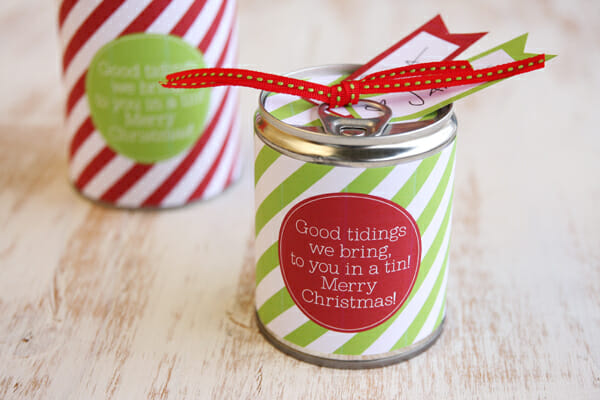 Be aware that cans come in SO many different sizes, so if you find the label to be too big, obviously just trim it to fit, and if you have a can that's a bit larger than the label, just peel off the original can label and have some extra silver showing (hey, it's festive!) or cover your can in brown or white paper first, or you can always cover the can in wrapping paper first and just cut out the circular message.  Be creative!
Thanks again to Kim from The TomKat Studio, make sure you go visit her site and say hello!  Annnnd, guess what?  I somehow tricked her into doing one more printable for us (or, maybe she's just super nice 🙂  I'll post it Monday and it's for last-minute giving when you need something, but you don't have time to bake!  Cheap, quick, and super duper easy.  Get ready to stock up.
To download the custom labels, click a link below.
Standard Size Tin Can Labels
Mini Tin Can Labels