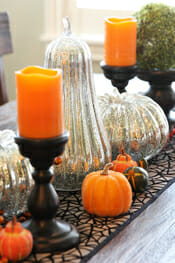 I think we've talked about Halloween before, but I haven't always loved it.  I've always, always loved Autumn time, and for years I've been known to start decorating with fall leaves and burning pumpkin candles when it's still 90 degrees outside, but none of that was really Halloween-y.  I just kind of embrace the season as a whole and focus more on the Autumn aspect, ignoring Halloween all together.  But over the years I've changed my tune, due much to the the fact that I married a boy who is absolutely loves Halloween, and I'm a Mom to 3 (almost 4) sons.   My glittered pumpkins were bound to at some point be taken over with skulls and I feel like I've finally struck a nice balance and sort of found my style, which actually allows for some Halloween love (even skeletons).  Halloween is a little tricky because there's gross and gory, and there's overly cute and crafty, and neither one of those really fit for me, which is kind of why I used to overlook it.  I still focus more on the fall season, but now I insert a few things that are more focused on Halloween and it's become one of my favorite holidays.  I'm going to show you a few peeks around my house today, and tell you about some of my style tips when it comes to decorating for any holiday.
Use What You Have
People who know me know how much I love decorating for holidays, and I often hear, "Well that's fun, but I can't afford to buy all-new decor just to put up for a month."  Neither can I!  Chances are, you have a lot around your house already that can be transformed.  And with a few fun additions, you can make them fit for a season.   For example, this mirror in my entry way got a super quick make-over with the addition of a fall feather wreath.  I used thumbtacks to secure that burlap ribbon, and then used thumbtacks to pin the ribbon into the top of the wood frame on the wreath.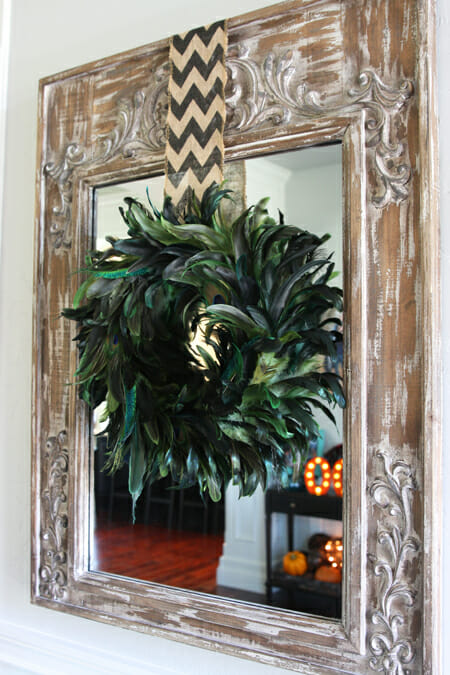 Literally took 30 seconds and added a festive touch to that little area.  Also, every time I walk down that hallway, I can now center my face in the feathers and pretend I'm some sort of costumed lioness.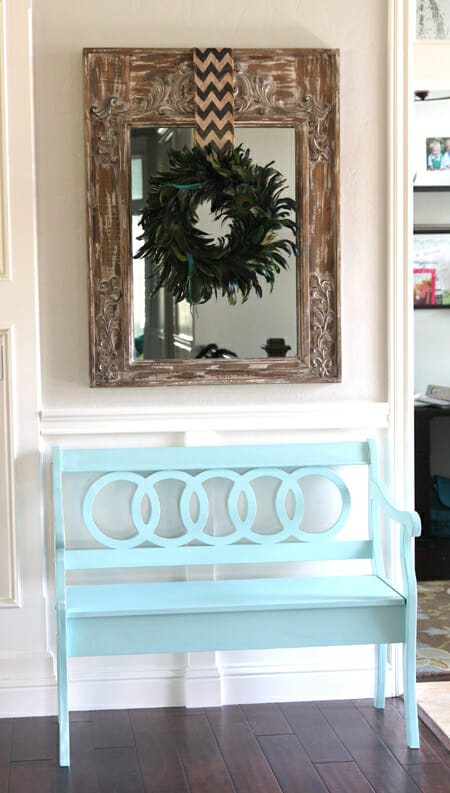 Speaking of wreaths, if you want to make a quick and easy one for very inexpensively- check out this post for our Halloween Tulle Wreath.  So fun, and super cute.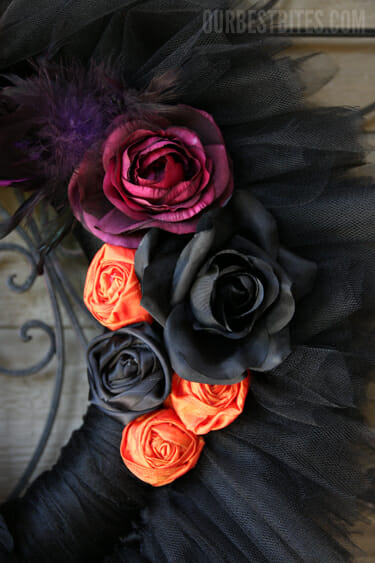 I don't like putting away everything I have out already to make room for holiday decor, so I try to work in as much as possible.  I just filled that little terrarium with pumpkins (and apparently a lego guy- I didn't spot that until just now!) and filled my glass jars with yellow and orange roses from the garden, which happen to match all of the fall stuff going on.
I love this built-in shelf in our stairway, and I love that my builder suggested putting outlets at each end for decorations.  Last year I put away all of those pictures and filled the whole thing with pumpkins,  gourds, candle sticks, garlands, pinecones, and more.  It was gorgeous.  Maybe it's because I'm about to have a baby, but this year I was feeling nostalgic and didn't want to take down those sweet faces.  Since my kiddos go up and down those stairs a million times a day, I put some fun stuff on it for them, like candy corn lights, those jack-o-lanterns, and some little spiders you can't see in this photo.  It took hardly any effort and my kids love it.  Sometimes I ditch my own ideas for stuff I know will make them happy; I've found there's room for both.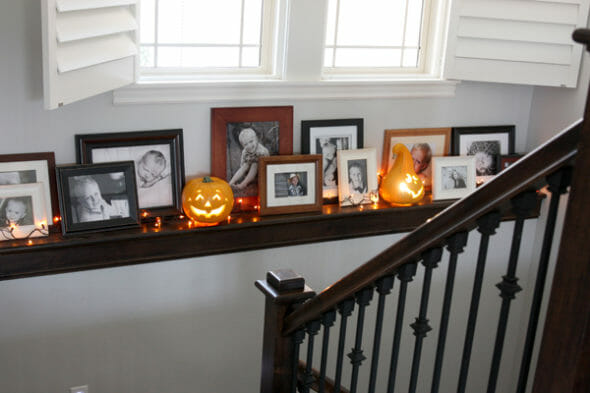 Find Your Style, and then Find it Somewhere Else.

Turns out I like fancy things from Pottery Barn.  Go figure.  What I don't always like are the price tags.  Try going through catalogs and getting ideas, and then finding similar styles at places like Target, Home Goods, etc.  Take these Mercury Glass pumpkins, for example.  Up to $40 each at good ol' PB.  Costco has had them for the past several years for about $6 each so I stocked up on lots of them and use them all over my house.  They're glass, and just as beautiful.
Again, I just grabbed stuff from around my house for this centerpiece on my kitchen table.  I had lots of candlesticks, and I pulled those green moss balls from another room.  The table runner was from Target a couple of years ago, $15 bucks!  After Halloween is over, it's easy to switch out the runner, and add a few things to make it more Thanksgiving-ish.
You can also incorporate very inexpensive things when you put them in the right spot.  This fun felt garland was about $6 at Target one year and it looks cook hanging behind the semi-elegant table against the bright white shutters.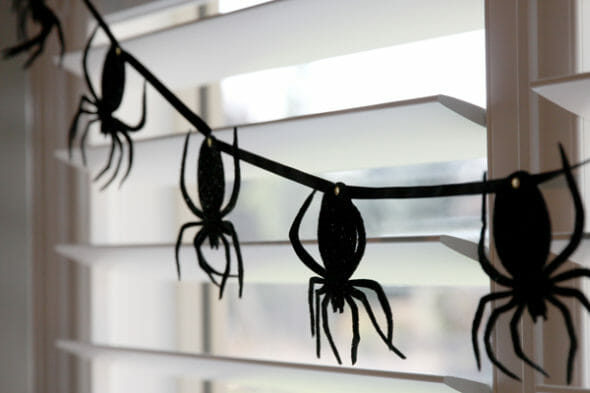 Make Your Colors Work For You
My house is full of turquoise/teal/aqua.   I used to think I had to hide all of that when I started pulling out different holiday colors, but then I learned to just work it in. Orange and turquoise is a great color combination, so instead of hiding all of my color, I incorporate it.  I love how it combines with the bright orange and all comes together.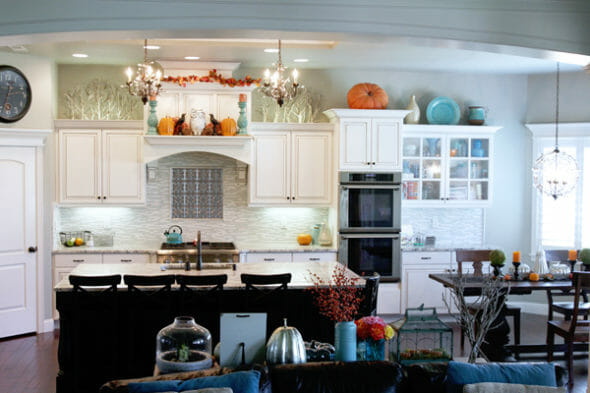 One of my favorite things in my kitchen is the little mantle over the stove-top.  I love changing it around during different times of the year.  This year I kept the chunky aqua candlesticks I had up there before, and just switched out the white candles for pretty orange ones.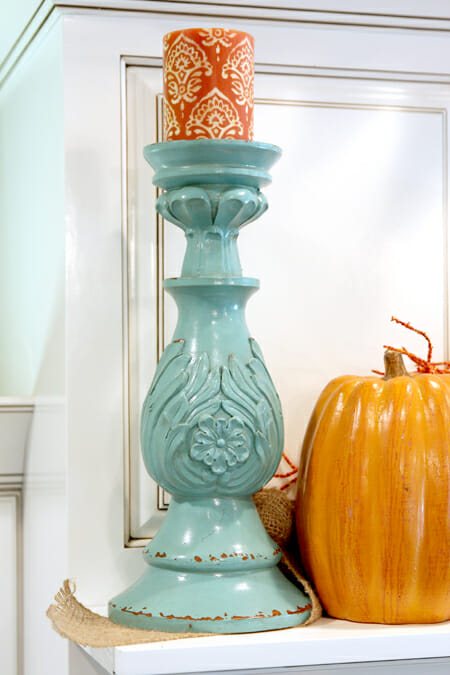 Then a few quick swaps and the addition of some black crows and wax pumpkins, and it's all Halloween-y.
Our last family picture was taken in the fall time, so this little space fits right in.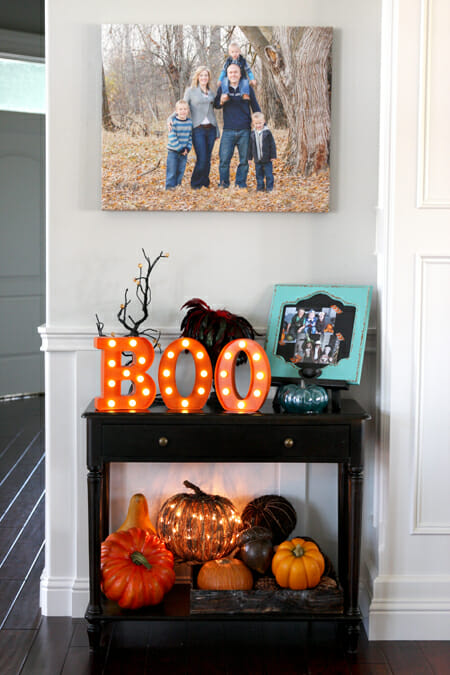 I kept my turquoise chalkboard where it usually is, and just grabbed a couple of Halloween photos from last year's photo album.  Displaying photos of your own family dressed up from years past is a great way to decorate and if you've got kids, they'll love seeing themselves and reminiscing about costumes.  I love that little teal colored ceramic pumpkin, too (Hobby Lobby).  Whenever I see holiday decor in my color- I grab it!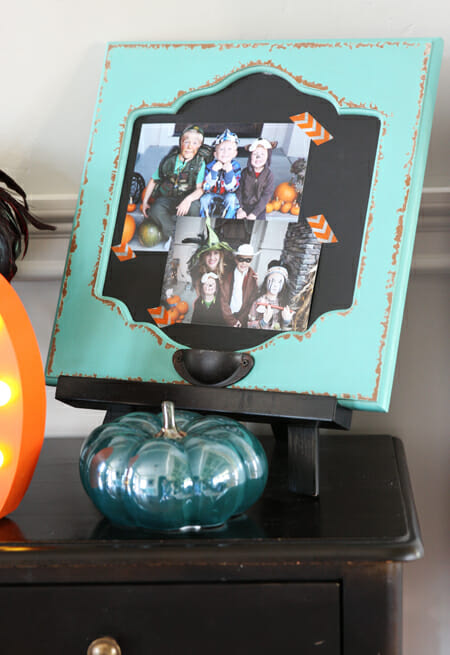 I'm totally obsessed with these adorable marquee letters that are new to me this year.  They're from Grandin Road, and sadly they're currently out of stock.  I had lots of disappointed Instagram followers after I posted a link to those!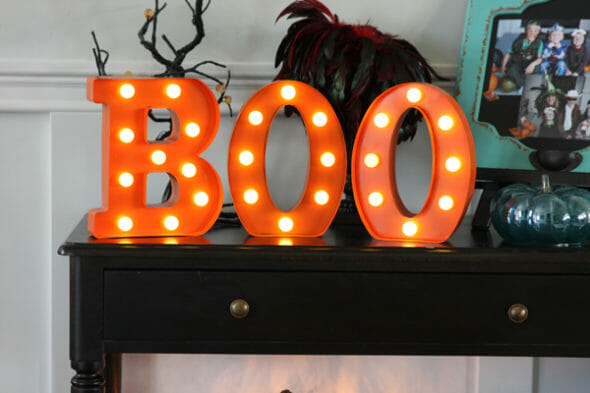 Bunch o' Pumpkins
This might seem like a silly tip, but buy a bunch of tiny pumpkins.  You can get bags of little fake gourds at just about any craft store during this time of year for a pretty inexpensive price.  Over the years I've collected SO many of them.  It's so easy to make any space a fall space when you just fill up a vase, or sprinkle them on your shelves or table top.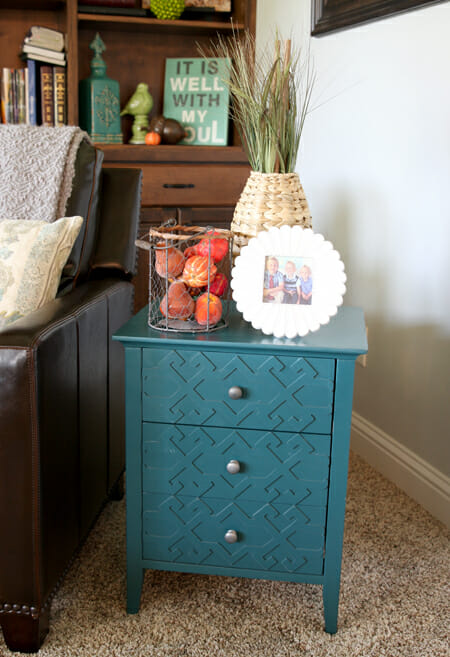 Larger ones can be stacked or bundled .
I kind of just toss them everywhere and suddenly it's all autumn-y!
Glitter and Gore: Find Your Happy Place

Now.  When it comes to Halloween, you can get away with both a little pretty and a little scary and make it work together.  My husband asked what I had done with his wife when he came home to see this mantle last week:

There's no way that would have happened a year or two ago, but like I said, I've come around.  I've found if you do it in the right way, you can combine a little fright and still keep it classy!
I found that big canvas print at Gordmans (also saw the same one at Tai Pan right after that, both about $25) and used black and white candlesticks I already had, combining them with cheap pumpkins (the black glitter ones are from the Target $1 section!) and kept a silver/gold/black/white theme.  My boys thought I was Supermom after this one.  (Did I mention the skeleton has glowing laser eyes?)

On that note, I put up Mr. Giant Spider, too.

Take It Outside
Lastly, to stay true to my horticultural roots, (Get it?  Roots?  I crack myself up.) Think about switching up some fall plantings this time of year.  Some of you may have planted summer container plantings, and when fall hits, I usually leave a few things in mine, but replace stuff that's not looking so hot with fall annuals.  I love ornamental cabbage and kale.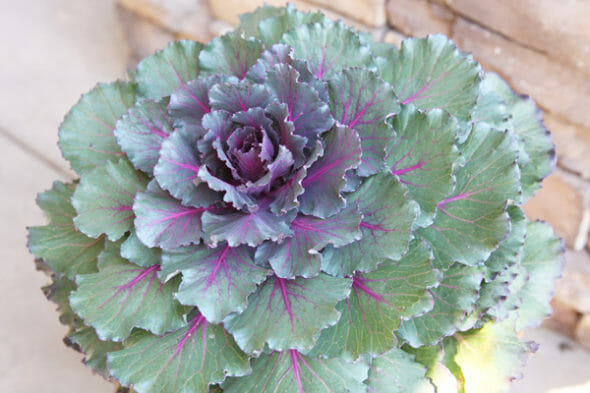 And of course, mums!

Mums often go on sale right about  now, and if you have a Costco near you they have HUGE ones for an amazing price.  I popped a few in my front beds and it's a great way to perk things up for the next few months.
Pansies are another great option.  They're inexpensive, and pretty cold-hardy so mine last well into winter (and sometimes even re-seed themselves into spring!)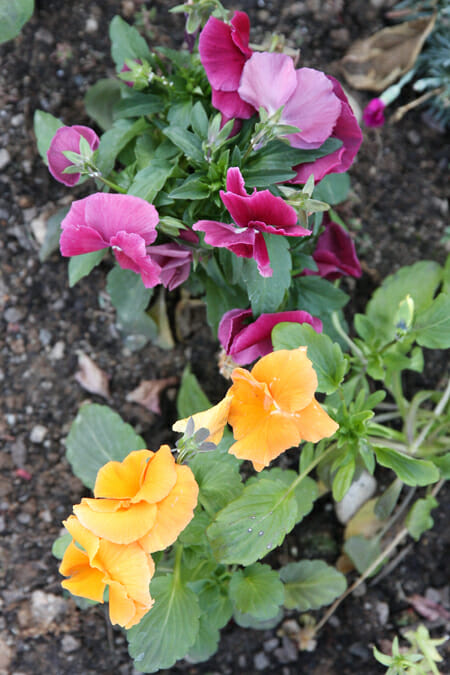 I emptied out one pot entirely, and before I could plant something new, my kiddos popped this guy in there.  I decided he gets to stay; much cheaper than plants.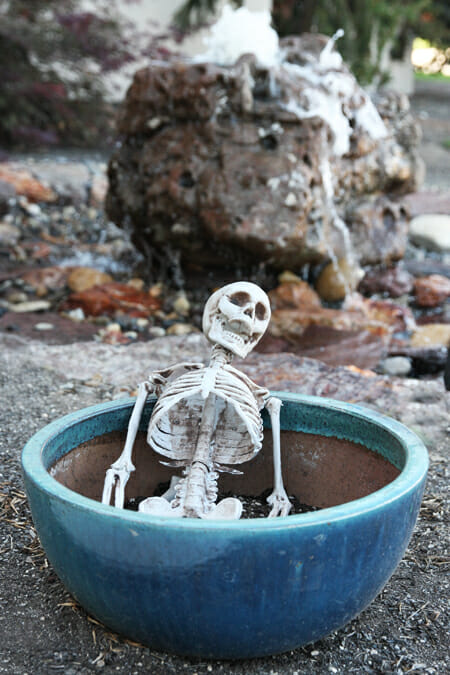 On Halloween night, he usually ends up in the fountain.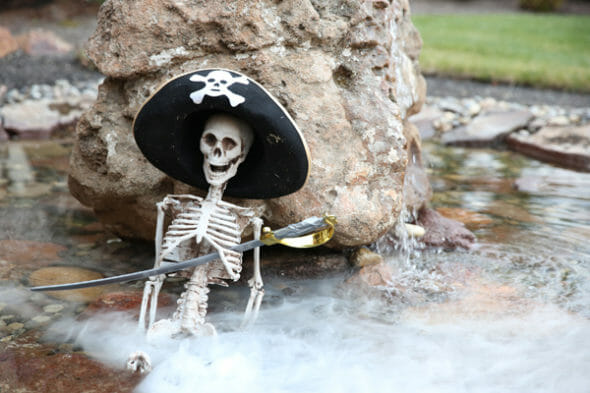 Again, combining pretty new flowers with a little kid-friendly fun.  I remember when my husband bought that skeleton when we were first married and I was so appalled he actually expected it to be displayed anywhere.  In fact, I refused.  It's been with us ever since and I have to admit, it's kind of grown on me.  Enough that we upgraded to this guy this year.  Don't get me started on the skeleton-in-the-bed thing.
So that's that.  Everyone has their own style, and I'd love to hear about yours!  Tell us what you love about this season and your favorite way to decorate!