I realize that many of you in certain parts of the country are still covered in blankets of snow, but here in Boise, Idaho, we're having the most glorious spring-filled week with temps in the mid 70's, blue skies, and plenty of sunshine.  My tulips started poking up and my kids all wore shorts this week.  It's making me feel the itch for spring and summer so we're gettin' all tropical with our Rice Krispies today.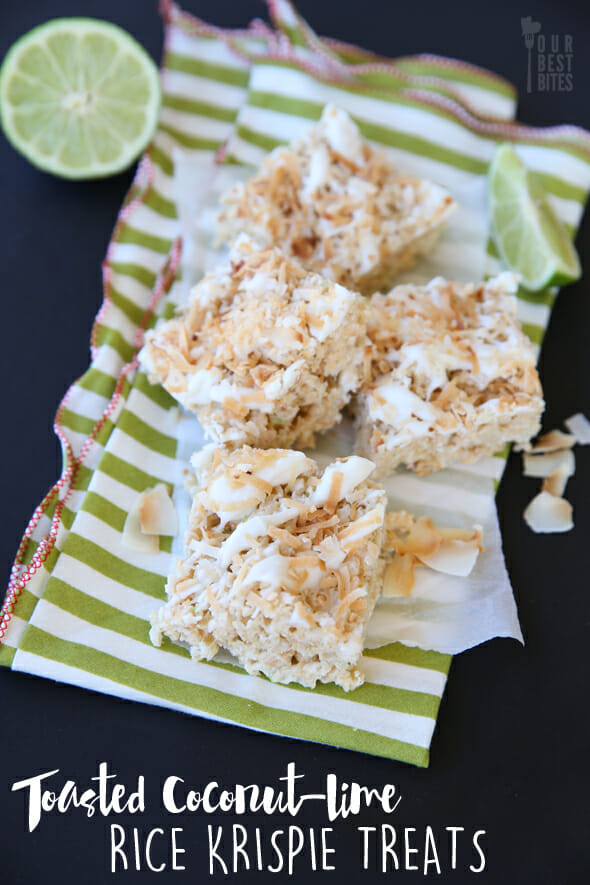 You'll start out by toasting some coconut.  Coconut has a few stages when it browns, and we want it all the way toasted, without being burnt, obviously.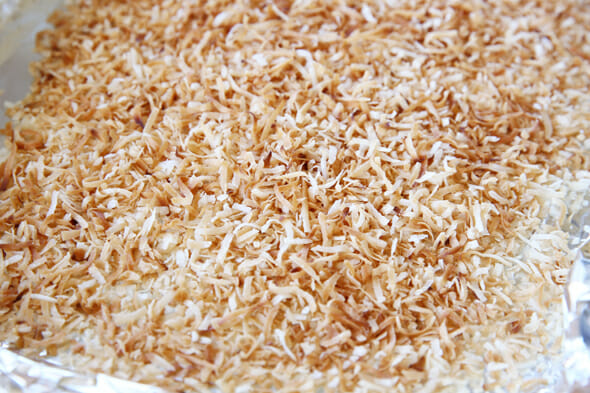 When nice and golden and fully toasted, it becomes super crisp, and that's how we want it because we're subbing in the crispy coconut for some of the cereal.  So just mix the coconut right in with the Rice Krispies.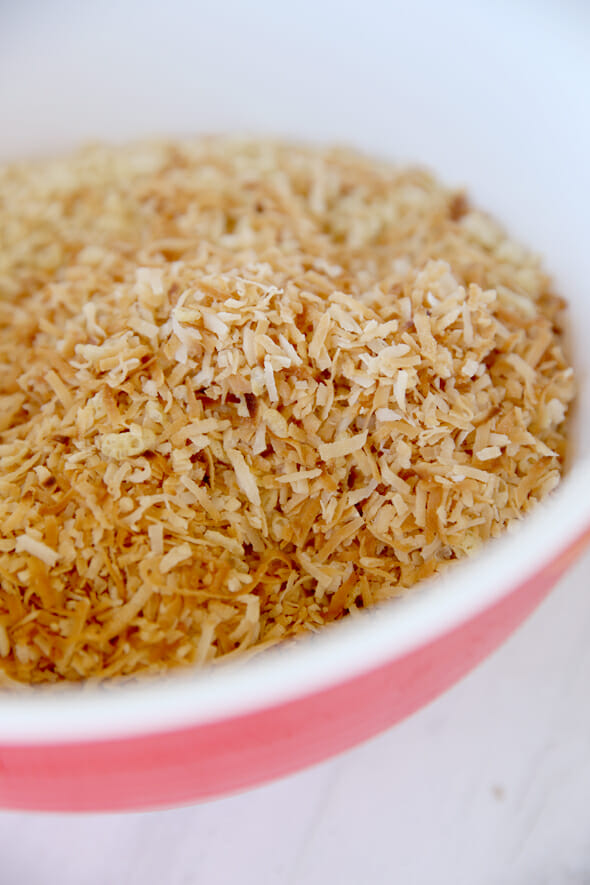 The next flavor component comes from fresh limes.  Can you smell those?   Get a little closer to the screen.  Try harder.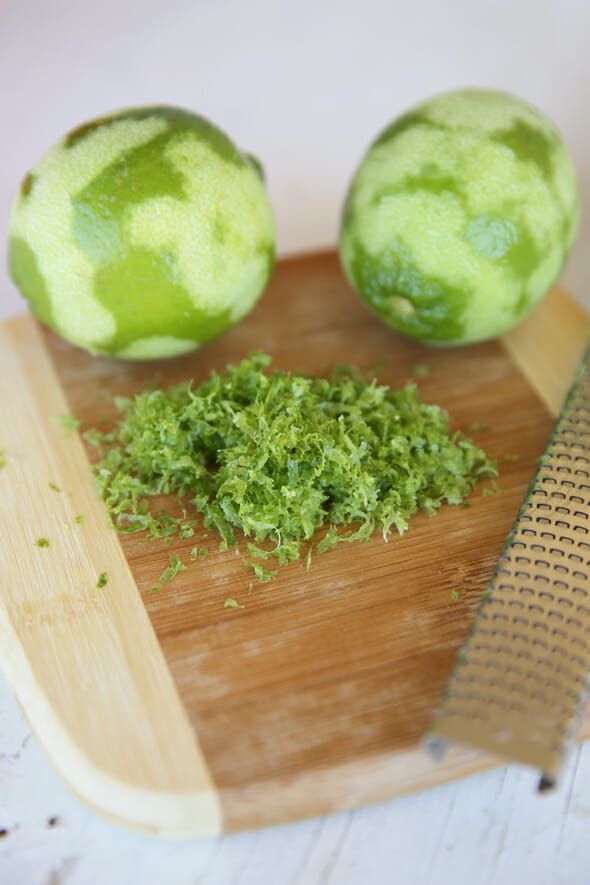 The fresh lime zest goes right into the marshmallow and butter mix. Those little specks disperse all through the sticky gooey awesomeness. You can optionally add a little coconut extract in there, too.  I like to add about 3/4-1 teaspoon.  I don't really measure it, but I love a little drizzle in there to add a coconutty flavor since most of the coconut here adds texture as opposed to flavor.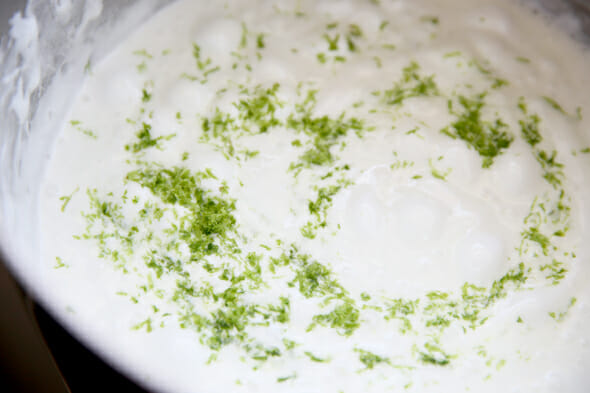 Pour the lime-mallow mix over the toasted coconut and krispies and immediately (and quickly) stir it all up and press the mixture into a pan.   You don't have to totally smash them down, I like to keep the top a little bumpy.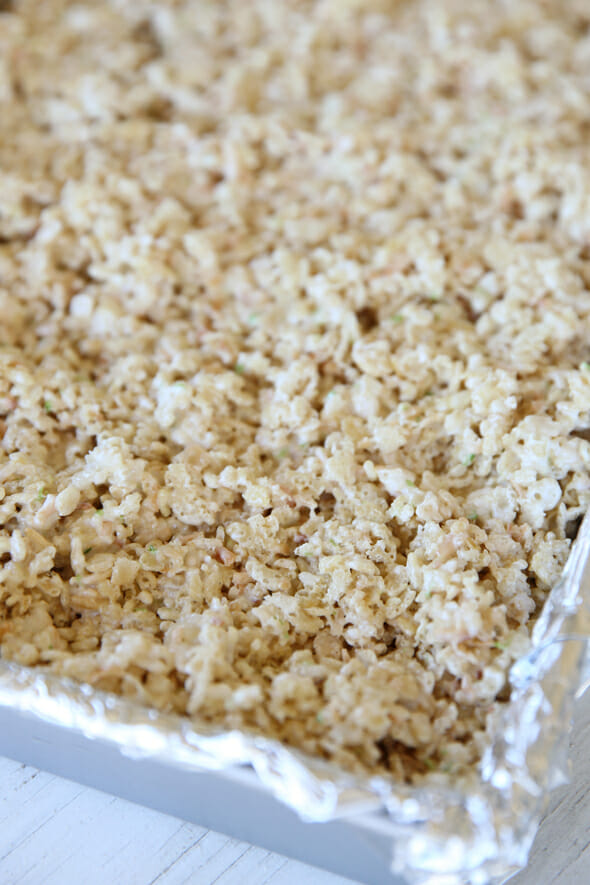 It makes the perfect little nooks and crannies for the toppings to sink into.  Drizzle the top with melted almond bark and sprinkle with more toasted coconut.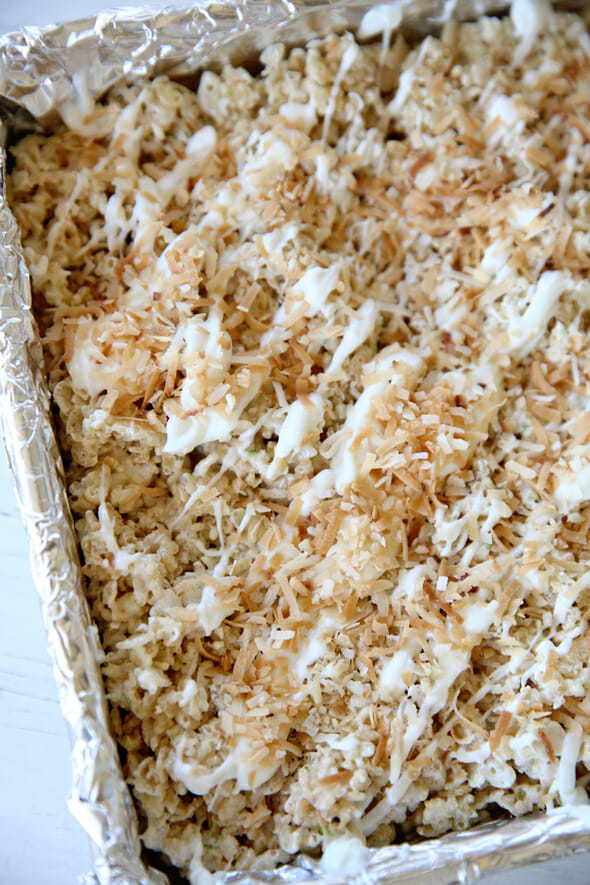 The flavor combo here is amazing, with little bits of lime bursting in every bite.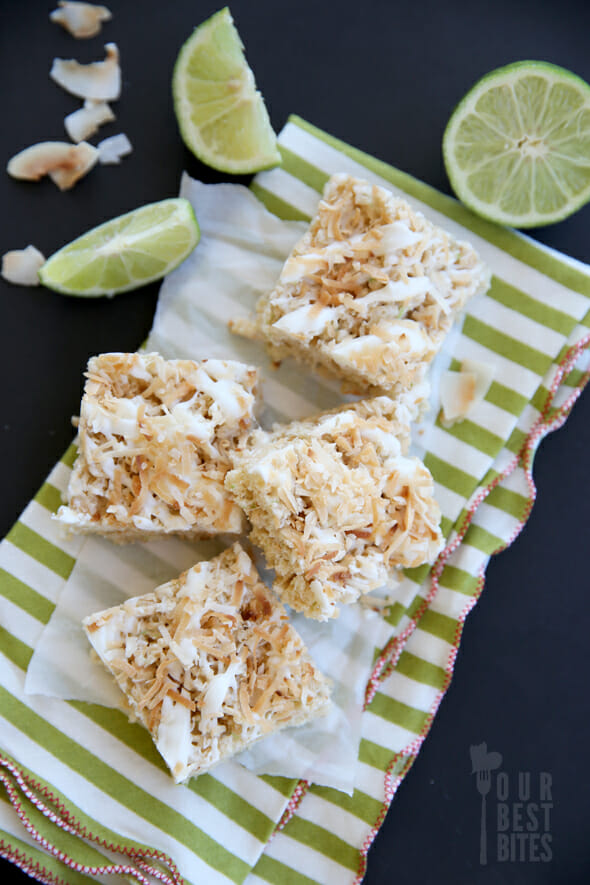 And the crispy coconut adds both crunch and flavor while the creamy almond bark melts in your mouth.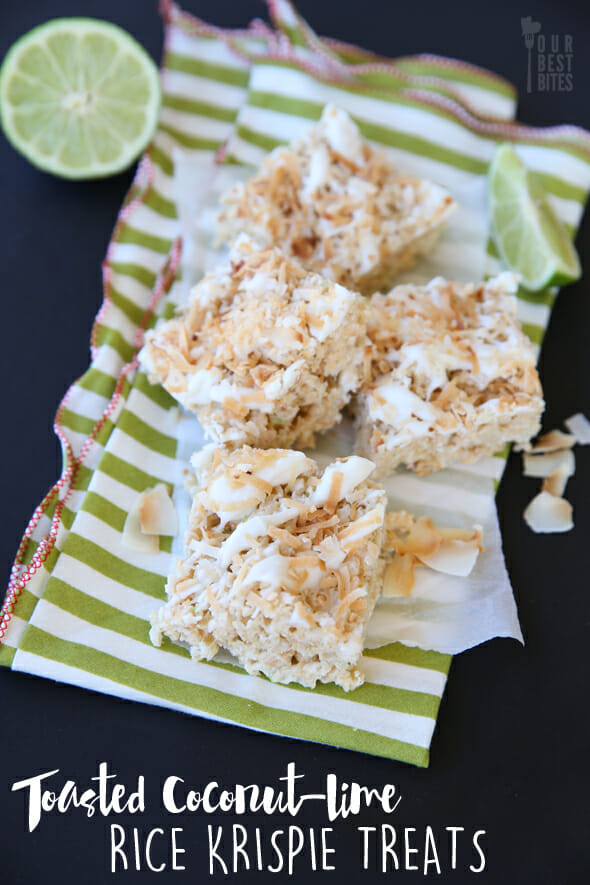 Toasted Coconut-Lime Rice Krispie Treats
Recipe by ourbestbites.com
 Ingredients
2 cups shredded, sweetened coconut, divided
8 cups rice Krispie cereal
4 ounces almond bark
6 tablespoons butter
1 15-16 ounce bag mini marshmallows
optional: 3/4-ish teaspoon coconut extract
2 tablespoons fresh lime zest  (zest from about 2 limes)
Instructions
Preheat oven to 400 degrees.  Spread coconut out onto an ungreased baking sheet.  Bake for 10-15 minutes, stirring every few minutes, until coconut is toasted, crisp, and golden brown.  It turns brown quickly at the very end so keep an eye on it!   While coconut is toasting, line a 9×13" pan with foil so the foil extends over the edges of the pan slightly.  Press foil tightly into corners.  Lightly spray lined pan with non-stick spray and set aside.
Reserve ½ cup of the toasted coconut and set aside.  Place Rice Krispies and the remaining 1 ½ cups toasted coconut in an extra large mixing bowl.
Place almond bark in a small heat-proof bowl and heat in microwave in 30 second intervals until melted and smooth.  Cover to keep warm.
In a large heavy pot, melt the butter over medium-high heat, stirring constantly.  When melted, reduce heat to low and add marshmallows.  Stir constantly until completely melted and smooth.  Stir in lime zest.  Pour mixture over rice krispies and immediately stir to evenly coat.   Transfer mixture to prepared pan and gently press down evenly.
Warm up almond bark for a few seconds so it's nice and smooth.  Use a spoon (or alternately place in heavy duty ziplock bag with a small corner cut off) and drizzle over treats.  Immediately sprinkle with reserved ½ cup toasted coconut (I try to sprinkle it directly on the almond bark so it sticks!)  Let bars set and then cut into squares.  Because these are extra thick, they can yield 24 good sized servings.