I mentioned in my last post that Easter completely sneaked up on me this year.  I grabbed a big spiral cut ham at Costco on Friday because a) I love hams, especially on Easter, and b) We always end up sharing a meal with someone, even if it's last minute so I wanted to have something to feed a crowd.  Well as it turns out, it ended up being just my husband and me, and our three little kids.  Oh, and our ten pound ham.  Needless to say, we'll be eating lots of left-overs this week.  Left-over ham seems to be common around a lot of differentholidays.  I often dice it up and pop it in the freezer to use later, but I wanted to share a bunch of ideas in case all you can think of right now (or at some point in the future) is ham sandwiches!  And since y'all might have hard boiled eggs around, I have a couple of ideas for those too.
If you've got a big ol' ham bone left from your spiral ham, don't throw it out!  Use both the bone and the scraps in our Split Pea Soup.  Don't think you like Split Pea Soup?  I dare you to try this one, I can almost promise it will become one of your favorite meals.  Get the recipe by clicking here.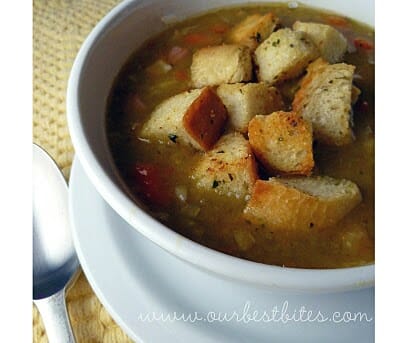 This Smoky Ham and Bean Soup is one of my all-time favorites.  Smoked ham works best for this creamy, hearty soup.  Get the recipe here.
Even though fresh corn isn't quite in season yet, try our Creamy Corn Chowder using fresh frozen corn; it's just as good!  You'll be dreaming of summer in no time.  Make sure to have a loaf of crusty French bread for dipping.  Click here for the recipe.
I love ham with creamy pasta sauces, dice up your leftovers in this creamy pasta bake. Click here for the recipe.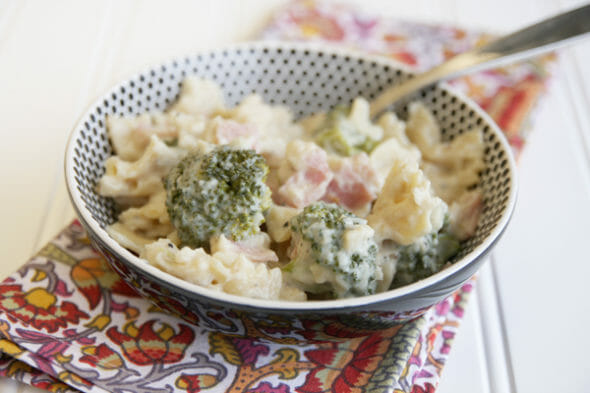 Or try our Guiltless Alfredo Sauce.  It's great over pasta with diced ham and broccoli, or peas.
One of our favorite "fun" family meals is Monte Cristo Sandwiches.  My kids go crazy over them.  If you've never tried a Monte Cristo– it's like a combo of french toast and a grilled ham and cheese!  So yummy yummy.  Click here for the recipe.
At my house we also love breakfast for dinner.  Dice up ham on mini English Muffin Pizzas with a little scrambled egg and cheddar for a yummy snack or paired with fresh fruit for a light meal.  Click here for the recipe.
I bet this Easy Potato and Egg Casserole would be fantastic with diced ham in place of the bacon- or heck, with the bacon.  Let's face it; bacon goes with anything.  Get the recipe here.
Remember my recent post on the Idaho Sunrise?  I know it's become a favorite meal for a lot of you.  Try it with cheddar, ham, and broccoli for a quick and easy meal.  Click here for the recipe.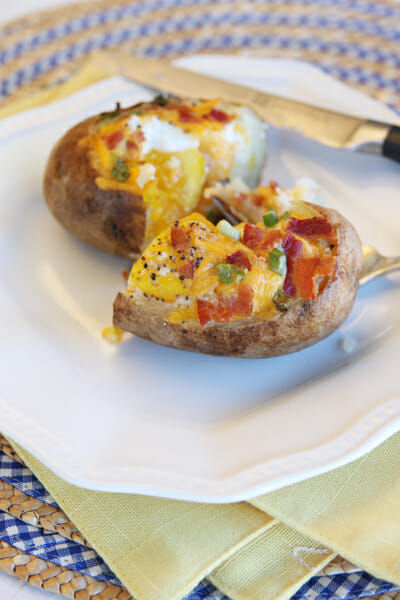 Got eggs?  Tired of egg salad?  Try our BBQ Chicken Cobb Salad.  It's fresh, flavorful, filling, and good for you!
If you're not tired of egg salad, try my favorite recipe and toss it on a BLT.  Best way to eat egg salad in my opinion, and makes a great lunch or dinner.  Get the recipe here.
Hopefully that gives you some ideas (whether you have ham and eggs or not!)  Happy Monday, all!
PS- If you haven't entered the Bosch Giveaway yet- head on over and do so!  We'll be announcing the winner by the end of today and we will both email the winner and announce it at the bottom of that post.  Good luck!  (And look at the bright side, your chances are still waaay better than the were for the mega-millions! 😉