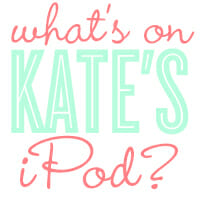 Writing a blog is a funny thing because it involves so many things that I really love–reading, writing, food, and photography, which is something that I've really grown to love. But it's also kind of a funny thing because as much as I love it, all those things have kind of become a job. That's great because I'm actually using my English degree (when I was in college and people asked me what I was planning on doing, I didn't have too many ideas beyond the vague possibility of teaching), but it also means that my hobbies have since become work and, like any job, there are times when things feel tedious or overwhelming.
So my one respite,  the one thing I love that has gone untouched, is music. Music has always been a huge part of my life and is a big part of my family's life now (I'm dead serious when I say that in 13 years of marriage, some of my husband's and my biggest fights have been about music. It sounds silly, but things get personal awfully quickly. Let's just say we don't ever talk about the latest Maroon 5 album. Ever.)
I thought it would be fun to not only share some of the songs that get the most playtime on my iPod, but also the songs that take me straight back to high school (which I keep forgetting wasn't, like, 3 years ago.) I tried to scan through the videos to make sure there wasn't anything offensive and I'll try and give you fair warning about any questionable content, but I can't 100% guarantee that there won't be anything in any of the videos that people might have problems with.
Top 5 Songs That Take Me Straight Back to High School
"Crash" by Dave Matthews Band

"Adia" by Sarah McLachlan

"With or Without You" by U2

"Forever Young" by Alphaville (no, I did not go to high school in the 1980s, but it was still alive and kicking as a sentimental favorite in the late '90s.)

"My Heart Will Go On" by Celine Dion (from Titanic, just in case you forgot. It was either that or "Kissing You" from Romeo and Juliet. Leonardo DiCaprio was quite popular with my 16-year-old self.

Top 7 Songs Right Now
"Stay" by Rihanna featuring Mikky Ekko

"Happy" by Pharrell Williams

"Another Story" by The Head and the Heart (Some people have mentioned some homosexual vibes going on in the video, so if that possibility is problematic, maybe just listen to it in the background. I think it's open to interpretation, but it's a beautiful video and one of my favorite songs.)

"Girls Chase Boys" by Ingrid Michaelson

"Counting Stars" by One Republic

"Us Against the World" by Coldplay

"Gale Song" by The Lumineers (from Catching Fire); for the record, I'm firmly planted in Team Peeta territory, but I love this song and I love The Lumineers.

"All I Want" by Kodaline (there's a swear word right at the beginning of the video before the song starts…just warning y'all. It's a surprising and surprisingly touching video, definitely not what I was expecting to go with this song.)

Top 5 Songs of All Time
"Ghosts That We Knew" by Mumford and Sons. It makes me feel stuff.

"Walk on the Ocean" by Toad the Wet Sprocket

"I'm Yours" (from the Casa Nova Sessions) by Jason Mraz

"Fix You" by Coldplay

"Human" by The Killers

I'm probably missing something I love and I'm going to be mad, but there you have it–a little cross-section of who I am deep down. Now it's your turn–what are your favorites?
P.S. If you haven't snagged a few bottles of olive oil yet, they're on sale right now in the OBB shop!