Every morning I have the same conversation with my 4 year old. It goes like this:
Me: Hey buddy, what do you want for breakfast, cereal or oatmeal?
Him: Um.. pancakes.
Every once and a while just to throw him off and make myself appear to be Supermom I say, "Okay". I wish I could capture the look on his face when this happens because it's priceless.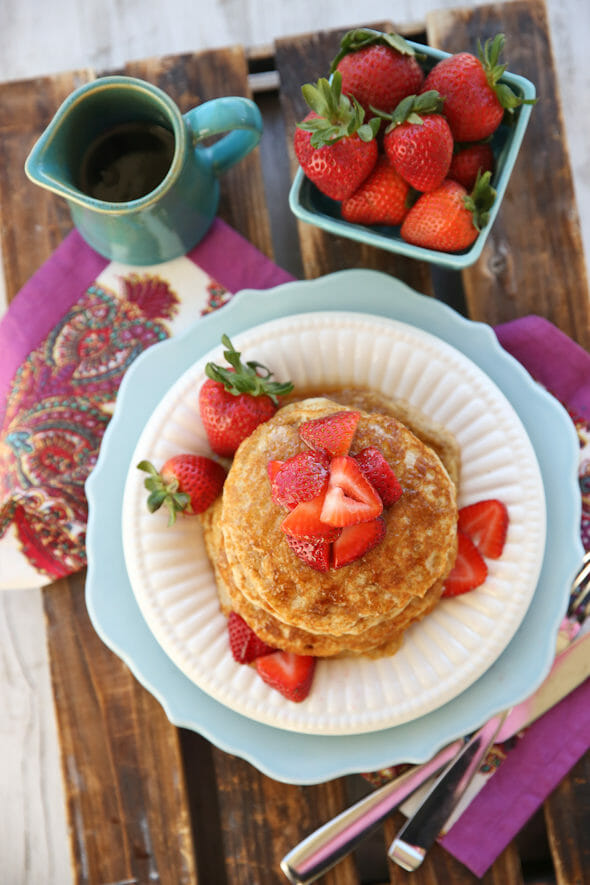 This recipe is a staple at our house. It uses half all purpose flour and half whole wheat. (If you want a 100% whole wheat recipe, click here) And we're not adding whole wheat just to try and be kind of healthy, it actually tastes amazing with the part whole wheat flour. You get a good dose of whole grain, and the recipe uses only a little sugar, a little oil, and an added egg white. Top them with fruit and I feel pretty good feeding them to my kiddos a couple days a week.
The other thing I love is that these make great freezer pancakes. I can get 24 perfect kid-sized pancakes from this recipe and I keep them in the freezer in a zip lock bag. That way when my son bats his eyelids and pleads for pancakes I have no problem whipping them out and becoming a star for the day (or at least for like 30 minutes). Kind of like when I pull my other sneaky Mom trick and let him eat ice cream for breakfast. Later in this post I'll show you some of my favorite kid-friendly healthy pancake toppers.
Here we go:
Dry Ingredients: Whole wheat flour, all purpose flour, baking powder, baking soda, salt, sugar. And can I just say that I'm not one of those people who likes whole wheat in everything? I know you people are out there because you comment on every recipe we post that involves flour asking for whole wheat instructions. So trust me- these taste REALLY good.
Wet Ingredients: low-fat buttermilk, egg, egg white, vanilla, and just a touch of canola oil. I do suggest using real buttermilk (as opposed to souring your own milk with lemon juice or vinegar) the shortcut totally works, but I think they turn out much fluffier with real buttermilk. When I use milk I always end up with a super thin batter and flatter pancakes.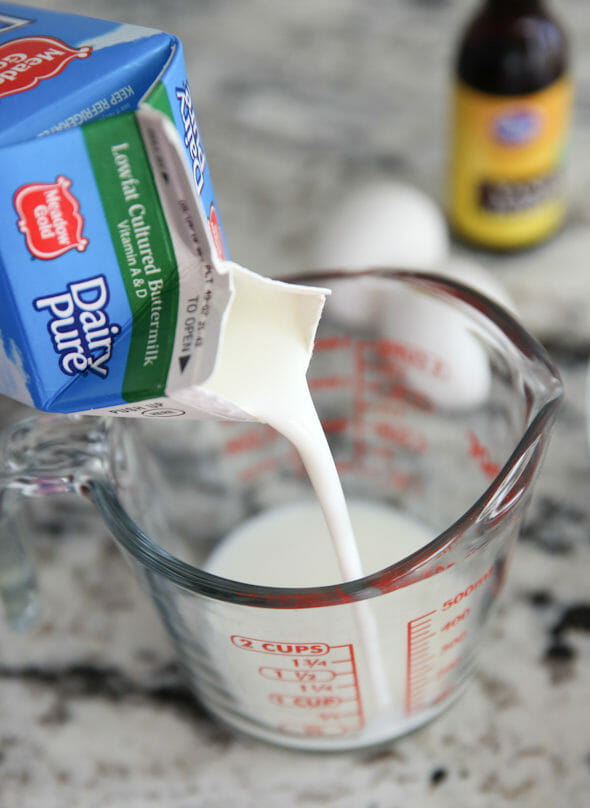 All you do is whisk the dry and whisk the wet and then stir together. Easy breezy. And really, you could even make a well in the middle of your dry ingredients and whisk your wet stuff right there to keep it all in one bowl. Since we make these fairly often I sometimes mix up a few batches of just the dry ingredients and keep them in ziplock baggies in the freezer. Then it's even easier to whip them up.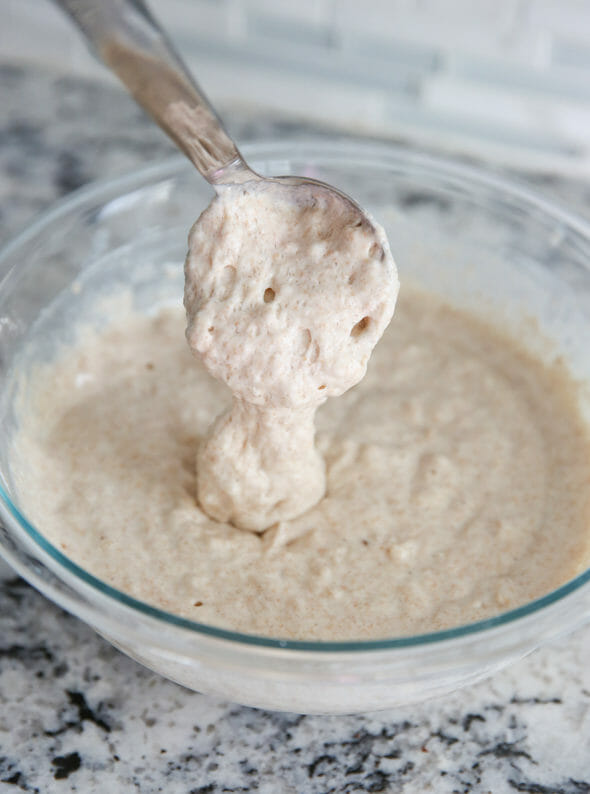 Watch for bubbles to form around the pancake. You can usually tell when a pancake is done because if nudge it with your spatula it holds its shape pretty well around the edges- as opposed to mushing all over.
And there you have it. Soft, fluffy, delicious, pancakes that are relatively healthy and easy enough to whip up on a week day.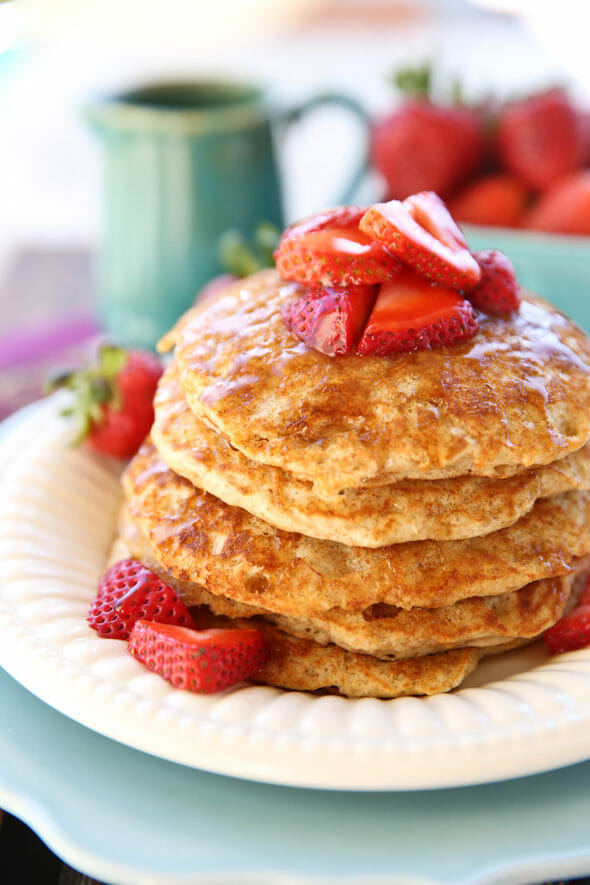 Since I consider these to be a semi-healthy pancake we try to top ours with something semi-healthy too. For a super easy fruit syrup, just heat up a little jam in the microwave and it easily pours like a syrup. You can do the same thing to peanut butter, and add a little hot water to either of those to make them thinner if needed.
My kids like them with a smear of peanut butter- and with some of the warm jelly syrup poured on top it's just like a yummy PB & Jelly pancake sandwich!
It's also a great way to get fruit into my kiddos when otherwise they'd probably just be downing bowls of "fruit" loops. They easily gulp up berries, bananas, stonefruits, etc. when they're sitting on top of a fluffy pancake; who wouldn't?!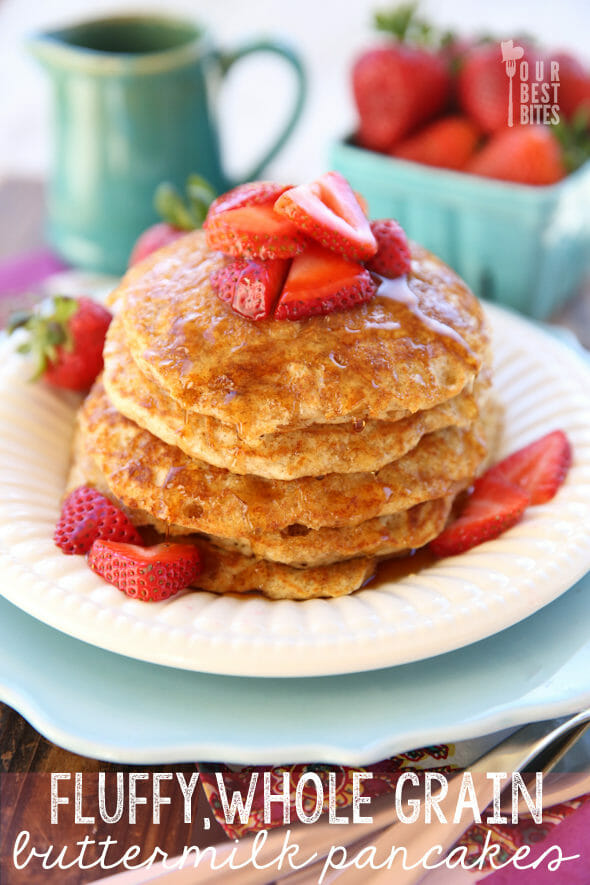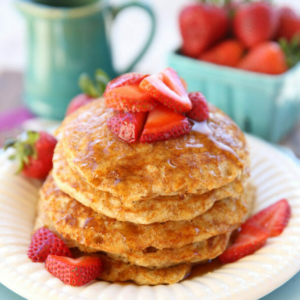 Whole Grain Buttermilk Pancakes
---
Description
Fluffy, soft pancakes made with part whole-wheat flour.
---
3/4 cup

whole wheat flour

3/4 cup

all-purpose flour

3 tablespoons

sugar

1 1/2 teaspoon

baking powder

1 1/2 teaspoon

baking soda

1/2 teaspoon

salt

1 1/2 cup

low-fat buttermilk

1 teaspoon

vanilla extract

1 tablespoon

canola oil

1

large egg

1

large egg white
butter for pan
---
Instructions
Preheat griddle pan.
Combine flours, sugar, baking powder, baking soda, and salt in a mixing bowl and whisk together. In a separate bowl combine buttermilk, eggs, oil, and vanilla and whisk well. Add the wet ingredients into the dry and mix just until moistened and combined.
Coat pan with butter and then pour on pancake batter. Use about 1/4 C batter for large pancakes (5-6″) and 2 T for kid-sized ones (2 /2-3″). Wait until bubbles form and edges are set and then flip.
Makes 12 large or 24 small pancakes.
Freezer Instructions: These pancakes freeze wonderfully. Just lay out pancakes in a single layer on a baking sheet or other pan. Freeze until solid and then place in a zip-lock bag. To serve, just warm up in the microwave or toaster.
---