One of the most common questions I received when I shared my recent experiences on our Alaskan Cruise was what excursions did we do and what did we think of them. We went on a round-trip cruise out of Seattle through Alaska's famed Inside Passage, and I'm going to show you the excursions we chose at each port of call and tell you my thoughts!  One of the things that makes Alaskan cruises so unique is the types of excursions you do there.  They were nothing short of amazing.
HOW TO BOOK ALASKA EXCURSIONS
---
You can book excursions in a couple different ways.  One option is booking through the cruise line.  This option is nice because you are guaranteed a ride back on the cruise ship!  If you venture out on your own and for some reason don't get back in time, there is a possibility you can be left behind.  Since we booked through the cruise line, we got organized envelopes for all of our excursions with tickets, etc.  and that was nice.  You can check out many of the excursions available on this cruise, here.
If you're not sure what you'd like to do and want to check things out, you can also book "off shore," meaning literally off the boat.  As soon as you get off there are kiosks with people selling excursion packages.  (Or you could arrange that ahead of time).  You can sometimes get a great deal this way, if people really want your business, or on the other hand, they might try and price gauge you, knowing you're on vacation and it's your one time to do that thing.
Okay, so let me tell you about what we did!
EXCURSIONS IN JUNEAU, ALASKA
---
Juneau was our first stop on this cruise.  It is home to a couple major glaciers, and while most people visit the Medenhall Glacier due to its convenient location, we opted for Taku Glacier.  We booked an excursion (our most expensive one on this trip, actually) that included both a helicopter and airboat tour.
Our helicopter took off from a nearby airport and flew over the city of Juneau where the bay and surrounding mountains were breathtaking. It's literally that color.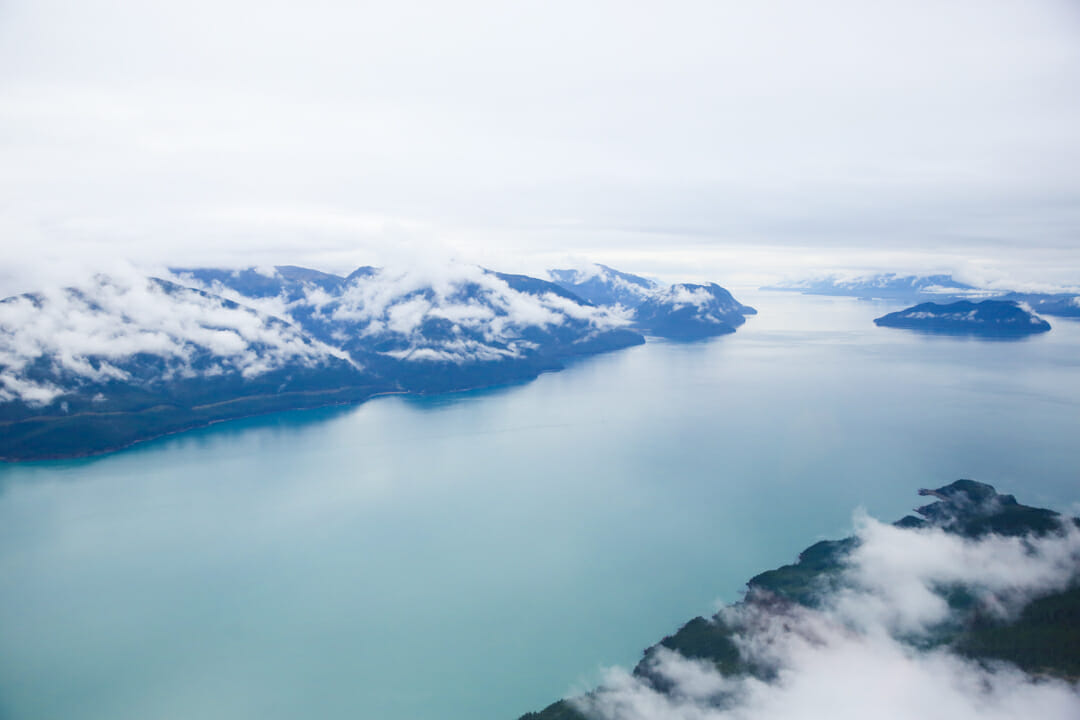 We landed on a small landing pad just across the water from Taku Glacier, where we hooked up with a boat captain from Airboat Alaska.  We hopped off the heli and hopped on the boat, which zipped us around right up next to the glacier.  It was an amazing opportunity to see the glacier from both the air and the water.  From up above the Glacier looked like this: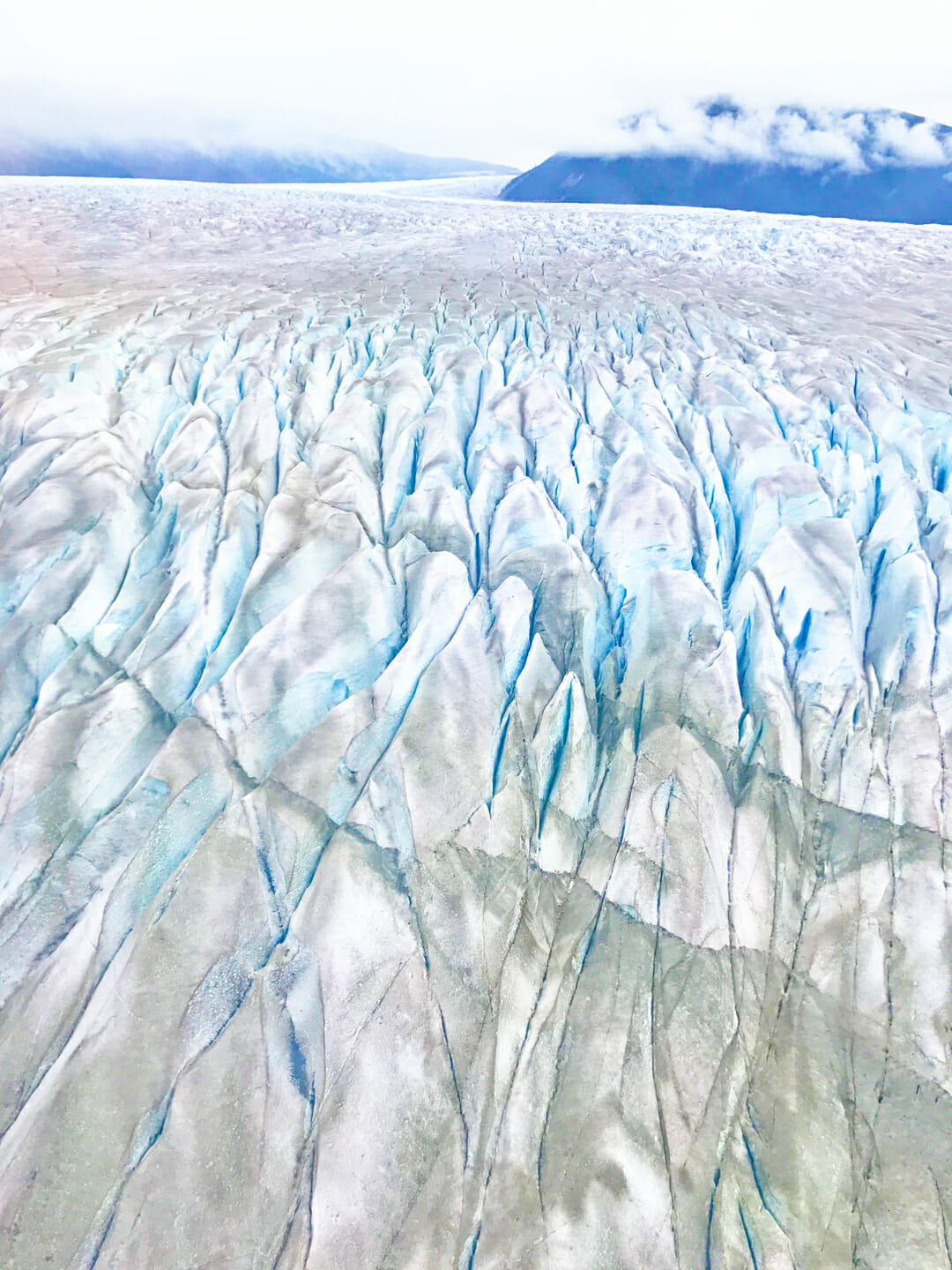 And then down below, we pulled RIGHT up next to the glacier and got to see all of these cool ice caves.  The color blew my mind!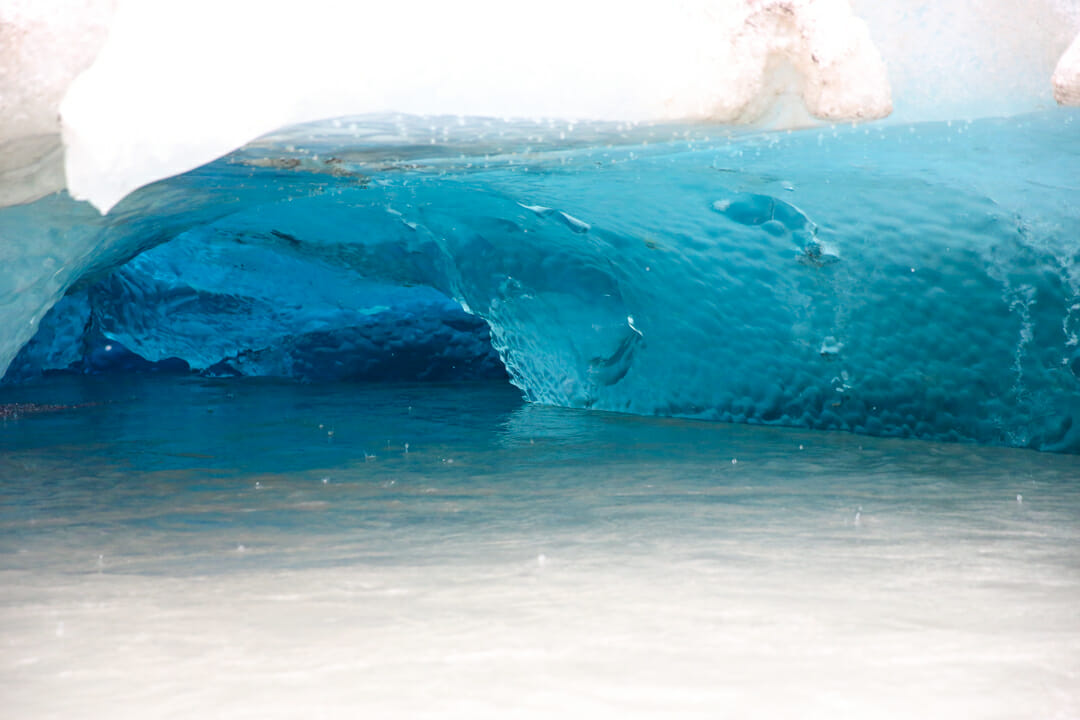 Once off the boat again, we got back in the helicopter, which flew us directly on the glacier, where we got to get out and walk around and take photos.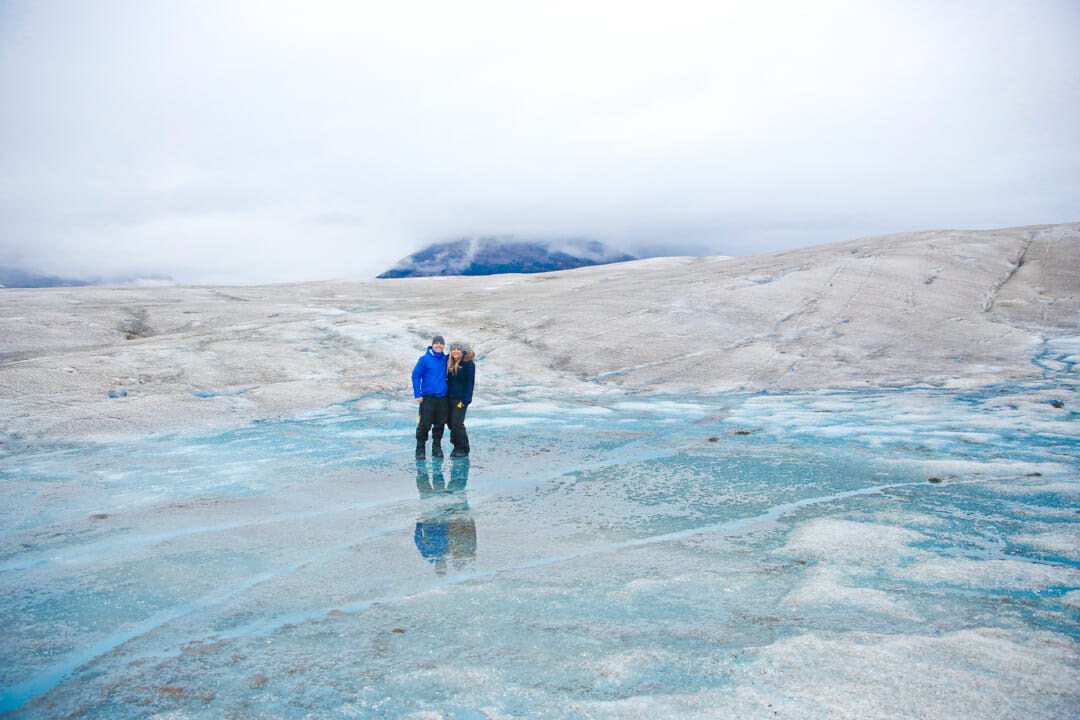 They had us all suited up in special boots to grip the ice and encouraged us to fill up a water bottle and try the water!
Do you like how I picked a glacier that coordinated with my eyes?  I try.  It really was some of the purest, best tasting water we've ever had!  If I had to rank excursions, I have to say this one was probably our #1.
EXCURSIONS IN SKAGWAY, ALASKA
---
Skagway Alaska is known for their scenic train ride up the Chilkoot trail.  It's where thousands trekked up the mountain into the Yukon territory in search of gold.  The scenery is breathtaking and it was nice to just sit back and relax. I mean, look at this view:
My advice if you do this excursion during cooler months is to make sure to dress warmly (or at least in layers) because the trains aren't really heated and you can go outside via the doors in the front and backs of the train cars to take photos, but most likely will be cool outside.  I would also stash some snacks next time!  It takes about 3 hours round-trip and we did get hungry.  If I were to go again, I'd actually spring for the "Luxury Car" which had nice leather seats facing out toward the windows and beverage service.   That being said, we absolutely loved this!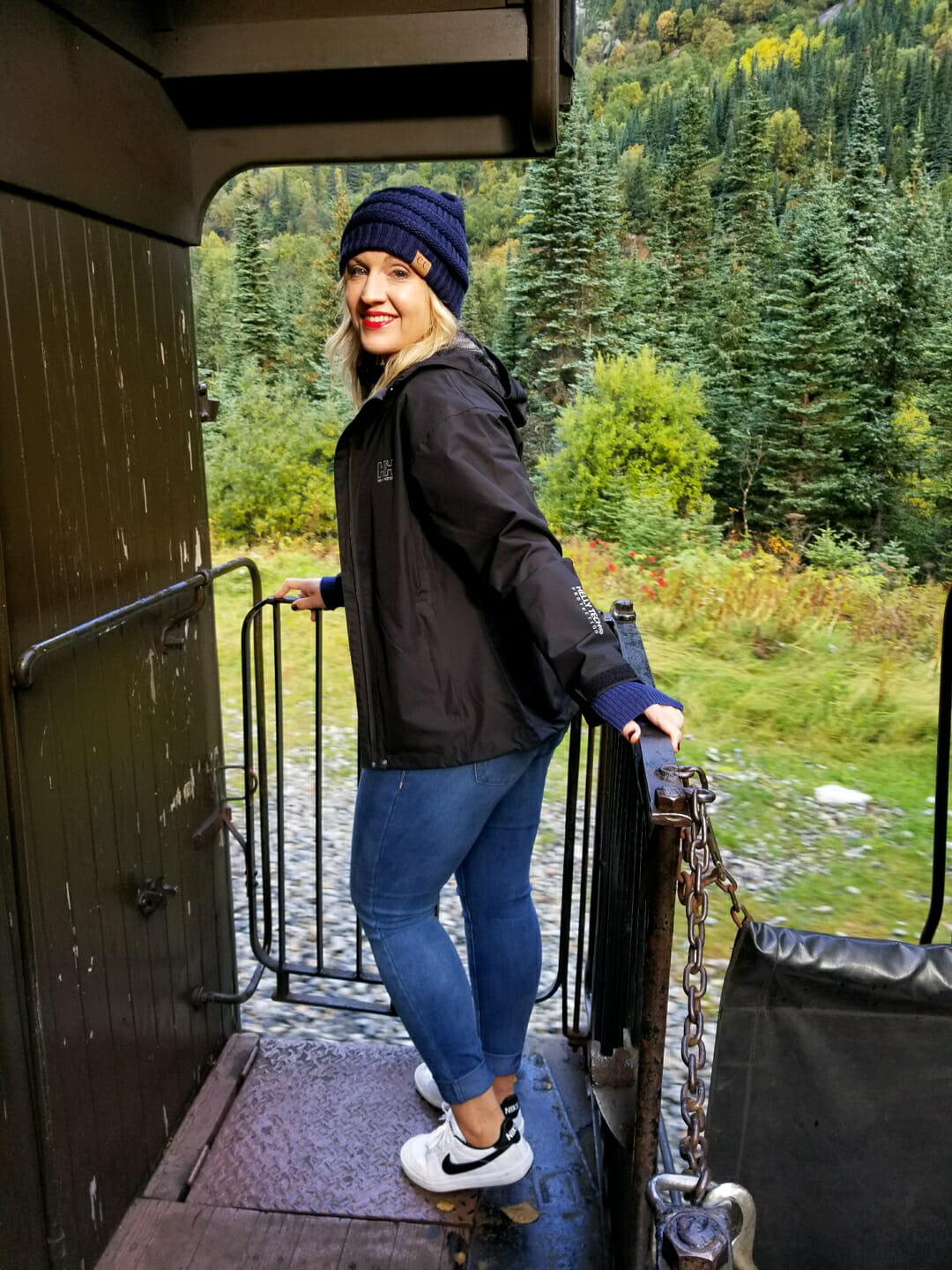 Since we had extra free time when returning back to town after our train ride in Skagway, we decided to take advantage of the amazing weather and go hiking.  It was warm (like, 70's and sunny) when we got back to town and pretty much perfect hiking weather.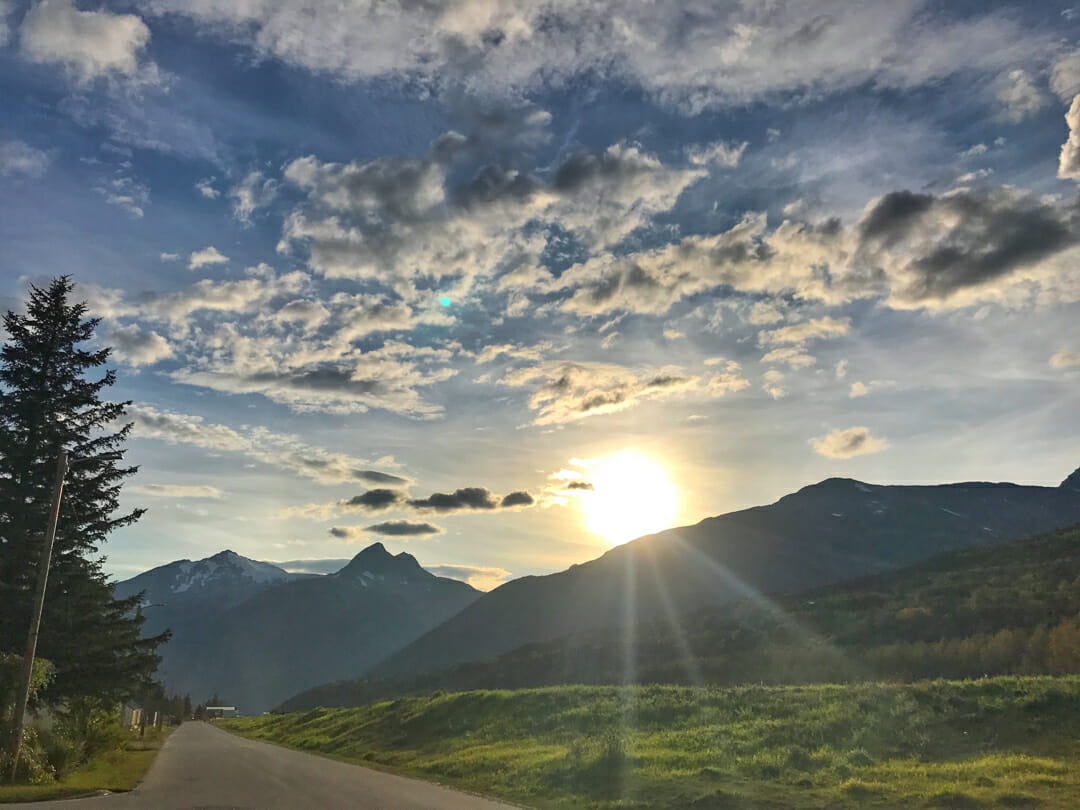 If you'd like to hike, there are easy-access trails via the Dewey Trail System.  I would use this as a reference- we actually did all of these, over 10 miles of hiking that day! The Lower Reid Falls is a really popular choice. It's a just a flat walk through town, which you could also rent a bike or catch a ride to, and then not far at all from the road sit some beautiful falls and even an early gold rush cemetery.   If you want something a little more challenging (and more in the forest as opposed to in town) I suggest Lower Dewey Lake.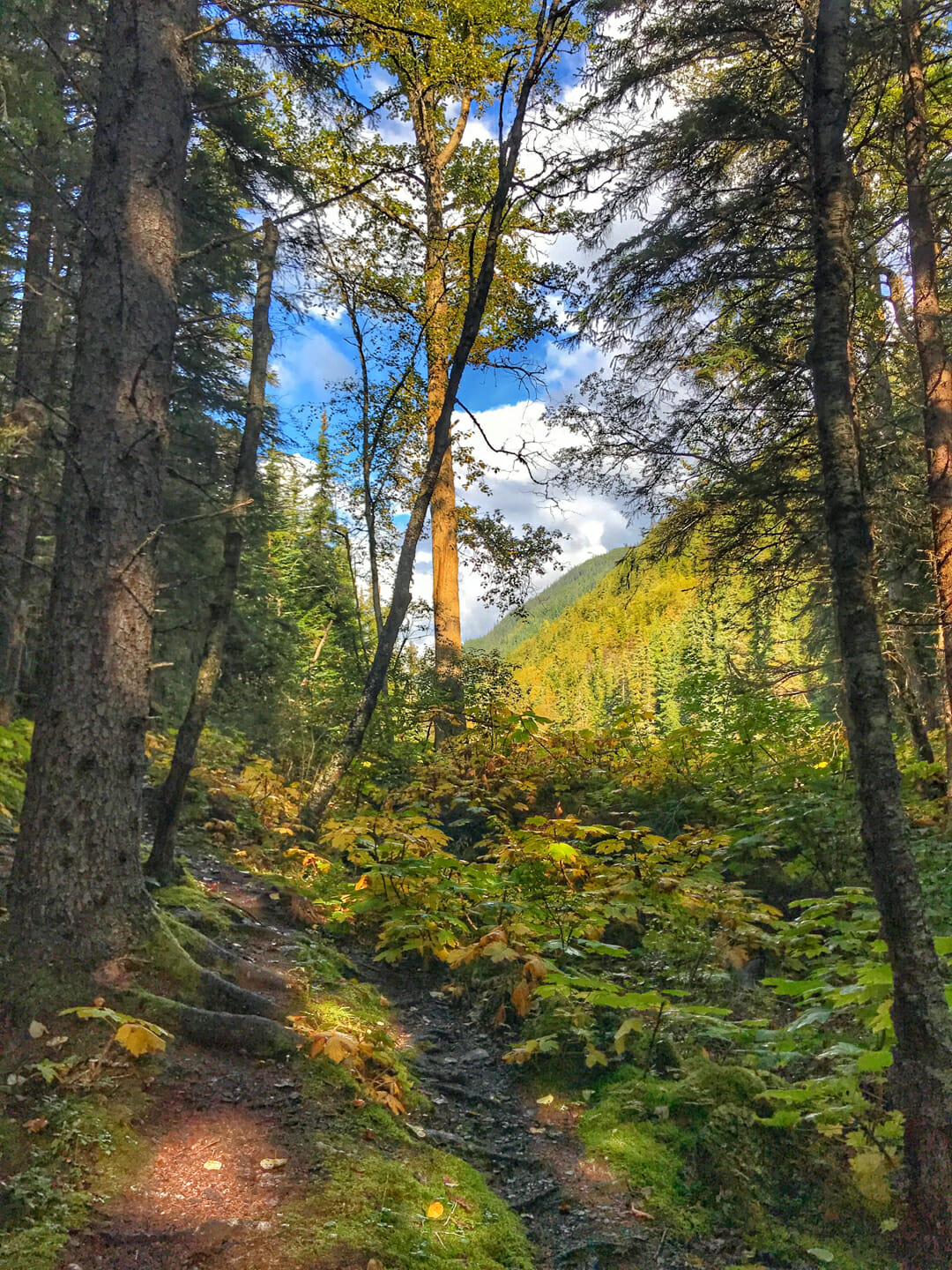 Even with our 3 hour train ride, and ten miles of hiking, we still had time to wander through town on our way back and stop for ice cream.  Even though we hiked a ton, this was one of our most relaxing days.  We loved being at our own pace and just enjoying the gorgeous scenery.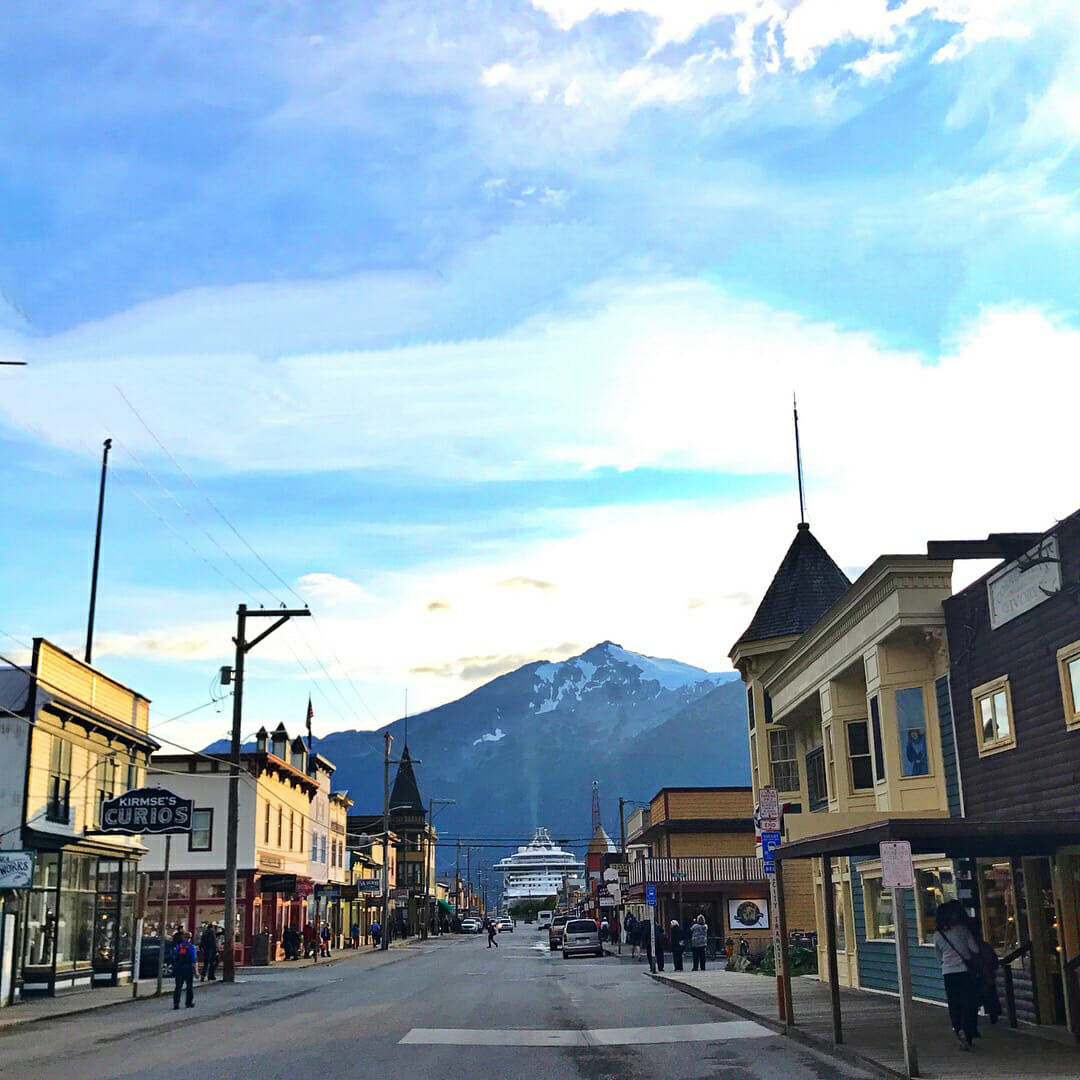 EXCURSIONS IN KETCHIKAN, ALASKA
---
Our next stop in Alaska was Ketchikan.  Since we already experienced a ride in a helicopter, a train, and an air boat, we figured the only thing left was a float plane!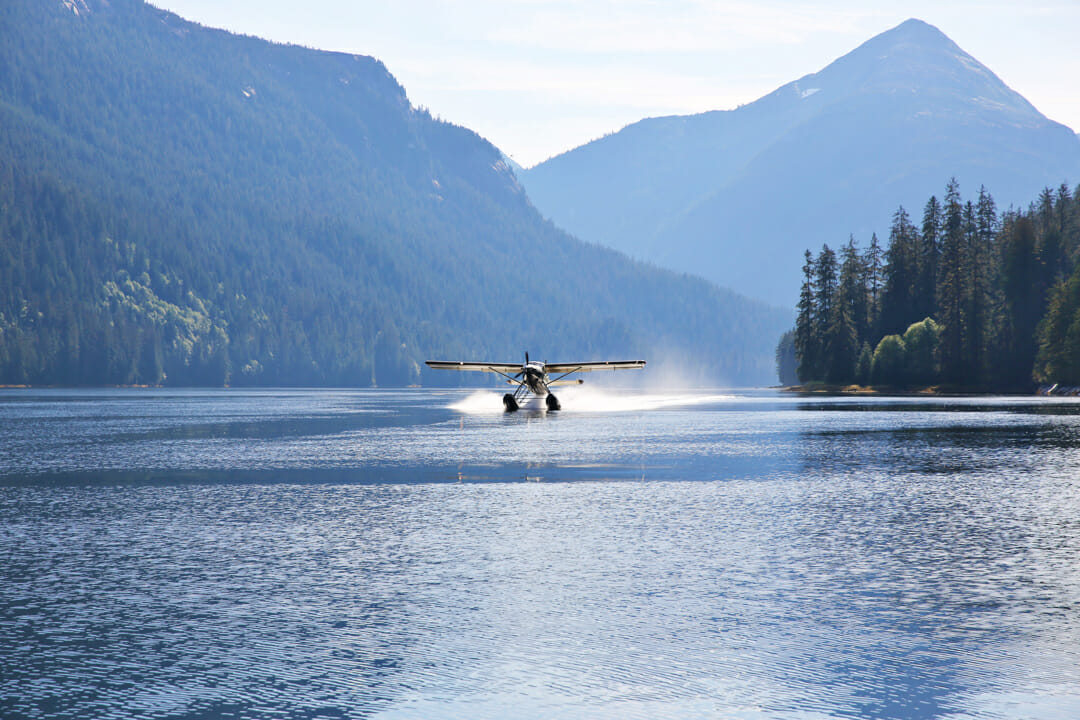 I wanted to hit all of those classic Alaskan modes of transportation, haha.  In Ketchikan, we took a boat ride with a guided nature and history tour, to the Misty Fjords National Monument.  I didn't even really know what a fjord was until I googled it (other than on the movie Frozen??)   GORGEOUS.
Seeing this natural wonder from the air was magnificent, and while I am terrified of small aircrafts, I felt totally safe in the little float plane.
I even got to sit shotgun!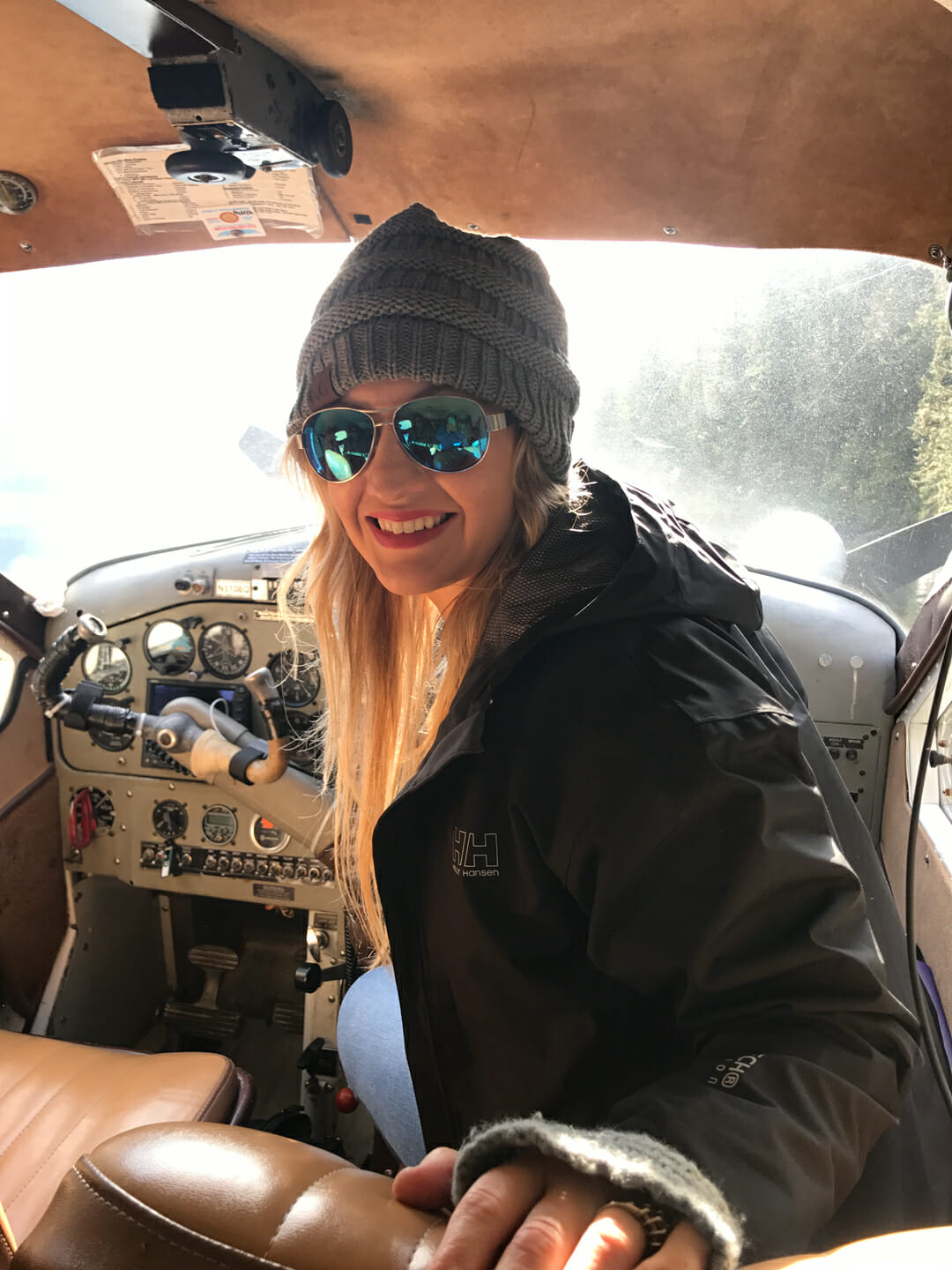 The Fjords via float plane were breathtaking.  We got close enough to spot mountain goats and other wildlife, which was fun.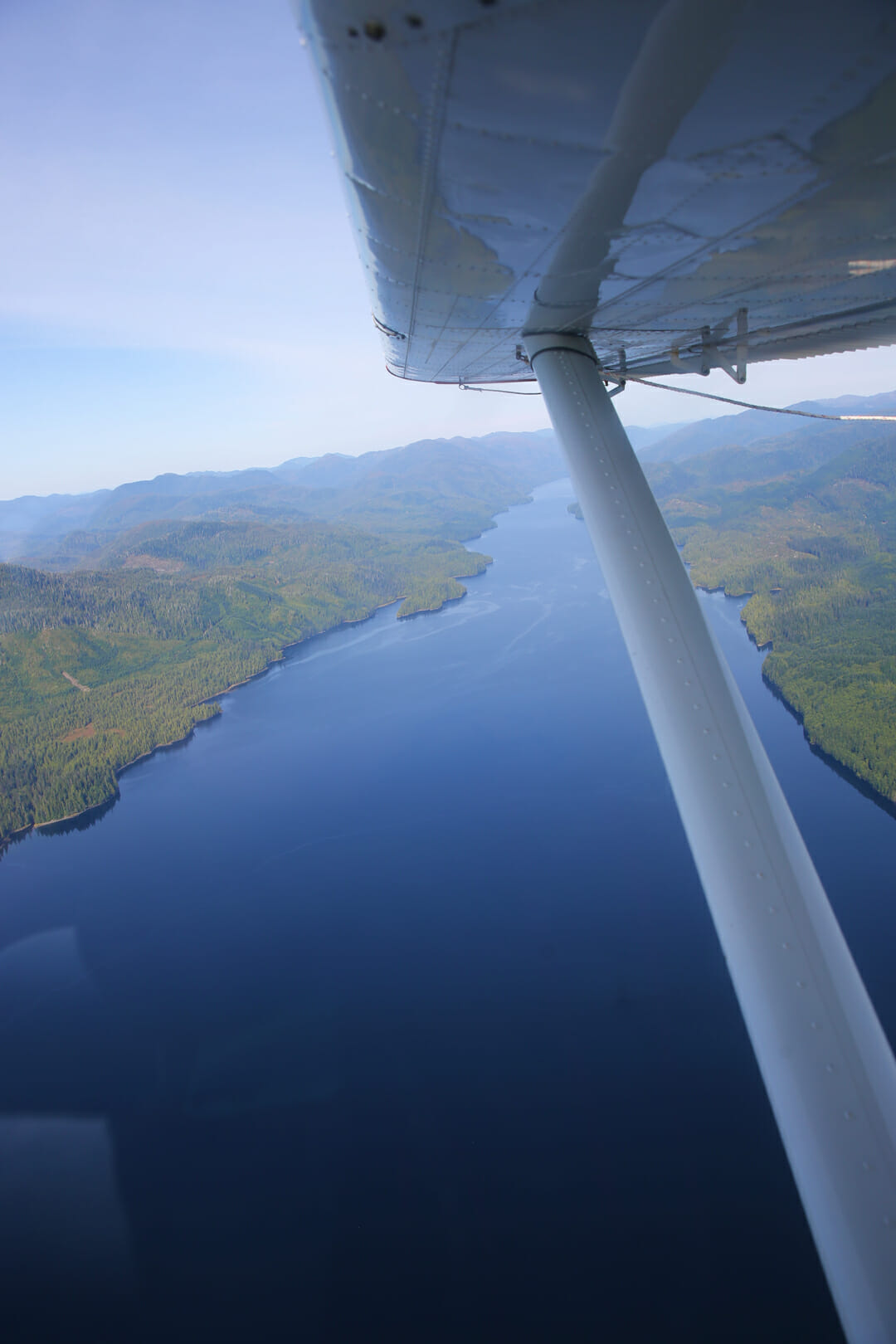 My only regret is that taking a boat to the Misty Fjords took a really long time and by the time we got back to the port we were completely out of time and the cruise ship was prepping to leave.  If there was one town that was worth exploring a little more I'd say it was Ketchikan, so I wish I had more time there.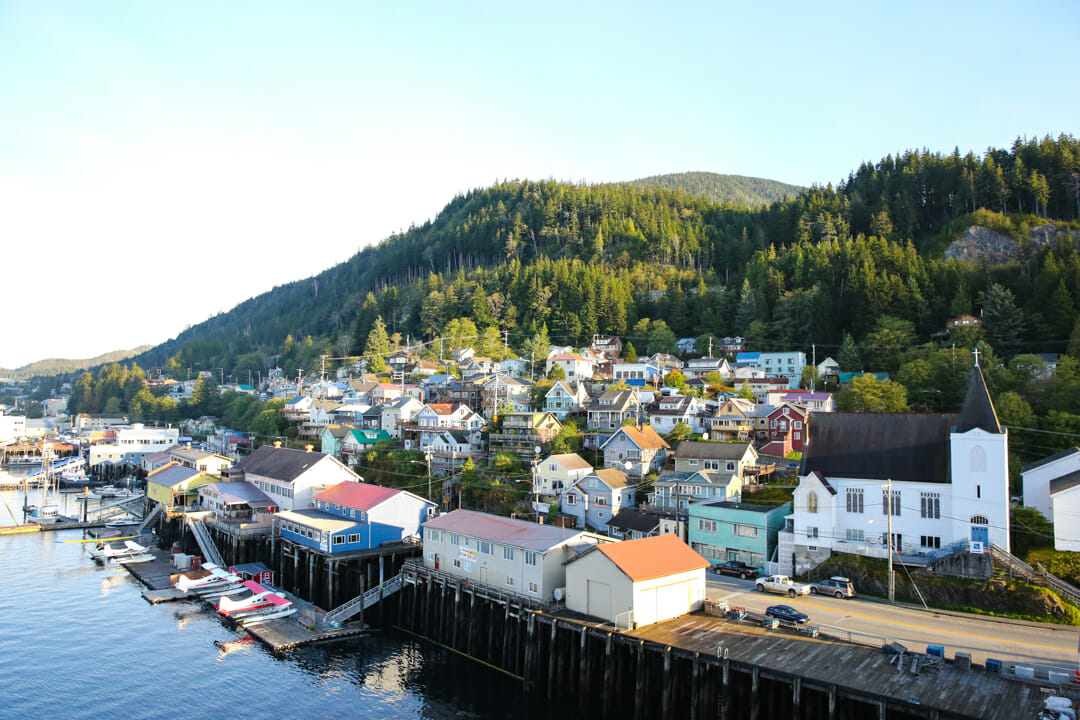 There were two more highlight cities/stops on this trip, but I actually have a recipe inspired by one of them, and the other deserves a post all of its own because, well, you'll see.  So I'll share those ones soon!
To read Part 1 in this Alaska Series, Click Here.
This post is in partnership with Princess Cruises.  All opinions (and excursion choices) are mine.