I went through our archives multiple times to make sure I wasn't missing a recipe for french onion soup.  I was positive I had shared something over the course of almost 10 years, but I guess not??  French onion is one of my favorite soups.  If I go to a restaurant and it's on the menu, I'll most likely order it (same goes for French Dip).   It's such a simple concept, but the combination of sweet caramelized onions with that savory broth and most importantly the big crusty chunk of bread smothered in gooey cheese (?!) It's just THE best.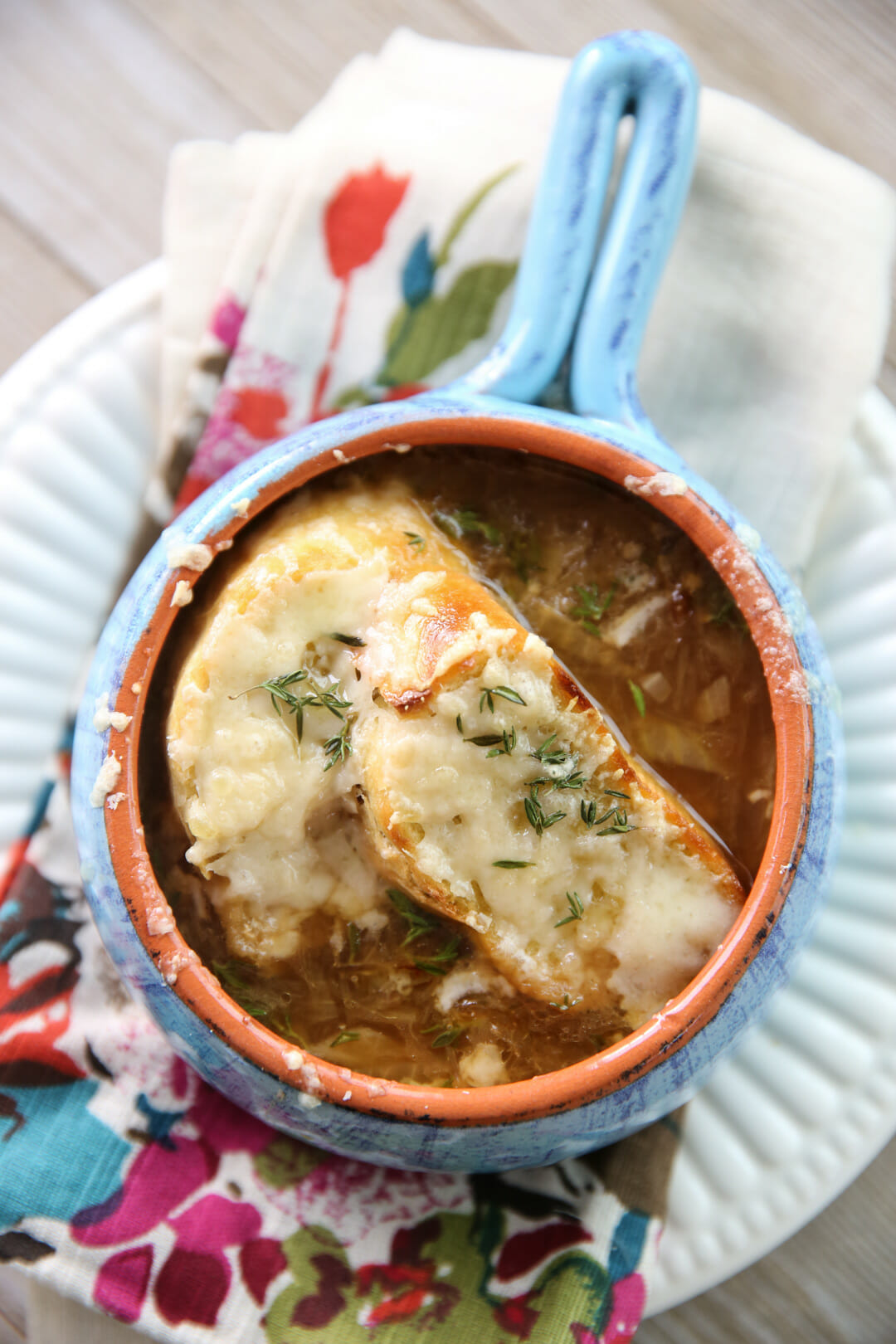 I've eaten French onion soup at a lot of places, and  recently had what I would rank as the absolute best.  When My husband and I went on our Alaskan cruise recently, (read more about it here and here) our last stop on the Ruby Princess was Victoria, B.C.  I wrote about all of the excursions we did at each stop on our cruise, but I didn't tell you anything about Victoria because I wanted to save it for French Onion Soup!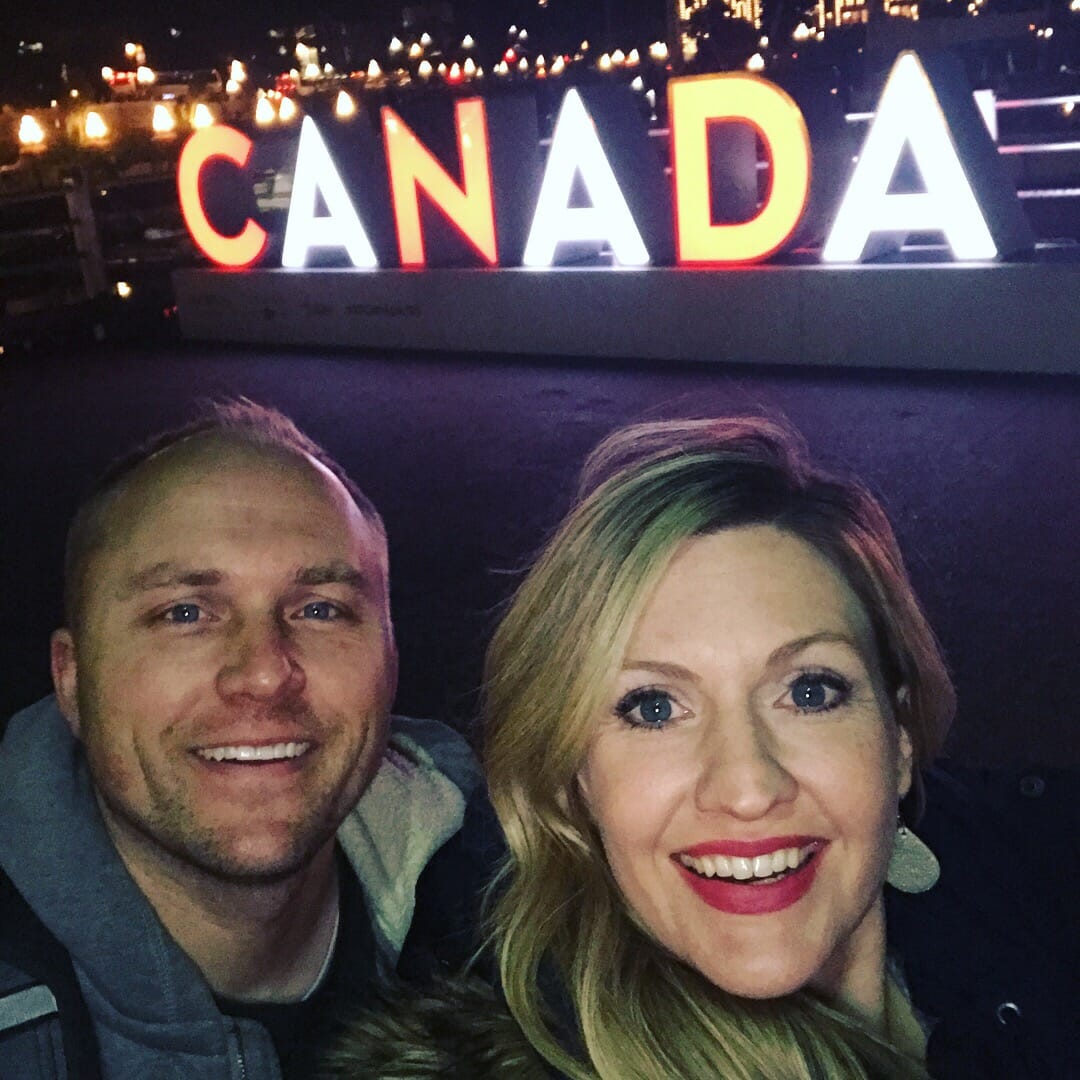 We signed up for a double-decker bus tour in Victoria, which would have been great had it been day time.  Since we arrived in the evening and the sun was down by the time the bus took off, we could hardly see anything.  It's not something I would recommend at night!  When our bus pulled into the main stretch of downtown, we hopped off the bus early and decided to explore the city instead, which was a great call.  Victoria is a fantastic city.  We quickly met up with our friends Mique and Josh and headed over for a late dinner at a restaurant called Brasserie L'Ecole. Mique had researched restaurants ahead of time and this little tucked away joint had stellar reviews that all said the long waiting time would be worth it.  We really did have to wait two hours for a table, and the staff was SO great to us, knowing by then we would need to eat fast to catch the boat!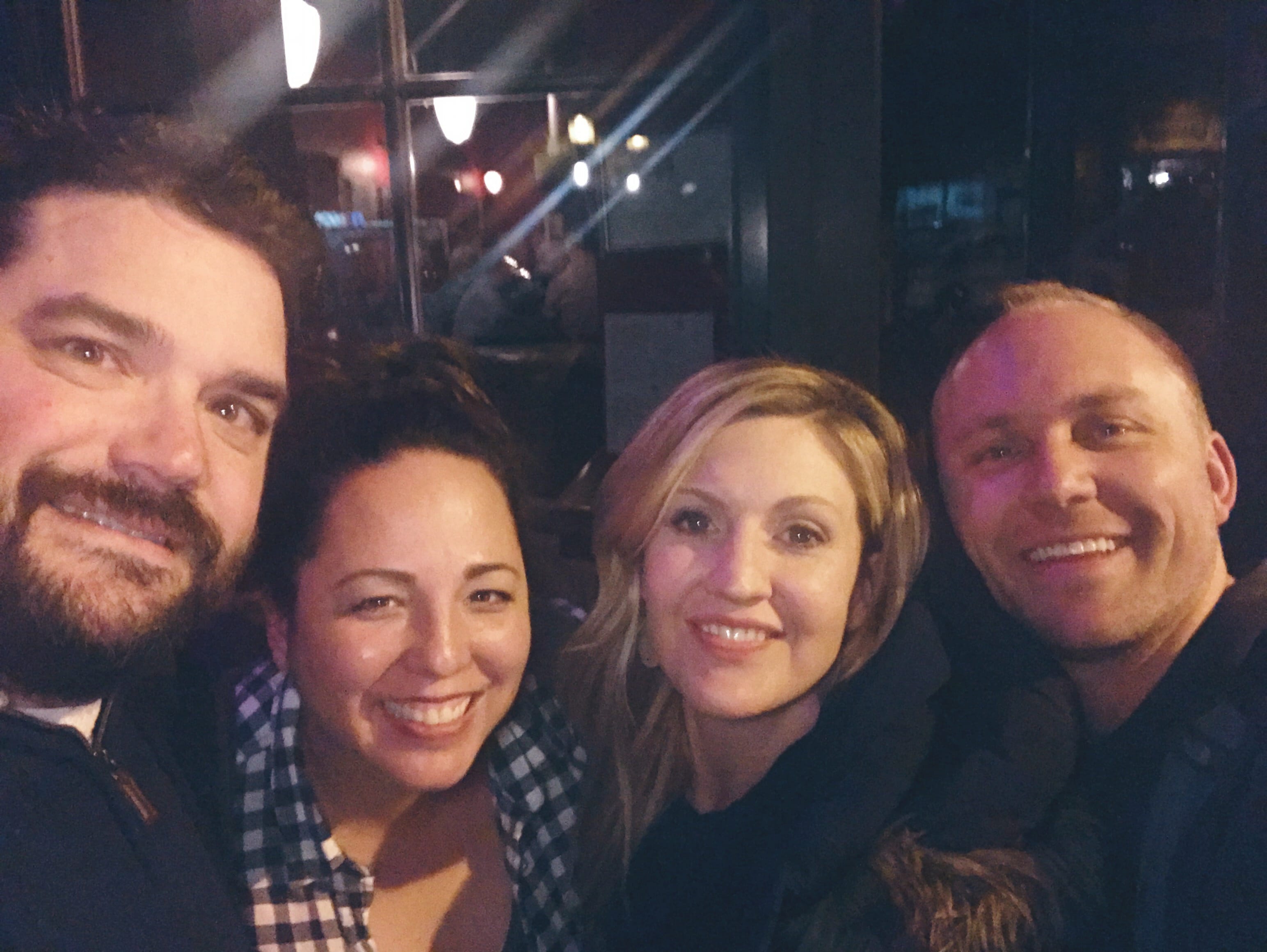 Our entire meal at Brasserie L'Ecole was outstanding and we knew all the reviews said to get the French Onion soup, so of course we did.  It was SO good.  I've been craving it ever since so I figured I'd share a recipe!  If you've never made French onion soup, it starts with (spoiler alert) lots of onions.  Caramelized onions. 
There's several methods you can use to caramelize onions, but not of them are quick.  I recommend taking the time and doing them the good ol' fashioned way on the stove top because all those browned bits you'll get in the pan play a role in flavoring your soup. Don't try and speed up the heat to hurry things along, low and slow is the way to go here and when you're done you'll have nice, even, gorgeous caramelized flavor.
After those onions are caramelized, you'll add a little bit of flour and butter and make a roux to thicken up the soup.  Beef broth, black pepper and thyme are added and it simmers away with all those amazing flavors.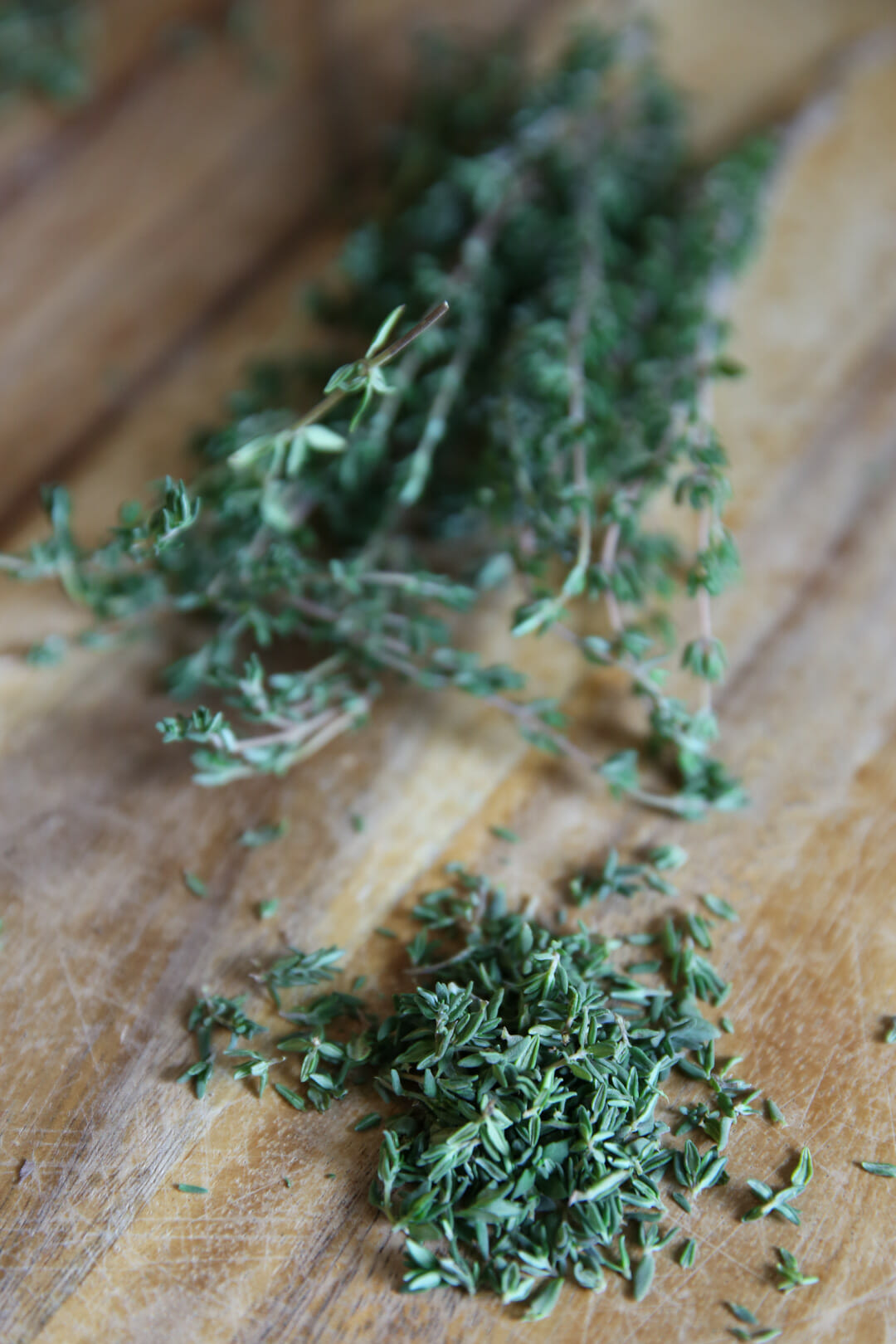 While the soup simmers, you can prep the best part- those crunchy giant toasty chunks of bread which are basically oversized cheese-covered croutons.  I just cut thick slices of a baguette and drizzle with olive oil and toast them in the oven.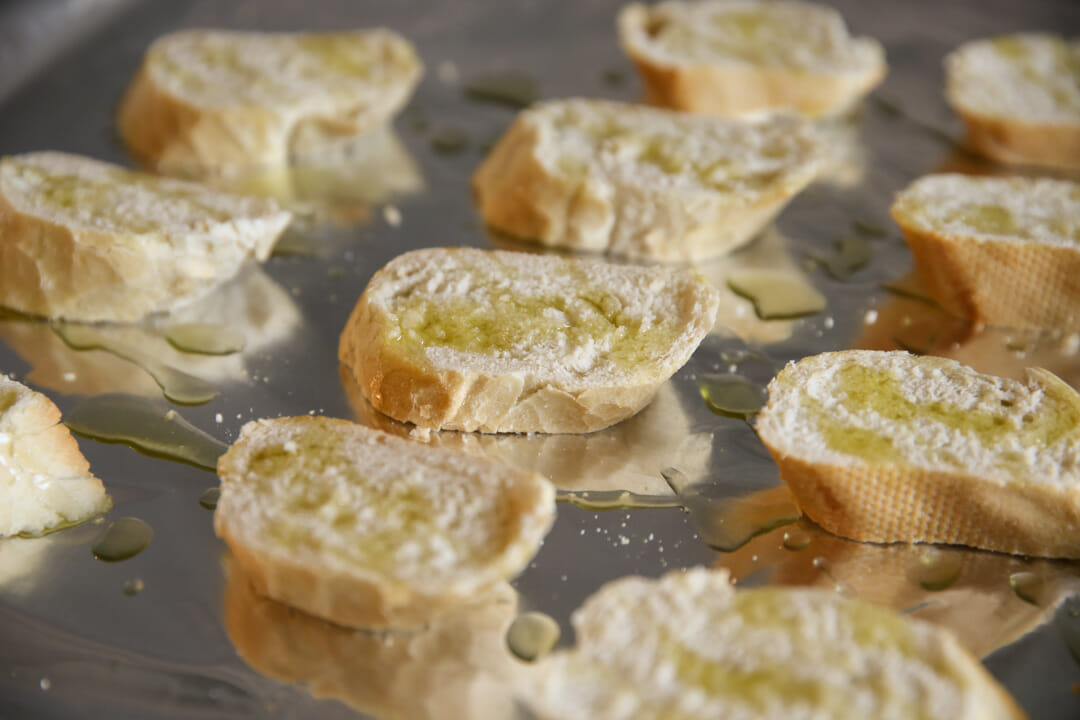 When you put everything together, you'll pop those bread slices on your oven-safe soup bowls or ramekins, smother with cheese and a little extra thyme, and broil so it gets all melty.  The finishing touch is a little drizzle of olive oil.
Now you might not have oven-safe bowls OR you might not want to serve piping hot bowls from the oven on the dinner table (not the safest thing for kids).  If that's the case, simply toast your bread and then smother them with cheese on the baking sheet and simply place them into regular soup bowls over your soup.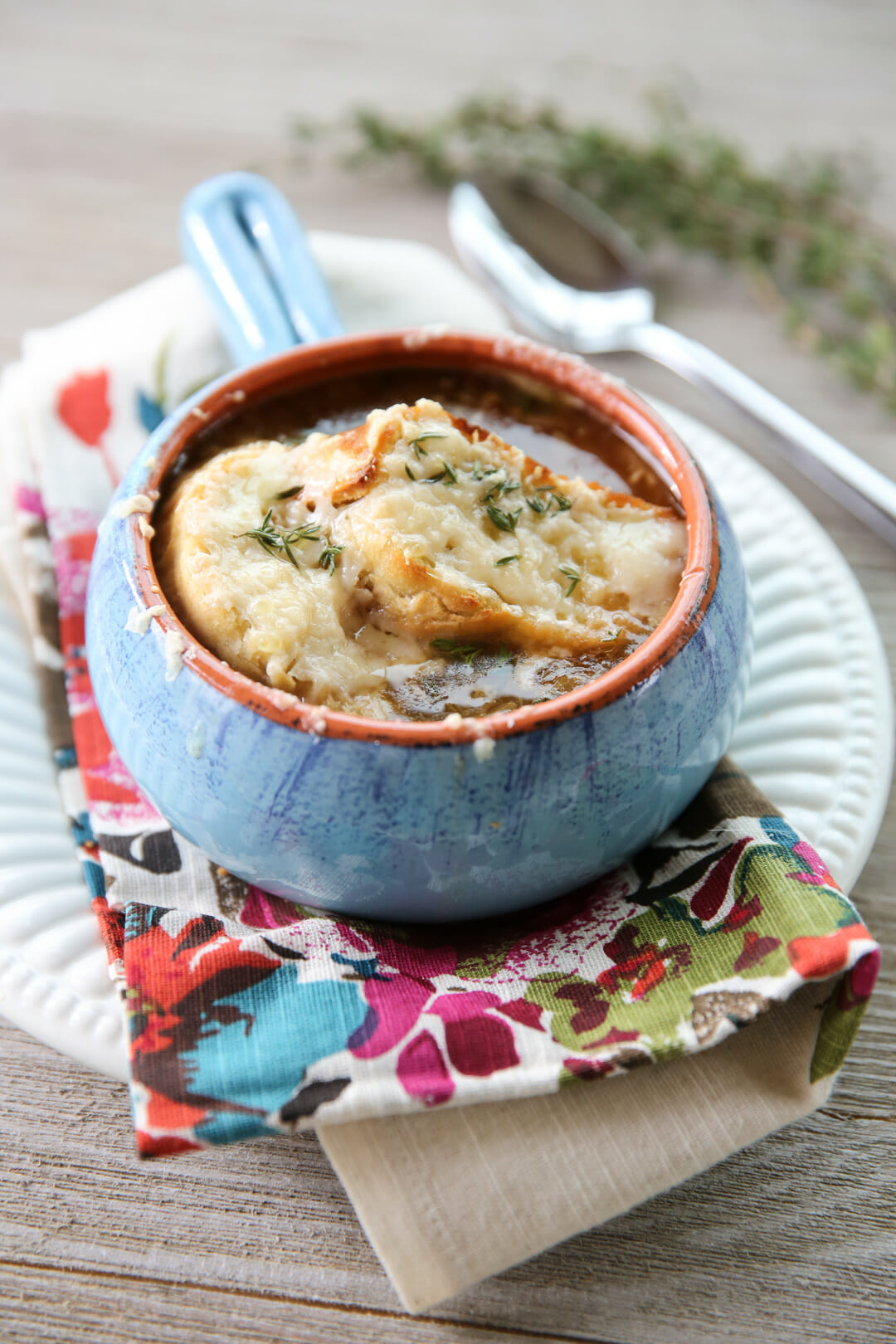 Lastly, I'm just going to make one note about this before this blog post takes a very serious, very bad turn.  I'll just say this.  Because there are so many onions in French onion soup, it's best served in small quantities to avoid- let's just call it, indigestion.  Don't fill a chili-sized bowl of this stuff and go to town, serve it in a small ramekin along side something else, like a salad or sandwich.  Trust me.
Print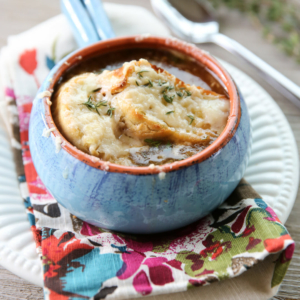 ---
2

–

2.5

lbs sweet onions (like vidalia or walla walla) about 4 medium

4 tablespoons

butter, divided

1 tablespoon

olive oil (plus extra, see recipe)

2 teaspoons

sugar

1/2 teaspoon

salt

3 tablespoons

flour

2

cloves garlic, minced

2

boxes beef broth (

64 oz

or

8 cups

)

1/4 teaspoon

black pepper

1 tablespoon

fresh thyme (or

1 teaspoon

dry)

1/2 teaspoon

white wine vinegar
For topping:
french baguette, sliced thick
shredded Gruyere cheese
shredded parmesan cheese
extra thyme
olive oil
---
Instructions
Peel and slice onions.  Heat a large dutch oven to medium heat.  Add 3 tablespoons butter and 1 tablespoon olive oil (I use Rosemary Olive Oil from our Shop).  When melted, add onions and stir.  Continue to cook, stirring occasionally for about 15 minutes.
Continue cooking uncovered for about 15 minutes more and then add sugar and 1/2 teaspoon salt.  Continue cooking for another 10-15 minutes or until onions are deep golden brown.
Add remaining tablespoon butter, flour, and garlic and stir for about a minute.  Slowly add beef broth, stopping after the first couple cups to really scrape down sides and bottom of pan and whisk broth smooth.  Continue adding remaining broth, along with black pepper and thyme and bring soup to a simmer.  Simmer uncovered for 20-30 minutes.
While soup is simmering, prepare bread. Preheat oven to 400 degrees. Slice baguette and place on baking sheet. Drizzle with olive oil and then bake for about 10 minutes or until toasted and very lightly golden.
Turn heat off soup and add vinegar.  Salt and pepper to taste.  Ladle soup into small oven-safe bowls or ramekins and top with a couple pieces of toasted bread.  Cover generously with a mixture of the two cheeses (there aren't amounts or ratios- it's okay to eyeball!) Sprinkle with a little extra thyme and then place in middle rack in oven with the broiler on to melt cheese.  Be careful, those bowls are hot!
---
Notes
Because this soup contains so many onions, it's best served in small servings to avoid indigestion.