Last summer and fall, I can't even begin to tell y'all how many requests we got for cobblers. I'm not sure if cobblers are largely a regional dessert or something, but aside from the traditional Dutch oven "cobbler" where you dump a box of cake mix, a can of fruit, and a can of Sprite into the Dutch oven and wait 30 minutes until it's Business Time, I hadn't eaten much cobbler. But I figure it's full of things I like, so how could I go wrong?
I literally made this berry cobbler up as I went along. Cream? Good. More cream? Better. Lemon zest? Why not? It was truly a kitchen experiment– one that went pretty darn well!
Ingredient Notes
Berries – I used a frozen mix of blueberries, blackberries, and raspberries. Feel free to use any fresh or frozen fruit you'd like. No need to thaw the frozen fruit beforehand, either. 
Cream – I used heavy cream, but regular whipping cream would probably work just as well. 
Butter – Use real butter. 
How To Make Berry Cobbler
For the crust, you'll need flour, salt, baking powder, sugar, eggs, cream, and butter. You can also add the zest of 1 lemon or orange if you want. Toss it all in a bowl and whisk it up.
Then take your cold butter and a cheese grater and grate that sucker. Look how pretty! Gently fold the butter into the flour mixture so it is light and crumbly.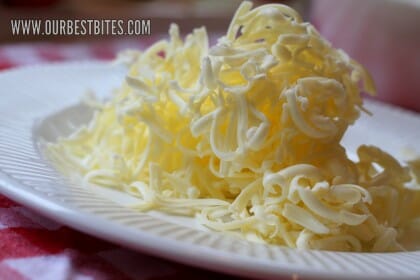 Crack open two eggs and give them a whisk.  Add them to the flour/butter mixture and stir until just combined. Then add the cream and mix everything together until you form a wet dough.
Lightly press some of the dough into the bottom of the pan and set it aside.
Now, take some berries, toss with brown sugar, and spread the berries over the "crust." Drop the remaining dough over the berries and set aside.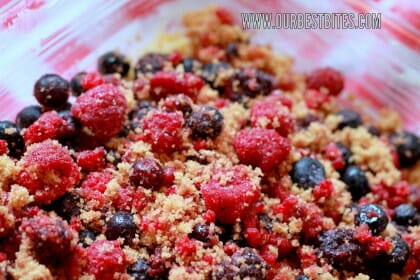 Now…I'm using the streusel topping from our blueberry muffins, so if you like that, then I'm willing to bet my cat you'll like it here, too! Mix together some sugar, a bit of flour, and cinnamon. Cut in a few tablespoons of butter until the mixture is crumbly. Sprinkle it over the dough-topped berries and then pop the whole pan into the oven. Bake it for 45-55 minutes or until the topping is golden brown and the dough is cooked through.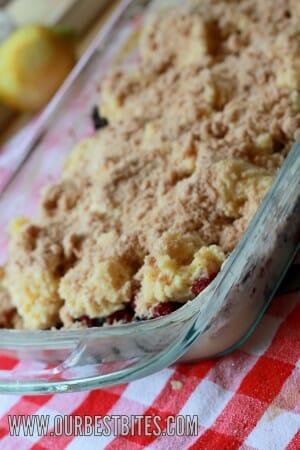 Serve warm with sweetened whipped cream or vanilla ice cream.
Frequently Asked Questions
Can I make this ahead of time? While this berry cobbler is best served warm, fresh out of the oven, it can certainly be eaten later. If made within about 8 hours of serving, simply cover with plastic wrap and leave on the counter until ready to serve. Any longer that that, and it should be transferred to the refrigerator.
Related Recipes
Looking for similar desserts? Try this Blueberry Boy Bait or Skillet Blackberry Cobbler. Blackberry-Peach Crisp or Classic Apple Crisp are great choices as well!
Did You Make This?
I'd love to hear from you! Snap a picture and tag me on Instagram, then come back and give this recipe a rating!
Print