I belong to a doughnut family.  A family that will choose doughnuts over all other sweet confections.  They routinely ask for doughnuts in place of a birthday cake (#momwin), as rewards, and in place of any general meal.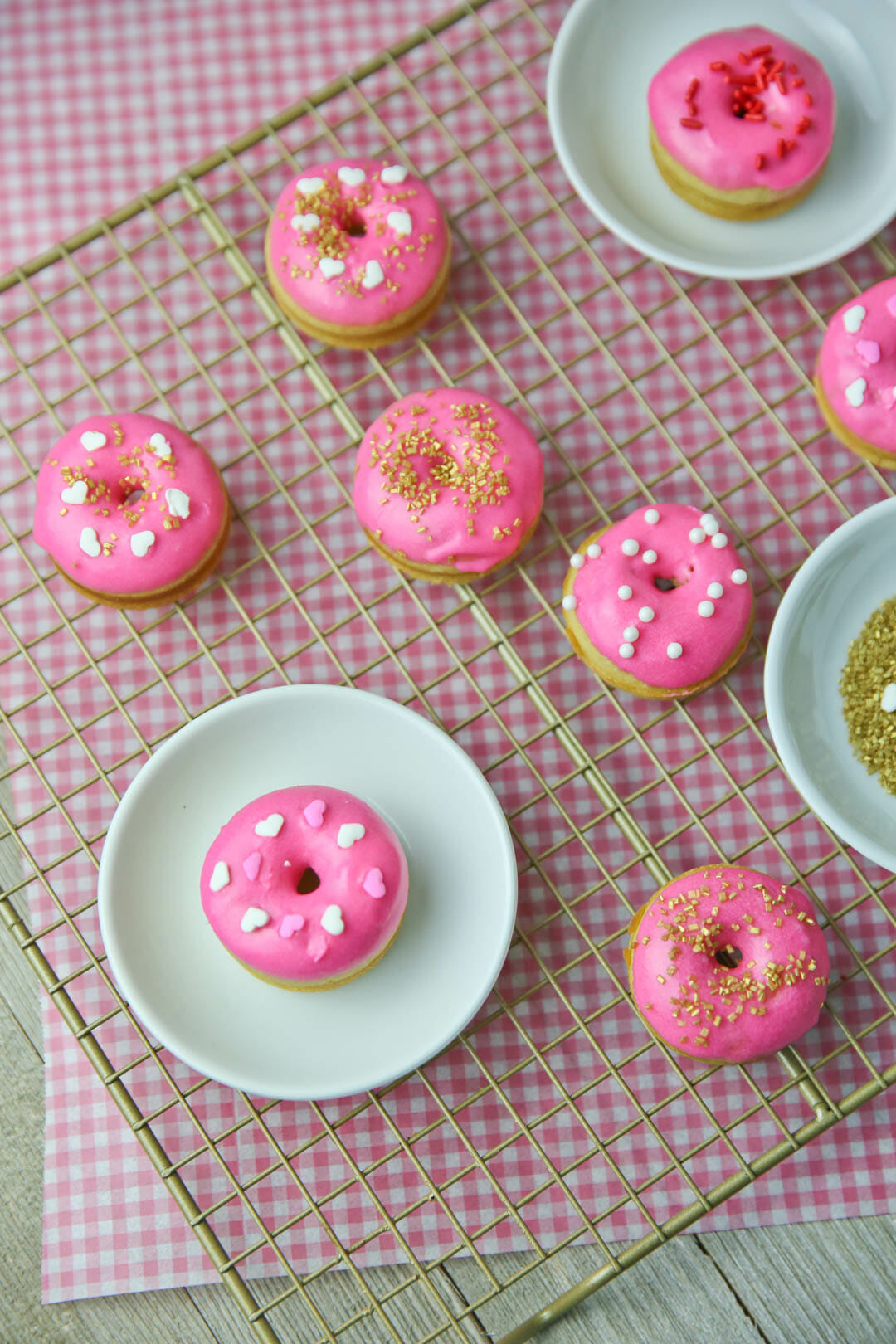 And while we love a real, good doughnut, I've also found they get just as excited about anything in the mere shape of a doughnut, which is where baked doughnuts come in.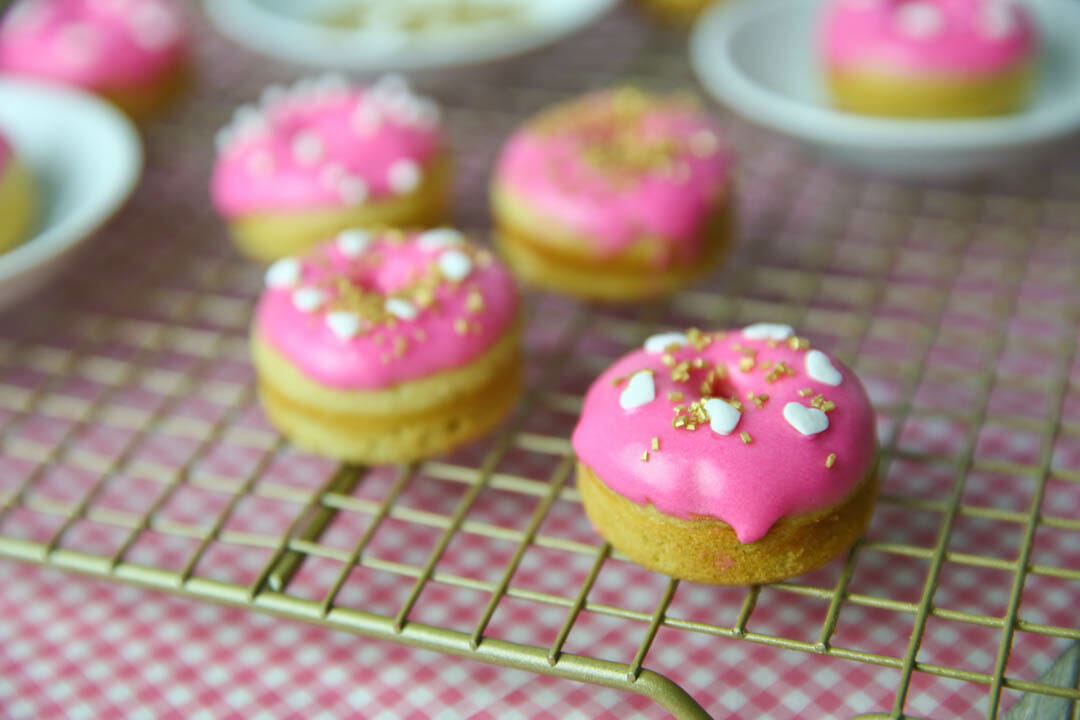 Let's be honest- baked doughnuts aren't doughnuts.  They're small muffin-ish cakes in the shape of doughnuts.  That being said, it's a super fun way to make something ordinary, extra special.  They're as easy as muffins to whip up, but 400 times more adorable and fun to eat.  You can get creative with glazes and toppings, and come up with endless flavor combinations.  If you don't have a doughnut pan, you can find regular ones here, or the cute mini ones like I'm using in this post, here.
This recipe comes together quickly with standard ingredients.
I'm adding almond extract to the batter because it goes so nicely with berry flavors, which I'll use in the glaze.  One tip I have, especially if you're doing mini doughnuts, is to put your batter in a ziplock bag.  Cut off the tip and then squeeze the batter in.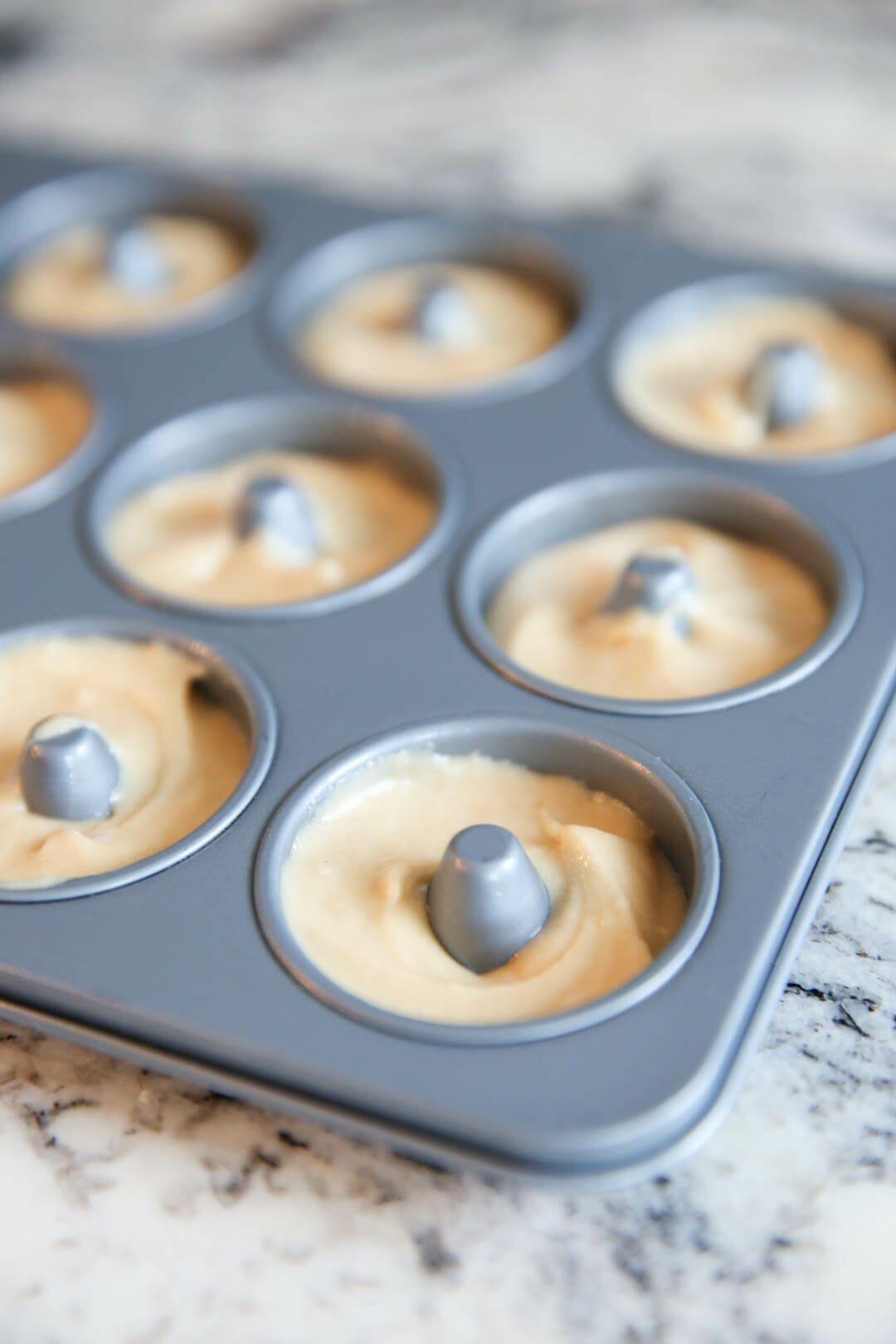 These mini ones bake SO fast.  Like 4 minutes fast.  I cannot stress enough the importance of not over-baking.  Take them out right when they are puffed and just barely set, otherwise they will dry out so fast.
Pop them out of the pan and let them cool before glazing.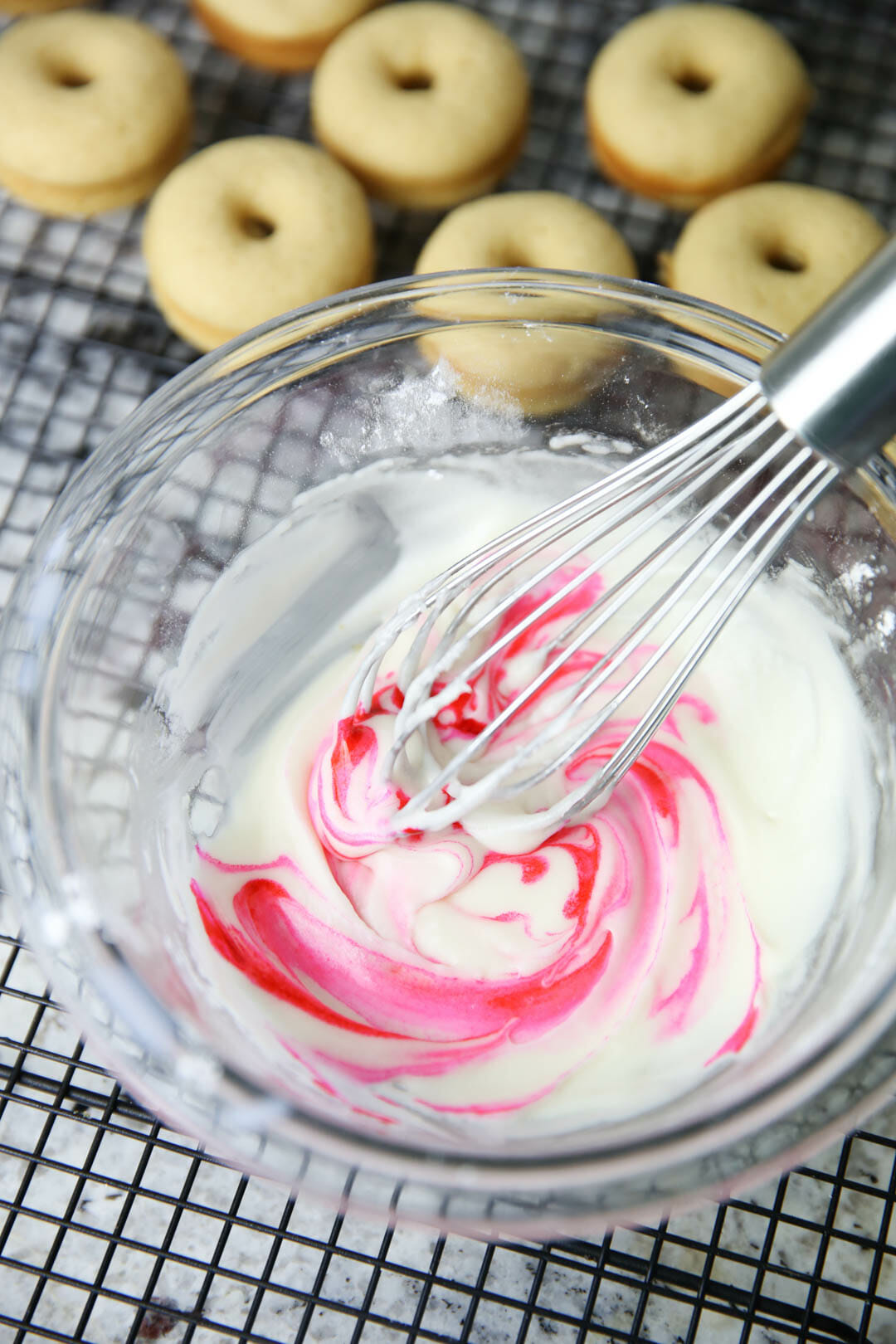 The glaze is customizable, but I'm adding pink food coloring (My favorite food coloring is Americolor Gel colors) and berry extract.  I used a little Raspberry extract and a little strawberry.  You could also add a little fresh fruit purée, or whisk in a favorite fruit jam. Play around with it and see what you like!  My husband says these are Homer-Simpson-Pink.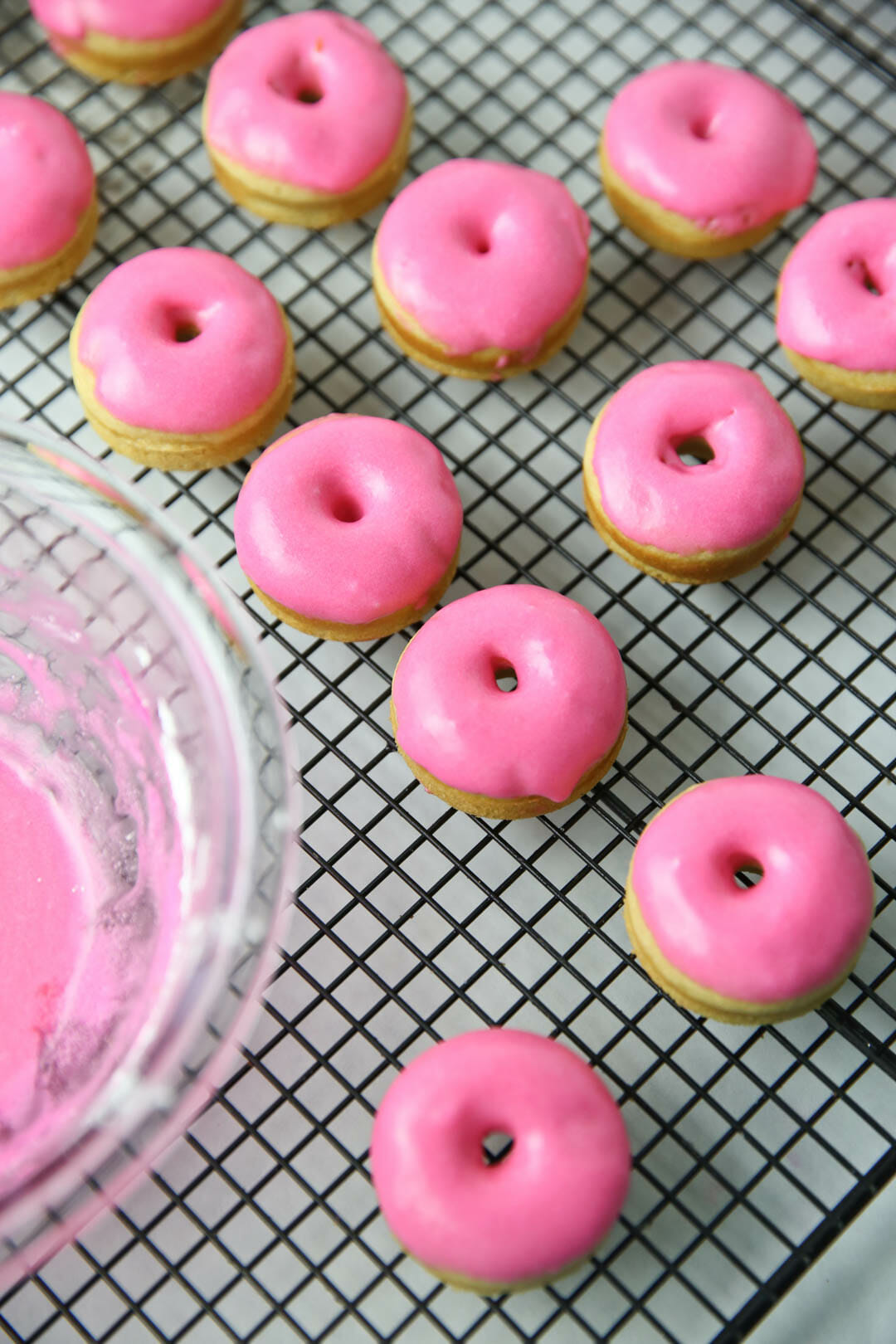 Simply hold each doughnut and gently dip the top in your bowl of glaze.
Sprinkle with any toppings your heart desires. (I couldn't find my exact gold sprinkles, but here's something almost identical, I think.)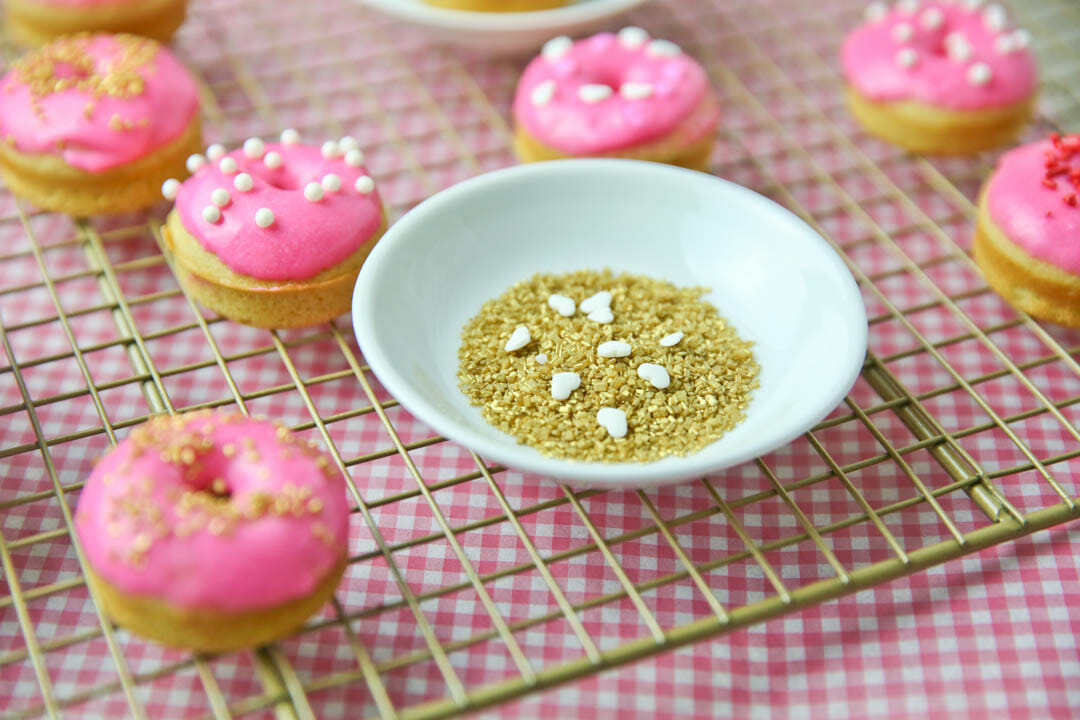 There is something about pink frosting and sprinkles that gives me allll the heart-eyes.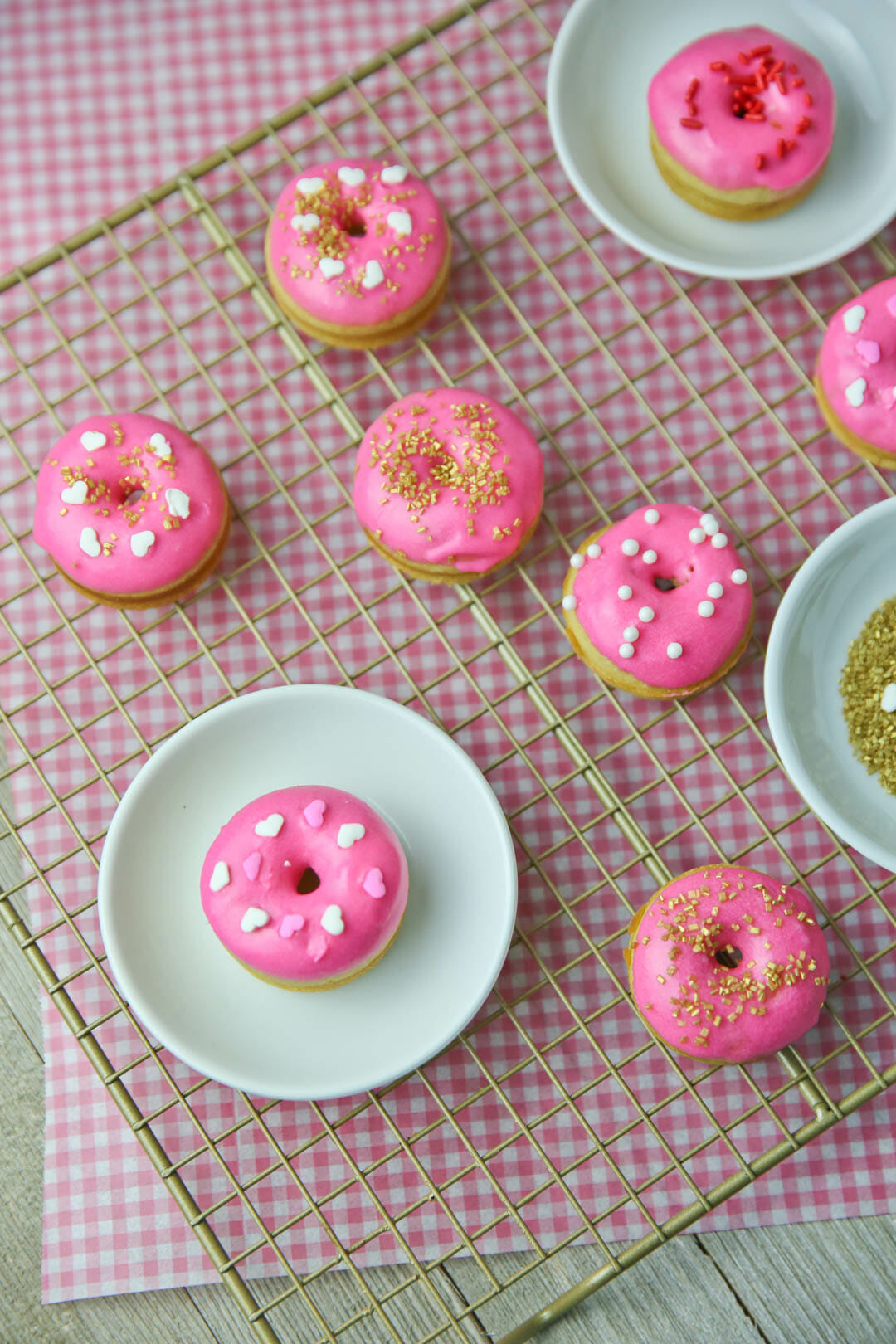 These are so fun to eat, and make a really cute presentation all plated up for a party.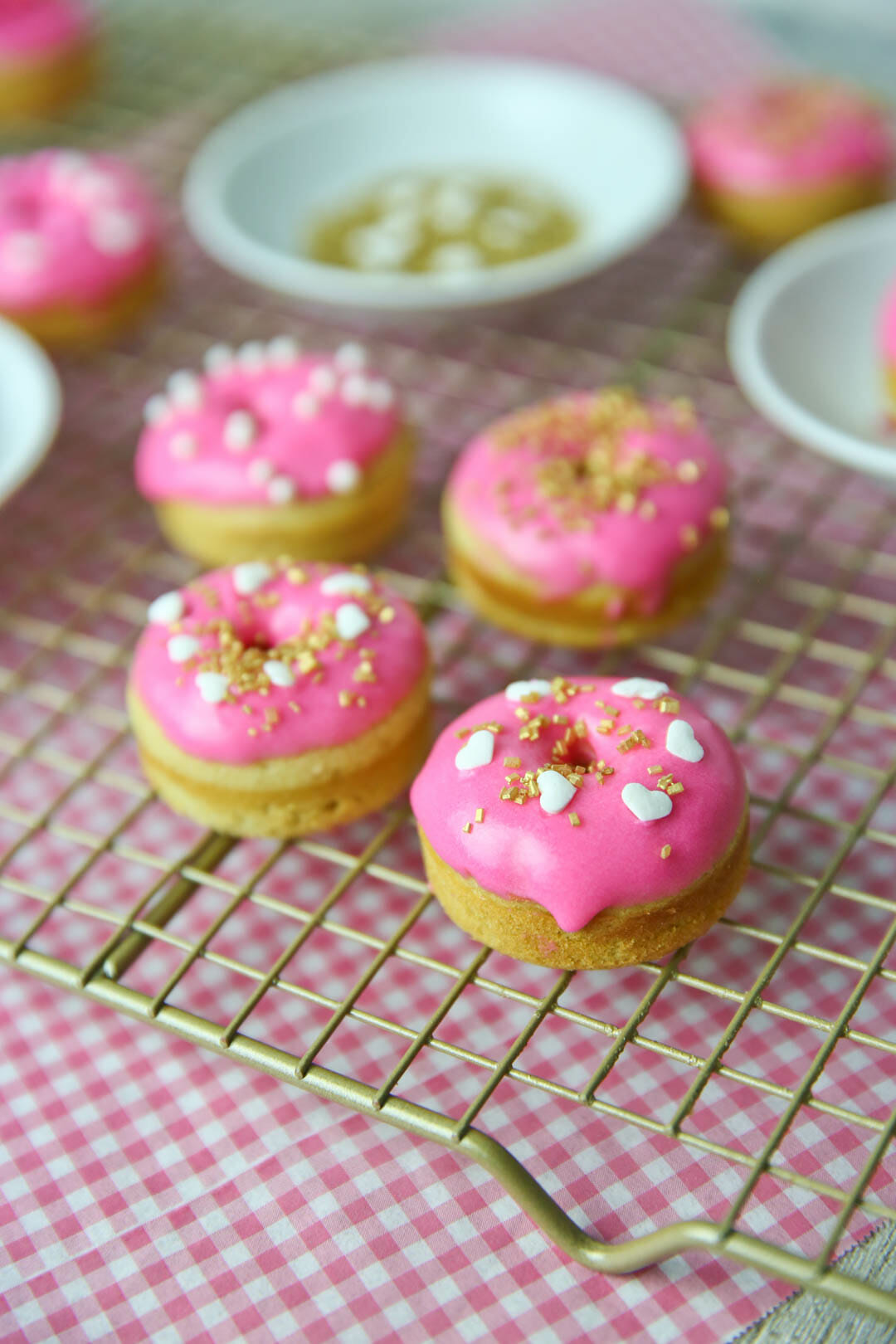 These are a super easy, fun thing to make with your kiddos or for your friends.  Enjoy!
(Pin it!)
Related Recipes
Chocolate Covered Strawberry Cream Puffs
Strawberry-Lime Shortcakes with Coconut Cream
Strawberry Chocolate Chip Cookies
Did You Make This?
I'd love to hear from you! Snap a picture on tag me on Instagram, then come back and give this recipe a rating!
Print
Berry Glazed Baked Doughnuts
---
Description
An easy baked doughnut topped with a sweet pink berry glaze
---
1/4 cup

(

4 tablespoons

) butter

1/4 cup

vegetable oil

1/2 cup

granulated sugar

1/3 cup

brown sugar

2

large eggs

1 1/2 teaspoons

baking powder

1/4 teaspoon

baking soda

3/4 teaspoon

salt

1 teaspoon

vanilla extract

2 teaspoons

almond extract

2 2/3 cups

All-Purpose Flour

1 cup

milk
Glaze
1 1/4 cups

powdered sugar

1 tablespoon

light corn syrup

1 tablespoon

melted butter

1

to

2

tablespoons milk or water

1/2 teaspoon

vanilla extract
Berry extract to taste
---
Instructions
Preheat the oven to 425°F. Lightly grease two standard doughnut pans.
In a medium-sized mixing bowl, beat together the butter, vegetable oil, and sugars until smooth.
Add the eggs, beating to combine.
Stir in the baking powder, baking soda, salt, and vanilla.
Stir the flour into the butter mixture alternately with the milk, beginning and ending with the flour and making sure everything is thoroughly combined.
Spoon the batter into the lightly greased doughnut pans, filling the wells to about 1/4″ shy of the rim.
Bake standard doughnuts for 9-10 minutes or mini's for 4-5. Remove them from the oven, and wait a few minutes before turning them out of the pans onto a rack.
Mix up glaze and dip tops of doughnuts into glaze and sprinkle with desired toppings.
---
*Disclaimer: This post contains affiliate links.