The Giant Cookie revolution continues, this time with a GIANT soft, rich and buttery sugar cookie with silky smooth chocolate buttercream.  If you love our traditional giant sugar cookie, this recipe is based off of that one! This giant chocolate sugar cookie gets its distinct flavor from melted chocolate (not cocoa powder) for both flavor and tenderness.  Make this in a traditional circle shape, or use our heart-shape template to make a giant heart, if you like!  Find the template downloads, as well as 2 fun label designs, at the end of this post.  Our favorite way to gift giant cookies is in 9-inch blank pizza boxes, which you can find on Amazon, or at restaurant supply stores. Find our entire giant index of giant cookies, here!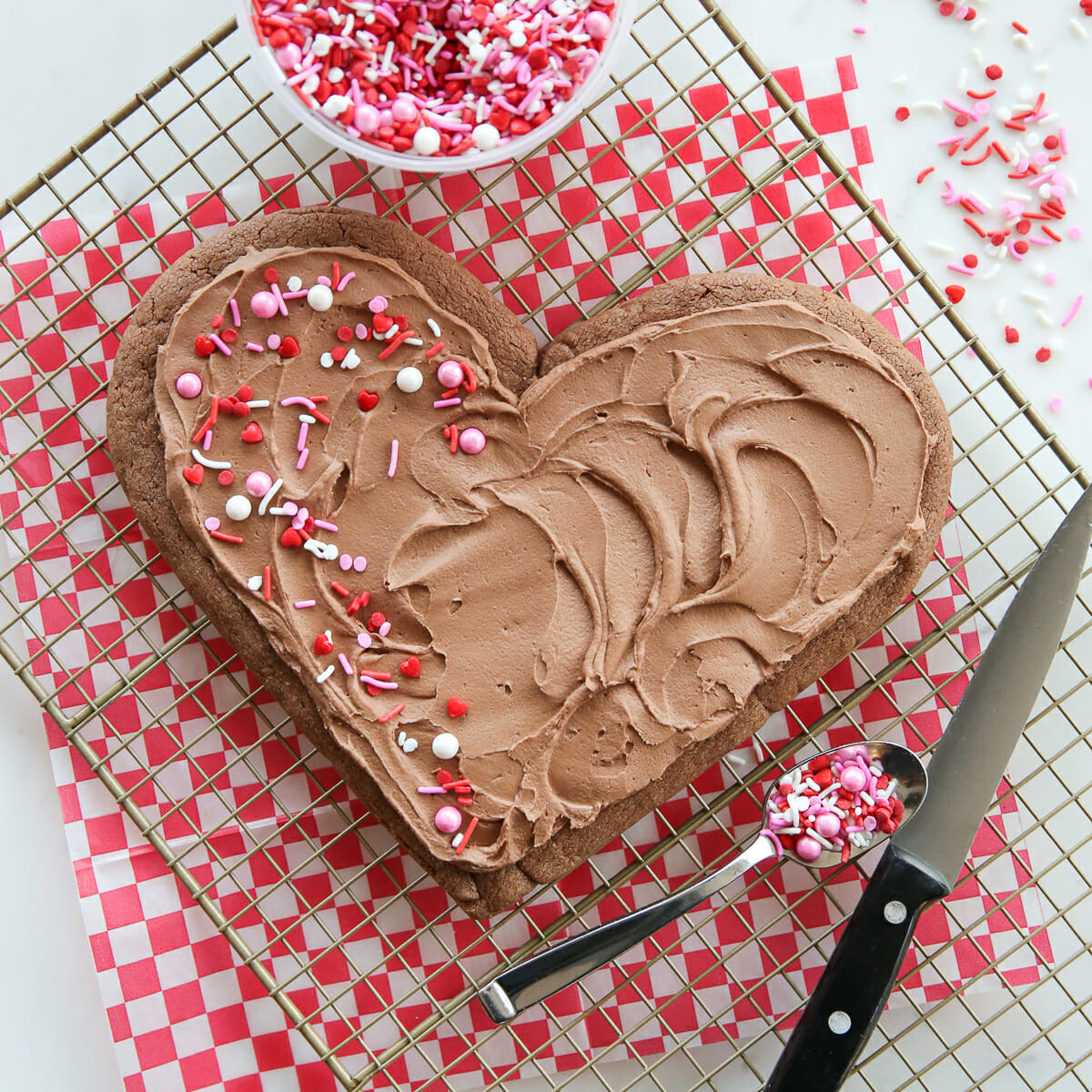 What kind of chocolate should I use in a chocolate sugar cookie?
I used bittersweet chocolate chips when developing this recipe.  I was going for chocolate flavor, without the extra added sweetness of semi-sweet or milk chocolate.  I prefer bittersweet, but you could certainly substitute semisweet (or even unsweetened, going the other direction.) I personally would avoid milk chocolate, but feel free to experiment to see what you like.  The chocolate should be melted completely so it's smooth and then beat in with the wet ingredients before you add your dry ingredients.
Because this dough involves warm melted chocolate, be sure to follow the instructions and chill it before baking.
How to make a giant heart shaped cookie without a cookie cutter
If you'd like to make a heart shaped cookie Like I did, I have a trick for you!  I've made a heart-shaped template in just the right size.  Just print it out and lay it underneath a piece of parchment.  Use your hands to gently shape the dough, making sure to keep the dough in a nice even layer.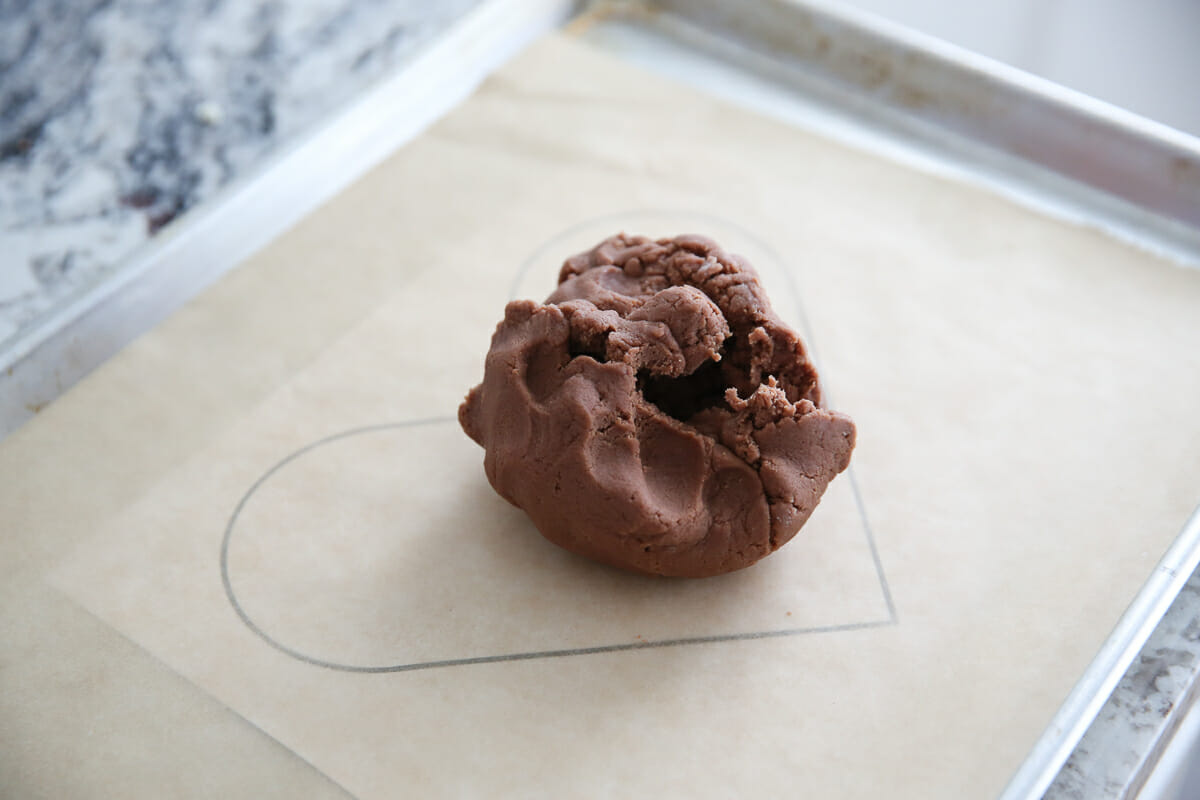 Tip: I use a long metal spatula to gently press against the edges (almost in a tapping motion) to achieve a nice shape with straight lines. I use the same method to go around the curved edges.
How to tell when a chocolate cookie is done baking
Baking chocolate cookies is always a challenge because it's hard to use color as a doneness indicator.  One thing I always look for are these little cracks around the outside edge of the cookie.  Not all over, but around the outer edge. In my oven, this cookie takes about exactly 14 minutes, but all ovens cook a bit differently.  You'll want to cool it completely before frosting or eating.  Both the flavor and texture of sugar cookies are improved when cooled all the way.
While your cookie cools you can make your frosting. Again, we're using melted chocolate, which adds amazing rich flavor and a fluffy smooth texture.
I suggest following my instructions and not just dumping everything in at once.  The method is very specific to achieve a great texture.
We love gifting these in blank pizza boxes- there is something so fun about lifting that lid and seeing what's inside!  I like to line my boxes with parchment.  This checkered parchment I've had for years, but you can often find that type of parchment squares at restaurant supply stores, or search Amazon for printed deli paper.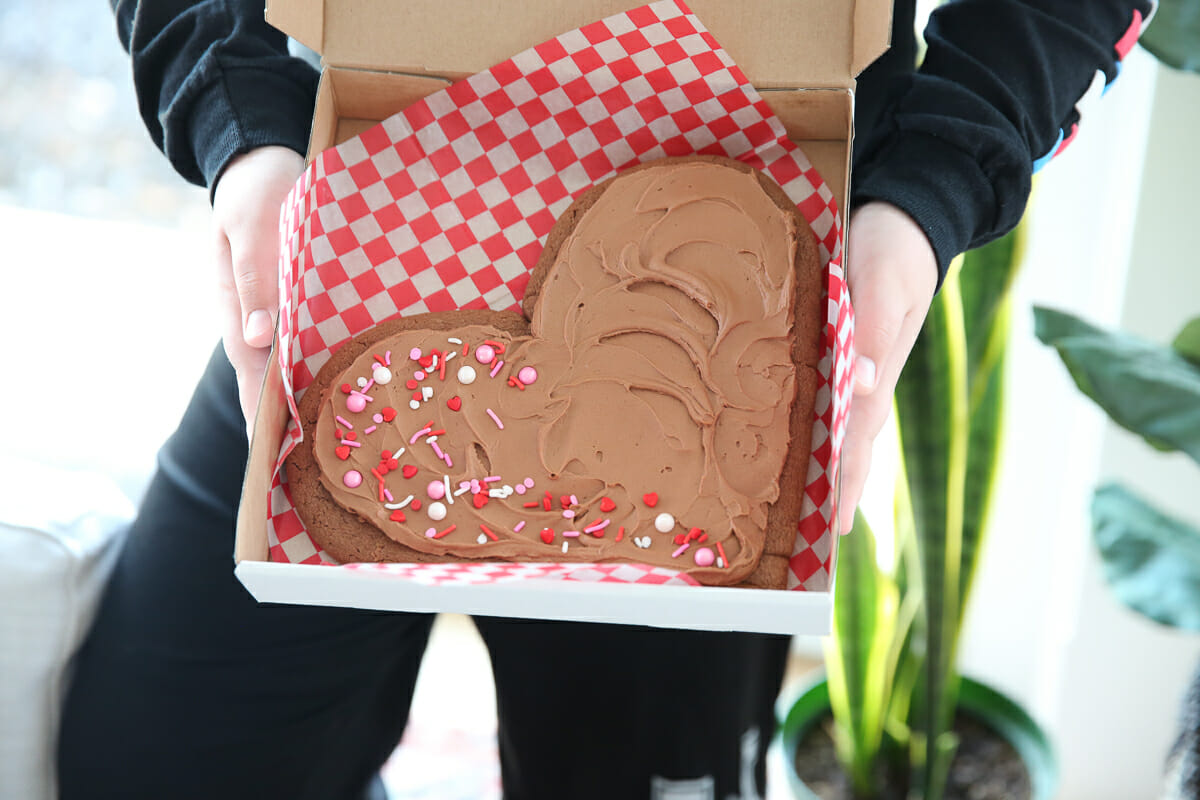 I've linked both of these labels below, feel to print out, cut out, and tape/paste onto a box for a fun gift!  If you make these cookies we would LOVE to see-Tag us on instagram! @Sara_OurBestBites and @Kate_OurBestBites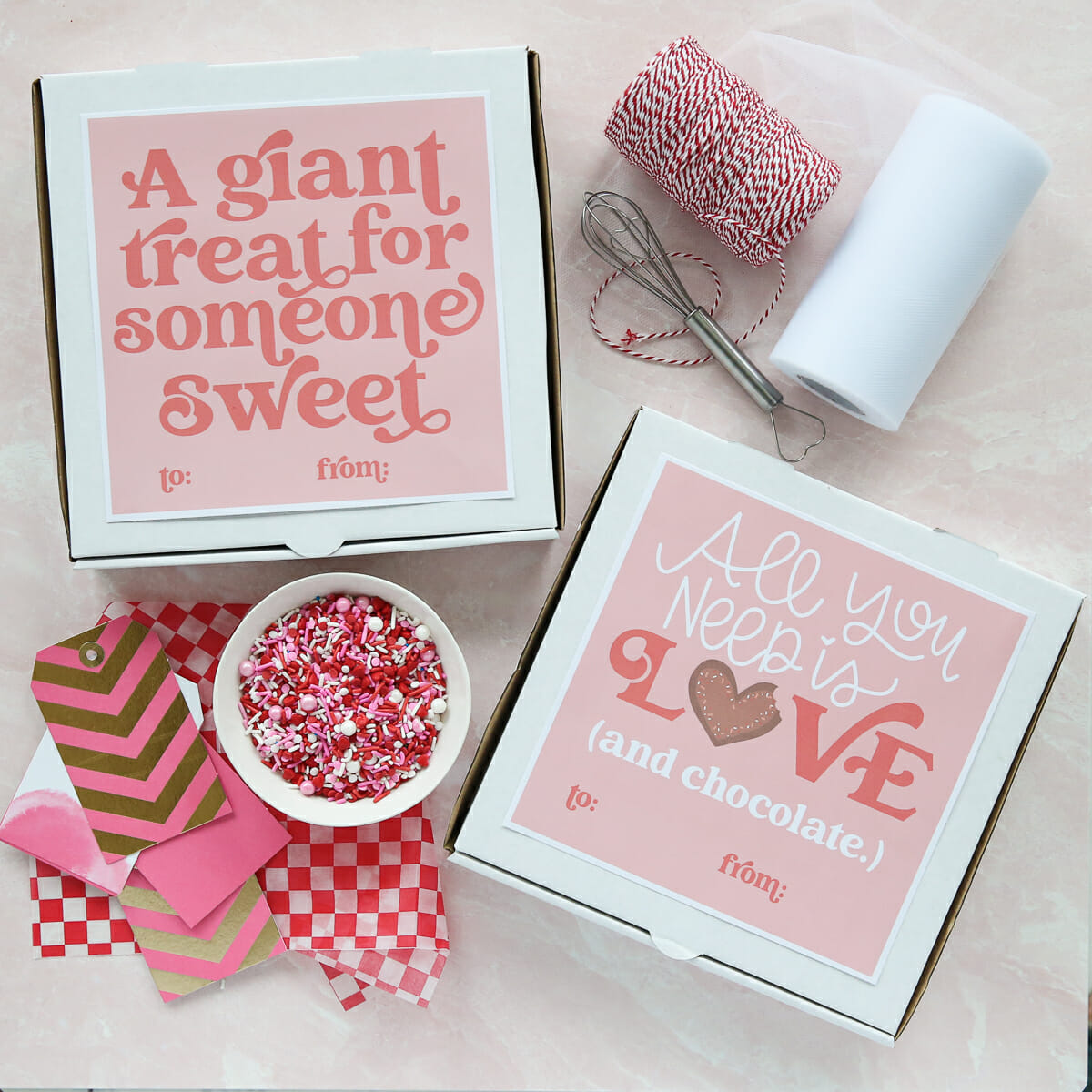 Click Here to download the heart-shaped template
Click Here to download the plain circle template (this cookie uses the 8″ circle)
Click here to download the All You Need is Love Label
Click here to download the A Giant Treat for Someone Sweet Label
Print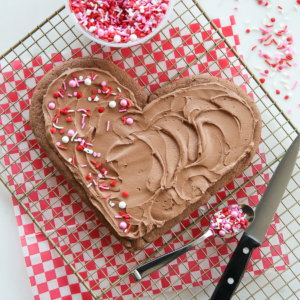 Giant Chocolate Sugar Cookie
---
Description
This is a soft buttery sugar cookie made with melted chocolate both in the cookie and the silky smooth icing. Oh, and it's the size of your head.
---
1 stick butter, softened (1/2 cup or 4oz)
6 (74g) Tablespoons sugar
1 egg yolk from large or extra large egg
1/2 teaspoon vanilla extract
3 tablespoons (1.5 oz / 43g) bittersweet* chocolate chips, melted
1 cup plus 2 Tablespoons (152 g) flour
1/4 teaspoon baking powder
1/8 teaspoon salt
Frosting
3 Tablespoons butter, softened
1 cup (100 g) powdered sugar
1/4 teaspoon vanilla
3 tablespoons (1.5 oz / 43g) bittersweet chocolate chips, melted
1–2 tablespoons cream or milk
---
Instructions
Preheat oven to 350 degrees. Line a baking sheet with parchment. If using our template, print out either heart shape or circle shape and place under parchment. Set aside.
Place 1.5 ounces chocolate in microwave and heat in 30 second intervals until melted and smooth.
In a small mixing bowl, beat butter until smooth. Add sugar and mix until creamy and fluffy. Mix in egg yolk and vanilla until smooth.  Add melted chocolate and mix until incorporated.
If not using a scale, measure flour by spooning into the measuring up and leveling with a knife.  If you scoop directly from your flour bag/container, make sure to stir your flour first so it is loose and fluffy. 
Add flour, baking powder and salt all at once and mix to combine.
Place dough in fridge to chill for about 20 minutes. It's the perfect amount of time to put away your ingredients and clean up.
Place dough ball on prepared baking sheet and gently press into either an 8″ circle or the provided heart shape.  A long metal spatula is a great tool to gently shape crisp lines and edges.
Bake for 12-15 minutes, or until set on the edges and slightly soft in the middle. In my oven this cookie consistency takes 14 minutes.  See blog post for some baking tips on how to know when it's done. 
Remove from oven and let cool completely.
Frosting: Beat butter until smooth and slowly add powdered sugar a little at a time, mixing in between until fully incorporated.  If it can no longer mix in smoothly, add cream a teaspoon at a time until smooth.  Continue until all powdered sugar is in and mixture is fluffy and smooth.  Add 1.5 oz melted chocolate and beat in immediately.  Continue to add cream by teaspoonful and beat until fluffy silky smooth. When cookie is completely cool, frost and decorate if desired!
---
Notes
I prefer bittersweet chocolate, you could probably even use unsweetened.  Feel free to experiment with chocolate you have on hand but I personally would avoid milk chocolate.