Black beans and rice are a
staple at my house.  I fell in love with them in Brazil and it's been a comfort food ever since.  If you're trying to eat healthy and/or affordable, beans are a great thing to be adding to your diet.  Another thing I love are sweet and salty combos.  I've experimented a lot with fruit and Latin food. If apple salsa sounds strange, just think of Peach BBQ Sauce or Mango Pico, or Mango Salsa. I even made red grape salsa last summer that was amaaazing.  It may sound funny, but trust me when I tell you that all of the flavors of this dish together are great.  It's just a simple, fresh, healthy, filling meal.
The salsa comes together quickly; just a tart Granny Smith apple, some diced red onion, chopped cilantro and a squeeze of lime juice.  I added a sprinkle of salt and pepper too.
Saute some diced green pepper and red onion until soft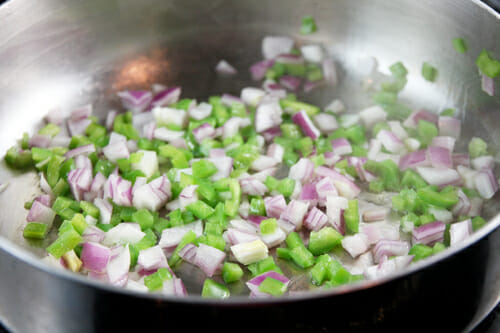 And then add beans, garlic, and seasonings.  Pretty much the Sara special:  garlic, chili powder, coriander, and cumin.  You should saute the beans with the garlic and seasonings for a few minutes before adding some chicken broth.  Unless you're doing crazy things like trying to take pictures while cooking while trying to shake a toddler off your leg.  Then you might just dump everything in there at once.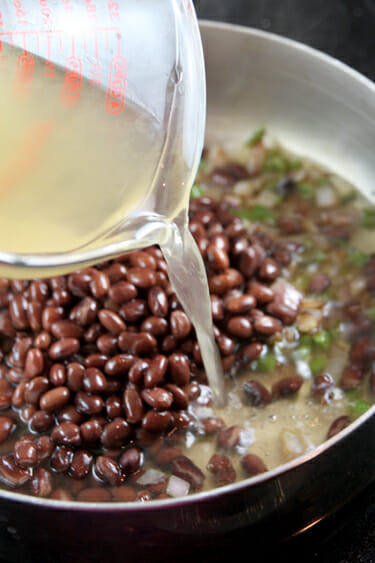 Now, the original recipe calls for 2 whole cans of broth and I think that's way too much; it would be like soup.  One was just fine, so I cut the seasonings back to compensate.  So feel free to add more of the seasonings at the end if you feel like it needs it.
Simmer that mixture for 10-20 minutes.  While it's cooking, use the back of a spoon to smash a bunch of the beans; this will help thicken up the sauce.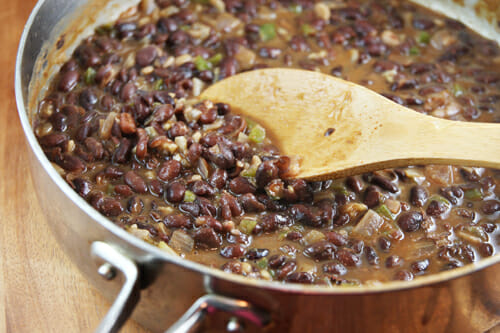 When you're ready to eat up, just spoon some of the beans over brown or white rice and top with some grilled chicken (or a rotisserie chicken to make things even easier) and the apple salsa.
I love brown rice, but if you don't eat it regularly, you might not like it.  And lots of kids won't touch it with a ten foot pole.  So here's a couple of tips.  One is to try instant brown rice.  It doesn't have quite as many health benefits as regular brown rice but it's super quick to make and it's a lot softer and less…brown-rice-ish.  My kids can't tell the difference between instant brown and white, or at least they've never once complained or noted it wasn't like normal.  I think of it as training-rice 🙂  Another thing to try is mixing half white with half brown.  You have to cook them separately, but then you can mix them together and that's a good way to get your family used to brown rice as well.
Anyway, back to the recipe.  I loved the apple salsa combined with the beans and chicken all together.  There are so many flavors and textures and they go wonderfully together.  And if you have kids at home and you're thinking they'll never go for this, you can try what I did and just throw a little of everything in a tortilla with some melted cheese.  Seriously, kids will eat almost anything in a tortilla.  My boys all asked for seconds, and they ate the seconds without tortillas!
Print
Black Beans & Rice with Chicken and Apple Salsa
---
1 cup

chopped peeled Granny Smith apple

1/4 cup

chopped cilantro, divided

1/3 cup

finely chopped red onion, divided

2

limes

1/3 cup

finely chopped green bell pepper

1

–

2

tablespoons olive oil

3

garlic cloves, finely minced

1 teaspoon

chili powder

3/4 teaspoons

coriander

1/2 teaspoon

cumin

1

13.5 ounce can chicken broth

2

15-ounce cans black beans, drained and rinsed
kosher salt and freshly ground black pepper

1

medium rotisserie chicken, or

4 cups

cooked brown or white rice

4

grilled chicken breasts

4

–

6

lime wedges
---
Instructions
Combine apple, cilantro, 2 tablespoons onion, and the juice from half a lime.  Sprinkle with a little kosher salt and black pepper.  Set aside.
Combine remaining onion, bell pepper, and oil in a large skillet.  Cook over medium heat, stirring often, until completely softened, 6-7 minutes.  Add garlic and next 3 ingredients; stir constantly for 2 minutes.  Stir in broth and beans; bring to a boil.  Reduce heat to medium; simmer briskly, mashing some of hte beans with the back of a spoon and stirring often, until sauce is thickened, 8-10 minutes (or longer if needed).  Season with salt and pepper to taste and a big squeeze of lime juice.  Divide rice and beans among plates.  Top with some chicken and apple salsa.  Garnish with additional cilantro and lime wedges.
---
Notes
Feel free to play around with the quantities in this recipe, like I did.  You can add more onion to the salsa, or increase seasonings in the beans.  Taste as you go and make it your own!
Adapted from Bon Appetit, January 2012