Many of you know both my husband and I spent about 2 years of our lives living in Brazil when we were in our twenties.   We didn't meet until we were both back in the states attending college at BYU, but that was definitely something that we loved having in common from the very start.  I spent most of my time in southern Brazil (Curitiba, to be exact) but afterwards traveled to just about every corner of that beautiful country.  Brazil and its different states are just as unique as those here in the United States.  When it comes to food, each region has different specialties and customary dishes, but one thing you will eat no matter where you go, is arroz e feijão, aka Rice and Beans.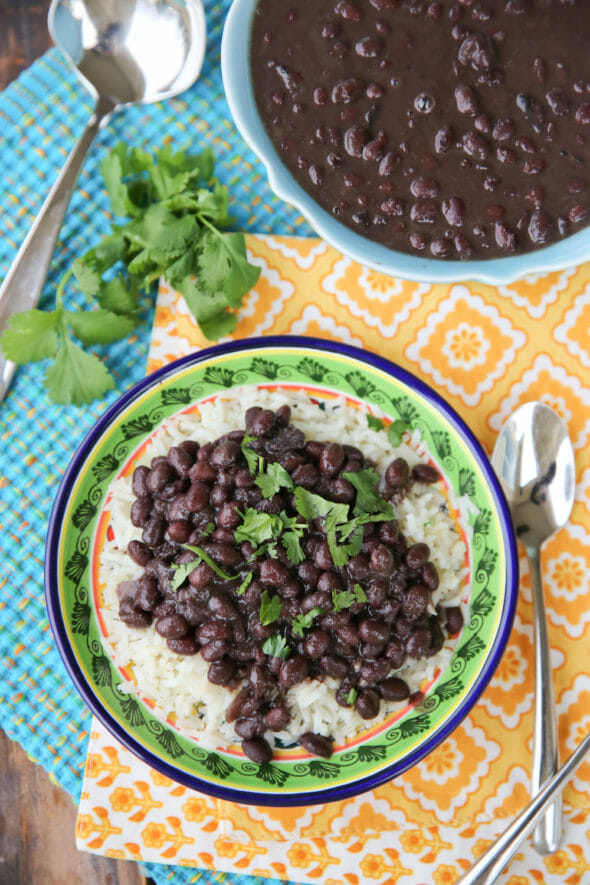 And just like you'll find very different BBQ depending on where you travel in the US, you'll find varying types of rice and beans in Brazil.  But it's something that most of the population eats every day, and I loved it.  Where I lived in the south, black beans reign supreme, and the method of cooking them that I'm going to share with you today is how the local people would prepare them day in and day out.  The beauty in this dish is the simplicity.  It's not a complicated thing; in fact you won't see any seasonings except for salt and pepper.  The flavor comes from these three things: bacon, garlic, and onion.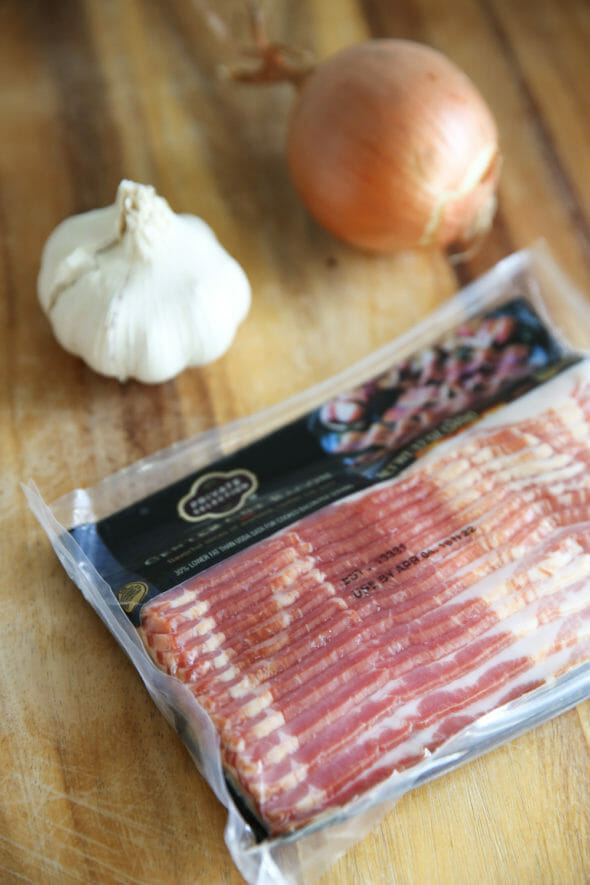 The other thing that is standard in every Brazilian kitchen is a pressure cooker. Every household has one.  I did a whole post about pressure cooking, here.  Check it out and see what a great addition a pressure cooker is to your kitchen!  I have both a stove-top pressure cooker and an electric pressure cooker, and I use my electric one more these days because I like being able to walk away, whereas I feel I have to babysit the stovetop one.  But I've linked great options for both in my post, here.  If you don't have a pressure cooker, check out my recipe for Quick and Easy Black Beans; it's a twist on these traditional beans, using canned beans.  Just as the name implies, they are so quick and easy!  We also have a great slowcooker recipe, which you can find, here.
When it comes to using dry beans, most people like to soak them overnight because it cuts down on cooking time.  Soaked beans will cook in a pressure cooker in about 10 minutes or so.  The only problem with that is that I generally don't think that far ahead.  I've written this recipe for dry beans, straight out of the bag, because that's how I make them the most often.  I also like a thicker "sauce" on my beans, and using dry beans in a pressure cooker causes more splitting of the beans so it naturally thickens and I like that.  Using dry beans, this will still be on the table in about an hour.
You'll want to really carefully go through your beans and remove any impurities.  It's not uncommon to have little shrived beans and even tiny pebbles sometimes.  You'll also want to rinse them well.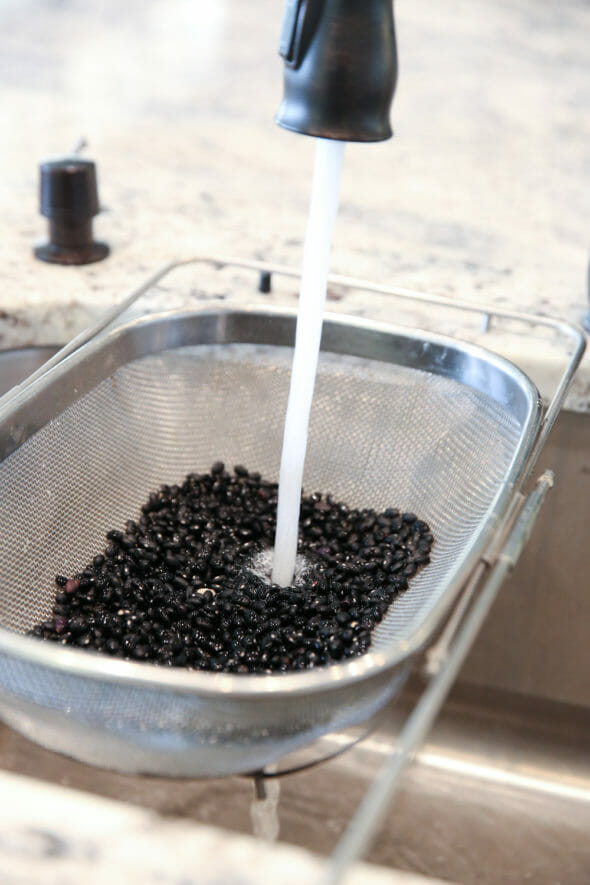 One note about my method here- traditionally (at least from every single person that made beans and rice for me) Brazilians cook their beans in water in the pressure cooker and while they're cooking, they saute the bacon, garlic and onion in a separate pan.  When the beans are done, they ladle in a few spoonful into the bacon pan and let it simmer away absorbing flavors, while lightly smashing the beans to thicken the mixture.  That entire mixture is then poured back into the bean pot where they finish seasoning and let everything cook up together.
I combine those steps and just start everything in my pressure cooker and cook it all together.  Saves dirtying a pan and they always come out great, so I'm going with my rebel methods.
On that note- heat up your pressure cooker to saute and cook a few slices of bacon.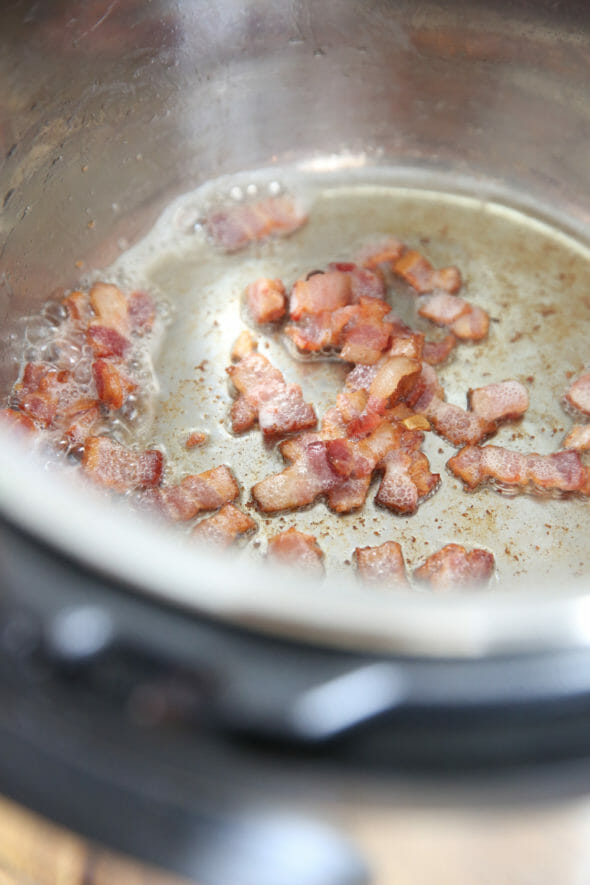 The bacon adds a smoky, meaty flavor and the rendered bacon fat is what we'll use to cook the onion and garlic.  Now let's have a moment of silence to imagine onion and garlic sauteing in bacon grease.  If anyone can create a candle with that smell I'll buy it.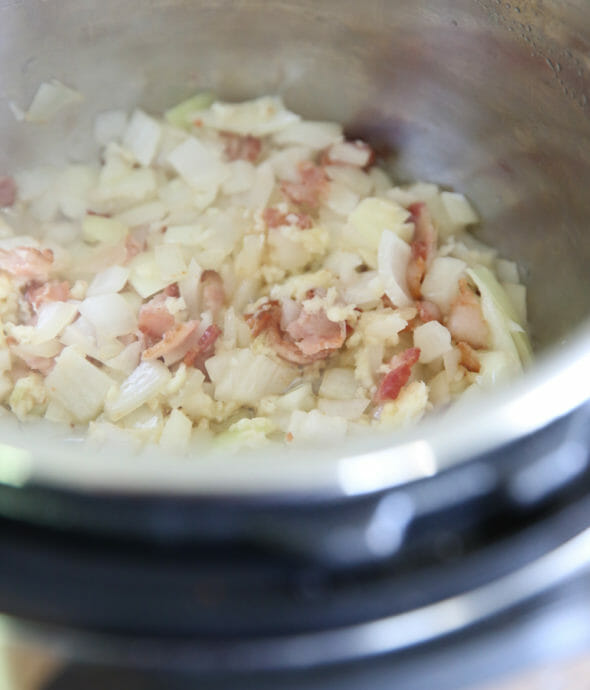 After that has cooked for a few minutes you'll add your beans, salt and pepper, and the cooking liquid.  Now, in Brazil they generally use water, but I like to use broth because I feel like it enhances the flavor really nicely.  I call for vegetable broth here, but you could use chicken or even beef as well.  I cook them for 40 minutes on high pressure and then immediately let out the steam after that.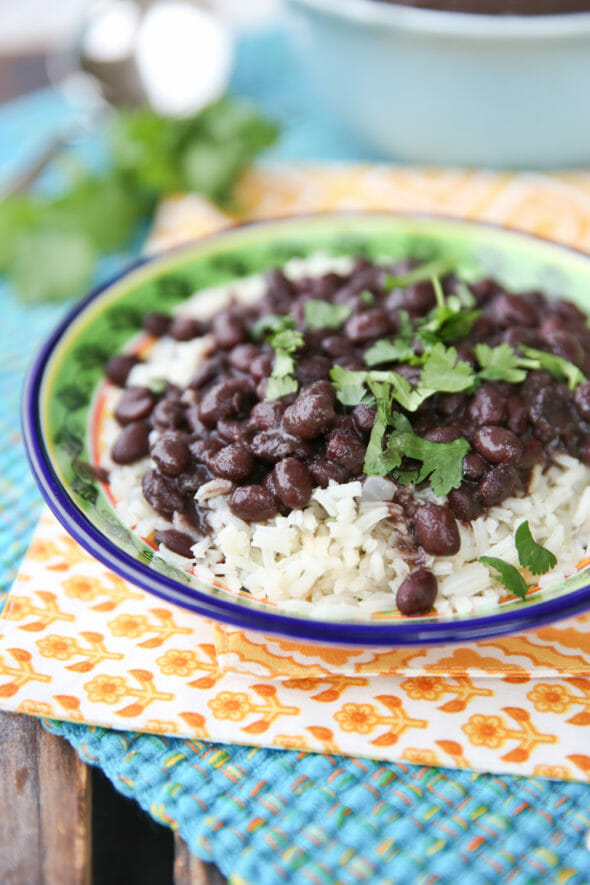 This is a rather thick ratio when it comes to black beans, but that's how I prefer it.  If you'd like your beans "soupier" you can certainly add more liquid after they are done, or cook them with more liquid to start.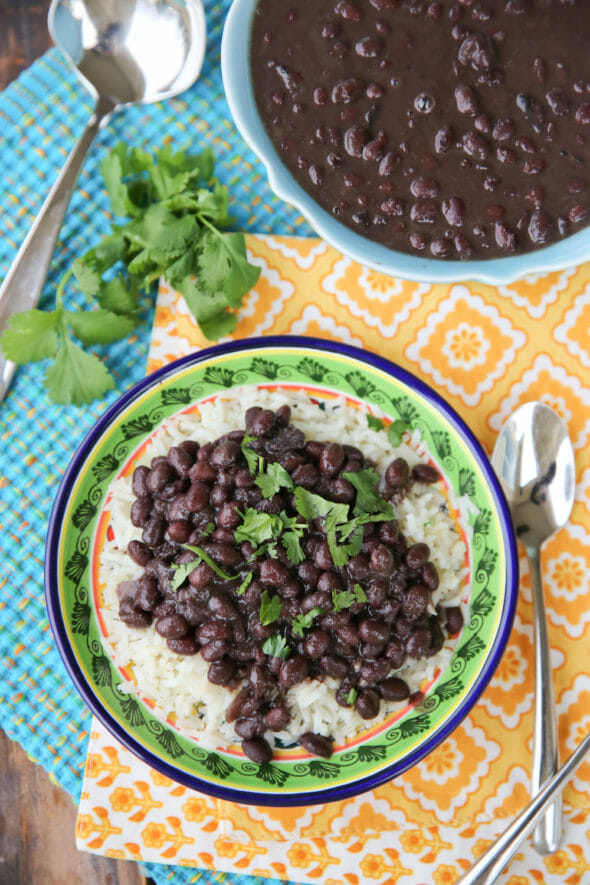 If you'd like to eat these in the traditional way, serve over Brazilian Style Rice.
This south American staple has become a staple in my own home and it's now something my kids love eating as well. And although these are Brazilian black beans, they obviously go very well with other Latin dishes like burritos, fajitas, Southwest salads, etc.
If you want to turn this into a full meal, just pair it with some grilled chicken, beef, or fish.  Or one of my favorites is Linguica sausage, which is eaten often in Brazil.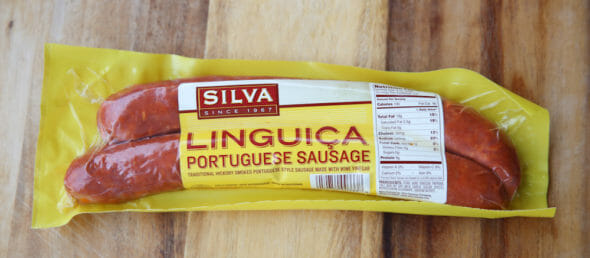 Easiest of all however, is one of my favorite comfort foods: rice and beans topped with a runny fried egg.  That might sound strange but trust me, heaven in a bowl.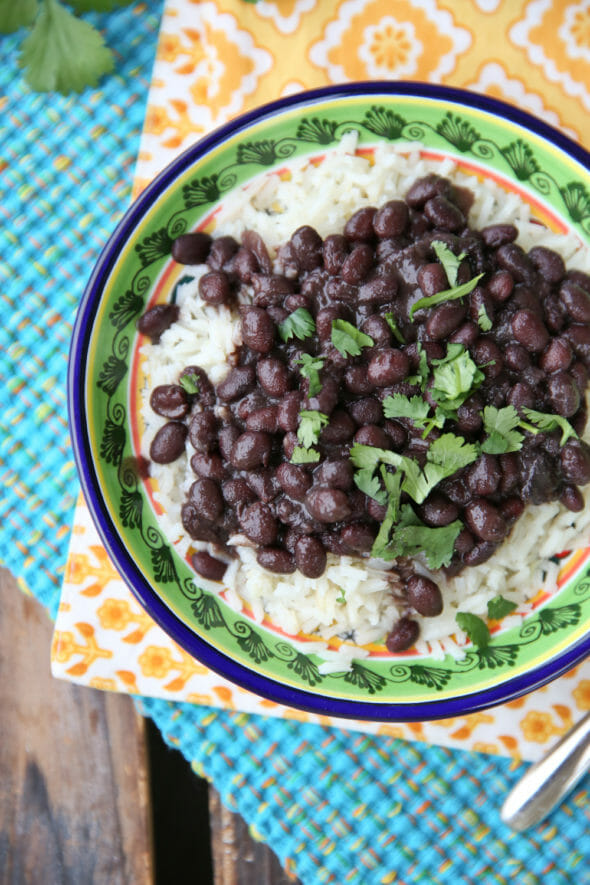 If you're interested in more Brazilian food, you can check out a few other recipes, here!
Also, find a beans and rice version with canned beans, here, and with a slow cooker, here.
Print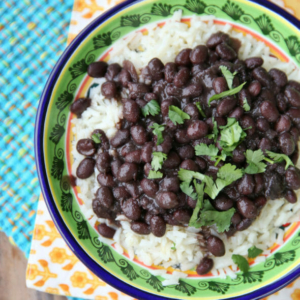 Brazilan Style Black Beans in Pressure Cooker
Author:

Our Best Bites

Prep Time:

10 minutes

Cook Time:

40 minutes

Total Time:

50 minutes

Yield:

8-10 servings

Category:

Dinner

Method:

Pressure Cooker

Cuisine:

Brazilian
---
Description
An easy recipe for black beans cooked in a pressure cooker. No soaking required! Can be served the traditional way over rice, or used for Latin dishes like burritos, fajitas, and salads.  Click Here for my Brazilian Style Rice Recipe.
---
1

pound dry black beans

4

slices bacon (I like center cut bacon)

1

small-medium onion, diced

5

–

6

cloves garlic, pressed or minced

4 cups

vegetable broth (can use chicken or beef, or even water instead)

1 cup

water (more if desired, for "soupier" beans)

1 tablespoon

kosher salt

1/2 teaspoon

black pepper
cooked white rice for serving (my Brazilian rice recipe will be live on Friday!)
---
Instructions
Place beans in a fine mesh strainer and pick out any shriveled ones, along with any impurities.
Heat pressure cooker to medium-high heat (sauté setting for electric pressure cooker, medium heat on stove top for regular pressure cooker). While pot is heating, cut bacon into about 1/2-inch pieces. Cook bacon until lightly browned and starting to crisp. Add diced onion and cook, stirring often for 3-4 minutes. Add garlic and stir for about 30 seconds.
Add beans, broth and water, salt, and pepper. Stir to combine and secure lid. Cook on high pressure for 40 minutes, and then release steam from pot. If desired, lightly smash some beans on the side of the pot (this will thicken them), season with additional salt and pepper if desired, and let cool for a few minutes before serving. Serve over white rice.
---
Notes
Brazilian beans are typically served over rice. Add protein by pairing it with grilled steak or chicken, or tossing a fried egg on top (my favorite!).
This recipe yields about 6 cups beans.
Keywords: brazilian recipes, instant pot black beans, pressure cooker beans
This post contains affiliate links, find more info about those in our terms and conditions.