I've never really been a big fan of traditional broccoli salad. I have this weird thing where I don't like cheddar cheese in pre-dressed salads, especially ones with mayonnaise-based dressings. I also am not super keen on the mayonnaise-and-sugar dressing; many recipes I've seen call for nearly equal parts mayo and sugar. And then I have this thing about raisins and how I feel like they never, ever belong with vegetables. Even ants on a log is a little iffy (cute and fun, but I'm cool with just the peanut butter and celery–the raisins are welcome to join up with some oatmeal in some cookies, but only then with fair warning that those are raisins and not chocolate chips.)
I realize this could be seen as heresy–people tend to take their traditional recipes very seriously. But I never grew up eating broccoli salad; I grew up with the '80s-chic layered salad with iceberg lettuce, bacon, peas, Miracle Whip mixed with sugar (yeah, that was me gasping), and Swiss cheese. So I don't have any particular loyalty to traditional broccoli salad recipes. If you have a recipe you love, that's awesome. But if you've always been a little iffy on broccoli salad, today is your day.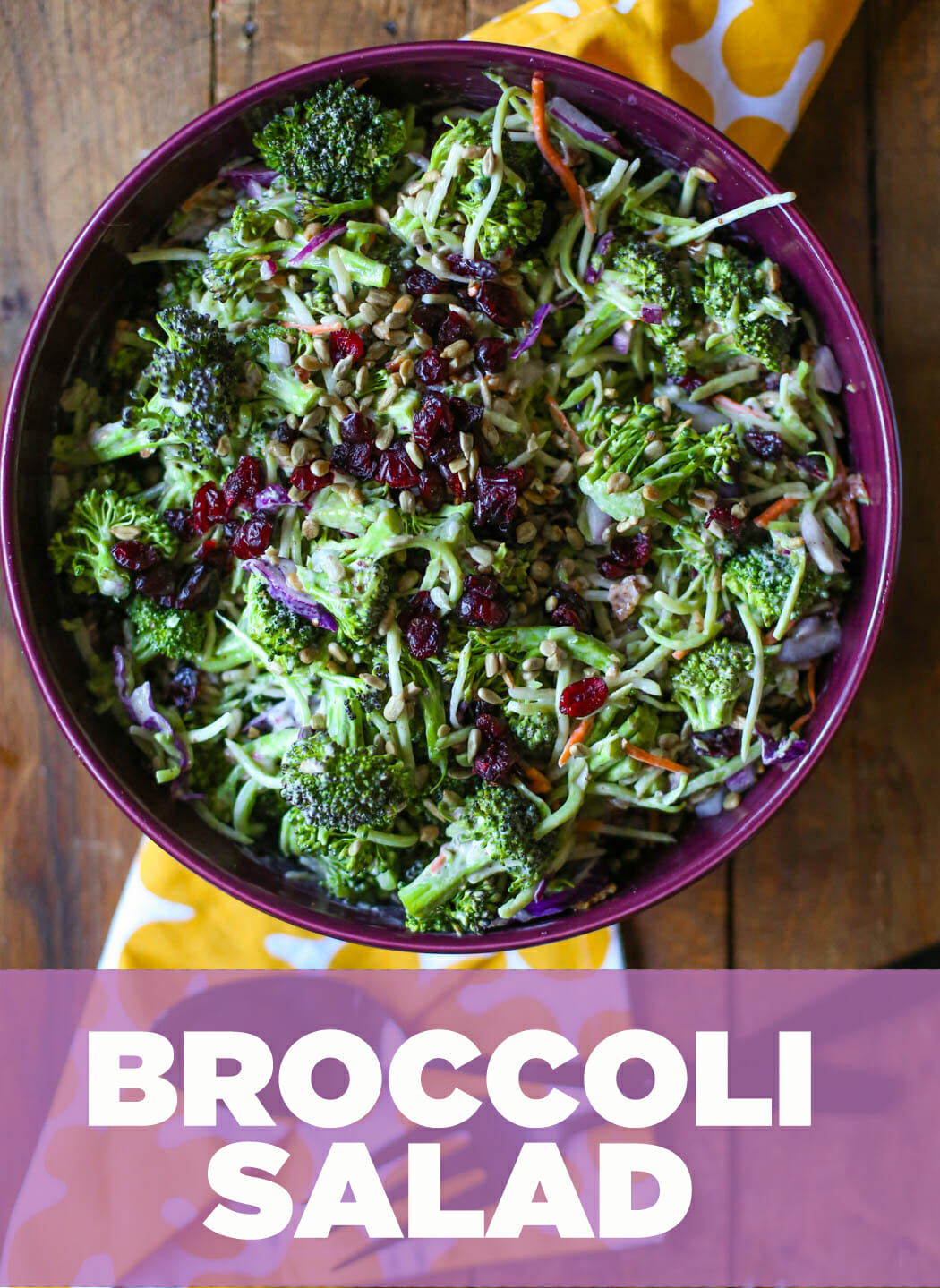 For the salad, you'll need 12 ounces of broccoli florets (fresh, just in case there was any question) and 12 ounces of broccoli slaw. You'll also need a cup of salted sunflower seeds, a cup of Craisins, 6 ounces of cooked, bacon, and a small red onion.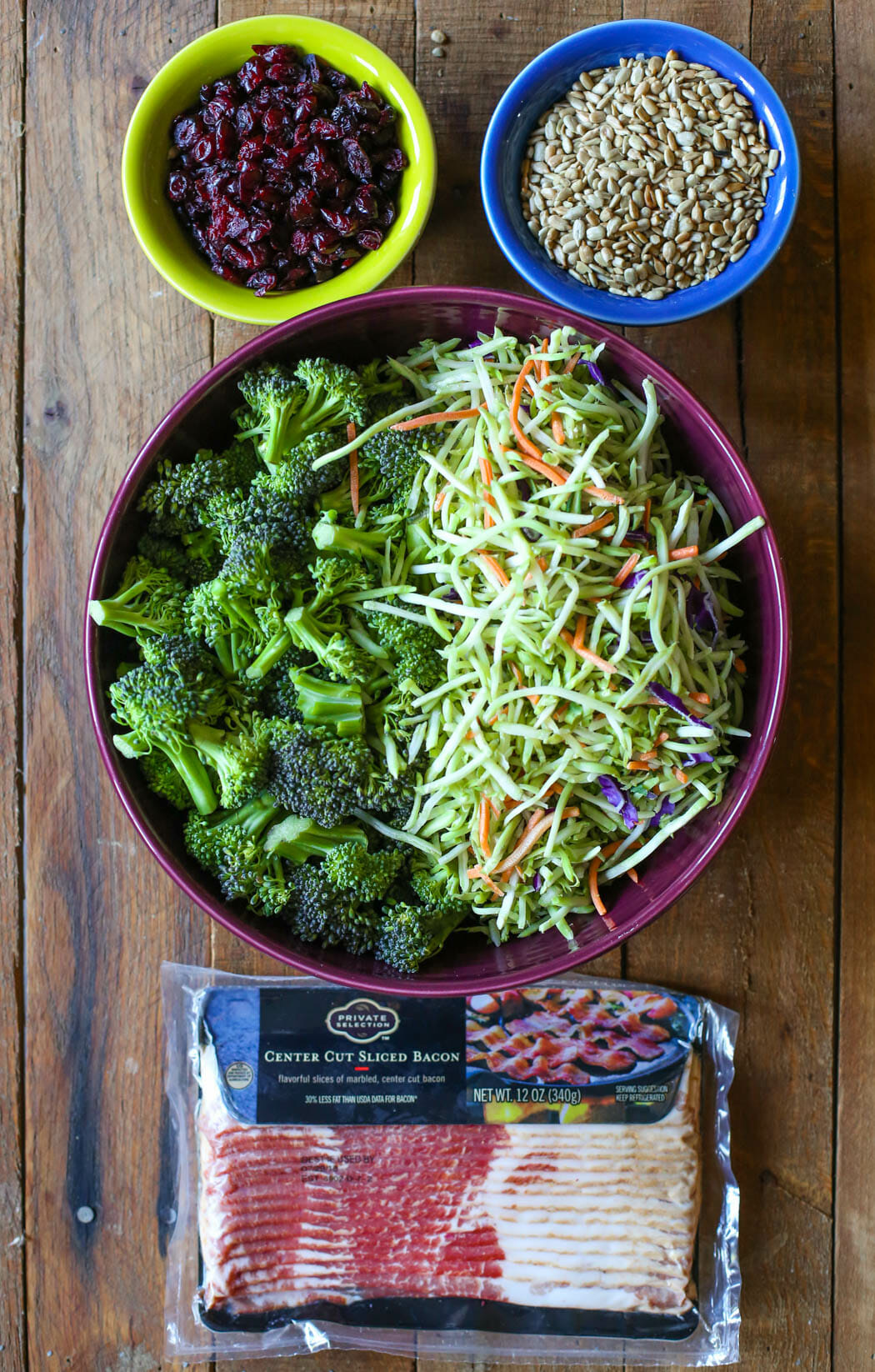 For the dressing, you'll need mayonnaise, quite a bit less sugar than traditional recipes call for, red wine vinegar, mild coarse grain mustard (I used Creole mustard), salt, freshly ground black pepper, and a couple tablespoons of grated red onion (I just grated some of the red onion I chopped up for the salad.)
Combine the dressing ingredients in a small bowl…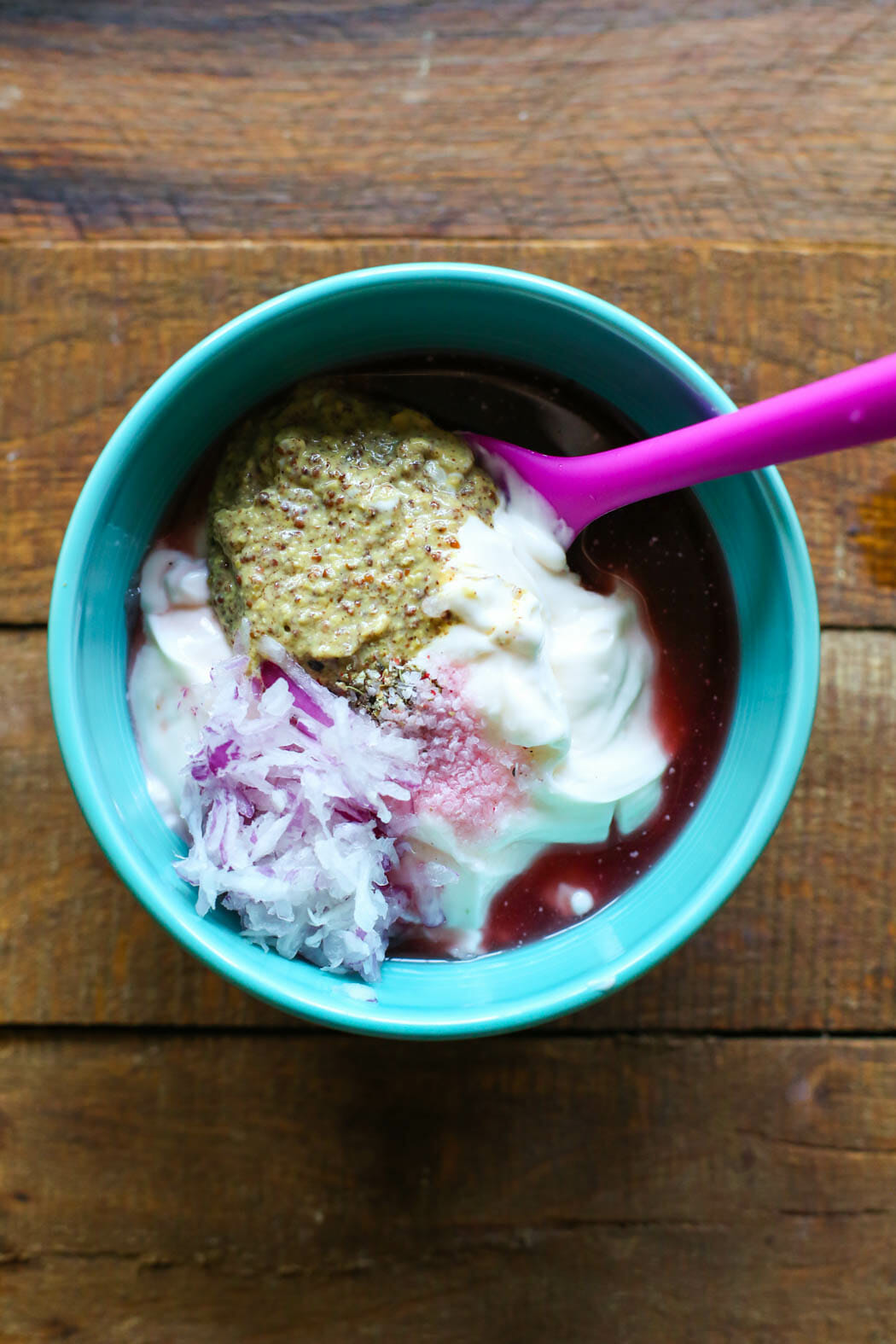 and whisk until smooth. Set aside.
Break the broccoli florets into small pieces and toss with the broccoli slaw. Add the bacon, Craisins, chopped onion, and sunflower seeds
I love the sight of bacon mixed with my vegetables.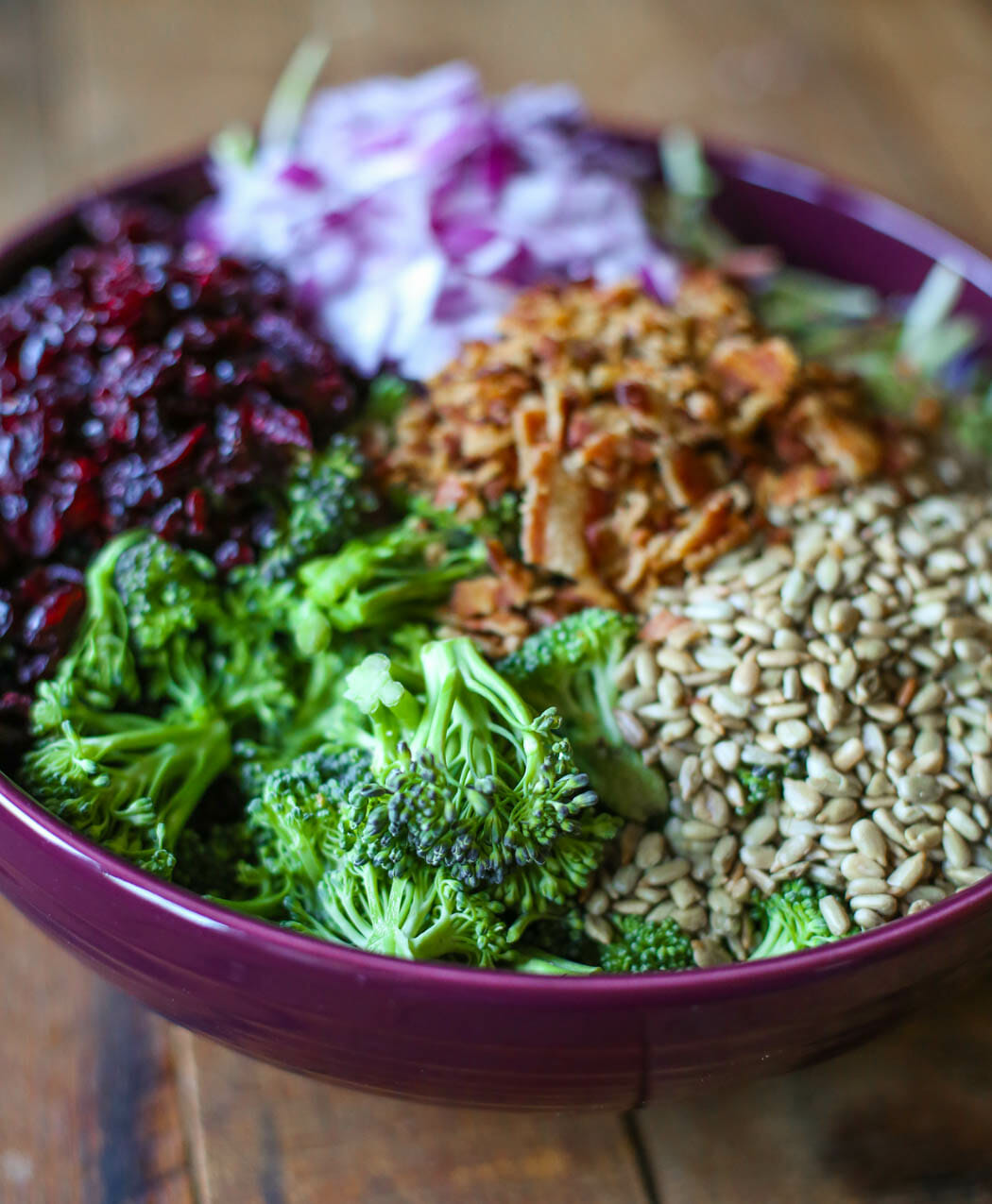 Toss until combined. Drizzle the dressing over the salad and combine thoroughly.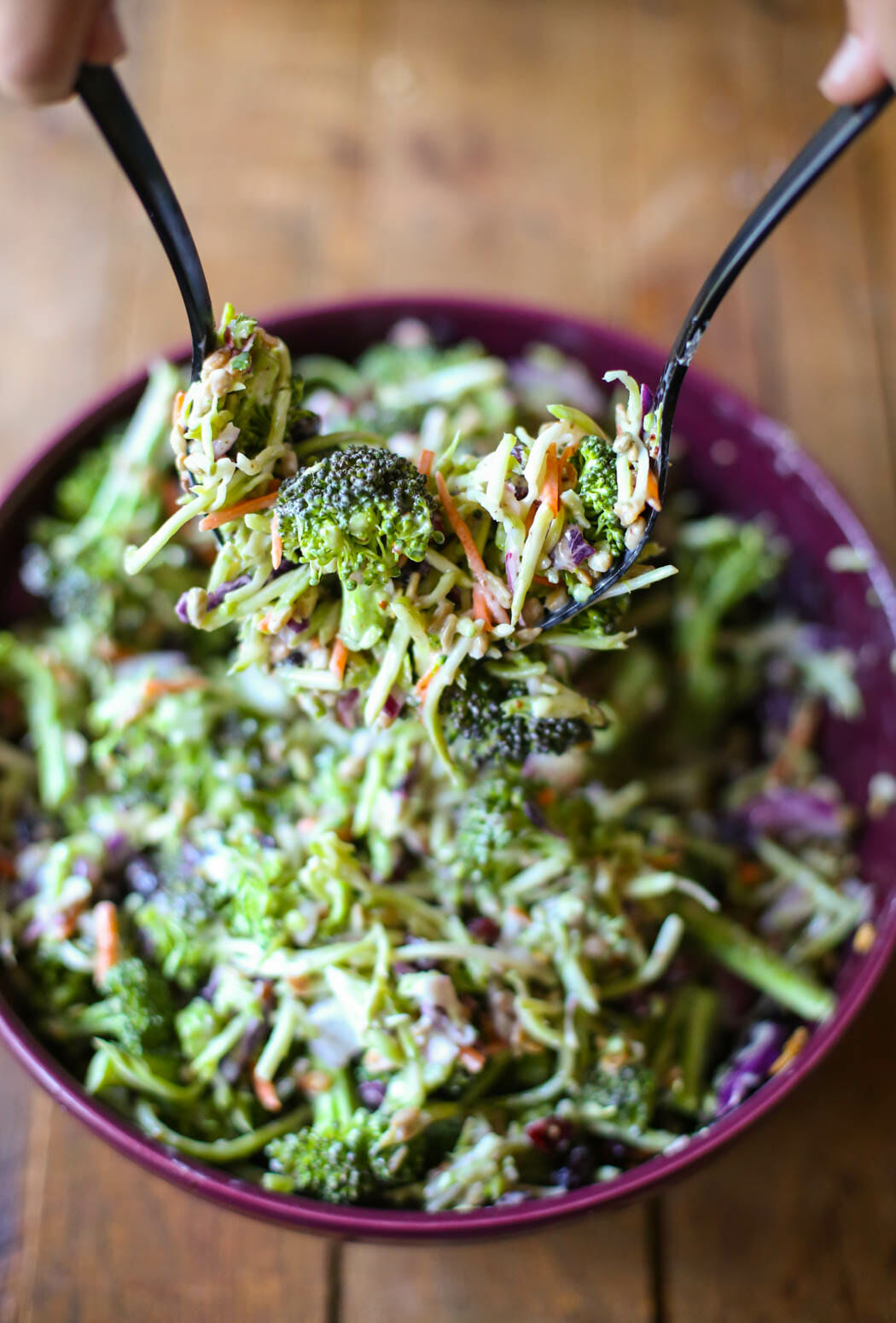 If possible, chill for at least an hour before serving.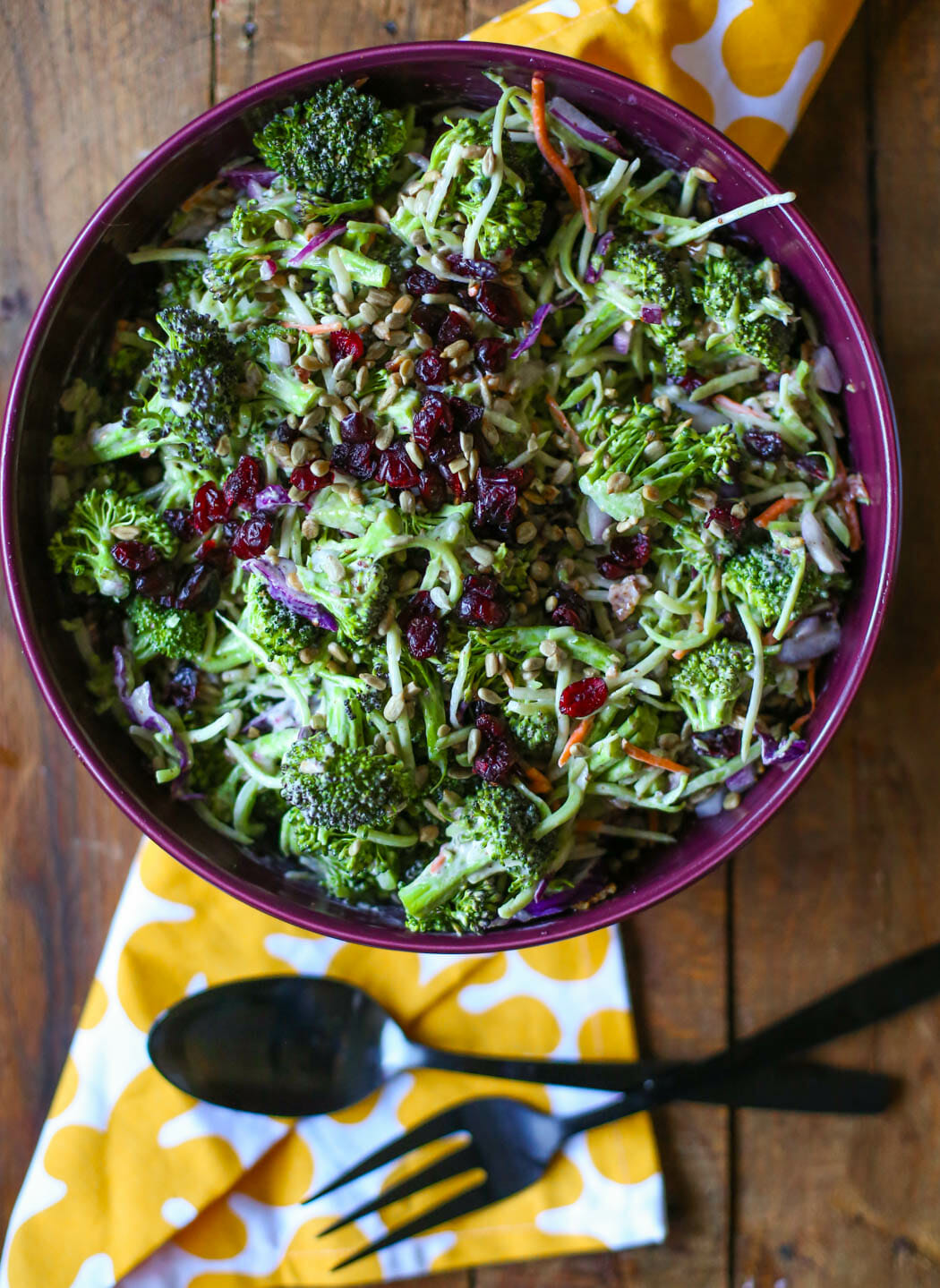 Serves 10-12.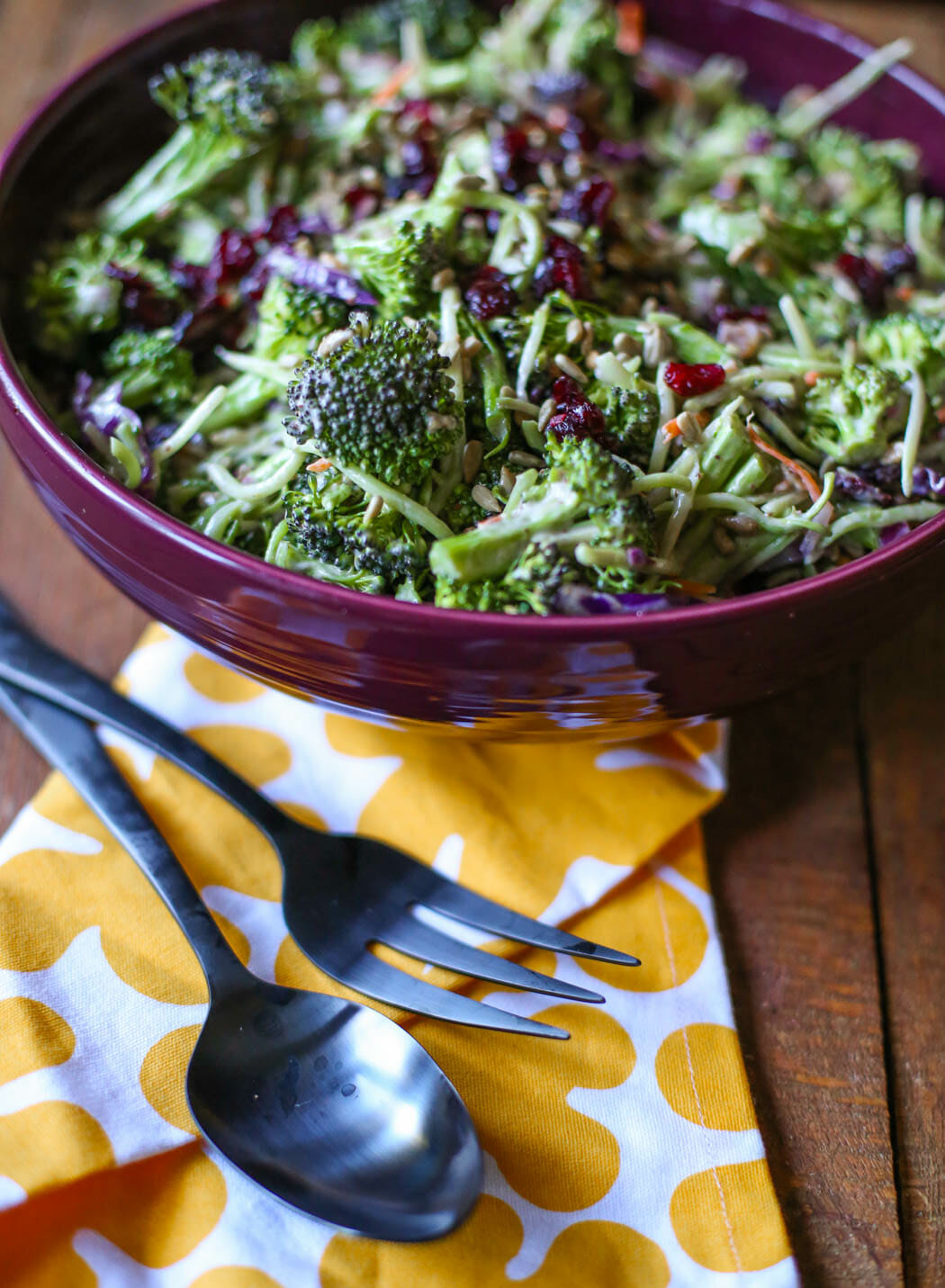 Print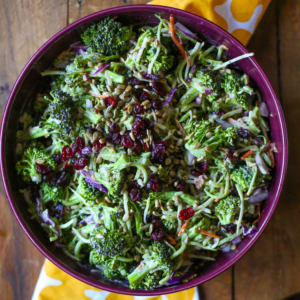 Broccoli Salad
Author:

kate jones

Prep Time:

10

Total Time:

10 minutes

Yield:

10-12 side dish servings
---
Description
This Broccoli Salad is an updated version of the summertime party potluck favorite!
---
SALAD
12 ounces fresh broccoli florets or broccoli broken into small pieces
12 ounces broccoli slaw
1 cup Craisins (1 5-ounce bag)
1 cup toasted salted sunflower seeds
6 ounces bacon, cooked and crumbled
1 small red onion (grate a small portion of this onion for the dressing and then chop the rest of it for the salad)
DRESSING
1 cup mayonnaise (light is fine; no Miracle Whip)
1/4 cup red wine vinegar
2 tablespoons Creole or other mild coarse-grain mustard
2 tablespoons grated red onion (just use the onion you're using in the salad)
Heaping 1/2 teaspoon kosher salt
1/4 teaspoon coarsely ground black pepper
1/4 cup white sugar
---
Instructions
Toss together salad ingredients in a large bowl. In a small mixing bowl, whisk together the dressing ingredients. Drizzle over the salad. If possible, chill for at least an hour before serving. Serves 12-14.
---
Notes
If you want to serve this for a quick dinner in the summer, try adding sliced, grilled chicken breast on top of larger servings of this salad!