Ranch dressing is a magical thing. It's served in the fanciest of restaurants and also along side dino nuggets at lunch hour. My kids will literally eat anything if they have ranch to dip it in. And I'll be honest; I will too. I grew up in a house where there was a pitcher (literally that pitcher, only the 1982 version, so totally not as cool) that was constantly filled. It sat on pretty much every table of every meal we ate. It was always the Hidden Valley seasoning packs that I still love today. I've been trying to perfect ranch dressing for years and I finally figured out the perfect combination.  There is no bottled Ranch dressing that competes with this – it's the BEST!  It's also so, so easy.  Like, really easy.  I keep most of this stuff on hand so it's quick to whip up.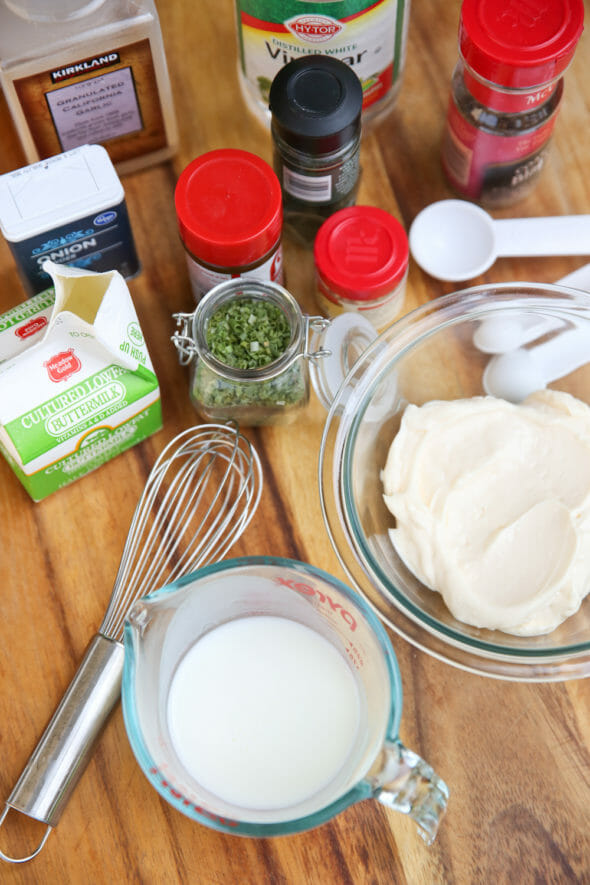 I use a classic base of tangy buttermilk and mayo.  While I use reduced-calorie mayo in a lot of my cooking, I don't recommend it here.  It definitely changes the flavor and it's simply not as good. You can adjust the amount of buttermilk you use to get the consistency just how you like it (thinner, thicker, etc.)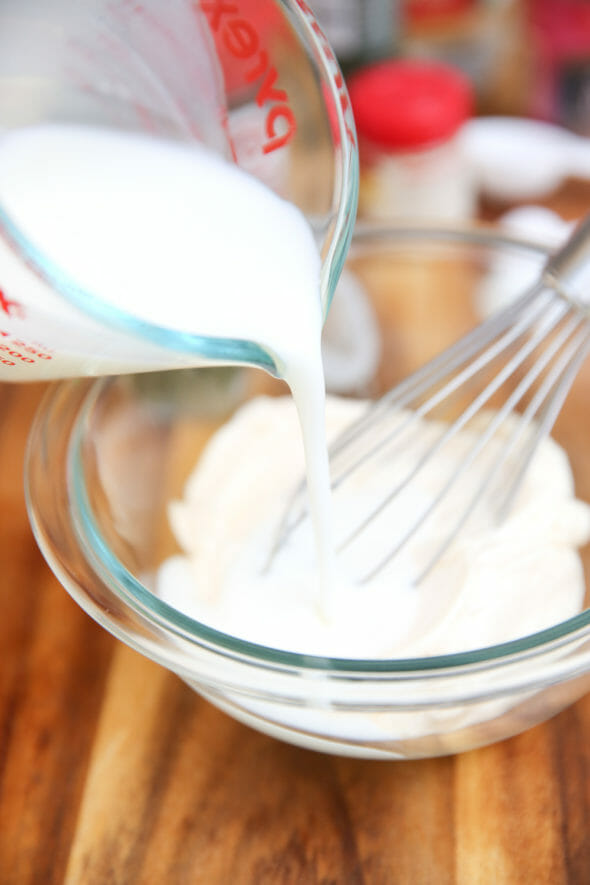 Now for the flavors.  This recipe has garlic powder, onion powder, dry mustard, seasoned salt, black pepper and dill.
And even though we've got onion powder in there- I like a hefty spoonful of chives, too.  These little chives are from my garden last summer.  They produce like crazy and I don't use them fast enough, so I put them in my freeze-dryer and have been using them all year.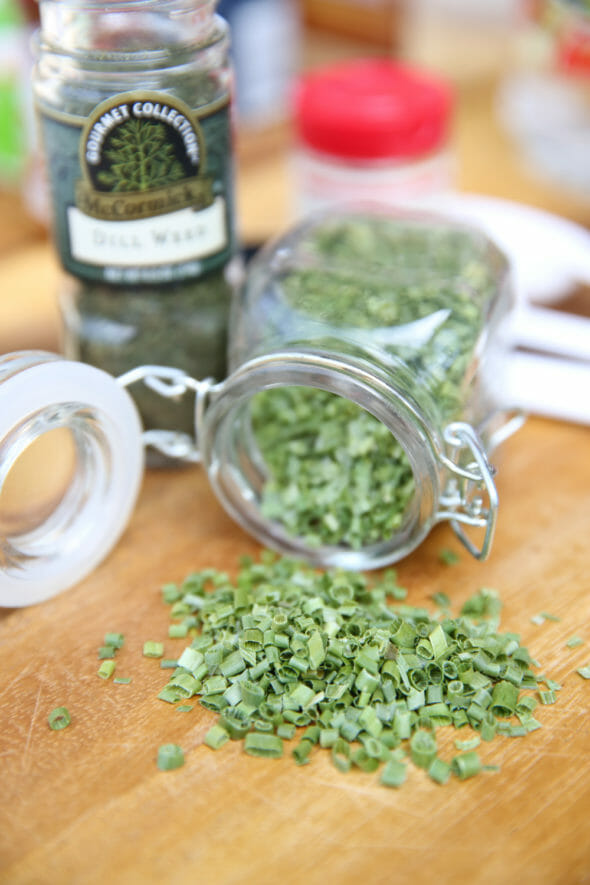 All you do is dump everything in there and whisk it up.  That's it.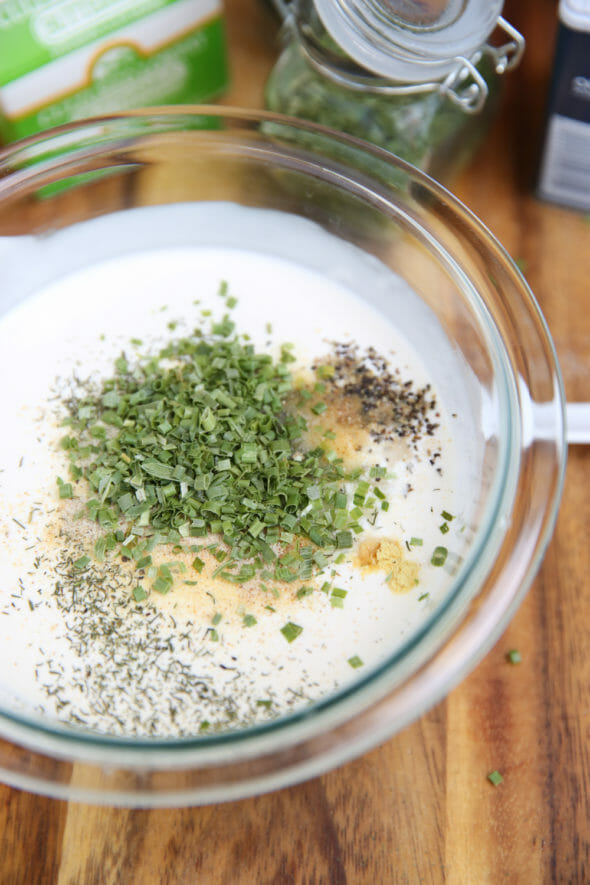 This stuff tastes like heaven.
I just keep it in a mason jar in my fridge and pull it out for every meal.
The only thing that would make a salad with homemade ranch even better is homemade croutons, so you may want to whip up a batch of those while you're at it.  Dipping homemade croutons into homemade ranch is probably one of my most favorite things ever.
Things you should most definitely dip in Ranch Dressing:
Stuffed Chicken-Bacon Pizza Rolls
Oven Baked Steak Fries
Diner Style French Fries
Breadsticks (c'mon I know you all do it…)
This Basil Buttermilk Ranch Dressing is also a super-amazing variation of this dressing.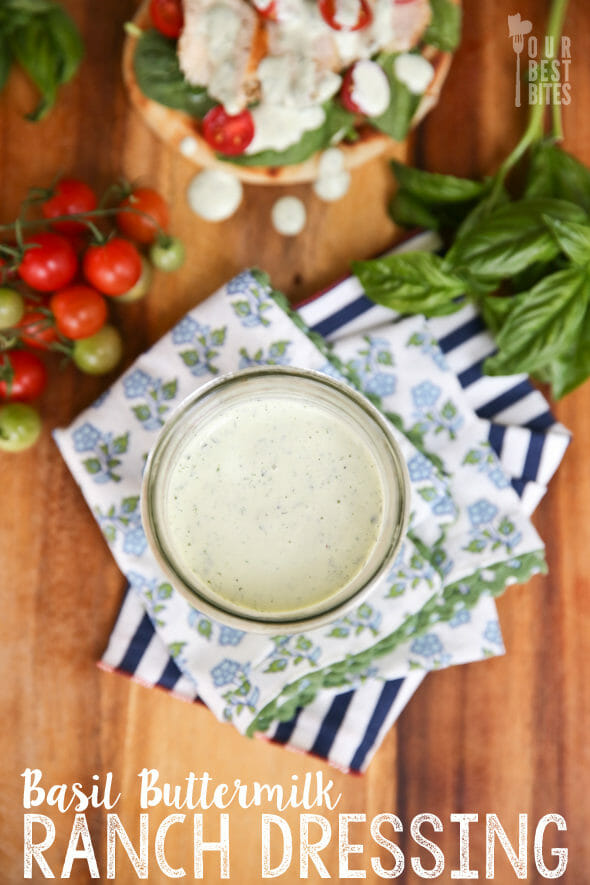 Print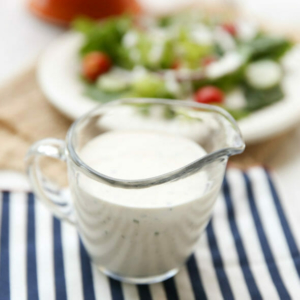 Buttermilk Ranch Dressing
---
Description
A quick and easy homemade Ranch dressing recipe that everyone loves!
---
1 cup mayonnaise
1/2 cup buttermilk
1/2 teaspoon white vinegar
1 teaspoon dried parsley
1/8 teaspoon dried dill
1/4 teaspoon garlic powder
1/4 teaspoon onion powder
1 1/2 teaspoon dried chives
1/8 teaspoon black pepper
1/4 teaspoon seasoned salt
1/8 teaspoon dry mustard
---
Instructions
Combine mayo and buttermilk in a bowl and whisk until smooth. Add all seasonings and whisk to combine. Add additional buttermilk if desired for consistency. (see note below) For best results, let chill for an hour or more for flavors to intensify. Store in a lidded container in the fridge.
---
Notes
Note: Different mayonnaise brands produce different consistencies in this recipe. I have purposely kept the amount of buttermilk called for quite low to allow you to add more depending on the consistency. For me, about 2/3 cup buttermilk seems to be perfect, but that same amount is sometimes incredibly thick or incredibly thin for others. So just keep that in mind. Mix everything together and then add more buttermilk until it's perfect for you.
Note: all spices and herbs listed below are dried. If substituting fresh, use the ratio 1 part dry = 3 parts fresh.