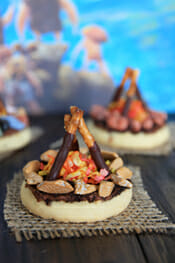 I've shared before one of my favorite tricks for encouraging young kids to try new things in the kitchen.  Sometimes all it takes is relating it to something they know and love.  Caribbean Rubbed Pork Chops with Mango Salsa instantly became cool when I told my three boys it's Captain Jack Sparrow's favorite dinner.  Hummus and Tandoori chicken?  "Just like Aladdin eats!"  Green smoothie?  "Shrek Shake."  You get the picture.  My little trick turned into fun theme nights and my family loves making an event out of a dinner and movie combo.  It's a great way to add a little excitement around meal prep and  have fun with the family!  Because of this, Kate and I jumped at the chance to create some recipes inspired by the new DreamWorks Animation movie coming out this month.  Like, we sent each other about 48 texts in the span of a few hours with all sorts of crazy caveman ideas.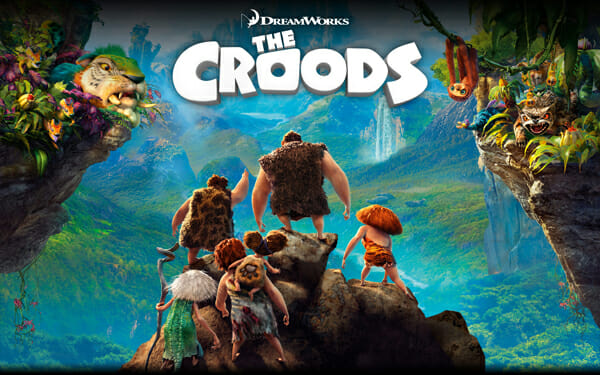 Have you guys seen the trailer for The Croods?  My kiddos are excited about it, it looks super cute.  And can I just say, I'm so glad to live in a time where animated films are just as entertaining for adults as they are for kids.  I love finding movies that we can all go to and equally enjoy.  Some of my favorite movies are animated!
Kate and I thought it would be fun to make a themed dinner, which is why she posted her awesome Cranberry-Cola Glazed Babyback Ribs recipe, meant to be eaten caveman style (hands only- the messier the better!) (Click Here for the Recipe)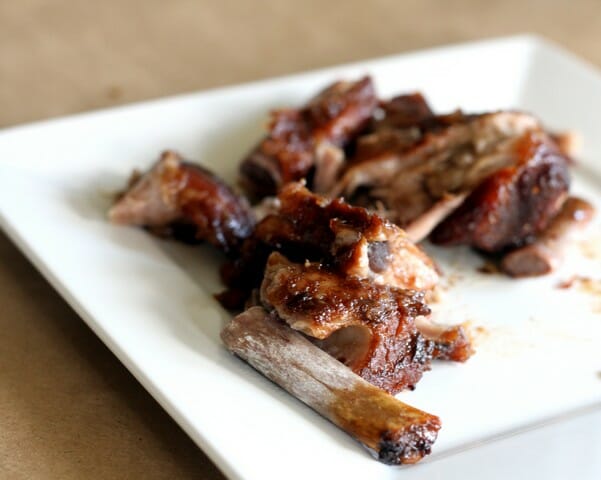 Now you just need dessert.   When I was thinking about this, I instantly thought of my cub scout days (like, when I was volunteering with cub scouts, not when I was a cub scout.  Because I was never a cub scout.  Obviously.)  We used to do a little activity to teach fire-building skills where we used pretzels for the wood, and marshmallows to make a little rock pit, and coconut for fire, etc.  That idea quickly transformed into these darling little edible campfires I thought it would be adorable to do this on a cookie or cupcake for a dessert!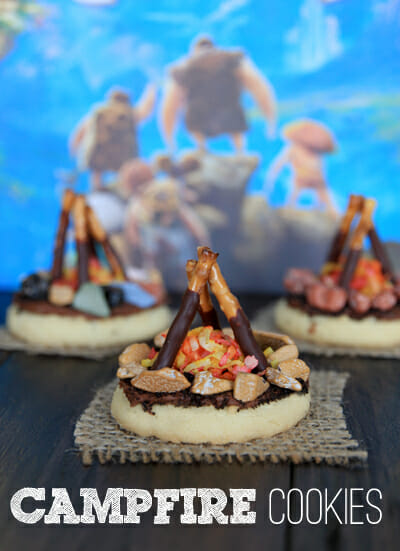 You'll need a little
rock candy
for this project.  Keep in mind these are little candy-coated chocolates, not the hard-candy type of rock candy.  I buy these at WinCo, my local grocery store that sells bulk items. You can also
get them from Amazon
, and I've also seen them at party supply stores and candy stores.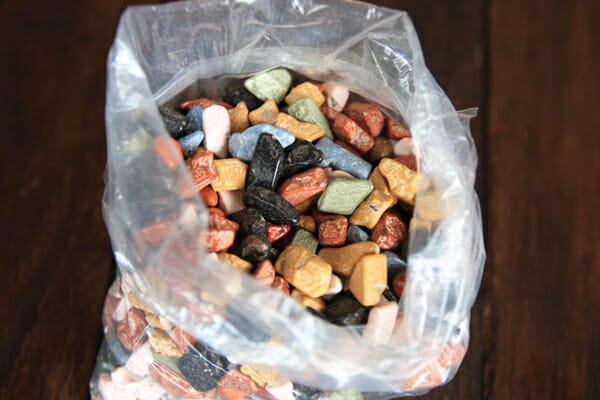 Set up a little station with some sugar cookies (I totally bought mine already baked from my grocery's bakery, but here's our favorite from-scratch recipe.) Some chocolate frosting, some crushed Oreo cookies, and your rock candy.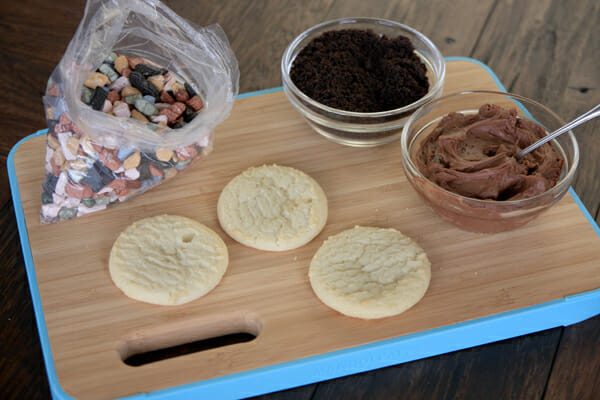 Three simple steps here:  Spread on some frosting, sprinkle the top generously with dirt (Oreos!), and then surround your fire pit with rocks (safety first.)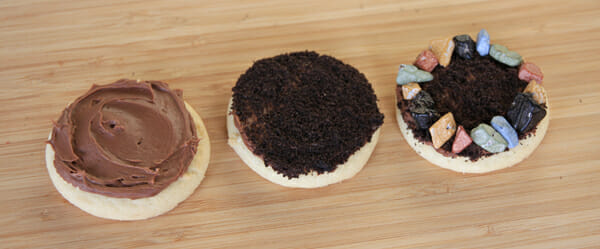 You can do them multi-colored, or pick out the same color rocks. I  think I like the ones with a uniform color.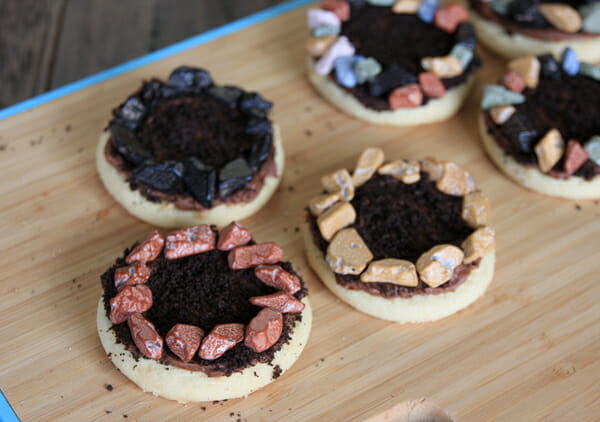 Now we need some fire!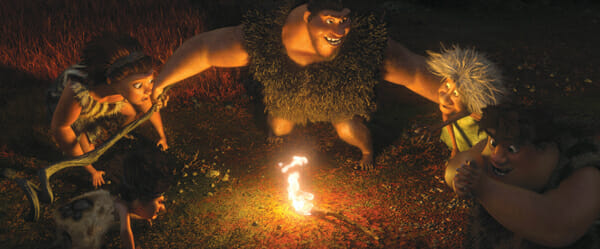 I just took a handful of coconut and put it in 3 separate bowls.  Drop a couple drops of liquid yellow food coloring in one, red in another, and orange in the last one.  Use a fork to stir and smash until the coconut is colored.  At first it will look like nothing is happening, but just keep smashing it around and soon it will distribute.  Place the coconut on a baking sheet and we'll toast it in the oven.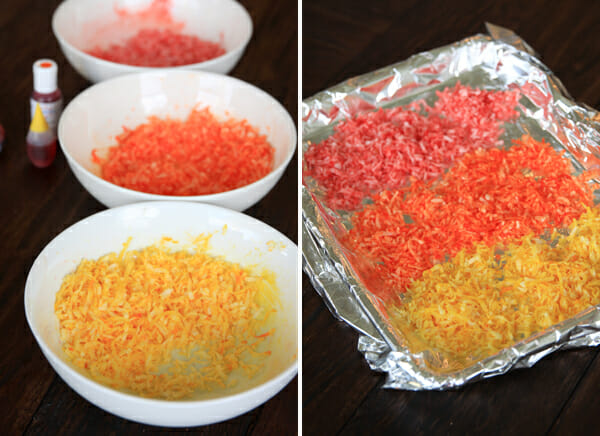 The nice thing is that the food coloring prevents most browning, so the coconut stays vibrant and bright, but has that perfect toasted crunch to it.  It also holds its shape like little fiery flames.  Just place a little fire right in the center of your fire-pit.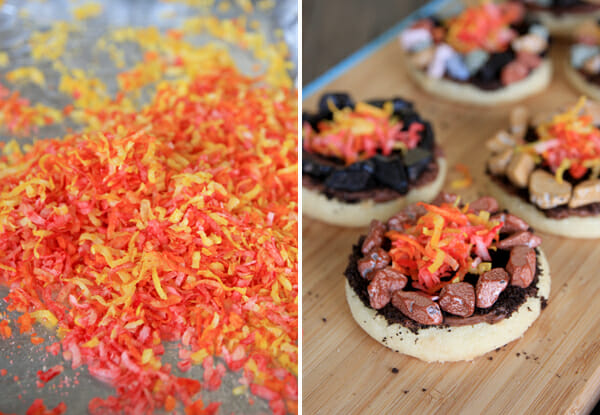 These are pretty darn cute just like that, don't ya think?  In addition to being fun for a themed movie day- these would be great for an activity with boys in cub scouts, or girl scouts, or girls camp, etc.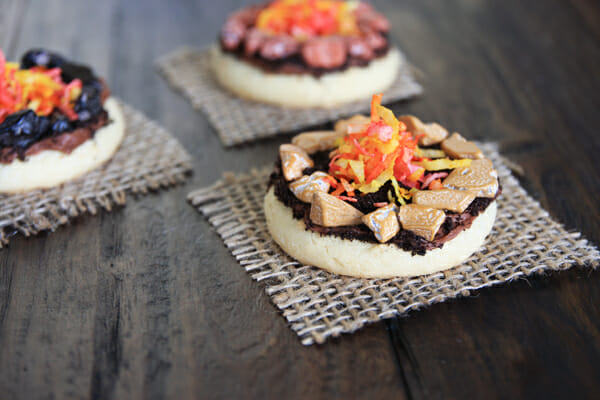 And what I think is even cuter, is adding a few little mini pretzel sticks so you have some wood to burn.  I gave my pretzels a quick dip in chocolate, mostly because I think things that start with the phrase "chocolate-dipped" are a general improvement over things that don't  start with the phrase "chocolate-dipped."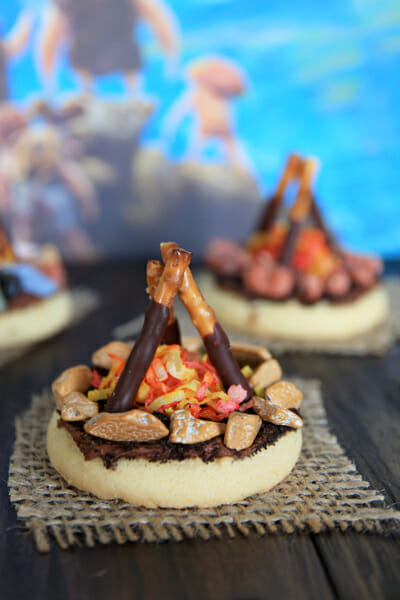 You get the buttery sugar cookie, creamy chocolate frosting, crumbly cookie crunch, and flavor and texture from the toasted coconut.  My kids loved picking off the "rocks" and "wood" and eating those one at a time.  S0 much fun!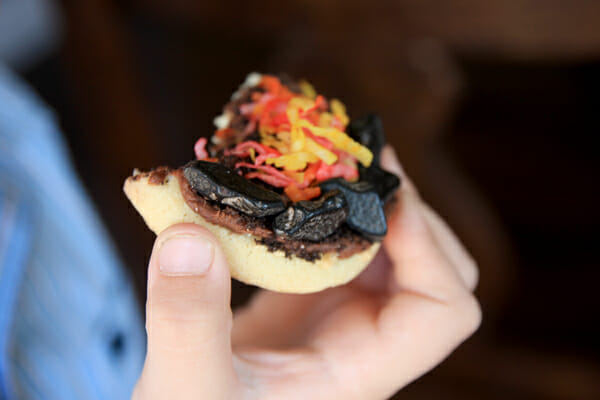 Print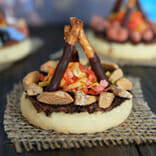 ---
Description
These campfire cookies are a lot easier to make than they look! Quick, easy, and fun, this is a great treat for summer time!
---
*quantities vary by the size of your cookies, how many you're making, etc.
Round sugar cookies
Chocolate frosting
Crushed chocolate cookies (like Oreos)
Candy coated chocolate rock candy
Coconut
Small pretzel rods (optionally dipped in chocolate)
---
Instructions
To color coconut, separate coconut into 3 separate bowls. Working with one bowl at a time, add a few drops of liquid food coloring (one bowl yellow, another orange, another red) and stir and smash with a fork until color is distributed. Place coconut on a baking sheet and bake at 350 degrees for about 5-8 minutes, stirring once, until lightly toasted. Cool completely.
Frost sugar cookies with chocolate frosting and sprinkle crushed chocolate cookies on top. Line the outside edge of cookie with rock candy. Sprinkle cooled coconut in the middle and prop up 3-4 pretzel rods (trim to be shorter if necessary.)
---
*Disclaimer: This post contains affiliate links.

This post is in partnership with DreamWorks Animation and Twentieth Century Fox's The Croods.  All opinions expressed are our own.