Easter Cookies!  I always love the idea of decorating holiday cookies, but the reality is making different color frostings and making something that doesn't look like a preschooler did it is sometimes challenging!  I've showed you some hand-drawn cookies before, for Valentine's Day, and I wanted to do some Easter Cookies this year as well! This is a fun method that produces really cute Easter cookies, with minimal effort (and minimal mess!) I'm going to show you my shortcut for fun holiday cookies using markers!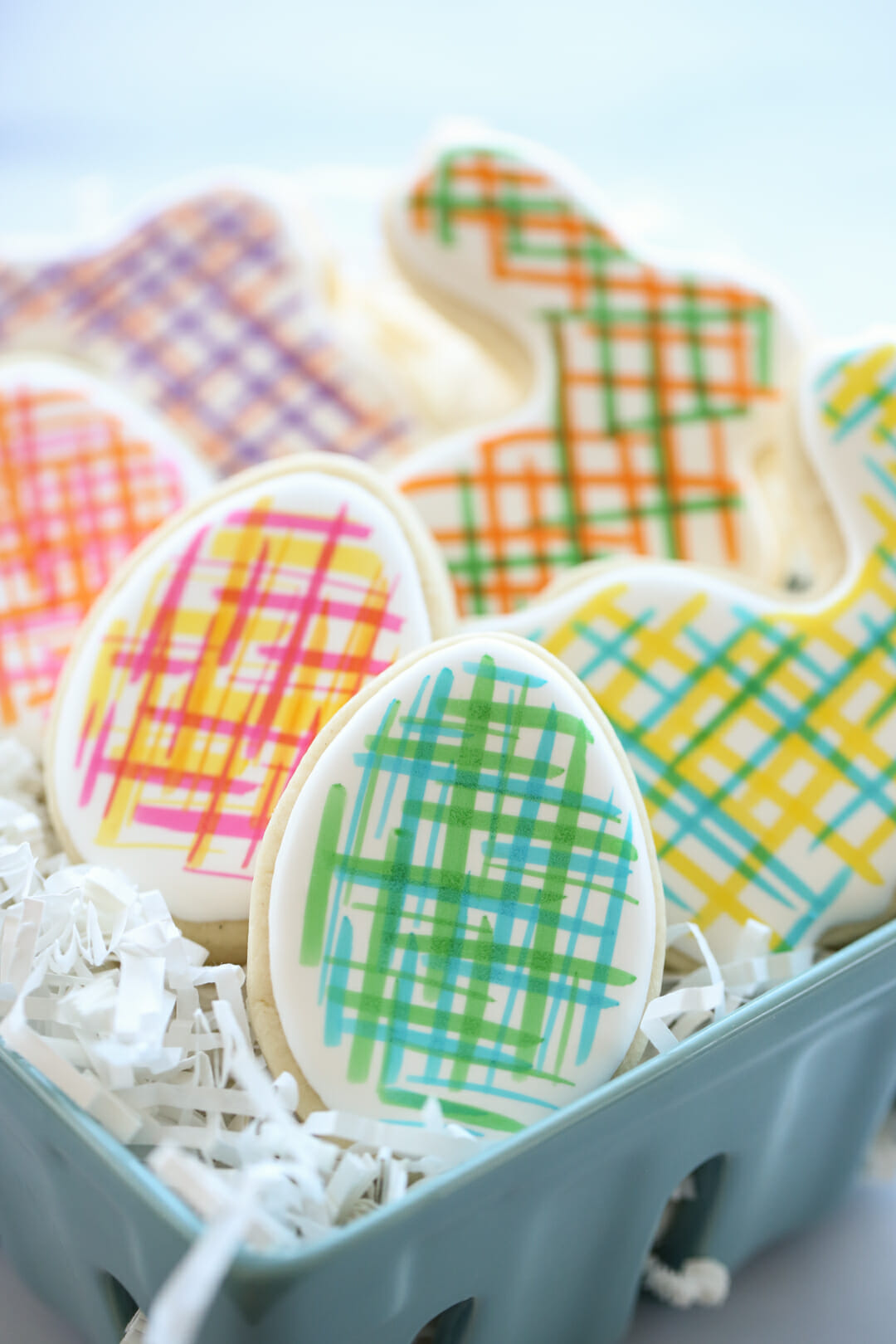 Sugar Cookies
The first thing you will need is cookies!  You can bake your own sugar cookies and frost them with royal icing (an icing that dries completely dry and solid), or do as I do and just purchase them ready-made.  I bought mine from a local cookie artist RoRo's Cookies whose profits all go to charity!  She did all the heavy lifting and I just picked up some beautifully packaged cookie boxes with these cut-out shapes in plain white icing all ready for me to decorate.
Edible Ink Markers
The next thing you'll need is markers with edible ink!  Basically these are markers with food coloring as the ink.  I just buy mine on Amazon. I have this Americolor set, and I also bought this set because they have dual tips, with one end having a thick brush tip and the other a fine tip.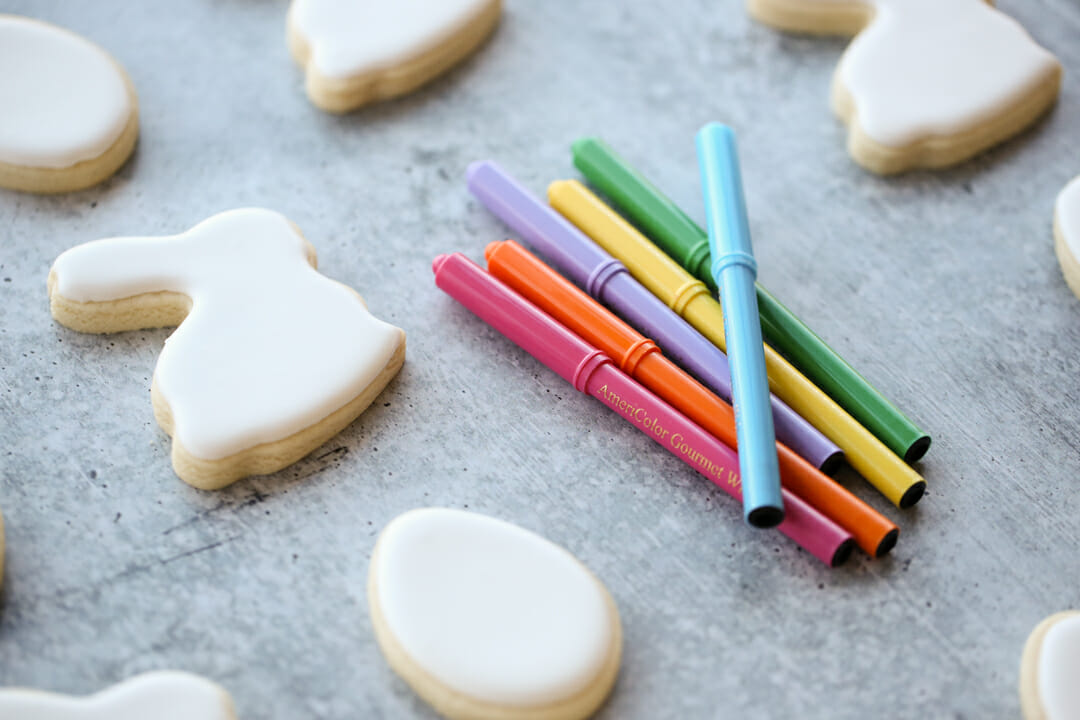 Decorate the Cookies!
Here's a few design ideas- these are just several mini-baskets I made with different themes so you could see how easy it is to make cookies to match a tablescape, or an event, or personalize them, etc.
This mod black set was all done with just one color (obviously!)   I love black and white cookies and these are especially fun to mix and match with some very simple graphics and text.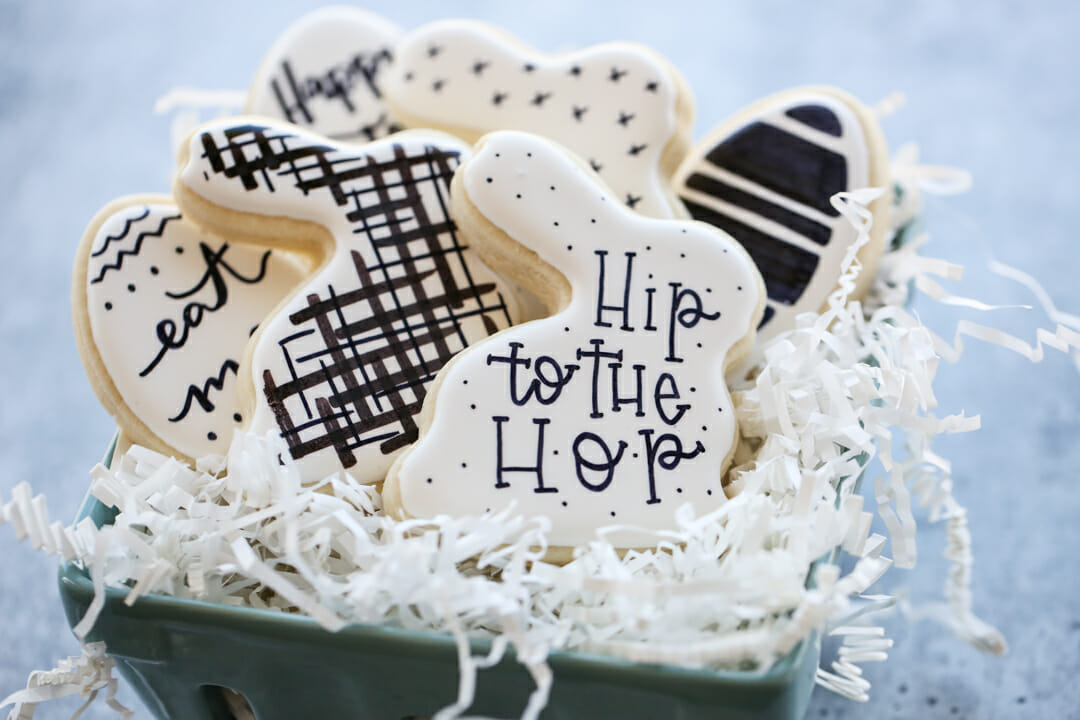 I would however shy away from heavy designs here (like that almost all-black egg in the photo above) because this IS food coloring, and as soon as it hits your lips it can turn everything black, lol.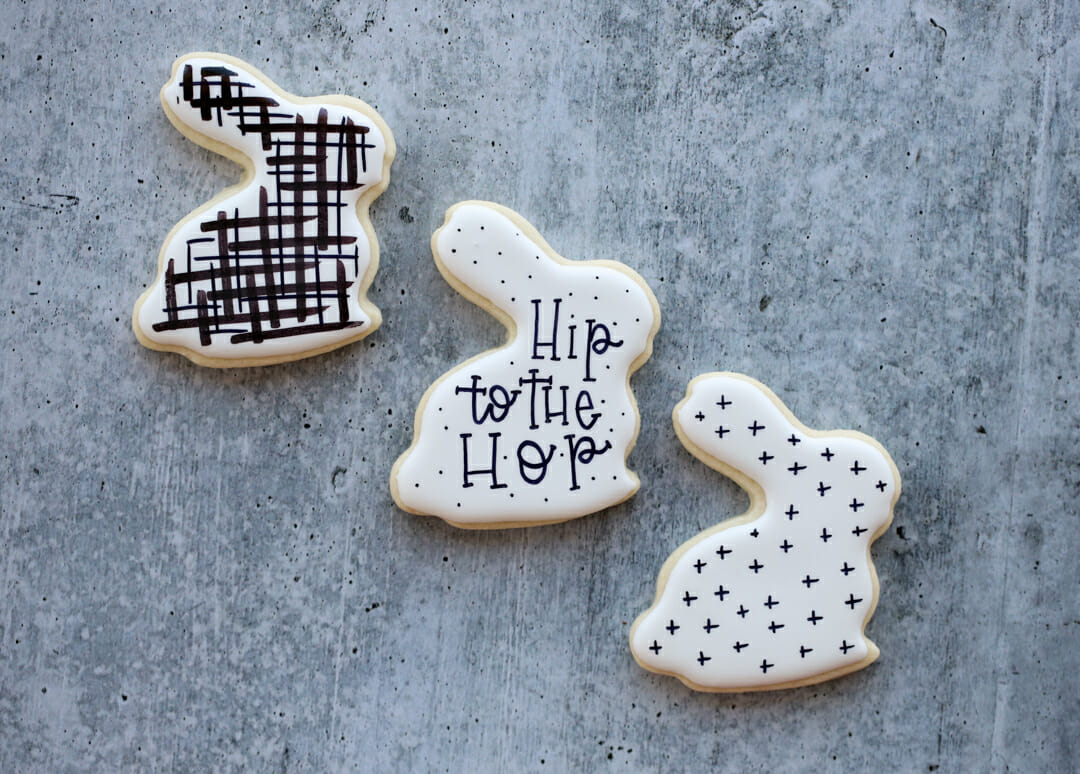 I've loved rainbows since I was a little kid and I'll always throw in a ROYGBIV when I can!  Or in this case, ROYGB haha. Notice I'm not even doing anything fancy or artistic, most of these cookies below are just polka dots, x's and stripes!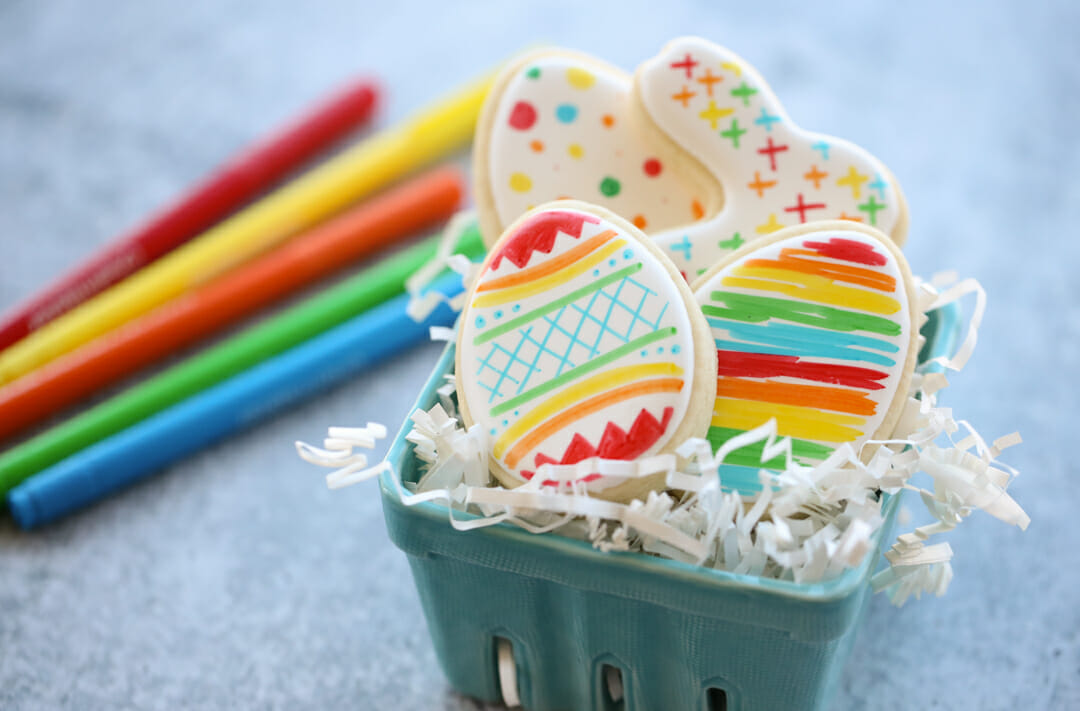 The fine-tip markers came in handy for these quick and easy little details on this pretty little princess bunny.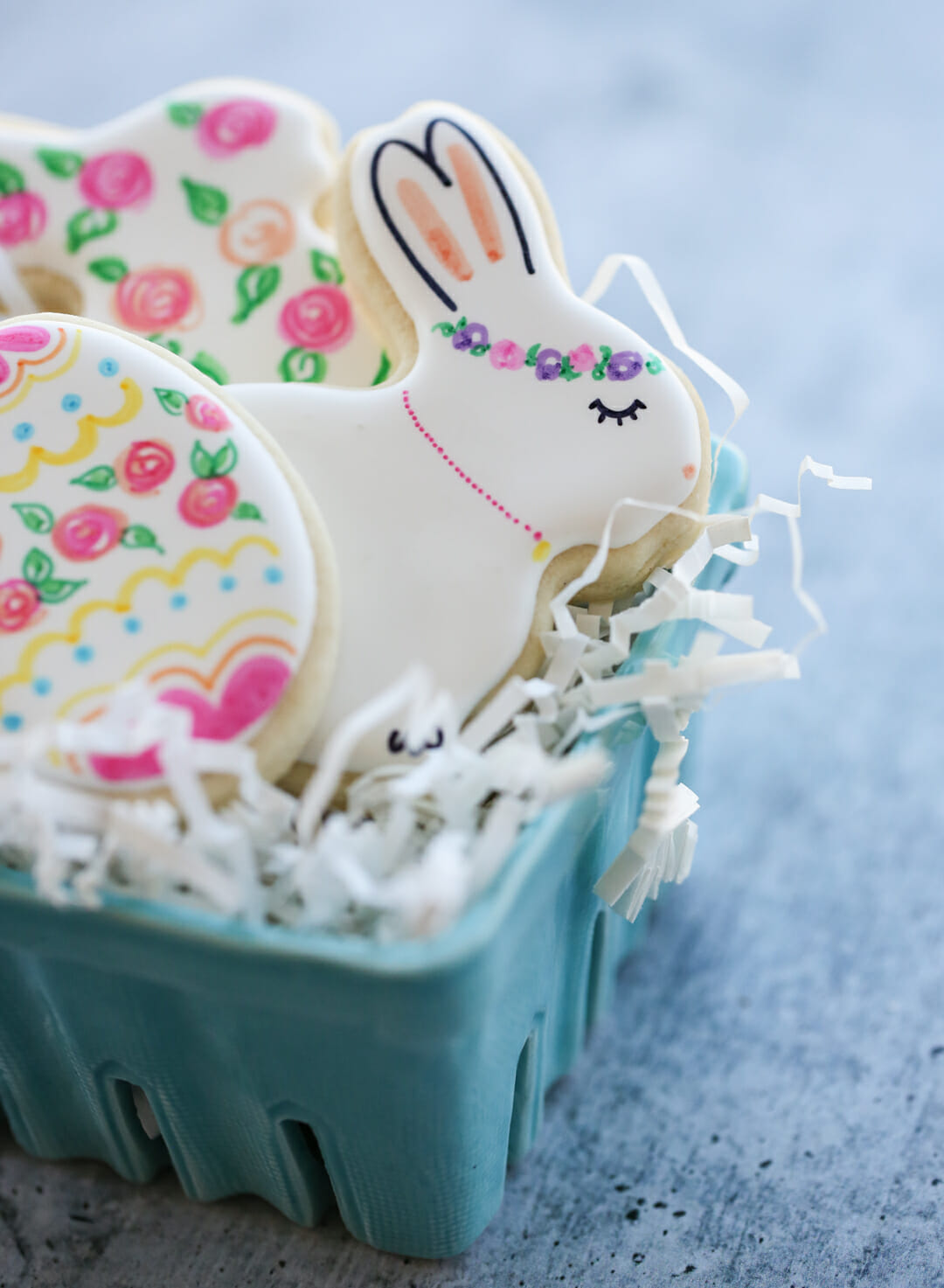 I made some larger flowers (which look closely, are really just swirls) to coordinate with this one.  Just use the same color scheme and you can mix and match lots of different designs.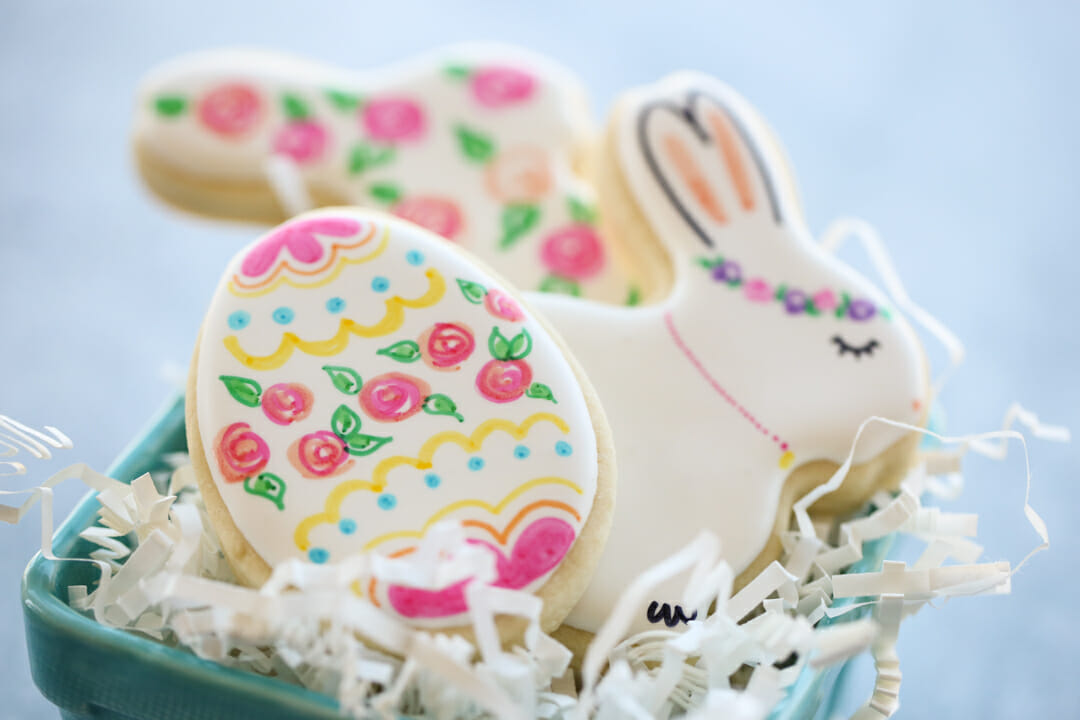 Lastly, this style requires literally no artistic talent!  I haphazardly drew lines in both directions on a cookie, using two colors and they came out in the cutest little plaids.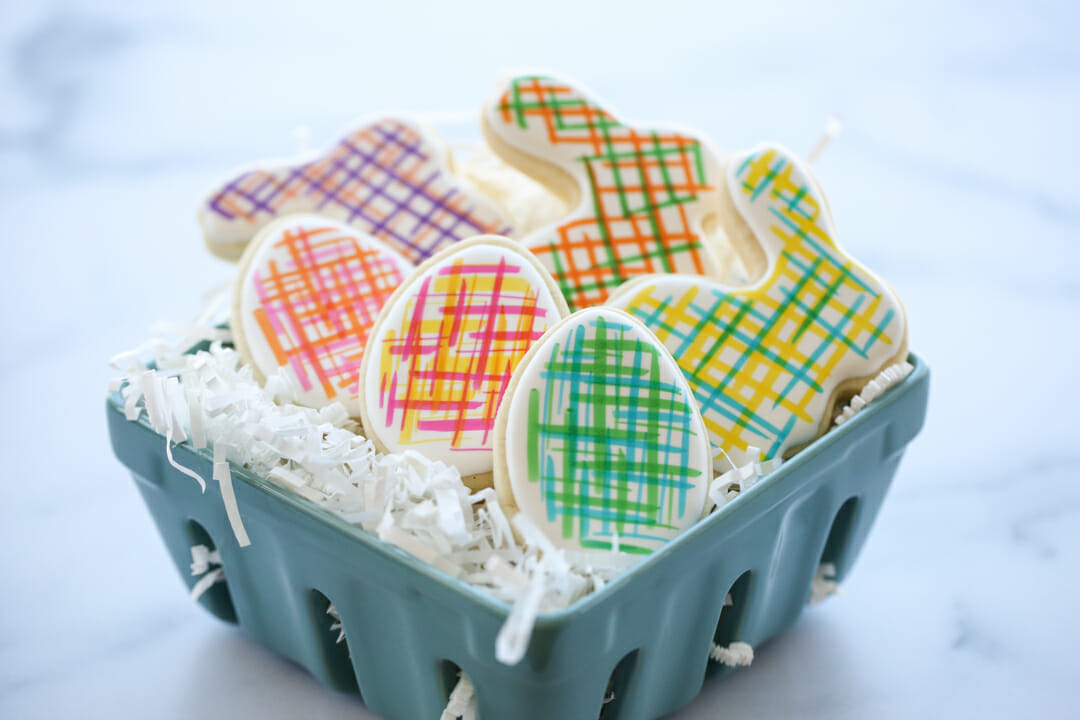 This is hands down one of my favorite ways to do cookie-decorating with kids.  Again, this IS food coloring, so younger kids need supervision- and again I would stress light designs so you don't end up with totally stained faces, but for me it beats the giant mess involved in trying to let kids frost their own cookies with traditional frosting and decorate with candies!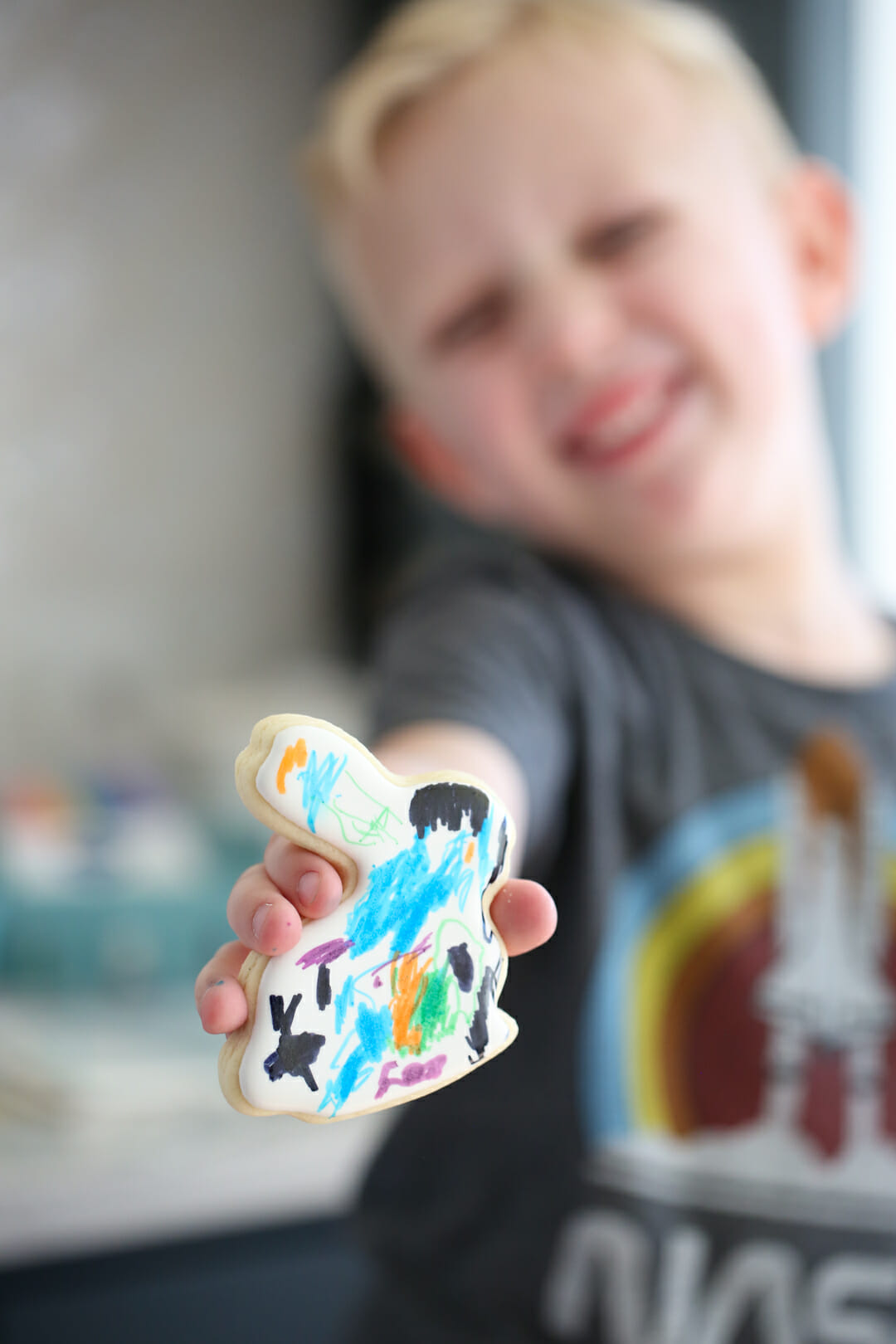 If you try these fun cookies, I'd love to see what you create!  Tag me on Instagram so I can see!