I have a deep and abiding weakness for chips and salsa. If I'm going to fall off the healthy eating wagon, it's going to be while I'm firmly grasping a bag of tortilla chips. We don't have great Mexican food in my particular neck of the Louisiana woods, so I could dream dreams of street tacos and fish tacos and burritos, but when push comes to shove and I finally find myself with some good Mexican food, it all comes down to the chips and salsa.
Well. I'm not really on the chips right now. But the salsa? Yes, please. I still love it–on eggs, omelets, tacos, salads, fajitas, black beans. If I can put salsa on it, you can bet that I'll be putting this salsa on it.
I started making this salsa when my husband and I were in college, dead broke, when fresh produce was a luxury and Mexican restaurants were a distant dream. You know that fancy salsa in the plastic tubs at the grocery store? This is kind of like that. Only it tastes way better. And it's significantly cheaper, especially since you probably have most of the ingredients in your cupboards and your fridge.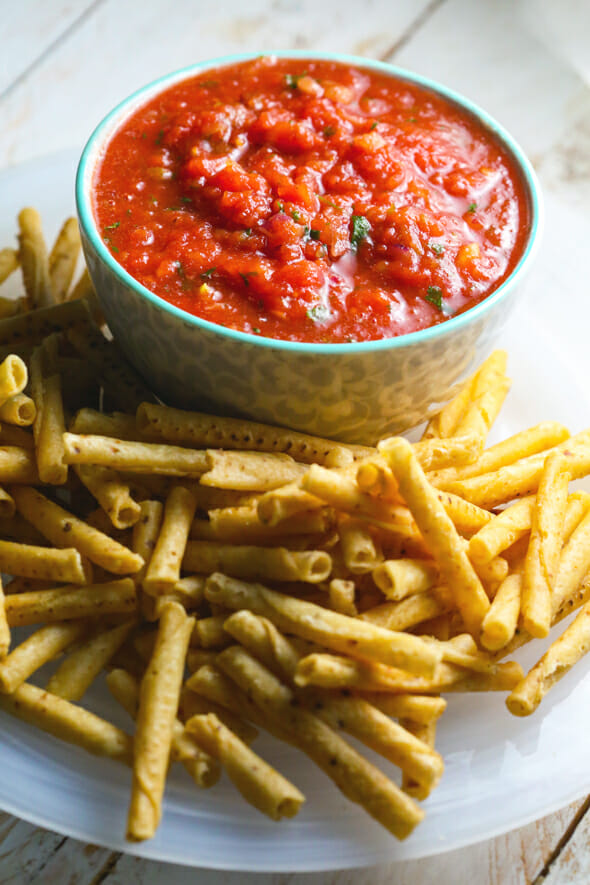 You're going to need two cans of stewed tomatoes (yes, stewed tomatoes–they're not just for your grandma anymore), half a red onion, a couple cloves of garlic, some kosher salt, a handful of cilantro, and a big, juicy lime. My lime was feeling shy and didn't make it into the picture, but it definitely made it into my salsa because lime juice. You're also going to need Chipotle Tabasco Sauce (I know, I had Tabasco in my last recipe, too. Apparently when I'm eating healthy, I need a wide variety of spicy condiments in my life.) More about the Tabasco in a minute.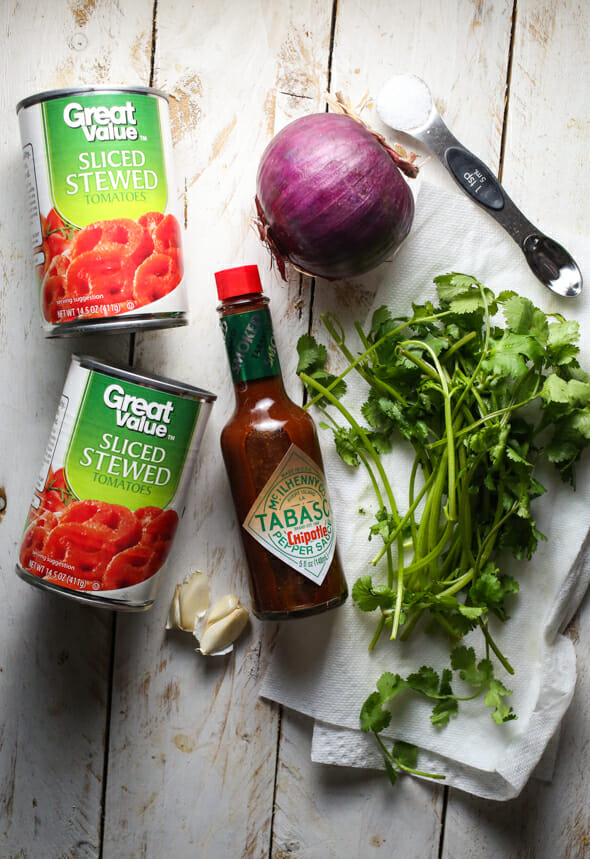 Place the tomatoes, juice and everything, in the jar of a blender. Add a teaspoon of kosher salt.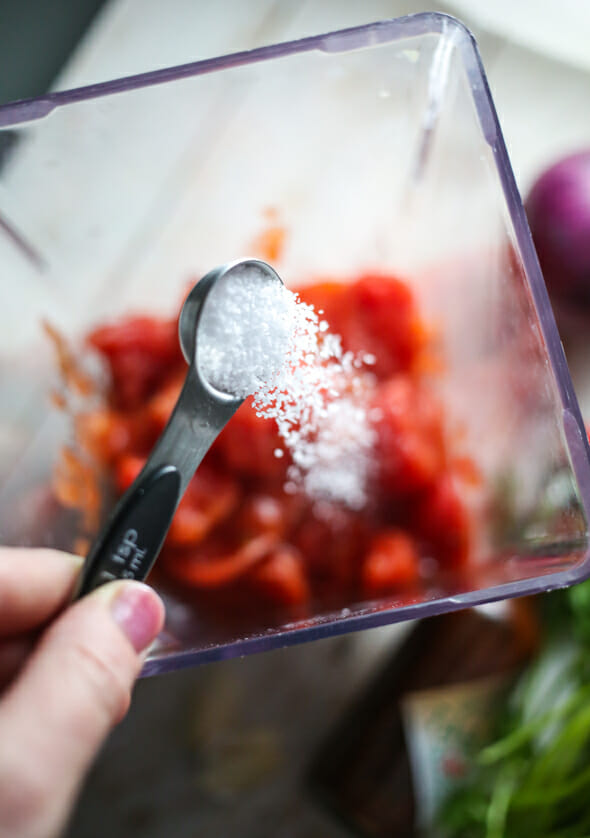 Add the onion and garlic (you don't even need to chop 'em first)…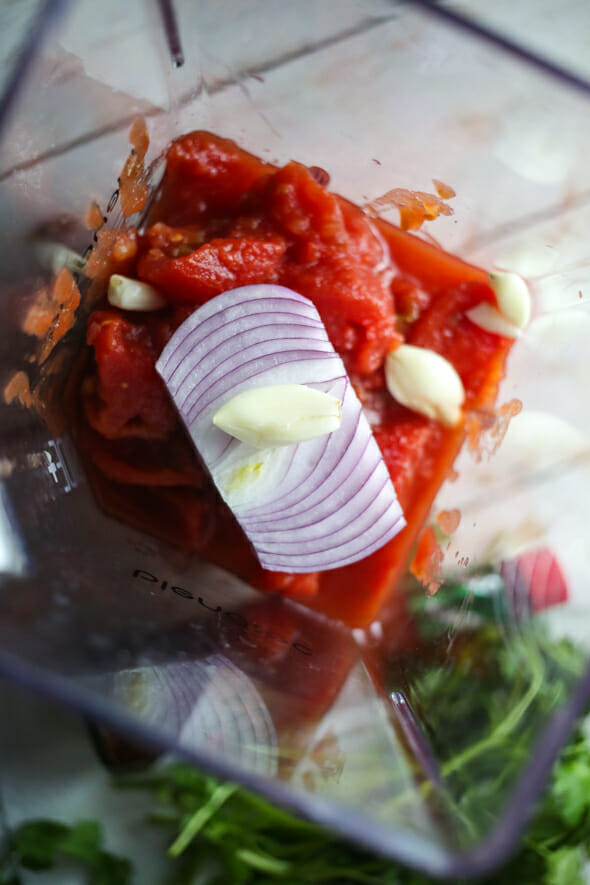 Add a handful of cilantro (about 1/2 cup).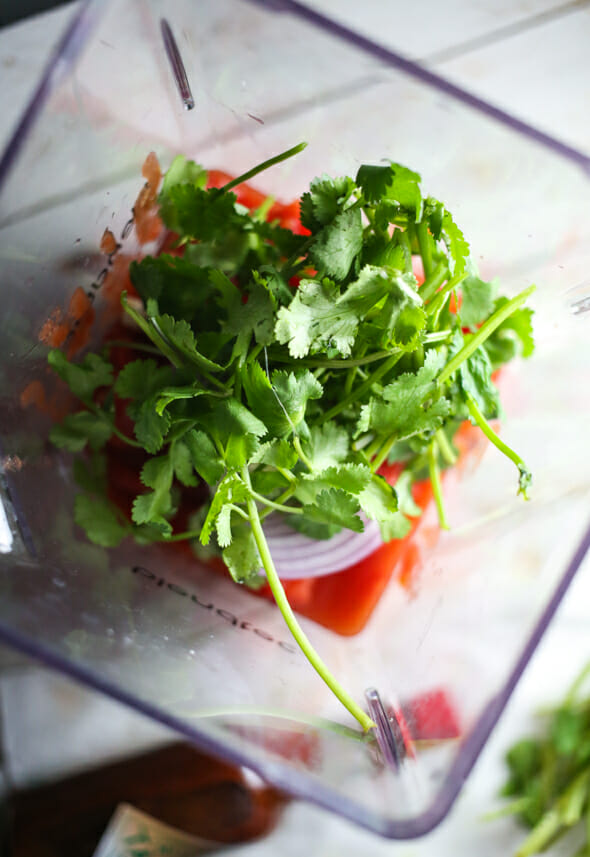 Pulse the mixture in the blender until the onion is roughly chopped.
Now…about adding some heat.  I've tried all the things to spice up this salsa–fresh peppers (like jalapeños), cayenne pepper, chipotle chili powder–and this is hands-down my favorite.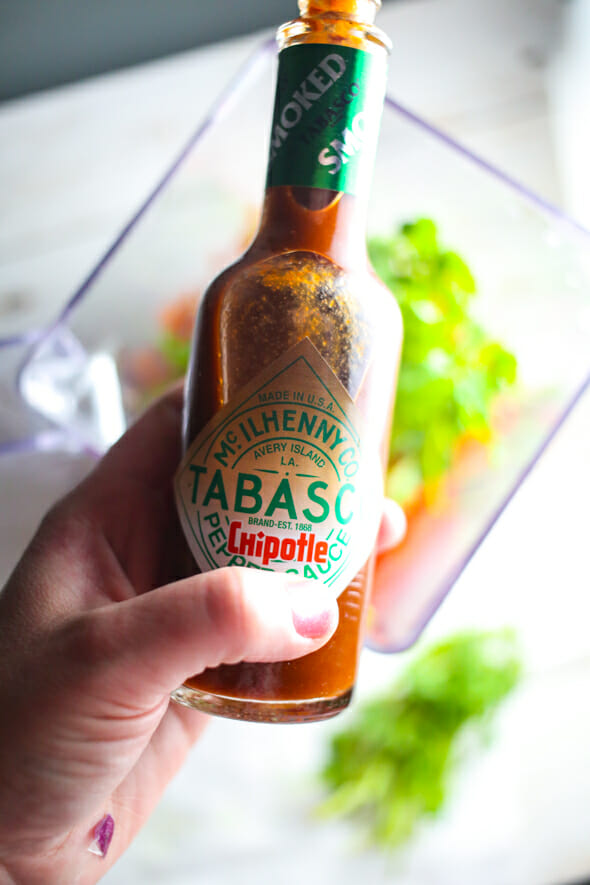 It adds a little heat and a lot of flavor. Jalapeños are fickle–it can be difficult to tell how much heat you're adding (or not adding) and sometimes they leave a weird aftertaste. Cayenne is dependable heat-wise but doesn't add much in terms of flavor. But this? It's smoky. It's tangy. It's spicy, but not nearly as spicy as traditional Tabasco sauce. So give it a few good shakes, pulse it again, have a taste, and then add more as needed.
And that's it. It takes 5 minutes and it's so delicious and is something you can basically eat in unlimited amounts.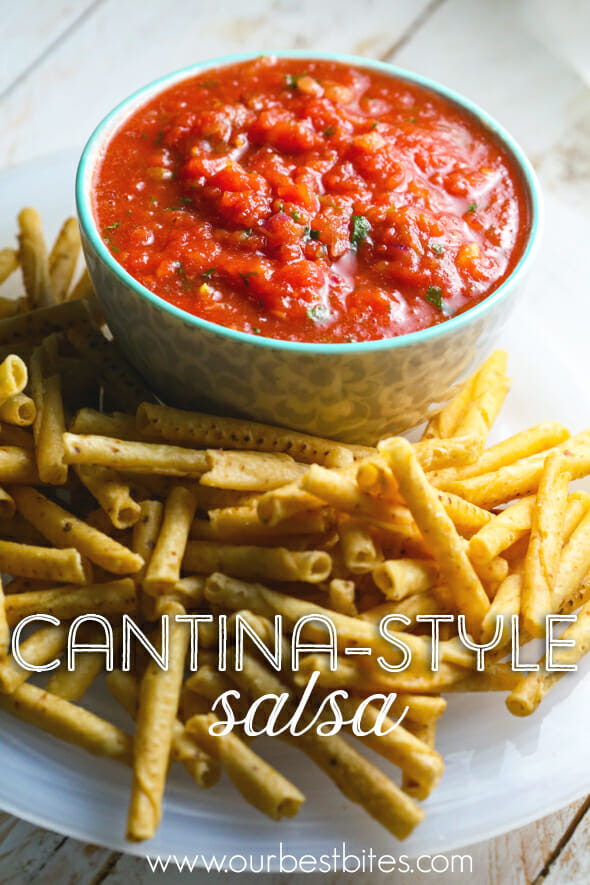 Speaking of blenders…we may or may not be giving away a BlendTec blender in our DietBet that's going on right now! If you've been on the fence about joining, the blender is basically telling you that you need to do this!
Print
---
Description
Make cantina-style salsa at home in just a few minutes with refrigerator and pantry staples!
---
2

14.5-ounce cans stewed tomatoes

1/2

red onion

2

cloves garlic
Juice of

1

lime

1

handful cilantro (about

1/2 cup

)

1 teaspoon

kosher salt
Chipotle Tabasco Sauce (amount varies depending on heat preference)
---
Instructions
Place all ingredients except the Tabasco in a blender. Pulse until the ingredients are chopped but not pureed. Add Tabasco sauce to taste. For best flavor, refrigerate at least 2-3 hours before serving.
---