One of our missions here at Our Best Bites has always been to show that you can feed your family great tasting food and still lead a healthy lifestyle.  Being "healthy" to us, doesn't mean cancelling out certain food groups and it certainly doesn't mean depriving yourself.  We've learned over the years that the right combination of real (even sometimes decadent) ingredients, in the right proportions and prepared in the right way, can be a delicious part of a healthy lifestyle.    It was the driving principal behind our popular healthy cook book , "400 Calories or Less" and this recipe for Chocolate Shortcakes, layered with fresh bananas, and even caramel sauce, is a great example of that as well. It's not "diet food" but it's also not horrible for you, and it won't ruin all those healthy New Year's aspirations.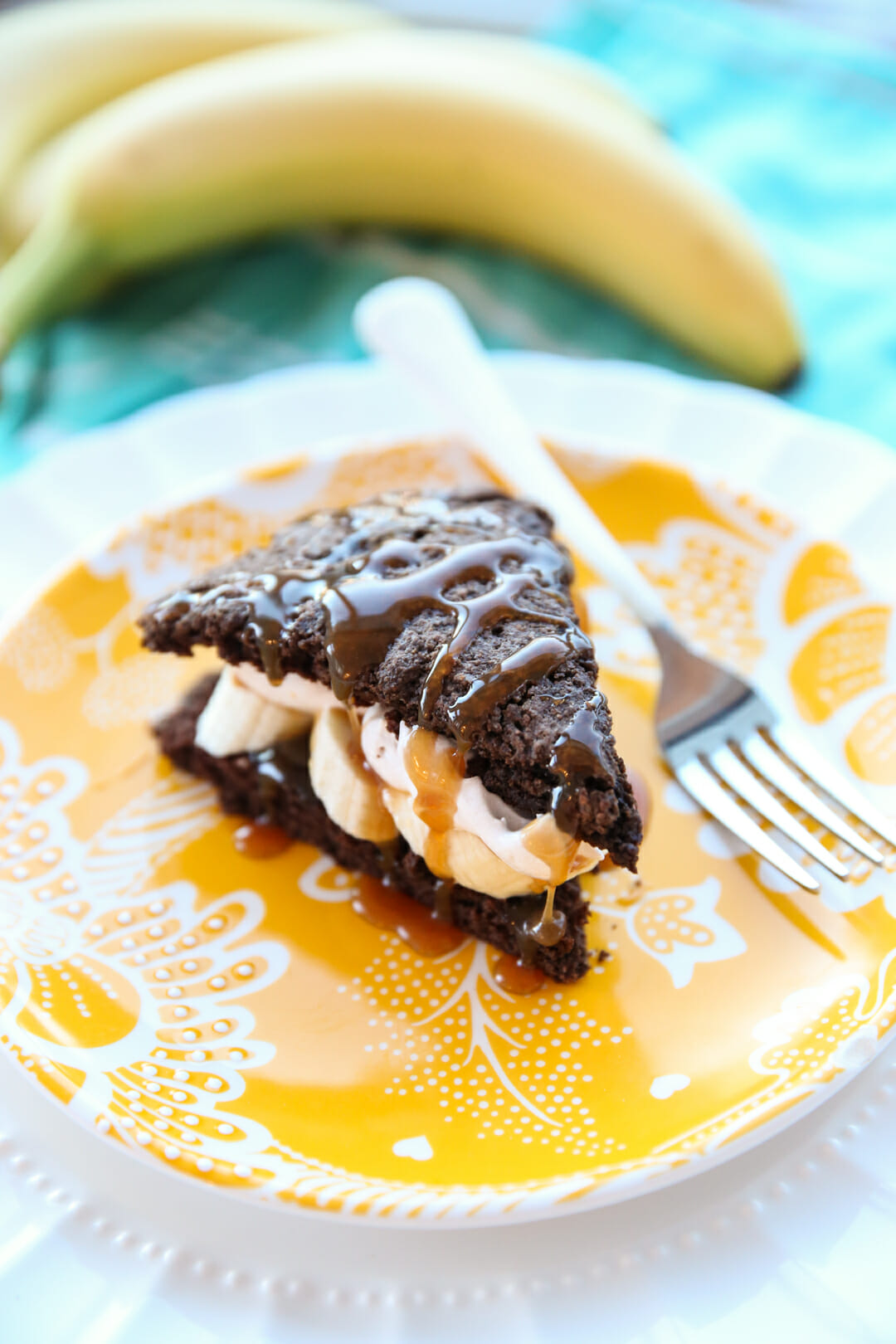 So many of you have expressed your interest in more ideas to help feed your families (and especially your kids) healthier meals and teach them these same principals.  If you fall into that camp, we've got something really great coming up verrrry soon!  SO many of you are loving our Meal Plan Service.  If you haven't heard about it, or jumped on the wagon yet, you can read all about it here.  It's received loads and loads of glowing reviews and improved the lives of so many families around the country.  We are so thrilled you guys are loving it!  We have a little bonus that's going to be launching in the next week or so and it's our FIT & FAST plan!  If you're already a meal plan member, this will go right along with it, and if you're not, we think you'll really love this new plan geared toward healthier meals, and including nutrition information.  You'll even find some yummy treats in there, like this one!  So keep your eye out for more info- it's coming soon! If you'd like to be the first to know and get the best deal, you can sign up for email notifications right here.
Okay so let's make these chocolate shortcakes.  A quick combo of pantry ingredients are whisked together: flour, sugar, cocoa powder, baking powder and soda, and salt.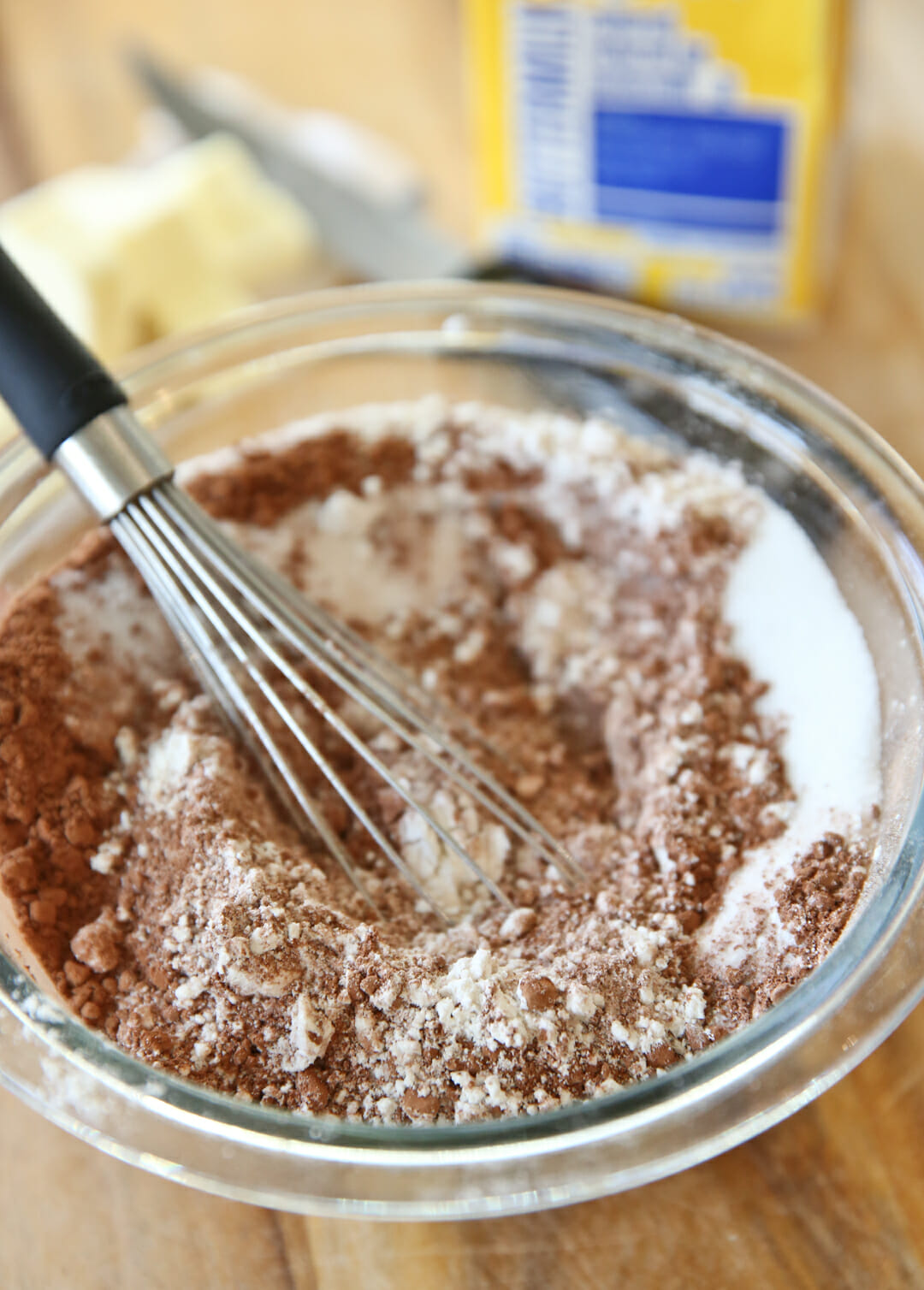 After cutting in the butter, you'll drizzle in some buttermilk,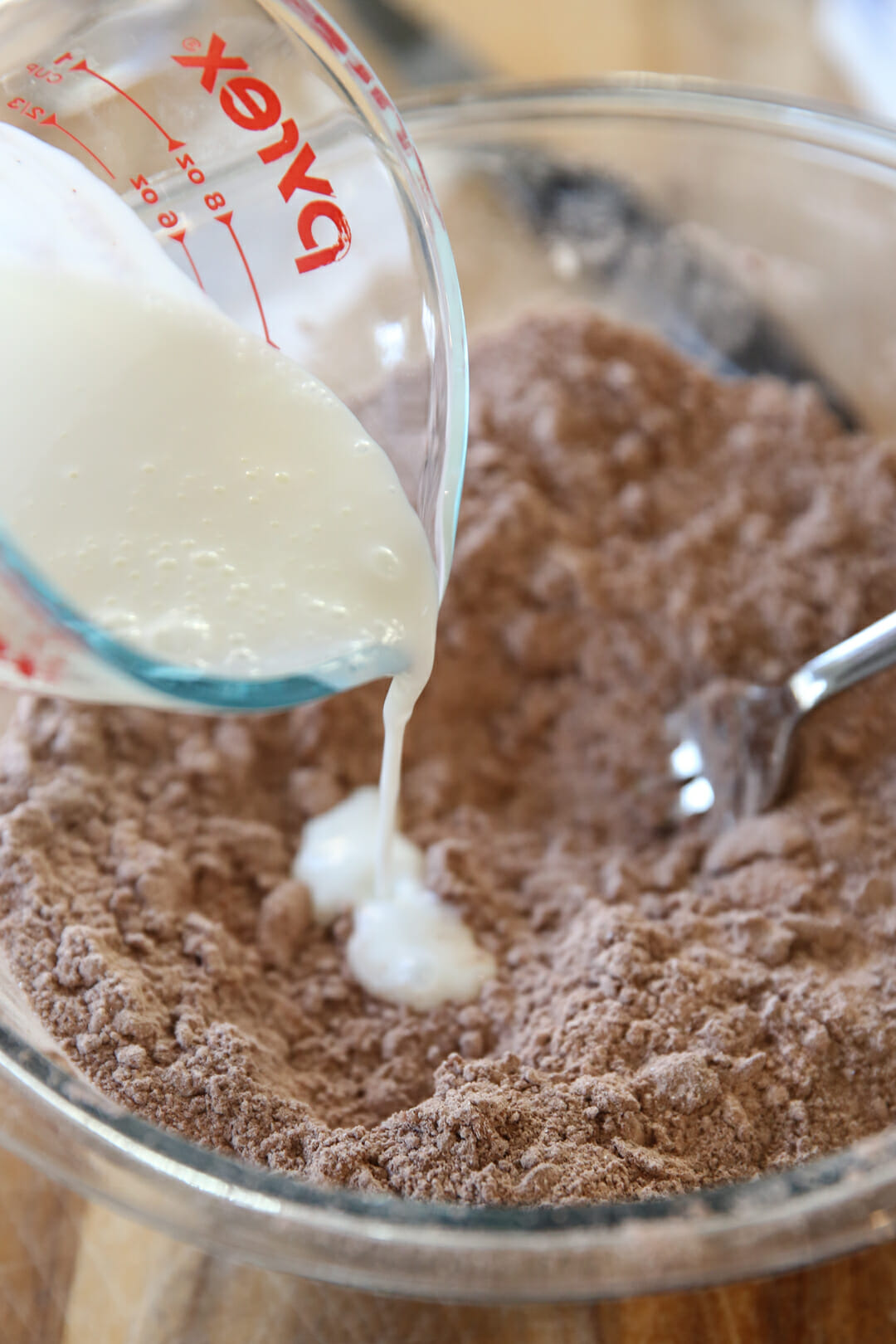 and gently pull the dough together with a fork.  It's really important to not overwork a batter like this or it will lose its tenderness.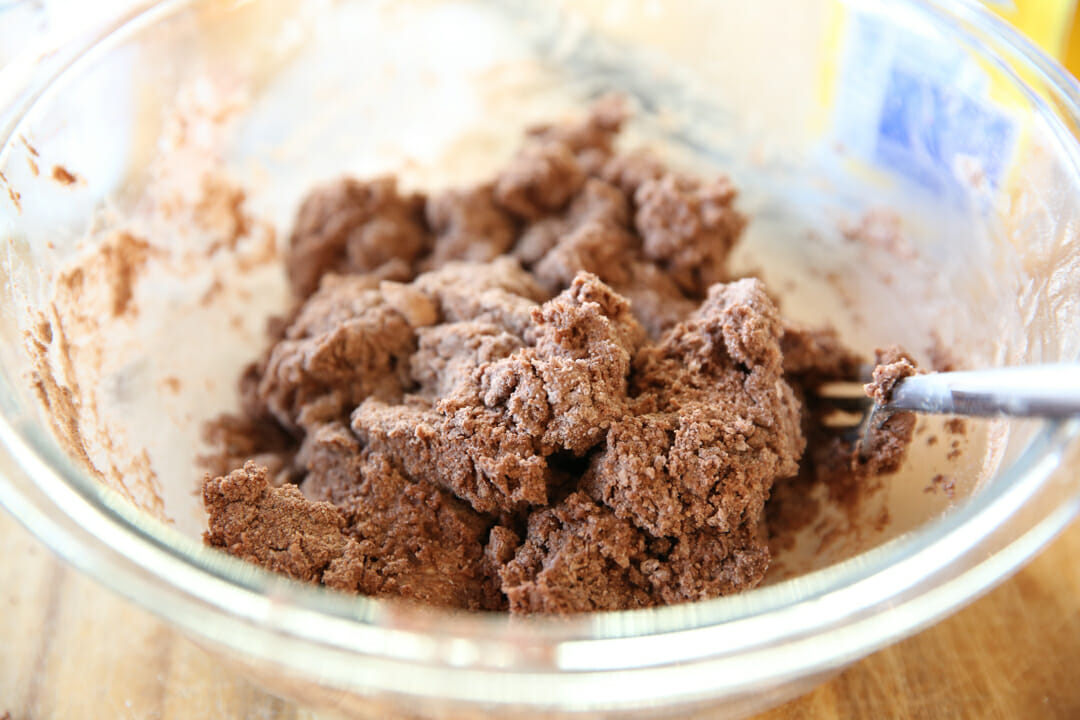 Pat the dough into a circle and then cut (but not all the way through) it into 8 wedges.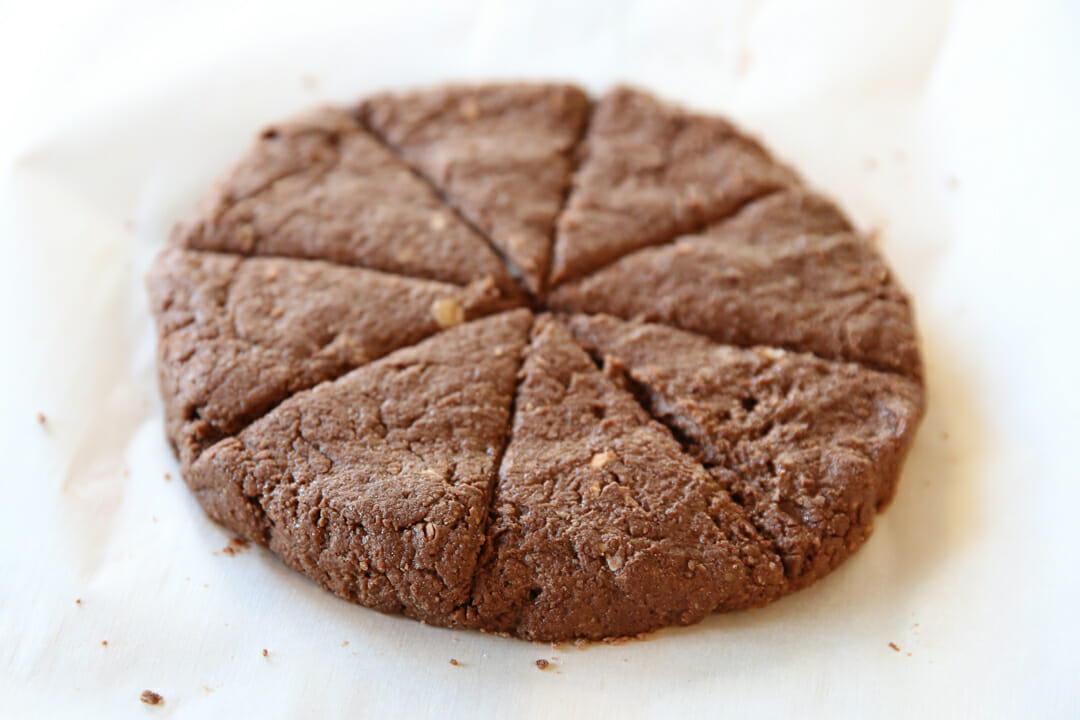 The shortcakes bake up into a beautiful rich chocolate color and you can slice them up gently.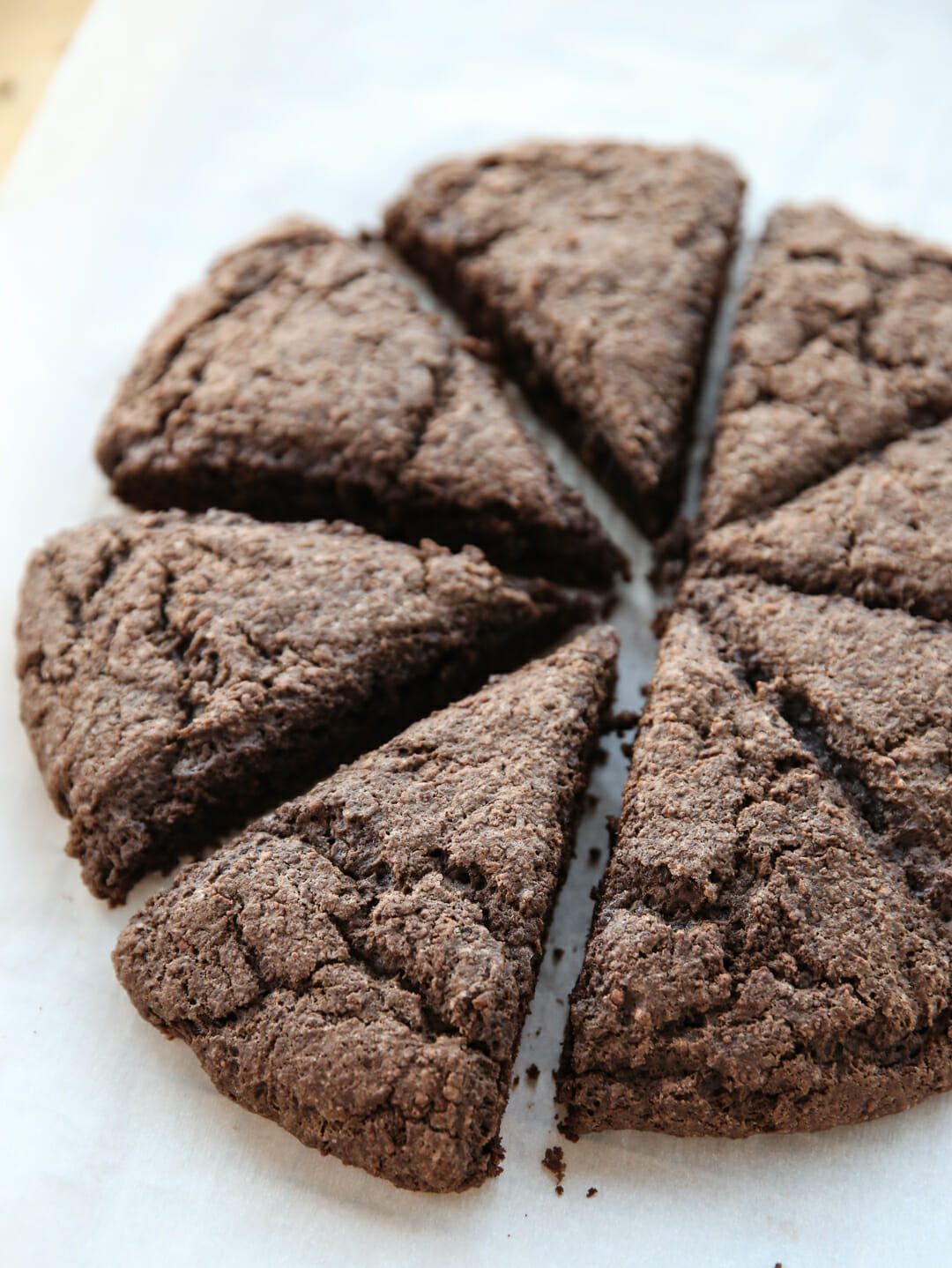 As that's cooling a bit, prepare the last part of the filling.  You'll whisk just a tiny bit of cocoa powder into some whipped topping, which is a really simple way to really elevate the flavor.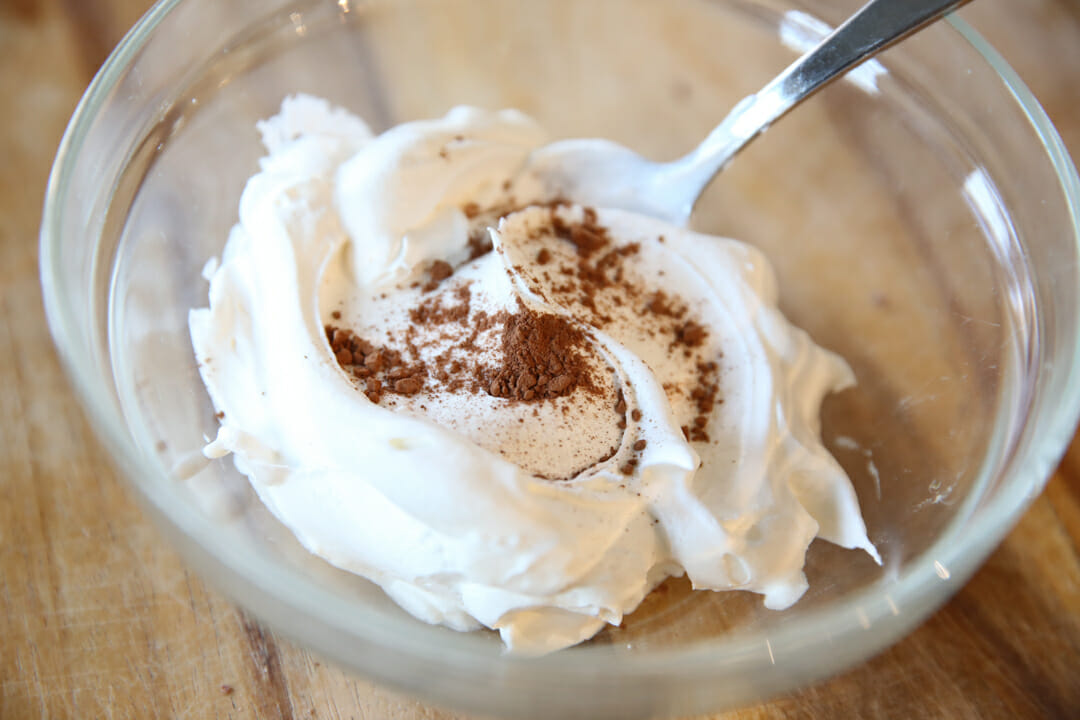 Layer a dollop of that whipped fluff with some fresh banana slices and a caramel drizzle.  The original recipe from Cooking Light includes a homemade caramel, which is amazing, but we found that jarred caramel is just as tasty when it's all together, and we could shave off a few more calories.  When it's done you have a dessert that won't break the caloric bank and would even be fitting for guests!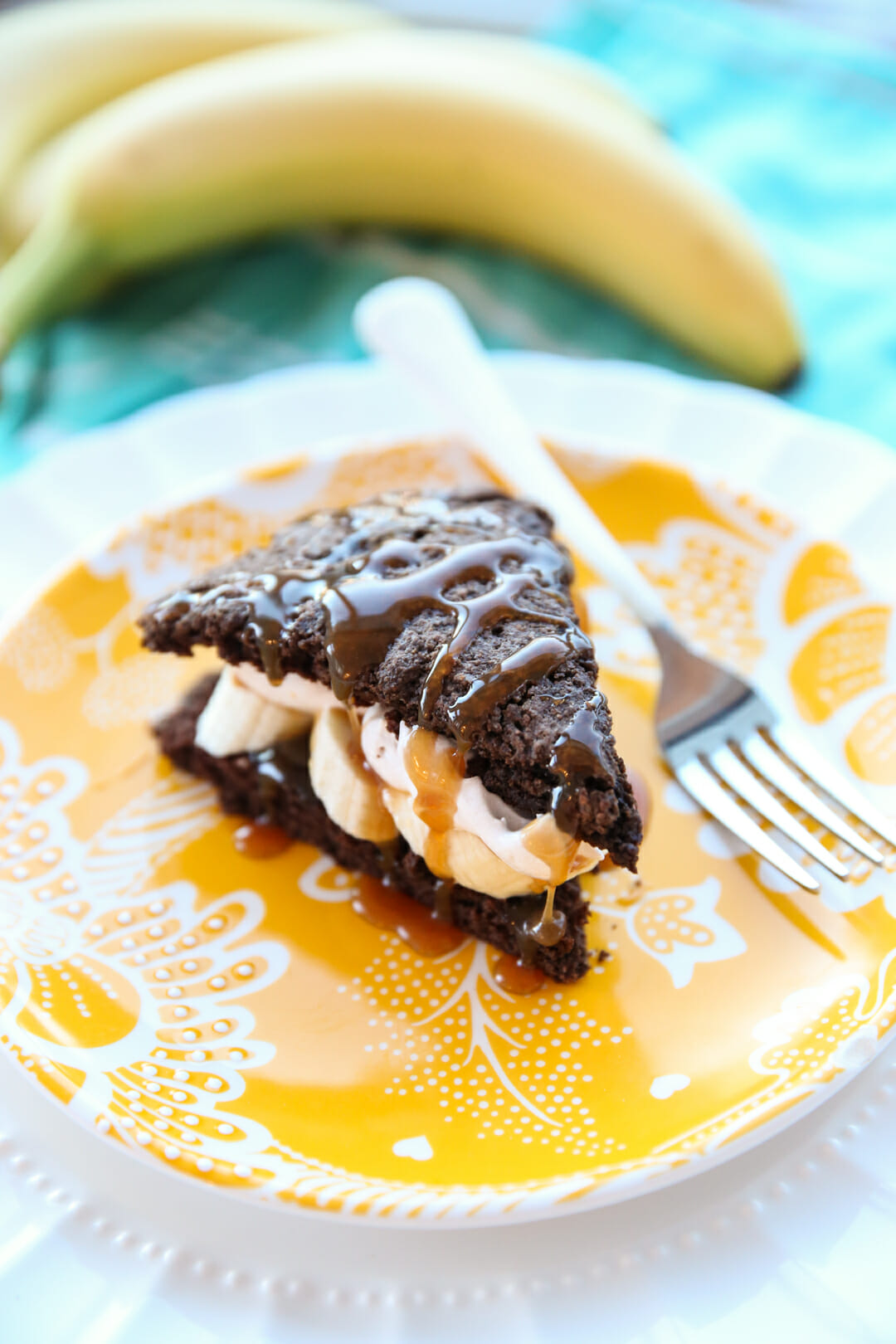 It's a great combination of textures and flavors and certainly a good one to add into the rotation this month!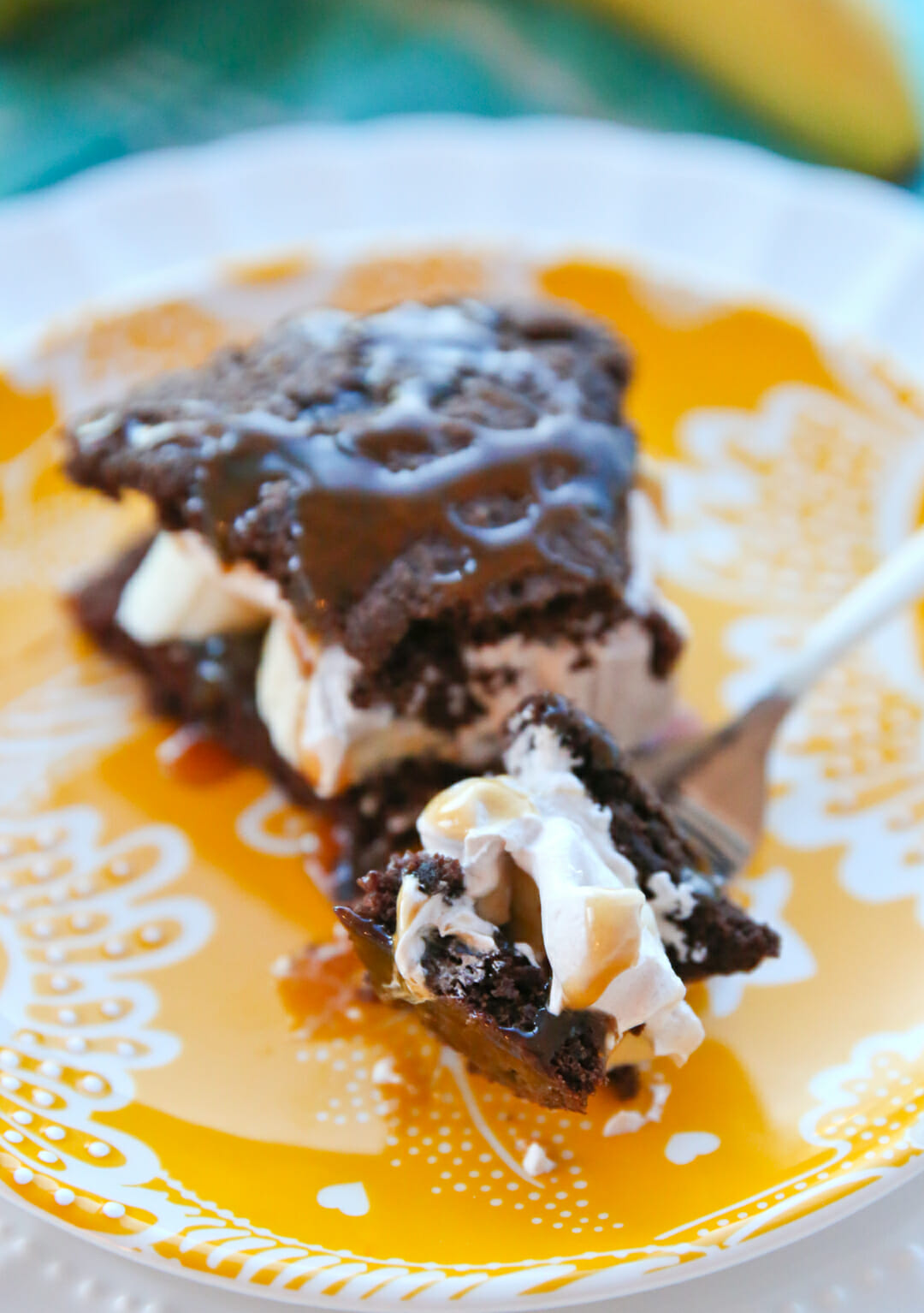 Nutritional Info
Calories: 246
Fat:8
Carb:41
Protein: 4
WW Points: 6
Print
Chocolate Shortcakes with Bananas and Caramel
---
Description
Tender chocolate shortcakes are layered with fresh bananas, fluffy whipped topping and caramel, for a decadent dessert that isn't too bad for you!
---
1 1/2 cups

all-purpose flour (about

6 3/4 ounces

)

1/2 cup

sugar

1/3 cup

unsweetened cocoa

1 teaspoon

baking soda

1/2 teaspoon

baking powder

1/4 teaspoon

salt

1/4 cup

chilled butter, cut into small pieces

1/2 cup

fat-free buttermilk
FILLING:
Fat free caramel topping

1 cup

frozen reduced-calorie whipped topping, thawed

1/4 teaspoon

unsweetened cocoa powder

2

medium bananas, peeled and cut into 1/4-inch-thick slices (about

2 cups

)
---
Instructions
Preheat oven to 375°.
To prepare the shortcakes, lightly spoon flour into dry measuring cups; level with a knife. Combine flour, sugar, unsweetened cocoa, baking soda, baking powder, and salt in a large bowl, stirring with a whisk. Cut in 1/4 cup butter with a pastry blender or 2 knives (or your hands) until mixture resembles coarse meal. Add buttermilk; stir just until moist. Knead lightly in bowl 5 to 6 times. Turn dough out onto a lightly floured surface; pat dough into an 8-inch circle on a baking sheet lined with parchment paper. Cut dough into 8 wedges, cutting into, but not through, dough.
Bake at 375° for 18 minutes or until just firm to the touch. You can poke with a toothpick to make sure wet dough doesn't come out. Avoid overcooking or they will become quite crumbly.
Remove from pan; cool on a wire rack. Place shortcake on a cutting board or work surface; cut along score lines with a serrated knife to form 8 wedges.
When ready to serve, slice cakes in half horizontally (be gentle, they'll break easily if manhandled too much) and fill with 1/4 c. sliced bananas, 2 Tbsp. whipped topping (a cookie dough scoop works great), and a little caramel sauce (about 1 teaspoon). Replace top layer of the shortcake and then drizzle with an additional caramel sauce.
---
Notes
Make sure not to overwork the dough or overbake, and cut gently to avoid breaking these tender cakes.
This recipe is very slightly adapted from the original in Cooking Light, January 2007 issue.