I've always wanted to make a great cookie with steel cut oats, but the fact that steel cut oats themselves take a good 30 minutes to cook on the stove-top made that an impossible dream.  When I learned Quaker was coming out with a new 3-minute variety, I knew immediately what I was going to do with them.  Make oatmeal.  Just kidding, cookies.  Because why start with breakfast when you can start with cookies?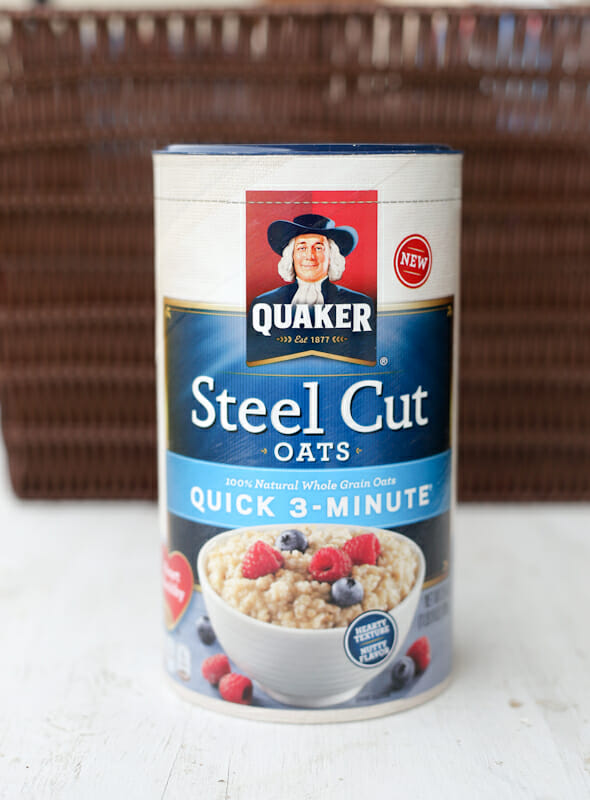 Steel Cut oats are whole oat groats that have been chopped into pieces.  They have an entirely different texture than regular old fashioned oats, and I knew they would be really great in a cookie.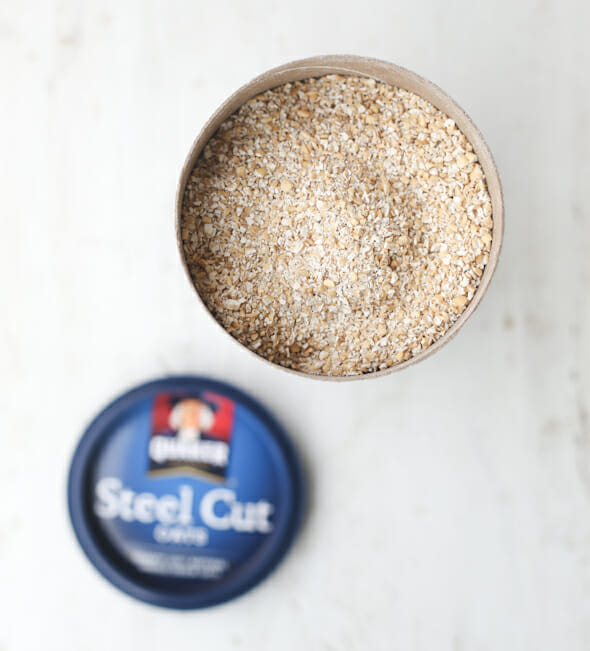 You can make this recipe with all steel cut oats, but I found I especially liked it with a combination of steel cut and old fashioned.  It's just more great texture and the old fashioned oats help give the cookies a little shape. But I've made them several times both ways, and they're super delicious with all steel cut as well.  My family was split on which version they like better.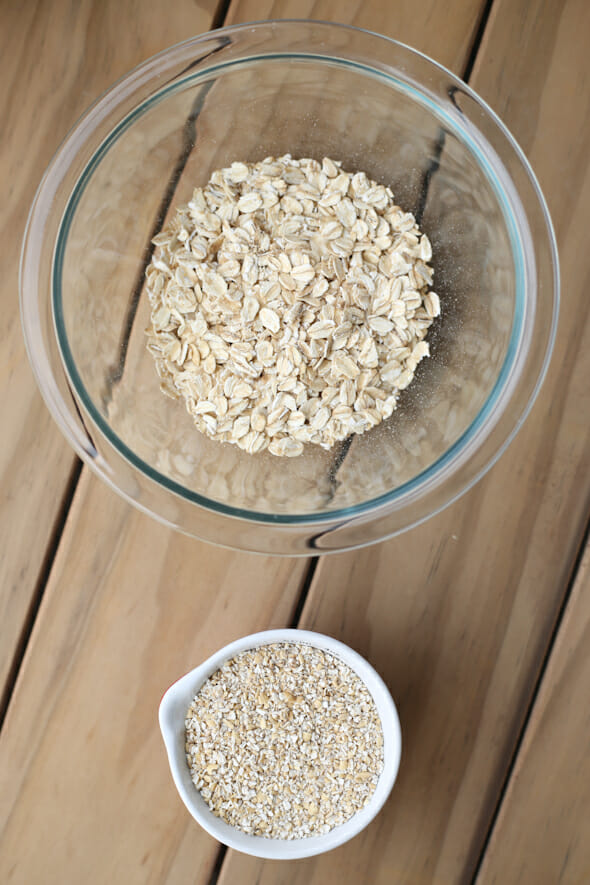 This recipe is a little different in that it uses oil instead of butter.  I prefer coconut oil here because it lends well to the mellow coconut flavor in the cookies, but you can substitute vegetable oil here as well.  See how many options I'm giving you here?  I'm all about options.  Anything that helps you all get cookies on your table.
You'll want to melt your coconut oil, since it's a solid at room temperature, and then mix it up with some dark brown sugar, regular sugar, egg, vanilla, and a little coconut extract if you have some (it's optional).
After mixing in the dry ingredients, you'll add this trio of loveliness: the oat combo, shredded coconut, and chocolate chips.
The combination of textures and flavors here are amazing.
Scoop it into balls and place on a cookie sheet.  (My go-to cookie making supplies are a cookie scoop and a silicone baking sheet.)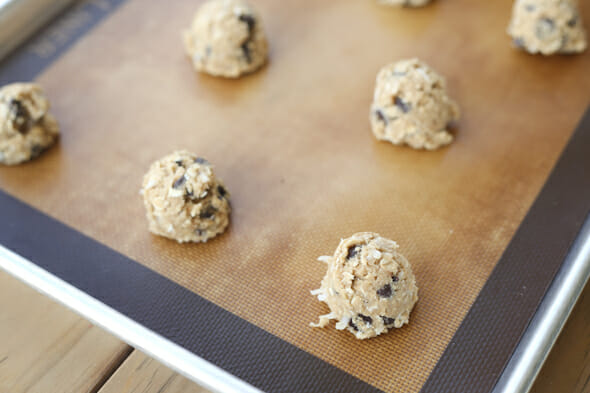 And bake them until they're just underdone.  They tend to finish cooking really nicely as the cool on the pan and you want them to stay soft and chewy.
These are awesome warm, with a glass of cold milk.  If you use coconut extract in them, you'll find that shines through when they've cooled.
Either way, these are super good cookies with soft, chewy centers and slightly crisp edges.  Perfect for some weekend baking!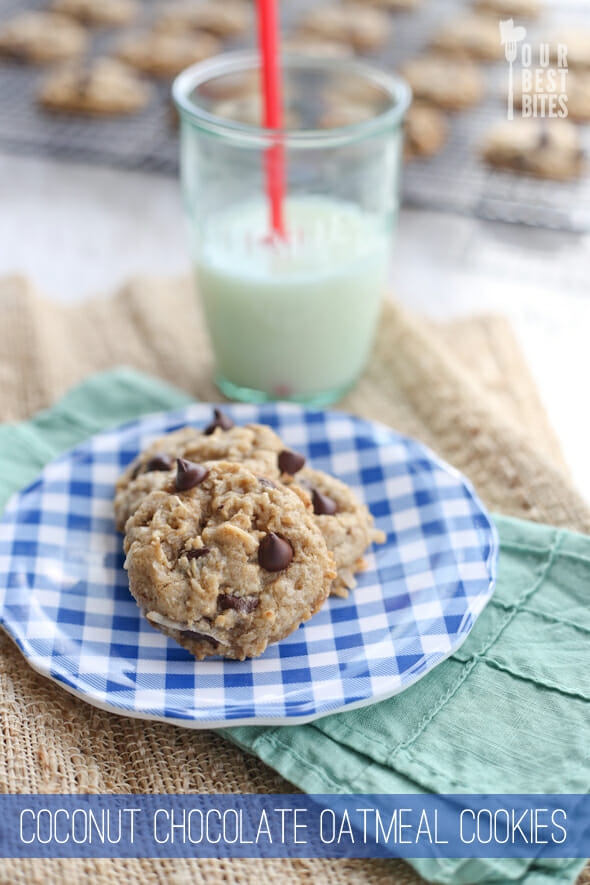 Coconut Chocolate Oatmeal Cookies
Recipe by Our Best Bites
Ingredients
1 cup flour
1/2 teaspoon baking soda
1/2 teaspoon kosher salt (if using table salt, use closer to 1/4 teaspoon)
1/2 cup dark brown sugar
1/4 cup white sugar
1 egg
1 teaspoon vanilla
1 teaspoon coconut extract (optional)
1/2 cup coconut oil, melted
1/2 cup Quaker 3-Minute Steel Cut Oats
1/2 cup old fashioned oats
1/2 cup shredded sweetened coconut flakes
3/4 cup dark or semi-sweet chocolate chips
Instructions
Preheat oven to 350 degrees.  Combine flour, baking soda and salt in a bowl and set aside.  In a mixing bowl, combine brown and white sugars, egg, vanilla, extracts, and coconut oil.  Mix until well blended and add in flour mixture.  When well combined, add in oats, coconut, and chocolate chips and mix until combined.  Use a cookie scoop to portion dough into balls and place baking sheets.  Bake for 9-11 minutes or until edges are set and centers still appear soft.  Remove from oven and let sit for 2-3 minutes before transferring cookies to a cooling rack.  Yields: 2 dozen.
If you'd like to try out Quaker's new Steel Cut Oats and score a basket full of goodies to go with it, you're in luck!  Enter with the form below and this basket, full of Oatmeal, darling ceramic measuring bowls, over-sized mugs, a retro timer, annnnd a Visa Gift Card, could be yours!