Have you guys seen caramel chips popping up in your grocery stores?  The idea intrigued me so obviously I had to try them out in cookies.  Guys- THESE COOKIES.  I originally thought about putting them in a chocolate cookie, but my husband said I should go with a classic chocolate chip base all the way and I realized that was a much better idea because I wanted something mellow enough for the flavor of the chips to come through.  I knew the perfect compliment to these would be some finely chopped toasted nuts. (If you are an "ew, nuts in cookies" person, I'm telling you- chop them fine and TOAST them and it's a total game-changer.) . The other magic ingredient is browned butter.  And lastly, I sprinkle with flaky sea salt for the ultimate sweet and salty combo.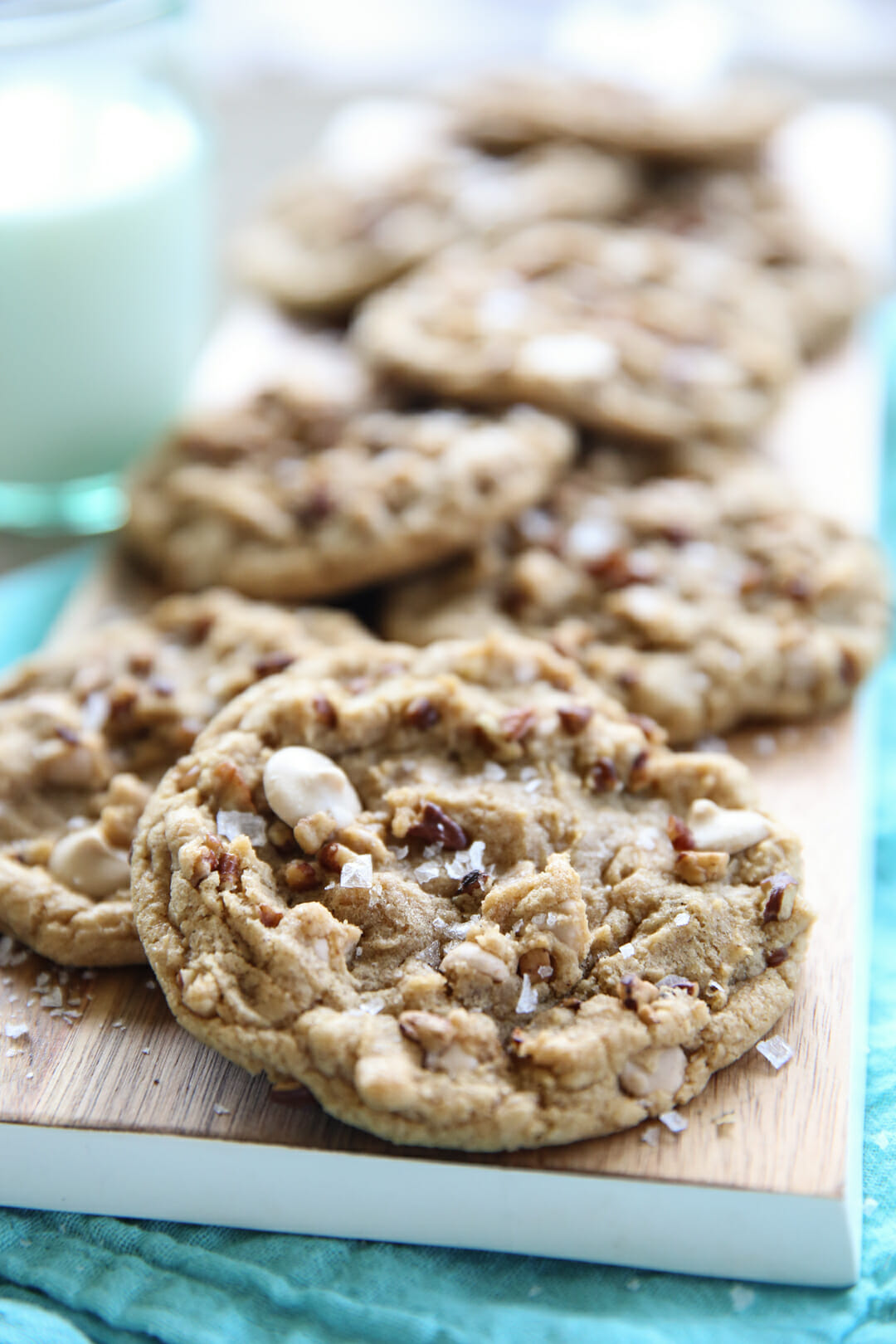 I've seen a few different brands of caramel chips and wondered how they compared so I grabbed both Hershey's and Ghirardelli to try them out.  Before I tell you what I think, let me say that I love this idea.  I think caramel flavored chips can be used in place of butterscotch chips in most recipes, so if you're like me and don't LOVE butterscotch chips, you might try these!  Normally I'm a Ghirardelli girl through and through, but I actually preferred the Hershey ones.  The Hershey's were noticeably salty, which some people may not like, but I thought they were really yummy.  The Girardelli weren't bad, but they tasted more like extra sweet white chocolate chips, not crazy caramell-y.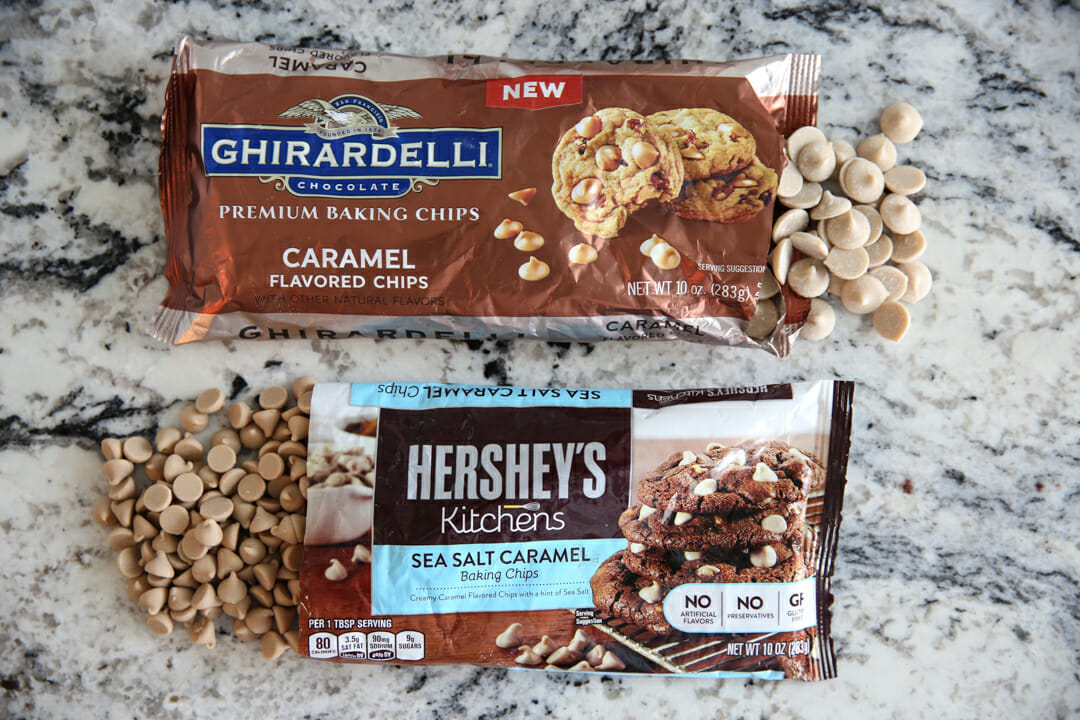 If you've never browned butter before it's super easy and SO worth it.  Basically what happens is you melt butter in a skillet and the solids separate and brown and toast in the melted butter.  It gives this amazing nutty toasted component to anything you use it in.  You can read an easy how-to by clicking here!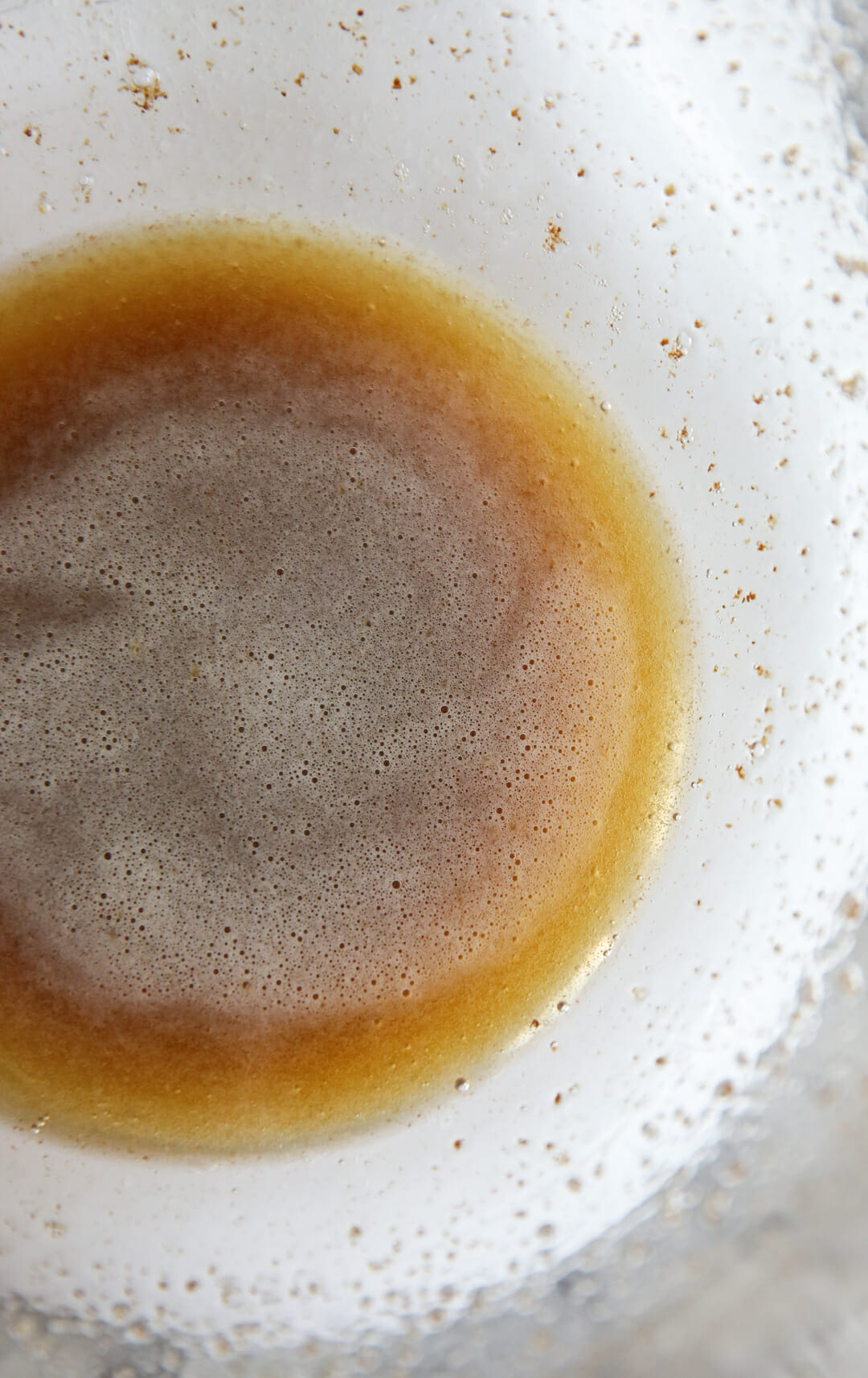 You'll mix the brown butter in with the sugars and then dry ingredients.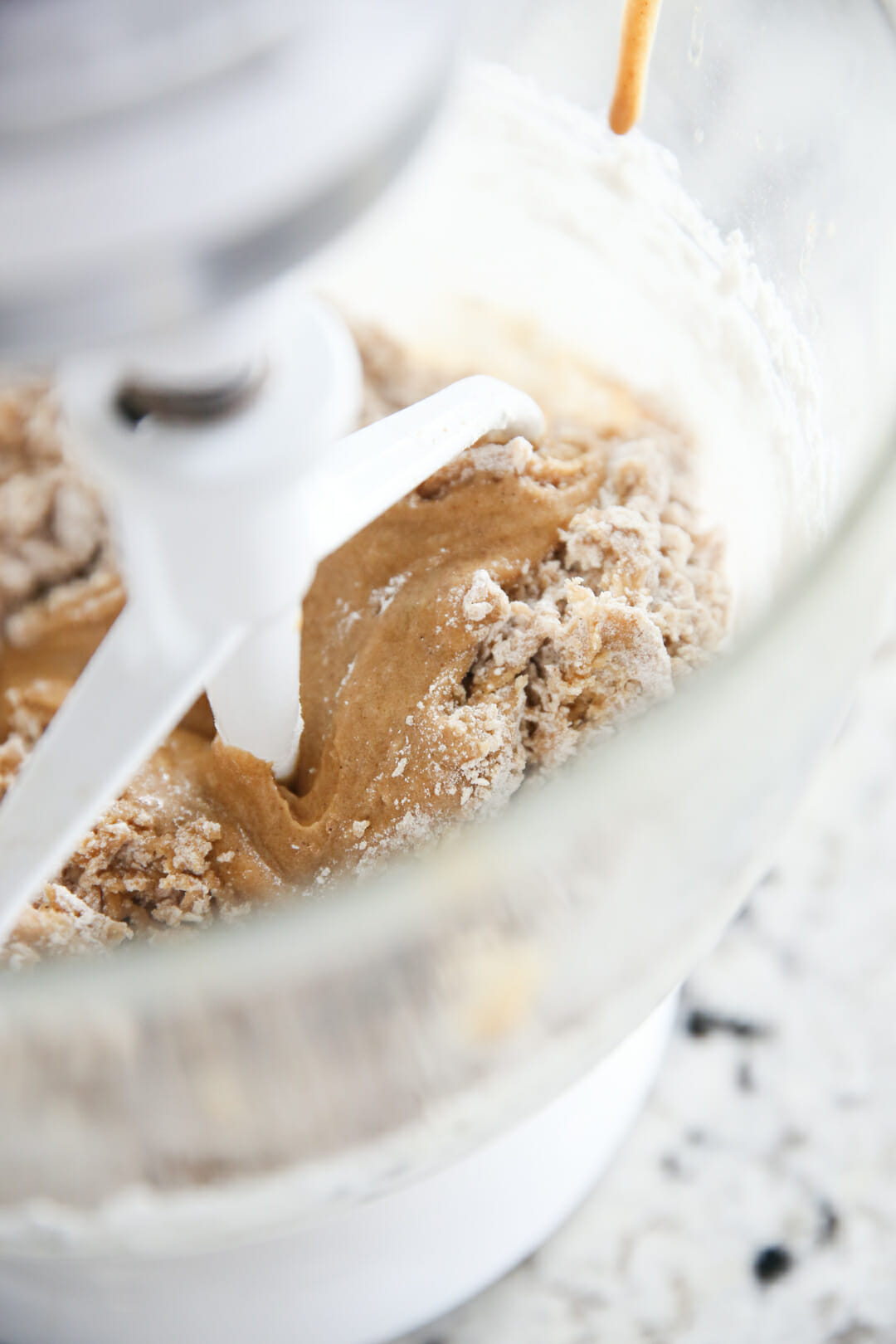 I like my nuts chopped about this fine, but it's a personal preference.  You can buy them pre-chopped like this at the grocery store.  Just place them in a dry skillet (no oil in there or anything) and toss them around until they are golden brown on the white parts of the nuts.  They'll smell divine.  Make sure to let them cool down before you put them in your dough.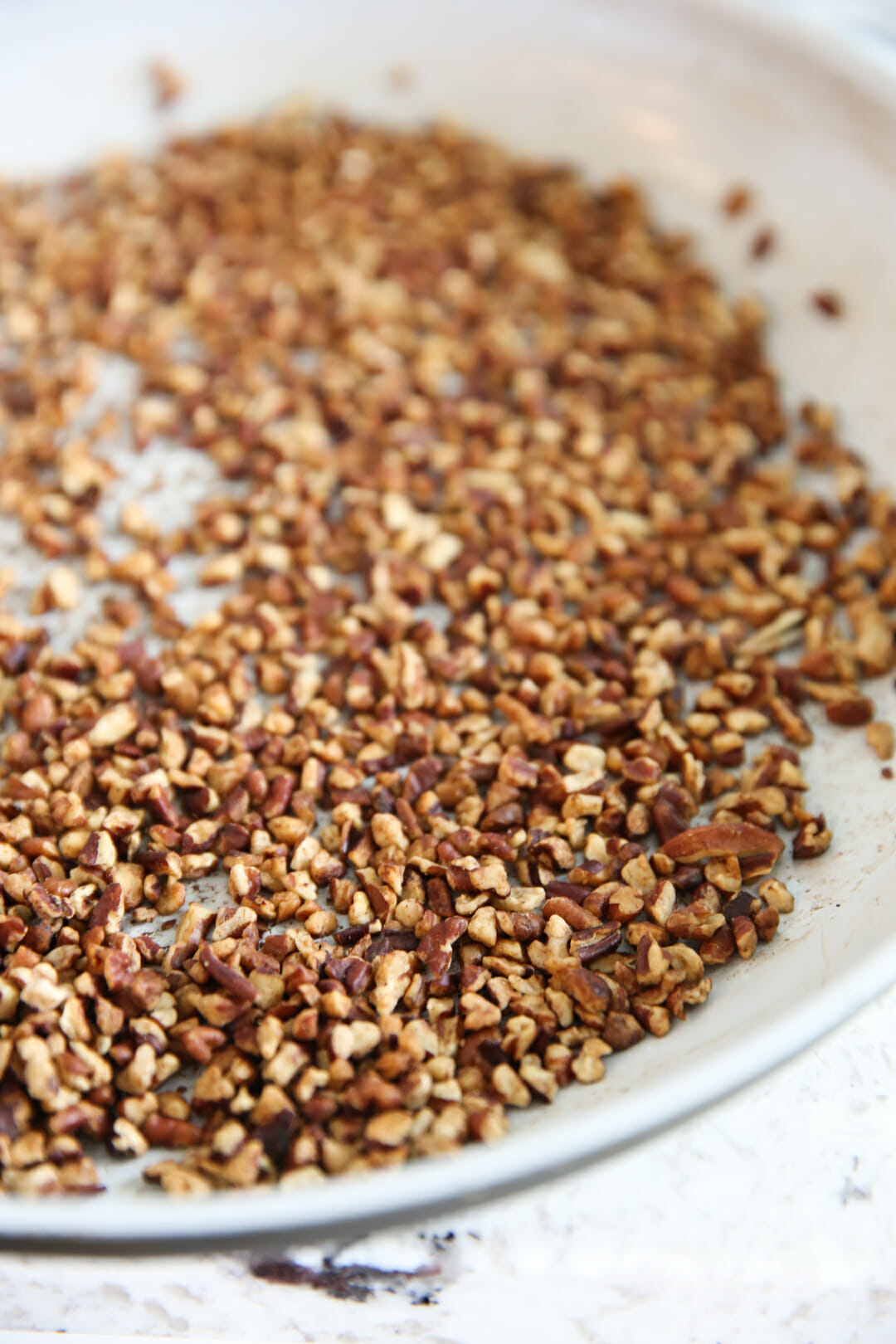 Add them in there with your chips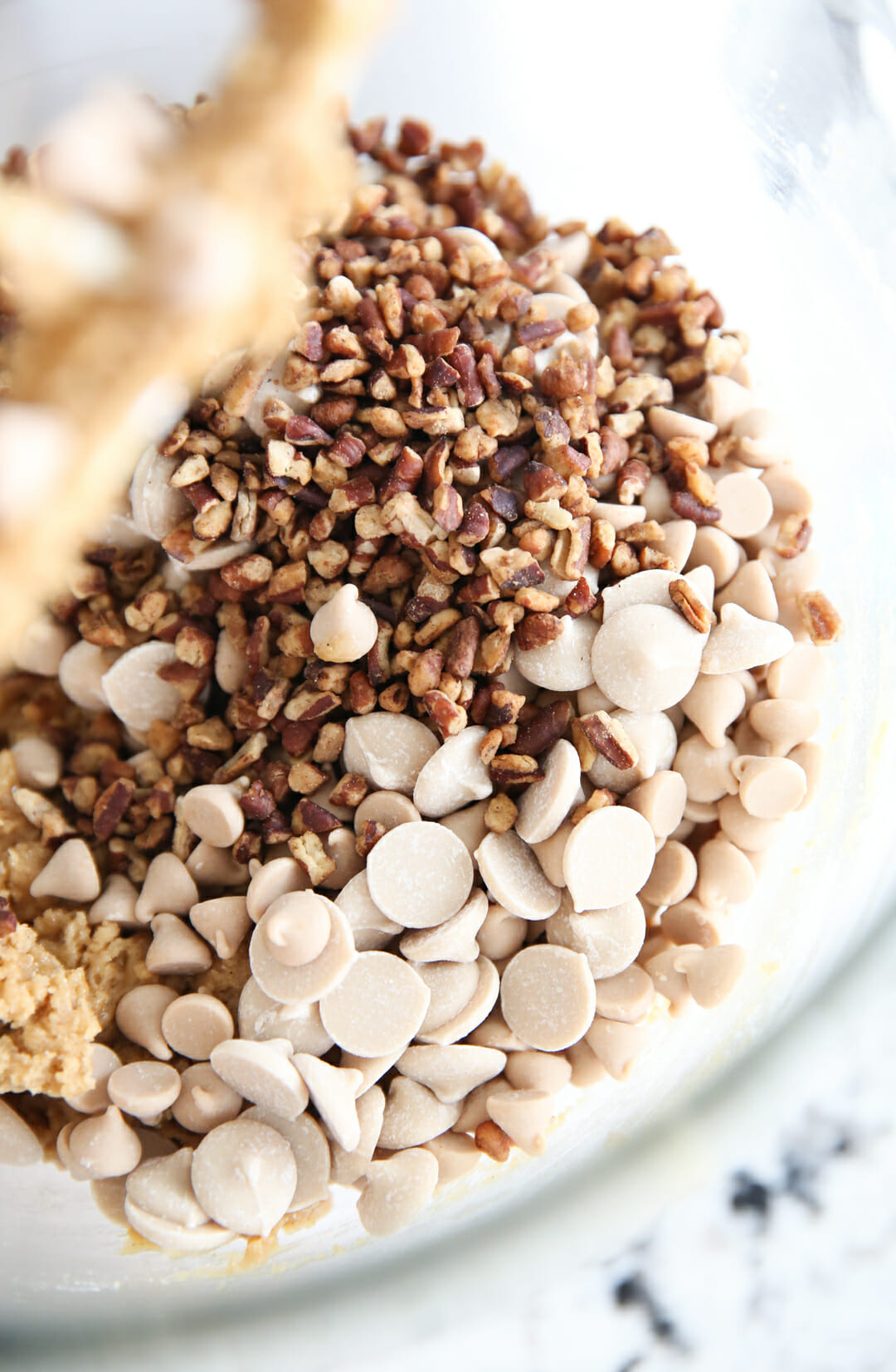 And then a little trick to getting a cook shape on your cookies is to make one large ball of dough and then break it in half and put the craggly side up.  I learned that tip from America's Test kitchen, from their best Chewy Chocolate Chip Cookie recipe this is based off of.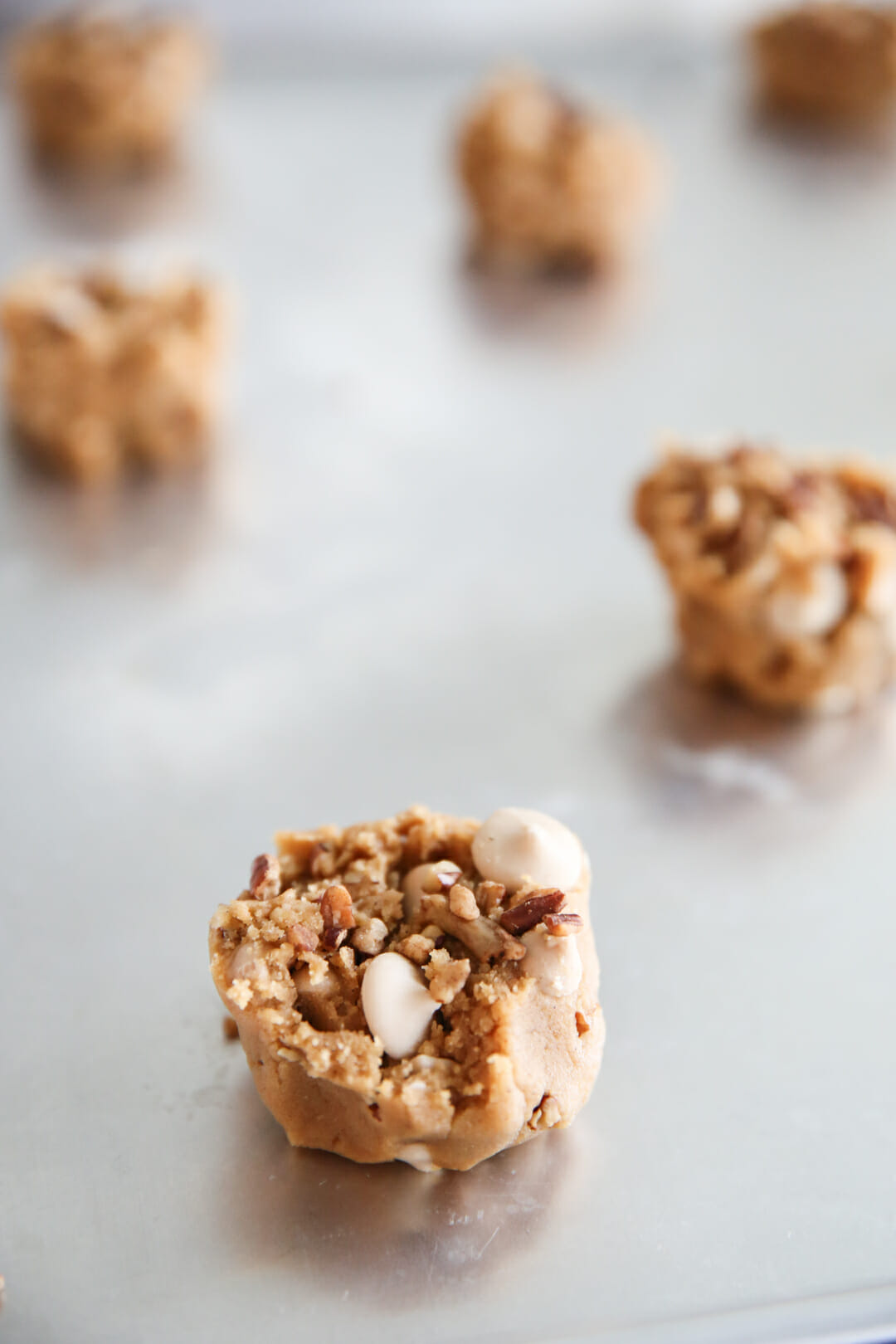 It will give the tops of your finished cookies some dimension.  I sprinkle these with a flaky sea salt right as they come out of the oven so it sticks!  Maldon is my very favorite salt for baking and I just buy it on Amazon.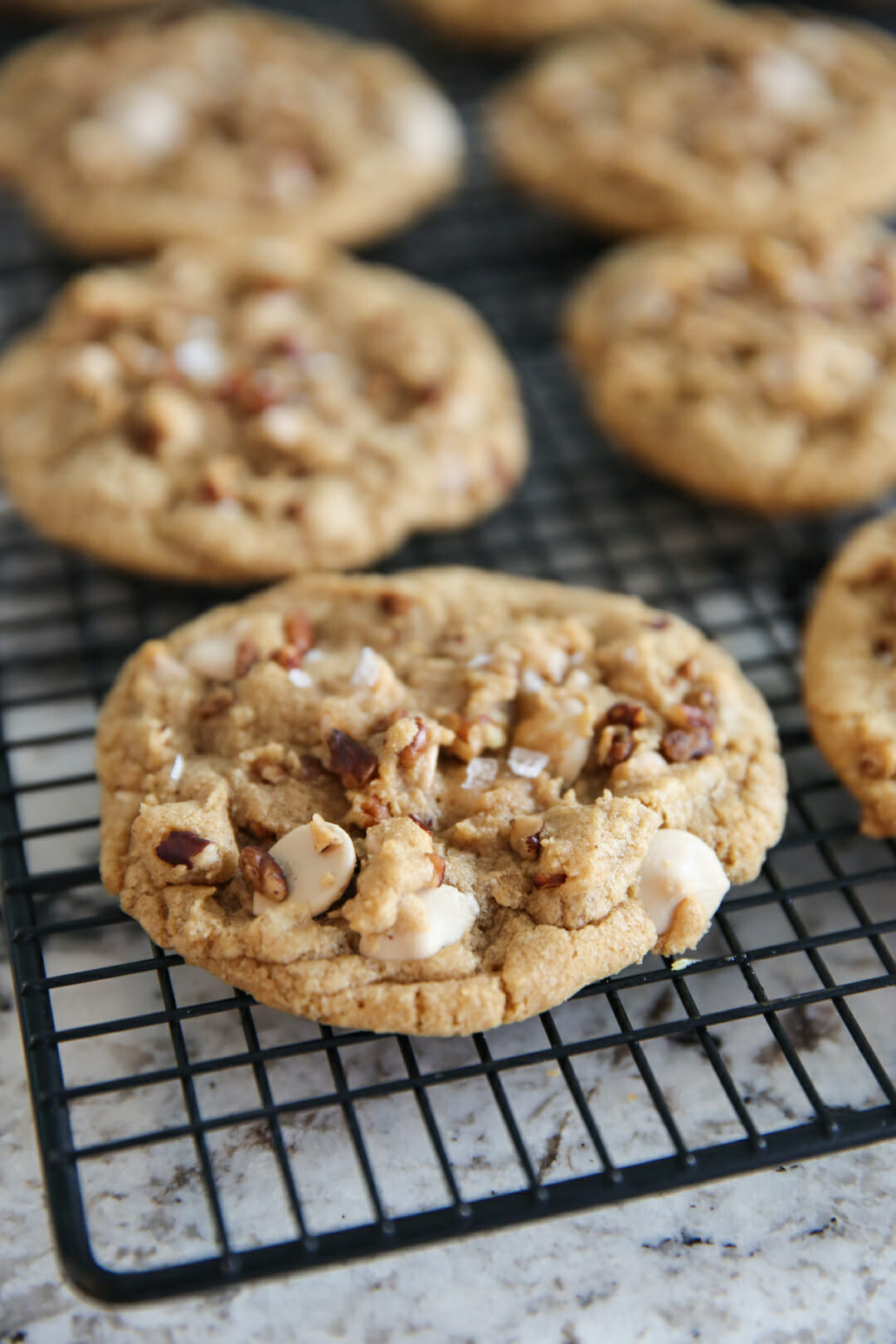 If you can't find those caramel chips, you could make this recipe with any chips you like.  They'd be good with white chocolate, butterscotch, cinnamon chips, or chocolate!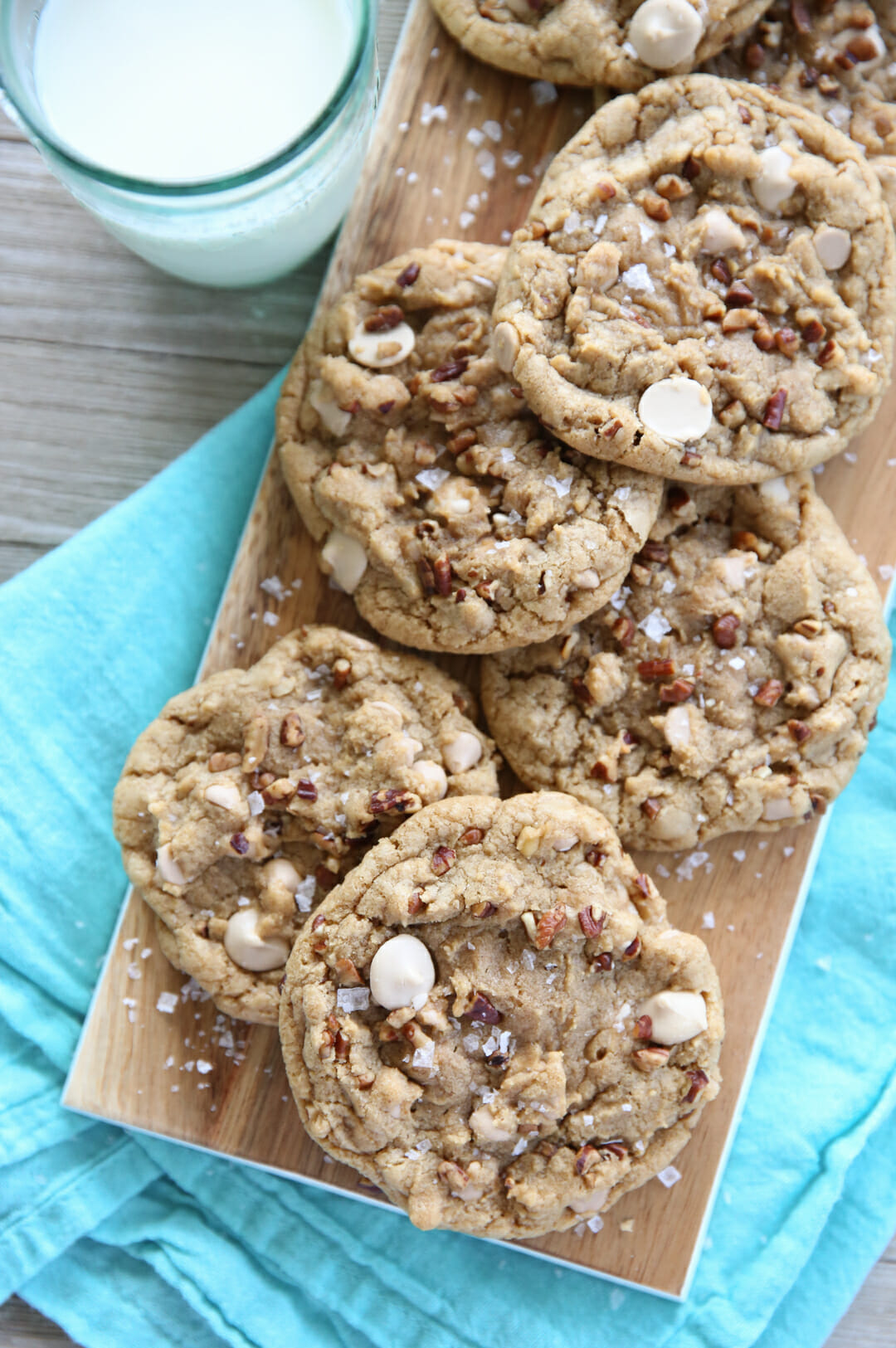 PS – New Facebook Group!
---
If you guys haven't heard, we have a fun new Facebook GROUP page where tons of people are sharing great ideas for family dinner ideas and tips for their favorite meals.  Join in if you haven't already, SO many great ideas on there!
Print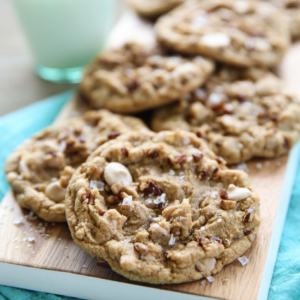 Brown Butter Salted Caramel Chip Cookies
Author:

Sara Wells

Prep Time:

15

Cook Time:

12

Total Time:

27 minutes
---
Description
The perfect combo of sweet and salty, these classic cookies are kissed with sea salt, and highlighted with brown butter, toasted pecans, and caramel chips.
---
2 cups

plus 2 tablespoons flour

1/2 teaspoon

baking soda

1/2 teaspoon

salt

12 tablespoons

butter, browned and cooled to room temp or slightly warm

1 cup

brown sugar

1/2 cup

white sugar

1

large egg plus 1 egg yolk

1 1/2 tablespoons

milk

2 teaspoons

vanilla extract

1 1/2 cups

caramel chips

1/2

–

3/4

cups chopped pecans, toasted (see note in recipe)
sea salt
---
Instructions
If you haven't browned your butter yet, start with that! Click Here and follow these instructions and then set it aside to cool.
You will also need to toast your pecans. Simply place in a dry skillet on medium heat and stir often until toasted and browned.
Heat oven to 325 degrees. Adjust oven racks to upper- and lower-middle positions. Mix flour, salt, and baking soda together in medium bowl; set aside.
Either by hand or with electric mixer, mix butter and sugars until thoroughly blended. Mix in egg, yolk, milk and vanilla.
*When measuring flour, lightly spoon flour into measuring cups and level with the back of a knife. If you scoop your flour, it will be too much. Add dry ingredients to dough. Stir in chips and nuts.
Scoop cookies onto baking sheet. Bake until cookies are set around outer edges start to firm up yet centers are still soft and puffy, 10-13 minutes (dependent on size). Sprinkle lightly with flaky sea salt right when they come out of the oven (so it sticks!) Here is a link to my favorite brand. Cool cookies on cookie sheets. Serve or store in an airtight container.
---