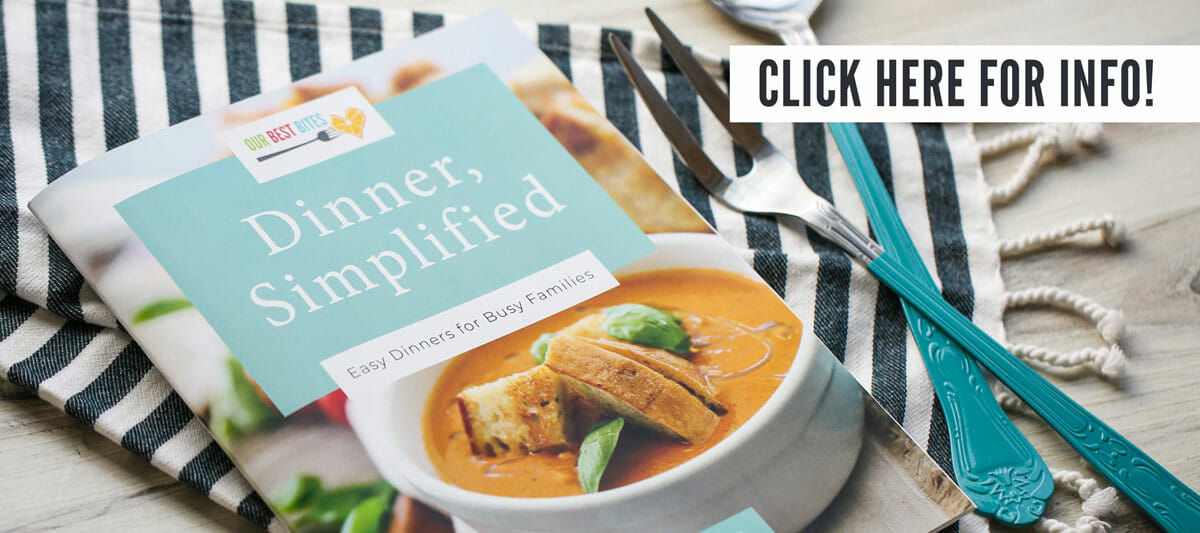 . . . . . . . . .
Small batch cookies are my jam.  This recipe makes just 8-10 perfect little cookies and it's a great project when you're craving a warm, soft cookie but not craving a giant cooking project with tons of dishes and an hour of your time.  I also love this recipe for kids!  We make this recipe almost every Sunday because they can do it mostly by themselves, it's quick and easy, and everyone gets a cookie and then we're done.  Try my Small-Batch Rainbow Celebration Cookies and definitely scroll down to read about my 2 (optional) secret ingredients that make these extra delish.
What kind of chips do you use in these Small-Batch Confetti Cookies?
You may have noticed my chips are pink and blue- my toddler and I passed by a display at the grocery store containing these new Unicorn Chips and of course he immediately reached out for them.  They're a fun, brightly colored addition to this cookie, but not at all necessary if you can't find them.  They simply taste like vanilla, so white chips would work just as well.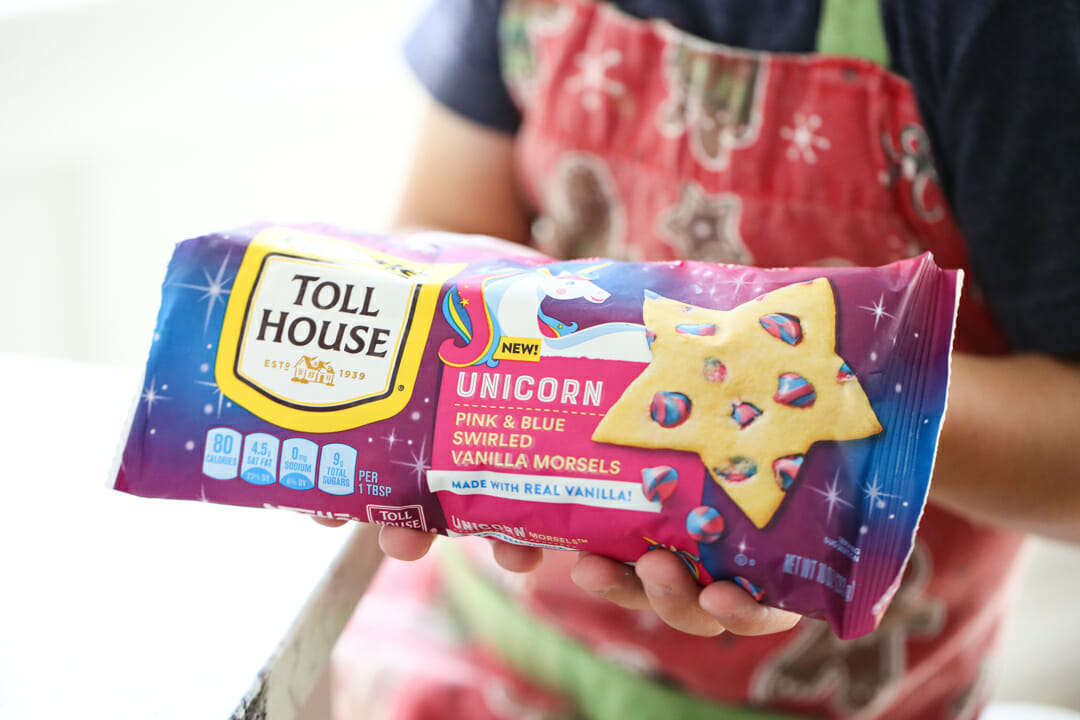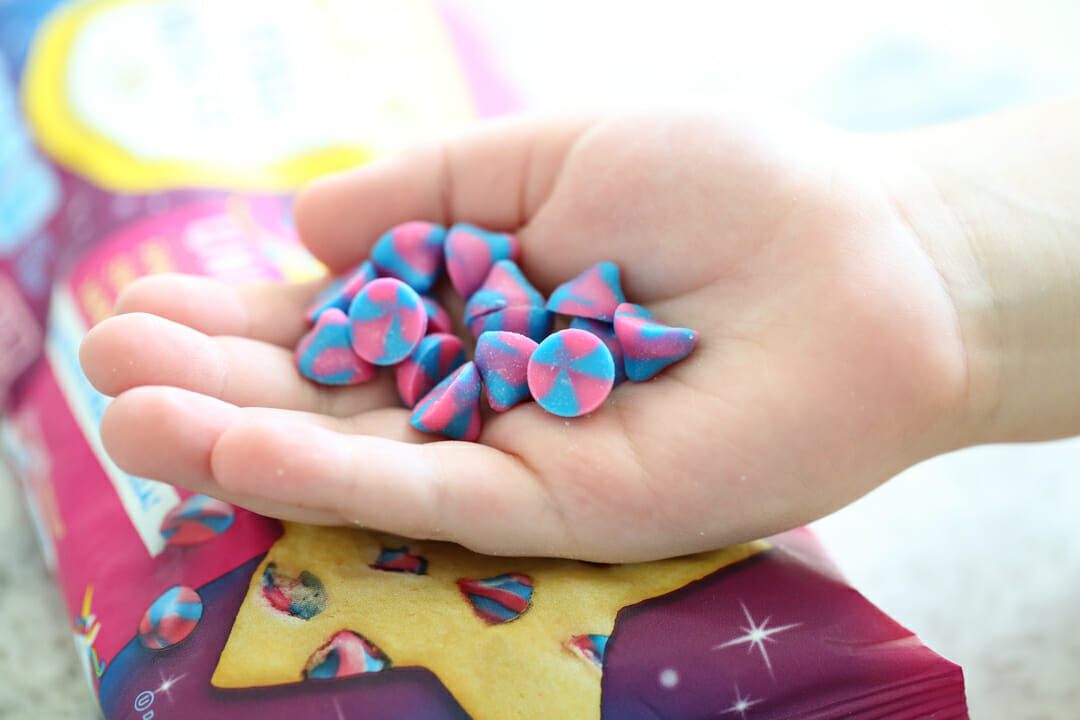 How do you make Small Batch Cookies?
My favorite thing about small-batch cookies is that it's a great project to make with kids, or for kids to make by themselves!  With a small amount of ingredients it's less daunting, and generally less messy, and it certainly takes less time.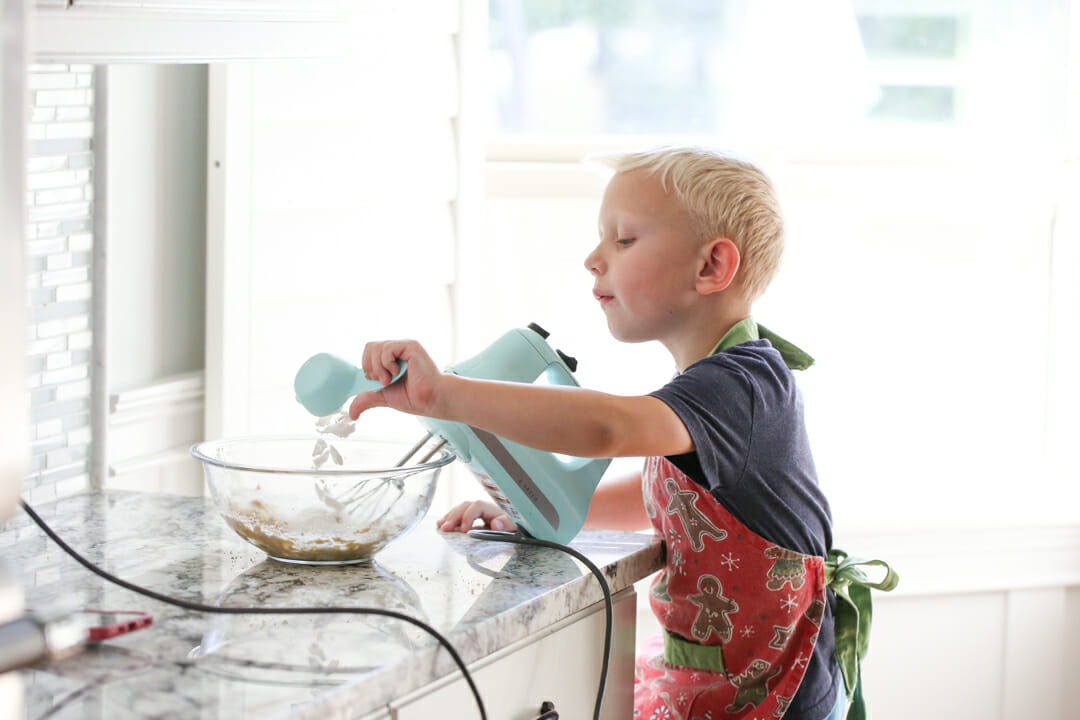 In addition to our normal cookie ingredients and the fun unicorn chips, I add a couple of extra ingredients.  First, sprinkles!  You can use any color combination you like, but I do suggest using this style pictured and not the little round balls.  The little round style tends to melt and make messy cookies and also add an awkward crunch.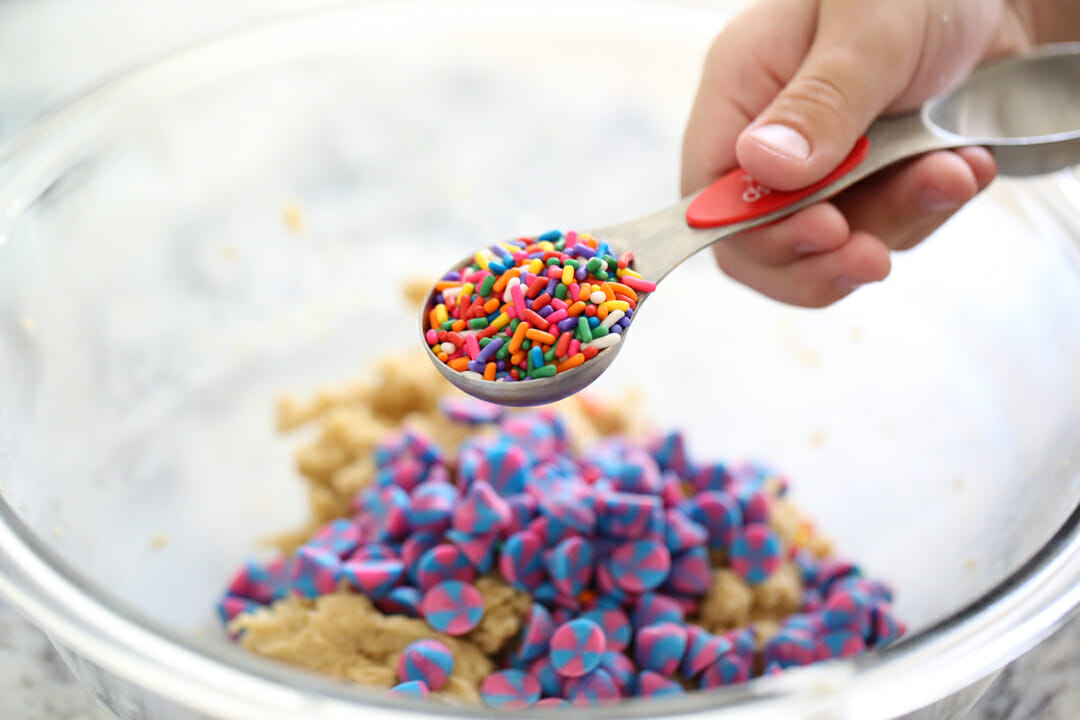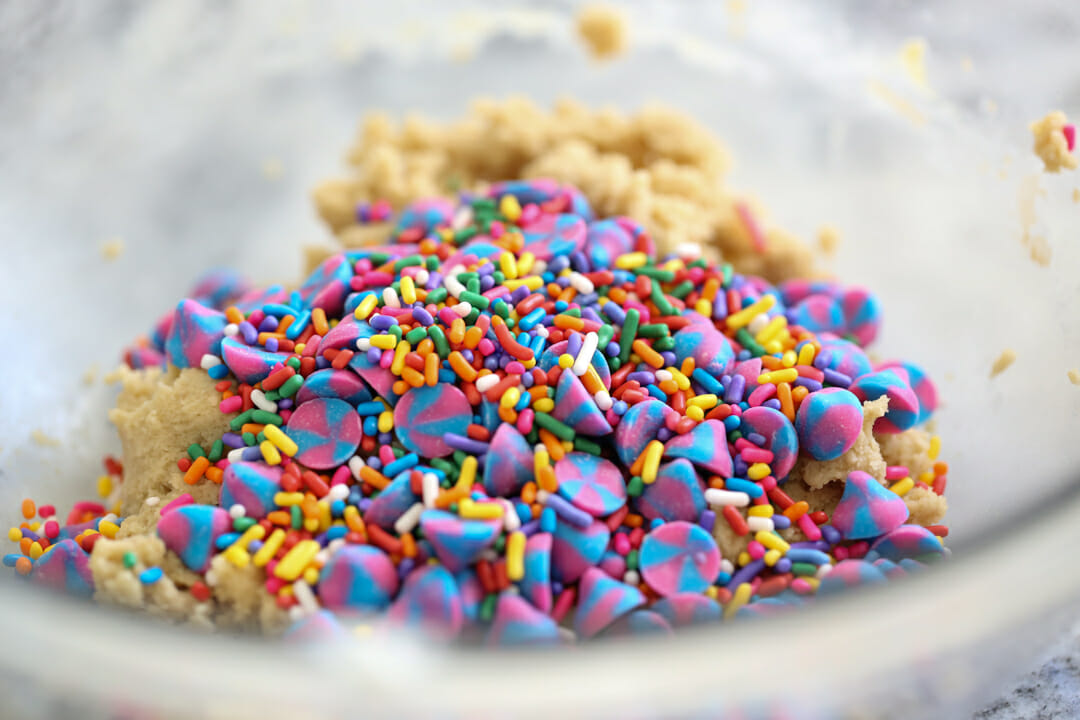 Any Secret Ingredients?
The second little secret ingredient is also not necessary, but I've shared this before so if you've purchased some, this is another use for it!  I keep Cake Batter flavoring on hand.  I love adding it to frostings, cookies, and other baked goods. It's my secret ingredient I add to Rice Krispie treats as well,  and I've found it gives it just a little bit of that extra flavor people can't put their finger on.  My kids always say it makes things taste like they came from a bakery.  This particular one is "super strength" so a little really goes a long way.  If you don't have this (most people don't) don't sweat it!  Vanilla extract is great here. If you'd like to try Cake Batter Flavoring, I love LorAnn Oils.  I usually order directly from their website.  If you've got a well-stocked cooking store in your area, they often sell them as well. You can find some of their oils on Amazon, but Cake Batter doesn't have a great prime listing there.  I did however notice this McCormick version, which I've never tried, but it has great reviews!  Just a little something for you guys to try.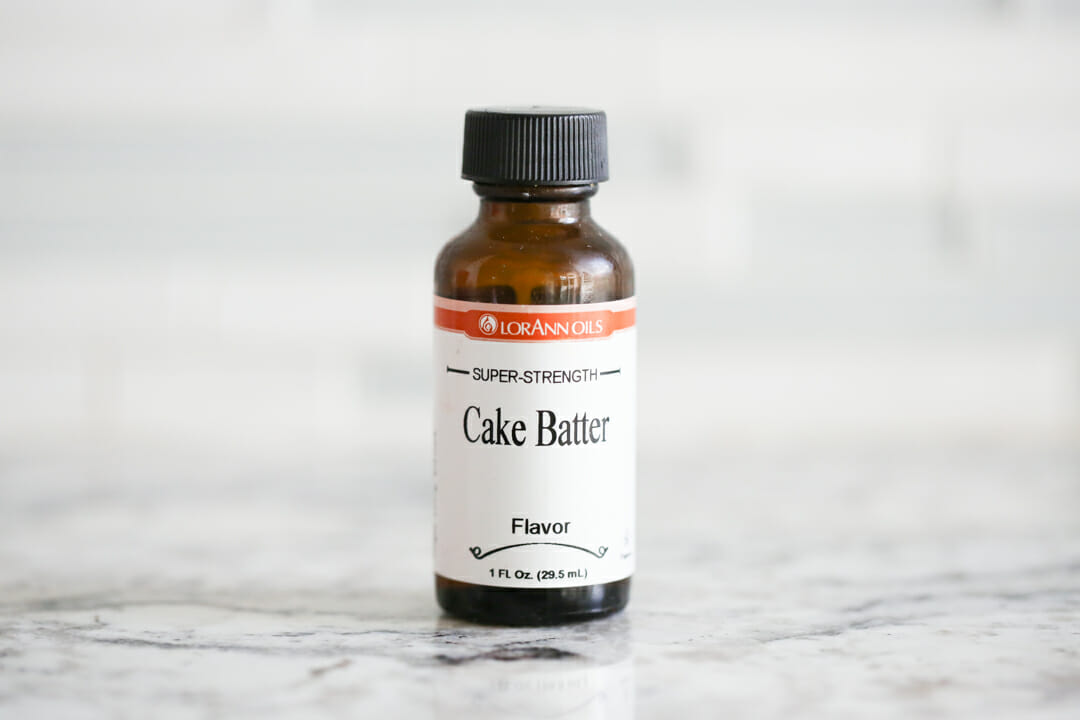 A Food Photographer Tip for Gorgeous Cookies
Here's a little tip from a food photographer (me!).  To get picture-perfect cookies, after your cookies are on your baking sheet, and before they bake, add a few extra chips (and any other add-ins from your recipe) on the top.  In this case I just dunked the tops in sprinkles and pressed in a few chips.  You certainly don't have to do this, but if you're gifting or serving to someone else and want them to look extra perfect, it's a handy little tip!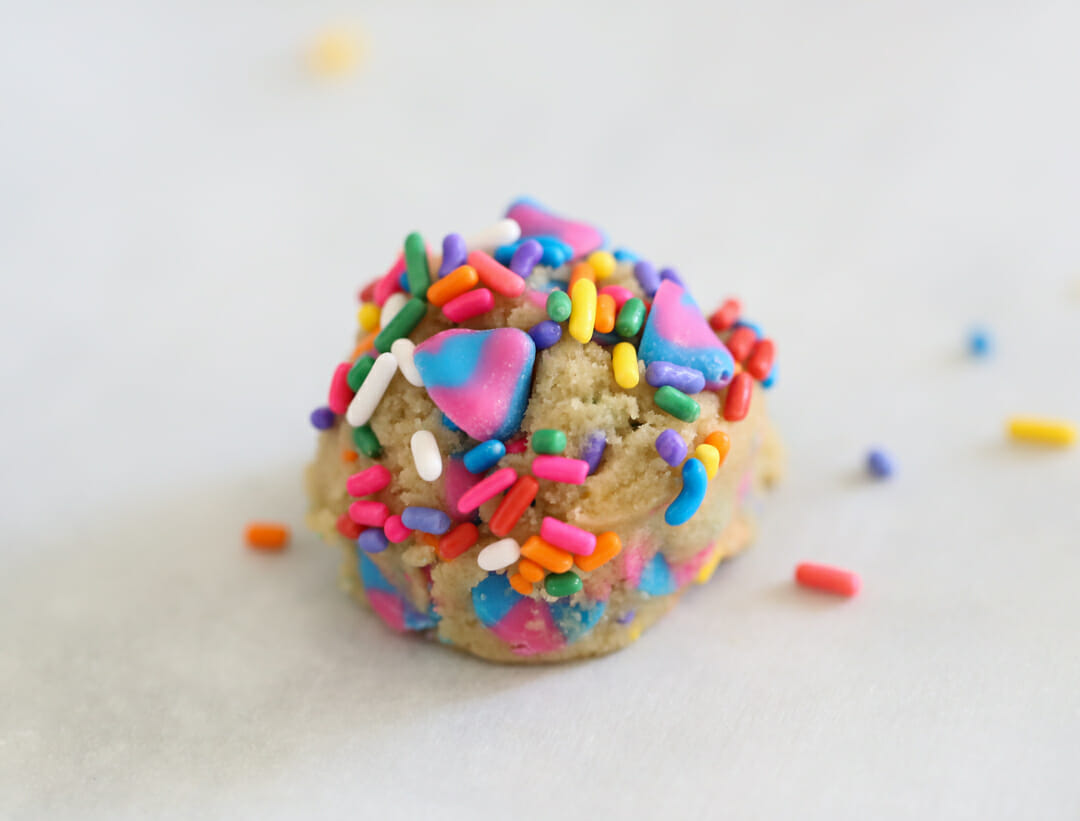 How many cookies does this small-batch make?
This recipe makes 8-10 small cookies or 4 jumbo cookies!  They are slightly crisp on the outside and chewy-soft in the middle.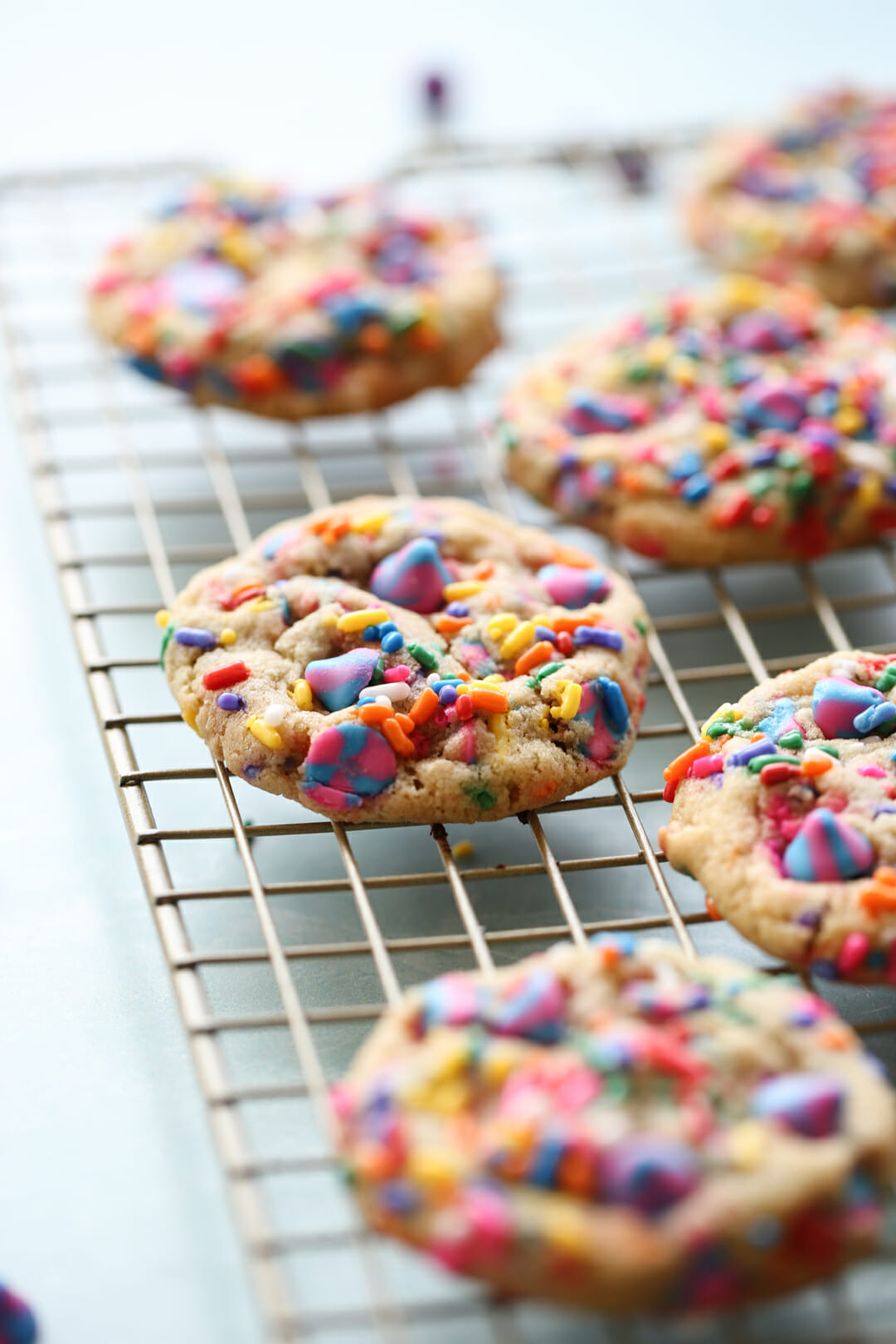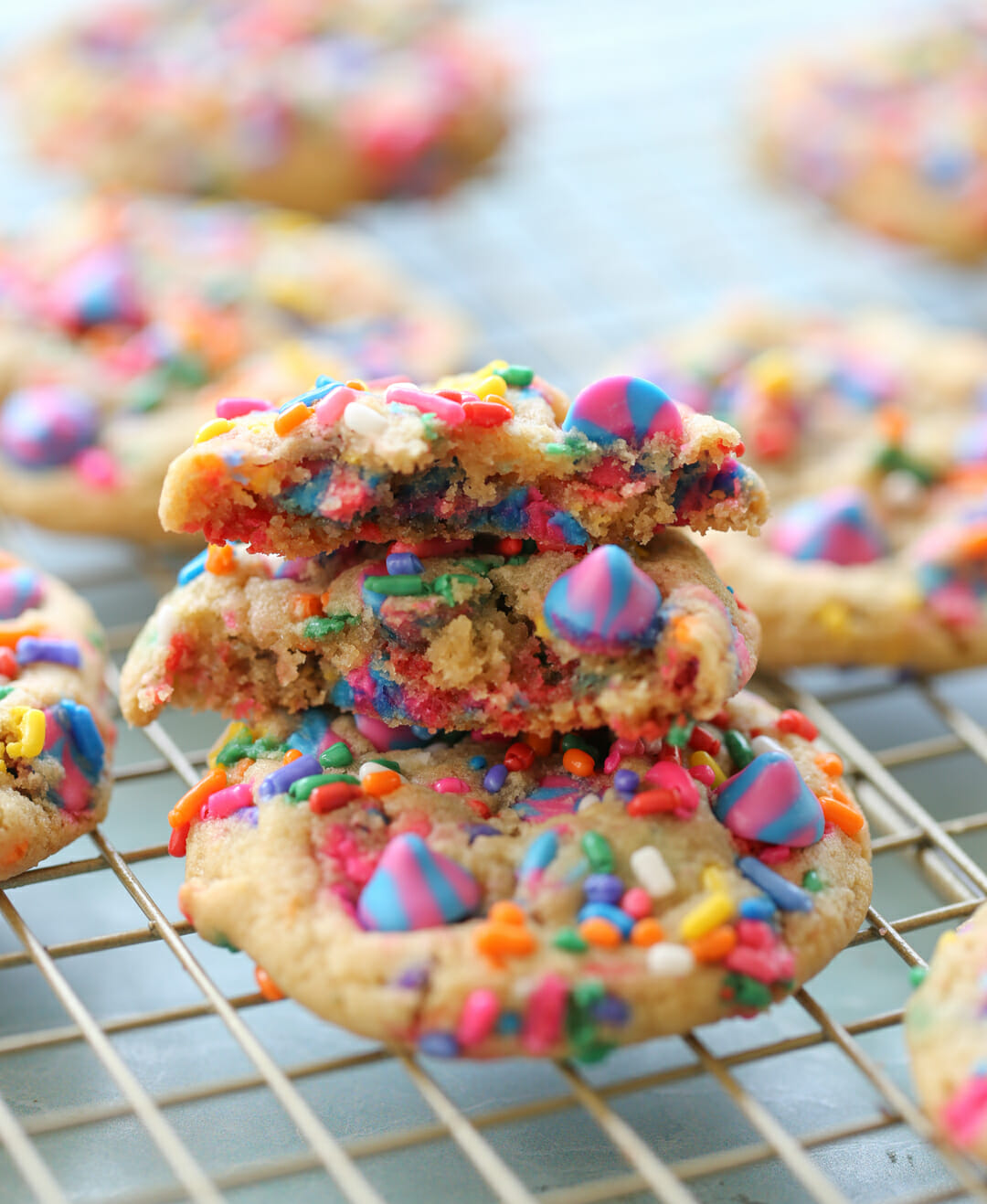 Want to try more small batch cookies?  
Small Batch Chocolate Peppermint Bark Cookies
Small Batch Chocolate Chip Cookies 
Print
Small Batch Rainbow Confetti Cookies
---
Description
This small-batch recipe makes 8-10 perfect cookies bursting with color and fun!
---
3 tablespoons real butter, softened to the point of almost melted
1/4 cup lightly packed brown sugar
1 tablespoon granulated sugar
1 large egg yolk (discard or save white for another use)
1/2 teaspoon vanilla extract
1/8–1/4 teaspoon cake batter flavoring (optional)
1/2 cup plus 1 tablespoon flour
1/8 teaspoon baking soda
1 pinch salt
1/2 cup unicorn, rainbow, or white chocolate chips
2 tablespoons rainbow sprinkles
---
Instructions
Preheat oven to 350 degrees. Line a baking sheet with parchment or non-stick mat.
Place butter in a small-medium sized mixing bowl and microwave for about 8-10 seconds. It should be soft enough to mix easily with a spoon, even semi-melted to completely melted is okay. Add sugar and beat with a rubber spatula or wooden spoon till fluffy. Add in egg yolk and vanilla, and cake batter flavor if using, and mix well until fully incorporated. Add flour, baking soda, and salt all at once and mix until all combined. Add your chips and sprinkles and mix.
Use a cookie scoop, or roll into balls. Bake for about 9-10 minutes. Cool for 1-2 minutes on baking sheet and then transfer to cooking rack.
---