A few years ago (well, more than a few, because it was before my husband and I had kids and before my parents sold their house and became the youngest, most active, and most rule-defying residents of a retirement community), my husband and I spent the weekend with my parents. My step-mom, delighted at the idea of company, made us a pie. And it was a reaaaaaaally good pie. It was a pear pie, but instead of being kind of like an apple pie only pears, it also had a smooth, creamy, sweet, spiced filling. I have been asking for that pie recipe for…I don't know…I'm guessing 8 years now. It is met with, "Oh, as soon as I get home!" and "Let me see if I can find it!" and "Pear pie? What pear pie? I've never made a pear pie in my life!" Liars. They just don't want me to have the recipe. So alas, using my memory as my inspiration, I tried to make my own creamy pear pie and I'm pretty sure I succeeded. I'll also tell you right now that pears are awesome and way under-utilized and under-appreciated in pie.
For this pie, you'll need a double pie crust , about 1 1/2 pounds of ripe (but not too ripe) pears, a 14-oz can of sweetened condensed milk, some cream cheese (live on the edge and get full-fat cream cheese for this recipe) vanilla, cinnamon, ginger, a little flour, and a little bit of milk.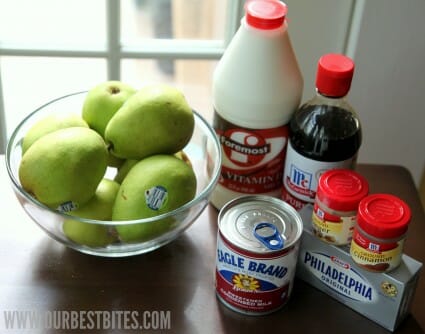 Preheat the oven to 450.
Normally for this kind of stuff, I use my Apple Corer Peeler, but because pears are so, well, pear-shaped, I ran into some trouble and discovered this little wonder in my drawer of kitchen tools called a vegetable peeler. It worked like a charm (even if I did have to core and slice the apples myself. Who knew life could be so hard?)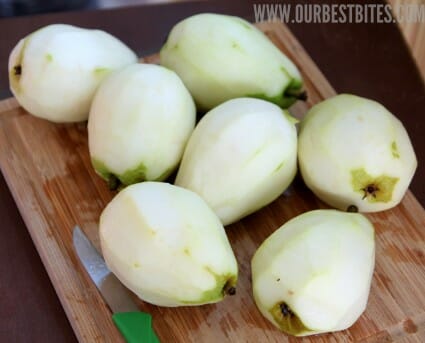 So what I'm getting at here, what I'm telling you to do, is go peel and slice your pears. I'm feeling very verbose tonight. Then gently toss them in about 1 tablespoon of flour.
Roll out the bottom of your dough and then arrange your pears inside the crust. In the jar of your blender, combine the sweetened condensed milk, milk, cream cheese, cinnamon, and ginger until it's nice and smooth. Pour it evenly over your pears and then roll out the other piece of pie crust dough and form whatever "lid" you want for your pie (I almost always make a lattice crust on top–check out the pie crust recipe for directions on how to make a lattice top).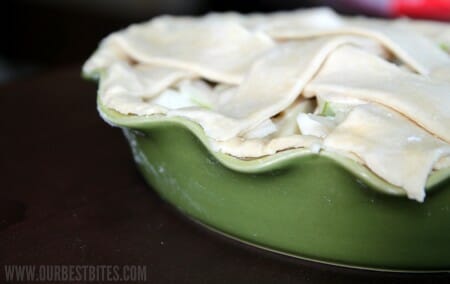 Brush the crust with butter and sprinkle with sugar and cinnamon (if you want–I'm not forcing you to do anything you don't want to do here, but if you don't want butter and cinnamon sugar on your pie, I'm not sure we can be friends). Place the pie in the preheated oven and bake for 15 minutes at 450. Reduce the heat to 350 and bake for another 30 minutes or so or until the top is golden brown and the inside is thickened but not completely solid/Jello-y. DISCLAIMER: Remember that all ovens bake differently? Keep an eye on your pie. I have a gas oven and it does weird things, so if your pie is golden brown and beautiful after 20 minutes, take it out. If it's not done after 35 minutes, keep on baking. It will all be okay. You can blame it on my oven, but don't send me owl post saying I'm dumb because your pie wasn't done after 30 minutes.
When your pie is done, let it cool completely on the counter and then refrigerate it. I like it served cold, but others may like it warm. I will not judge you or your pie preferences, I promise.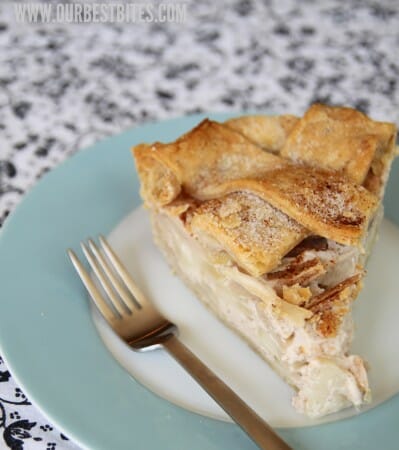 Creamy Pear Pie
Recipe by Our Best Bites
Ingredients:
1 double pie crust
About 1 1/2 lb. firm (not too ripe, not too green) pears, peeled and sliced
1 tablespoon all-purpose flour
1 14-oz. can sweetened condensed milk
3 oz. cream cheese (from a block, not from a tub)
2 tablespoons milk
1 teaspoon vanilla extract
1 teaspoon ground cinnamon
1/2 teaspoon ground ginger
Topping
1 tablespoon butter, melted
1 tablespoon sugar
1/8 teaspoon ground cinnamon
Instructions:
Preheat oven to 450.
Roll the bottom of the pie crust into the pie plate.
Toss the sliced pears in the flour. Arrange them evenly over the pie crust in the pie plate. Set aside.
In the jar of a blender, combine the sweetened condensed milk, milk, vanilla, cinnamon, ginger, and cream cheese. Blend until smooth. Pour evenly over the pear mixture. Use the remaining pie crust to form the top of the pie (we like to make a lattice top crust). Brush with melted butter and sprinkle with sugar and cinnamon.
Bake at 450 for 15 minutes, then reduce the heat to 350 and bake for another 30 minutes or until the crust is golden brown and the creamy mixture has thickened but not solidified. Remove from oven and cool to room temperature. This pie can be served warm or cold, preferably with ice cream or sweetened whipped cream.