First of all, we have some kind of exciting news that has just kind of slipped under the radar. Check this out:
Yep, Sara and I are now officially calendar girls. I wish it were more scandalous than 12 brand-new recipes that we're really, really proud of, but alas, it's not. It is officially released today and you can find it here or here (and probably other places, but I can't tell you where those places might be…)
So yeah, guess who still doesn't have a kitchen? Me! It brings me more happiness than I can possibly describe. I have eaten a lot of fast food. Like to the point where the thought of one more drive-thru makes me sick. I am having literal fantasies of Tortellini Sausage Soup and Breadsticks–we're hoping to have our appliances installed by Saturday night and it is already scheduled as the very first meal cooked in our new kitchen. Not a 100% finished kitchen, but at least functional, which is all I care about right now.
We're close enough to being done with our kitchen (and now dining room) remodel that if I showed you pictures now, it would make the grand unveiling less dramatic (although the term "grand unveiling" is pretty dramatic in and of itself). But remember the red wall that's been the backdrop of so many of my pictures? Here's a little sneakity peak of what's been going on in my dining room:
And yes, those would be the ingredients for today's recipe (nice segue, right?) I found myself in quite a pickle leading up to this post because while my kitchen was semi-functional earlier this week (access to some dishes, my countertops, a toaster oven, a tomato knife, a microwave, and the non-disposal side of my sink), my husband is slowly setting the tile floor, so my options became drastically more limited. So I thought, "Hey, let's do a craft!" Which quickly turned into, "Hey, the dog chewed up my Silhouette vinyl!" So I needed to find a recipe that involved very few kitchen tools, no cooking, minimal clean-up, and no usage of large mixing bowls. It could, however, involve my washer and dryer because those bad boys are hooked up.
What does that leave us with? 7-Layer Dip. Just in time for football season. I know, you're saying, "Who needs a recipe for  7-layer dip?!" We-ell, first of all, this isn't your grandma's 7-Layer Dip, it's more like 8 1/2-Layer Dip with a Twist of Lime, but that wasn't super catchy.
Start by spreading a 28-oz. can of refried beans into a large serving plate or a 9×13″ baking dish.
You can add the rest of the ingredients in whatever order speaks to you the most, but after the beans, I added a layer of guacamole.
It kind of looks like a sad pie, right? This time around, I used store-bought guacamole because of the no-mixing stipulation, but if you want to make your own, click here for our favorite recipe.
Then, instead of tomatoes, I added a layer of pico de gallo. This is where things start to get wild–I think the garlic lime-iness of the pico makes this dip pop just a little bit more.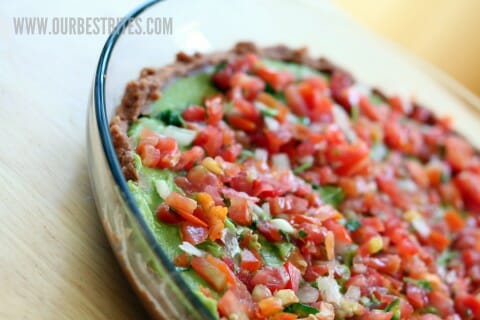 Then I mixed a packet of taco seasoning with 16 ounces of sour cream (light sour cream is completely fine)
and spread it over the tomatoes.
Then I added  about 2 bunches of chopped green onions…
and a large can of olives, chopped.
Then I added a sprinkling of cilantro
and I squeezed the juice of a whole lime over everything. Then I added shredded sharp cheddar cheese and some crumbled queso fresco (or cotija cheese) on top of everything. I pondered how hard it is to take a decent pictures of 8 1/2-Layer Dip with a Twist of Lime Doctored Up 7-Layer Dip. Took a chip and scooped up some of the dip and pondered some more (and, consequently, the dip became harder and harder to photograph. Oops.)
Doctored-Up 7-Layer Dip
Recipe by Our Best Bites
1 28-oz. can refried beans
1 1/2 c. guacamole
1 1/2-2 c. pico de gallo
1 16-oz. container sour cream
1 packet taco seasoning
1 c. chopped green onions (about 2 bunches)
1 16 oz. can olives, drained and chopped
1 c. chopped cilantro
Juice of 1 lime
2 c. shredded sharp cheddar cheese
1 c. crumbled queso fresco or cotija cheese
Layer the refried beans, guacamole, and pico de gallo. Whisk together the taco seasoning and sour cream and spread it over the pico de gallo. Add the chopped olives and cilantro, then squeeze the lime juice over everything. Sprinkle with the cheeses and serve with tortilla chips. Makes a lot–if you're serving just a few people, you can cut all the quantities by half.