Sara and I are off again! I promise you guys, my kids, my husband, myself, and an OB-GYN who thinks I'm a tiny bit crazy that we're not going anywhere else (and by we, I mean my growing fetus and I–Sara's anniversary is coming up) until I go to the hospital to have this baby. Except for a possible trip to Ikea because I need bookshelves. And cinnamon rolls.
I wanted something fun and easy and delicious for this Friday–I'm not sure everyone's feeling pushed to the limit, but it seems like everyone I know is feeling pushed to the limit (who knew elementary school, preschool, 4-year-old dance class, and 7-year-old soccer could drive us all to a crazy place?). What do we all need? Besides a good spin class (okay, maybe not ALL of us) and a Xanax? Bacon. Always bacon.
For this dip, whisk together 1 1/2 cups high-quality plain Greek yogurt and 1/2 cup mayonnaise.
Stir in 1 cup crumbled feta cheese, 12 ounces cooked, crumbled bacon,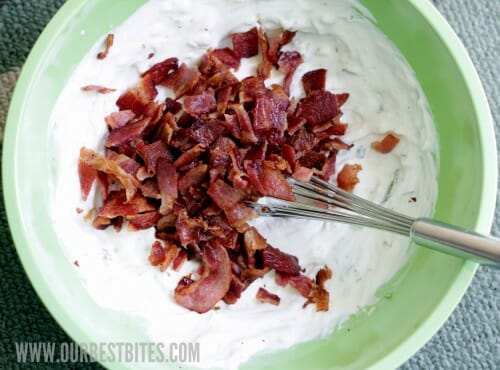 1 clove minced garlic, 1/4 cup finely minced green onion, 1 tablespoon minced fresh basil, 1 tablespoon lemon juice,
and 1 tablespoon red wine vinegar.
Add black pepper and then season with kosher salt to taste. Cut 8 ounces of tomatoes in half and then rinse under cool water to remove the seeds and membranes.
Dice the tomatoes, then spread the dip into a serving dish
and then sprinkle with chopped tomatoes. Garnish with additional basil if desired. Refrigerate for at least an hour before serving, then serve with crackers, chips, pita chips, and/or slices of warm bread.
Bacon Tomato Basil Dip
Recipe by Our Best Bites
1 1/2 cups plain Greek yogurt (fat free is fine)
1/2 cup light mayonnaise (not Miracle Whip, but low-fat is fine)
1 cup crumbled feta cheese
1 12-ounce package bacon, cooked and crumbled
1 clove garlic
1 tablespoon fresh basil, minced
1/4 cup finely minced green onions (about 1 bunch)
1 tablespoon fresh-squeezed lemon juice
1 tablespoon red wine vinegar
1/4 teaspoon freshly ground black pepper
Kosher salt to taste
8 ounces tomatoes, seeded and chopped
Instructions:
Whisk together the yogurt and mayonnaise. Stir in remaining ingredients through the black pepper. Season with salt to taste.
Transfer the dip to a serving dish and sprinkle with fresh tomatoes. Garnish with basil if desired. Serve with crackers, chips, pita chips, or fresh, warm bread.