Taziki's is a quick-serve Greek style chain restaurant, found mostly in the Southwest US. We had one here in Idaho that sadly closed during the pandemic. A friend and I would frequent there often, and only ever order one thing: the whipped feta dip. It came with both crispy and soft pita chips and was also great with veggies. We LOVED it. When our restaurant closed, I had to re-create our beloved dish.
Their website gives a few of the basic ingredients and our local owners even let us in on the spices they use so I had a great head start. I ended up adding a few extra ingredients to mine and we've now been making it non-stop at home! It's tangy and bright, with an amazing sweet-and-salty combo from a generous drizzle of honey on top. It's not only great as a snack food, but also really delicious spread onto a pita sandwich, dolloped on a grain bowl, or even spread on pizza crust for a Greek-inspired pie.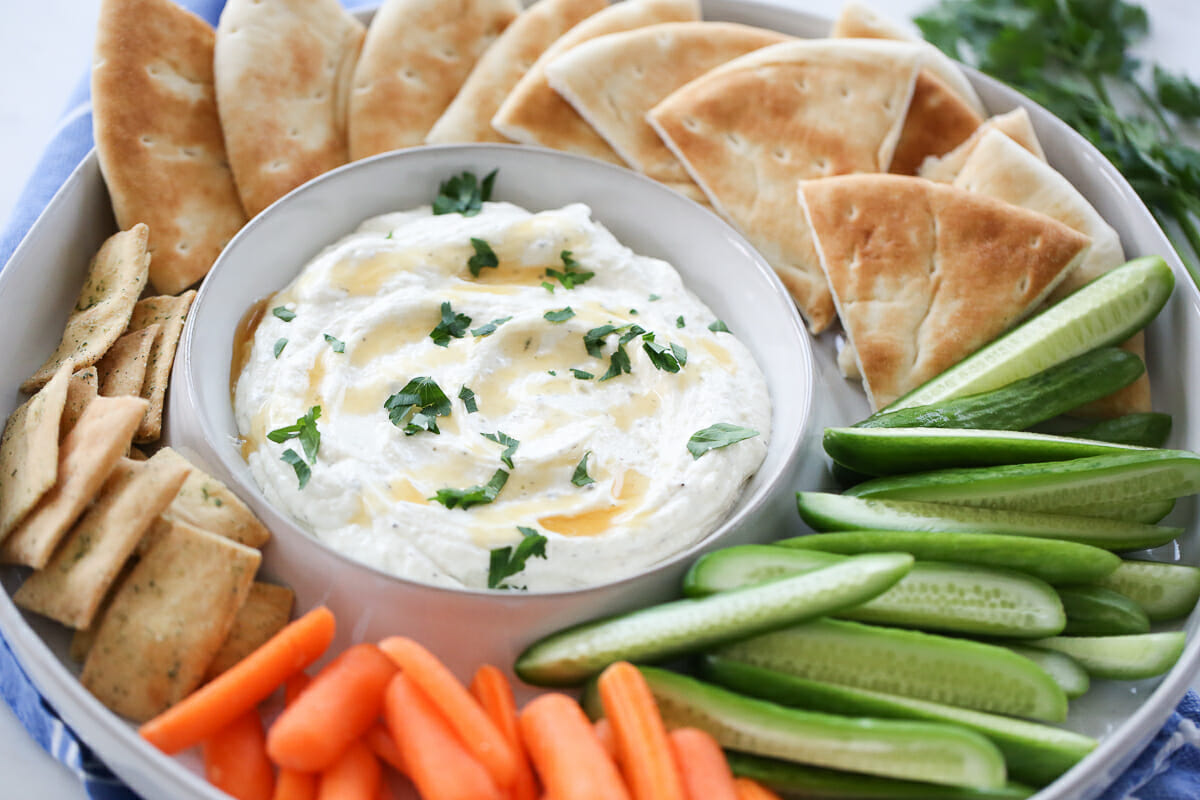 What Kind of Feta Should I Use?
All feta is not created equal. I discovered this after one of my go-to brands (President) was gone from Costco so I grabbed this fancy organic one from Greece. I tasted it and knew immediately that it wasn't cow's milk. Some feta, like this Kirkland brand shown, is made from sheep's or goat's milk. If you like sheep cheese/milk you will love that. I'm not a fan of sheep or goat cheese so I didn't love this feta, either. Most grocery store brands will work just fine; I would recommend full fat versions. Different brands may have varying degrees of saltiness and slightly different flavor, so just use any type of feta that you would normally enjoy otherwise and it will be great, here. Since the cheese will vary by brand, I recommend starting with a little less and adding more to taste.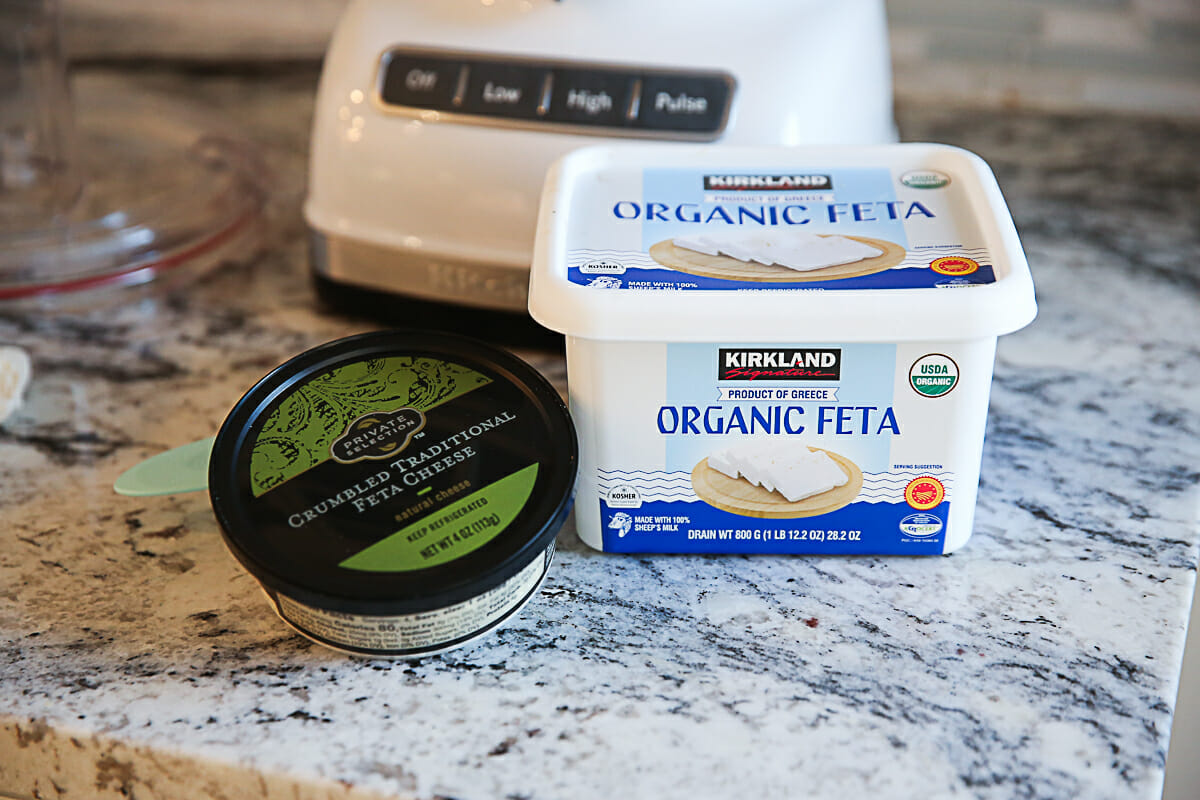 What are the other ingredients?
Cream Cheese: Full fat or low-fat, but avoid fat free. It helps if it's at room temperature.
Mayo: This was the secret ingredient for me! I have a Whipped Feta Spread on this blog already, but mayo and honey are the two things that set this version apart. While the other recipe is great for spreading on as a base, this one can be piled onto things for dipping. Mayo mellows the flavors and helps create a smooth creamy texture.
Lemon Zest: Lemon and feta are a natural combination. Zest adds brightness and more tang. It's also great without the lemon, so feel free to leave it out if you don't have one on hand.
Spices: I use oregano, thyme, dill, and also a little salt and pepper. Pro Tip: Fresh rosemary is not on the ingredient list, but when I have some on hand anyway, I usually add a bit in; it's a delicious addition.
Honey: Do. Not. Skip. The. Honey. Instead of blending honey into the dip, one of the best features here is the drizzle on top that pools into nooks and crannies. Use your pita to scoop up both dip and honey together for the most amazing flavor combo. We like to keep the honey jar close by and drizzle more on once we've scraped off the top layer!
Parsley: Fresh parsley is a great finishing touch on top. If you don't have fresh parsley, I would not substitute dry, I would just leave it off.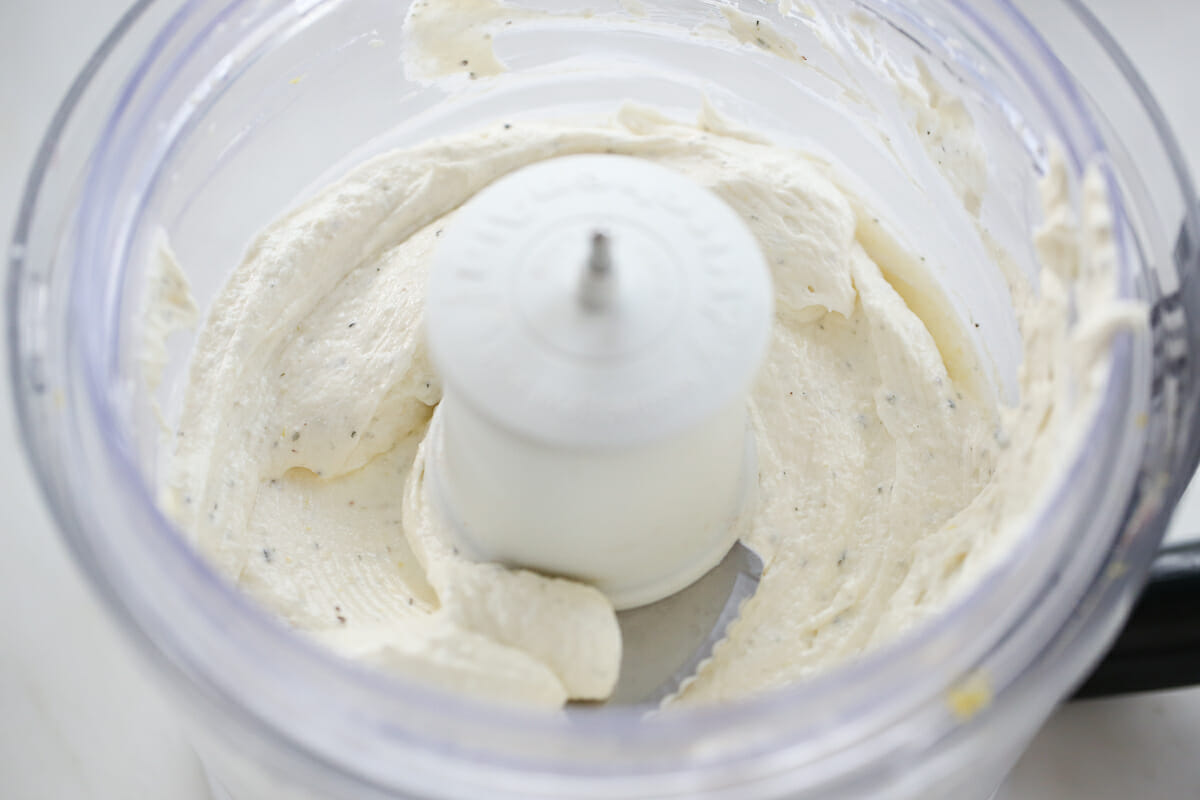 How do I make Whipped Feta Dip?:
A food processor works great to blend the feta into a smooth consistency. It will most likely always have just a bit of a grit to it, like hummus does, for example. It comes together in just minutes!
How do I serve Whipped Feta Dip?
This is great with store-bought pita chips, or use the soft Greek-style pita rounds (you can usually find these near the bakery section of the grocery store). The soft pitas are great cut into wedges, brushed with olive oil and sprinkled with salt, and baked in a 400 degree oven for a few minutes just so they get warm and toasty. I also love this dip with vegetables.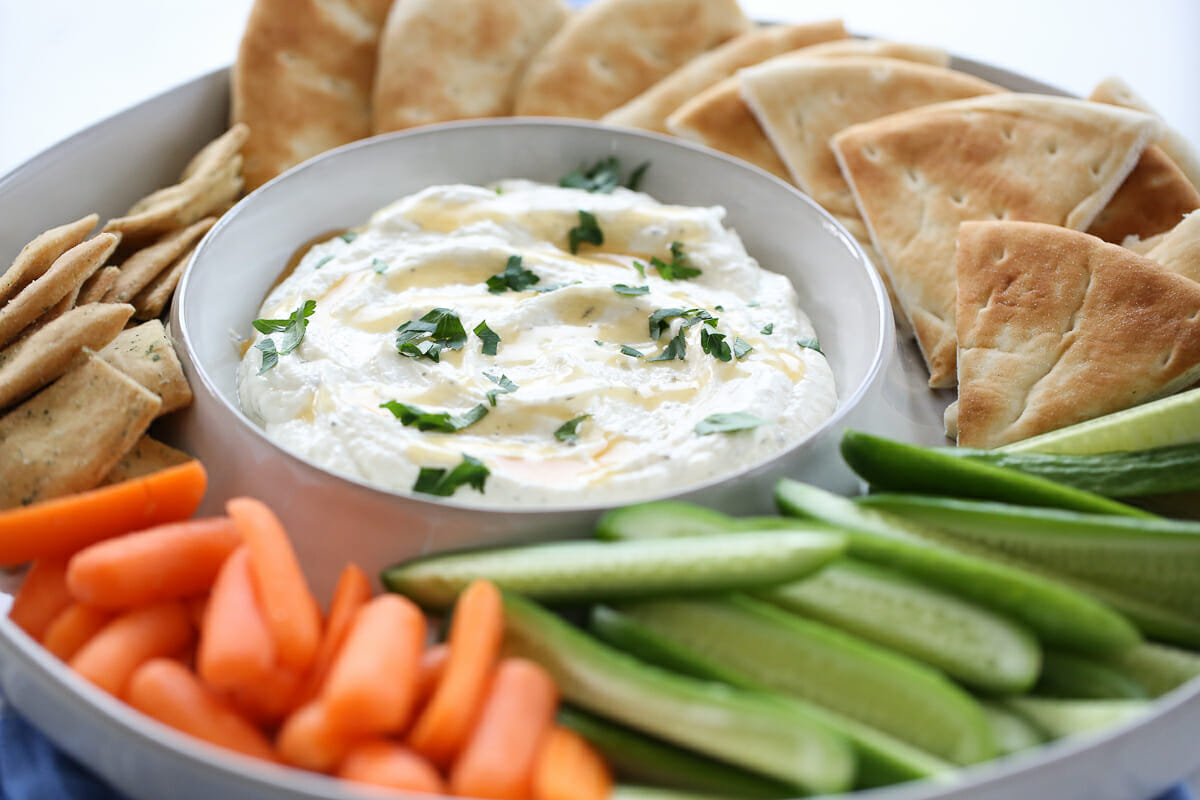 What Should I Serve it With?
Serve it as an appetizer or snack, or as a side dish to one of these great Greek-inspired meals!
Print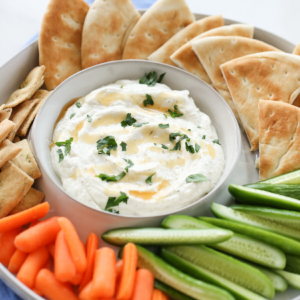 ---
Description
This sweet and tangy dip is perfect as an appetizer served with pita wedges or crudités, or spread on Greek Style sandwiches.
---
8 ounces cream cheese
3/4 – 1 cup crumbled feta cheese
1 1/2 teaspoons lemon zest
1/4 teaspoon dried oregano
one pinch ground thyme
1/8 teaspoon dried dill
1/8 teaspoon black pepper
1/2 cup mayo
1/8 teaspoon kosher salt (add at the very end if needed, after tasting)
honey, for drizzling on top
1–2 tablespoons fresh minced parsley
---
Instructions
Place cream cheese, feta*, mayo, lemon zest, oregano, thyme, dill, and pepper in a food processor (a smaller processor bowl works best since it's not a huge quantity).  Process until feta is smooth, scraping down the sides when needed.  Add salt at this point, according to taste.
Place dip in a shallow bowl and drizzle honey on top (about 1 tablespoon). Sprinkle with fresh parsley.  Feel free to add more honey as dip is being eaten.
---
Notes
*feta amount is shown as a range since different brands will vary in flavor and intensity.  Add to your preference.