This Sugar Cookie Recipe has been a crowd favorite for YEARS because it produces a consistent cookie with the perfect buttery flavor and soft centers.  It holds its shape beautifully when cut with cookie cutters and one of the best things is that you can choose to bake these sugar cookies soft and thick, or thin and crisp and both ways are phenomenal! You can cut them out with cookie cutter shapes, or simply roll balls in sugar and flatten with the bottom of a glass.  We love them topped with our Classic Fluffy Buttercream or for something more fun and fancy, our Glace Icing.
Continue reading past the recipe card for LOTS of tips and tricks to get the best results!
How to make the best sugar cookies!
Tip: Use the best ingredients. This means real butter, at room temperature. A great way to get your butter to room temperature quickly is to cut it into small chunks and leave it sitting out on the counter for 20-30 minutes. This generally works better than softening in the microwave, which often leads to uneven melting.
Cream your Butter and Sugar for the best sugar cookies
Start by beating your real butter and sugar and continue creaming for a full 2 minutes or so. Your mixture will turn light and creamy in texture. Scrape down the sides of the bowl as you go.
Carefully Measure Dry Ingredients for the Best Sugar Cookies
When baking in general, it's important to carefully measure dry ingredients (especially flour) but in this recipe it's particularly important. Use a spoon to lightly scoop flour into your measuring cup and then level with a knife, as opposed to scooping your flour with your measuring cup which often leads to packing too much in there.
Use a Stand Mixer (if you have one) for the Best Sugar Cookie Recipe
You can absolutely make these cookies with a hand mixer, but if you have a stand mixer, definitely use it. After your dry ingredients are added, the dough will usually first look a little dry and crumbly but they will absolutely come together quickly into a soft, cohesive dough. It takes a little more time with a hand mixer, but a stand mixer will whip it up in a hurry!
How to Easily Roll Sugar Cookie Dough with no Additional Flour
One of the problems with dusting your surface with flour before rolling cookies, is that you add a bunch of extra flour to your dough. Try to handle it as little as possible. Here is the best method to do that. Start by taking half of your dough and forming it into a rough ball and then flattening a little onto a silicone baking mat. If you don't have a silicone baking mat, you can use parchment or plastic wrap but they tend to slide around the counter so it just takes a little more effort.
Then place a piece of parchment paper (or plastic wrap) over your dough and use a rolling pin to roll out the dough between the baking mat and the parchment. This makes it so you can easily roll the dough with no flour needed, and nothing sticks to anything.
What I do next is pick up my silicone baking mat and flip the whole "package" over, so the parchment is on the counter, the dough in the middle, and the baking mat on top. Peel off the baking mat and place your parchment and dough on a baking sheet that can now go in the fridge or freezer to chill. Repeat with the remaining dough.
How to Cut the Best Sugar Cookies
This dough retains its shape incredibly well, just make sure it's chilled. I like to place mine in the freezer for 15 minutes or so. Then cut out shapes and repeat the rolling process with the remaining dough.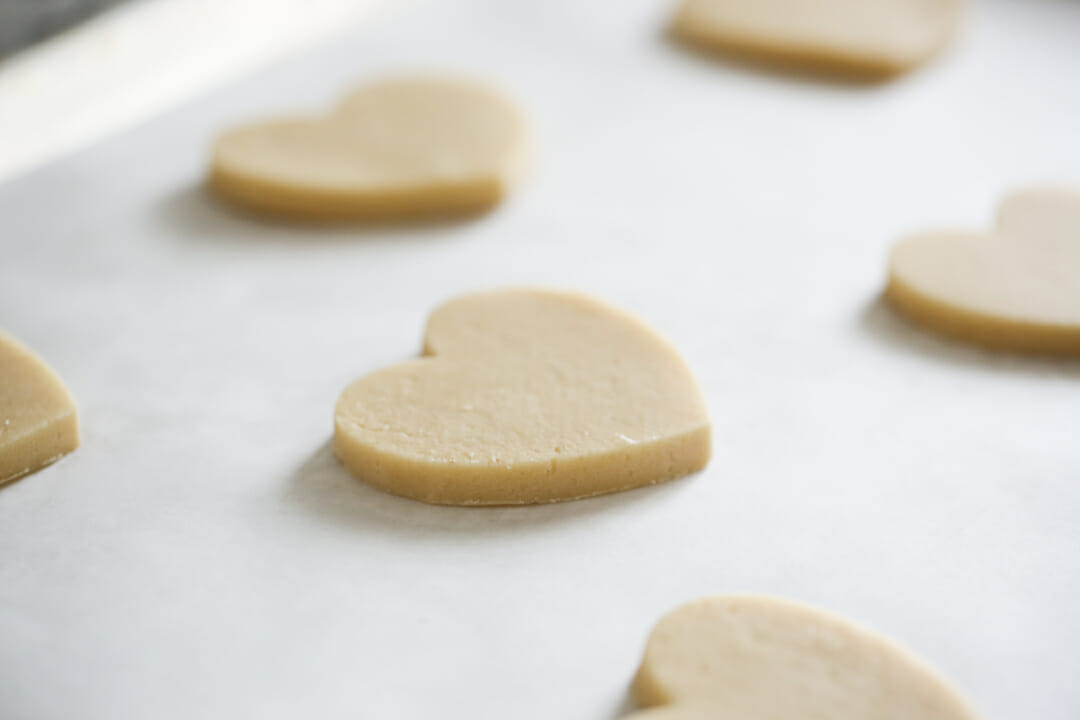 How long do I bake Sugar Cookies?
The great thing about this recipe is that you can roll these cookies thick and bake them less and they will be crazy soft and delicious. OR you can roll them thinner (1/4 inch or less) and bake until you see the edges start turning golden brown and they are perfectly buttery-crisp on the edges. Many recipes will simply be dry when baked till golden brown, but these are incredibly good- similar to a shortbread cookie that melts in your mouth. I love them both ways! Here's a photo example of what you'd be looking for:
How do I store Sugar Cookies?
If I'm making a large amount of sugar cookies I will almost always make them ahead of time because sugar cookies freeze beautifully! Simply cool completely after baking and then layer between parchment in the freezer. When you are ready to frost, just pull them out of the freezer- you can even frost them while still frozen and let them come to room temperature on the counter. Alternately, you can simply place baked cookies in an airtight container and store at room temperature.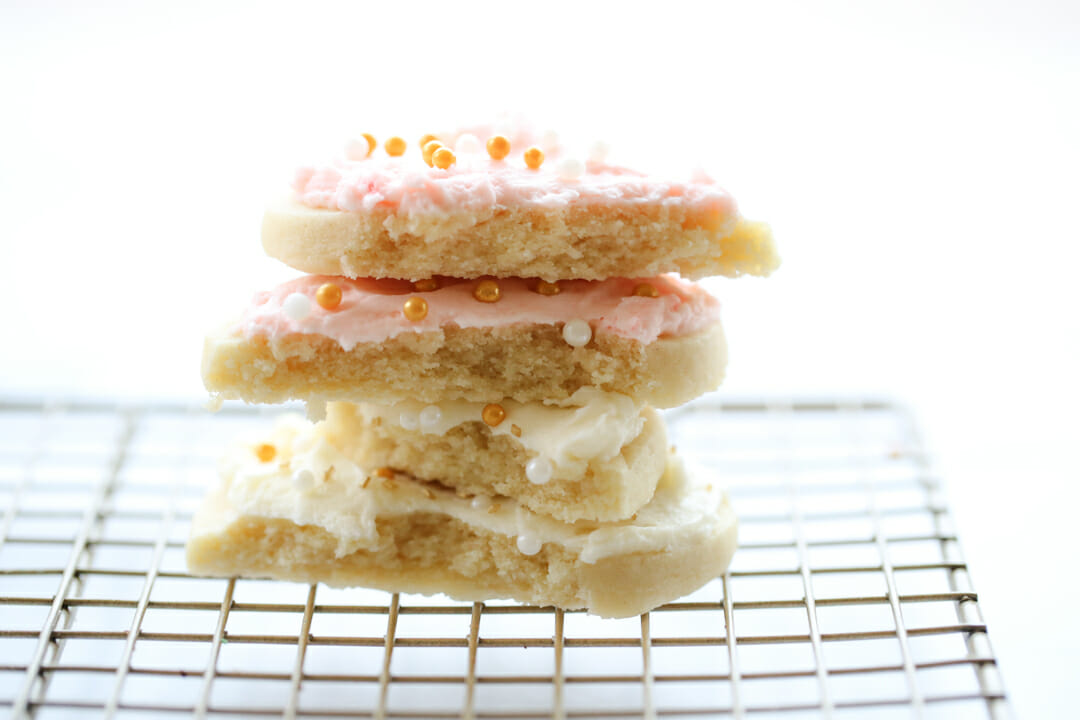 How do I frost Sugar Cookies?
Print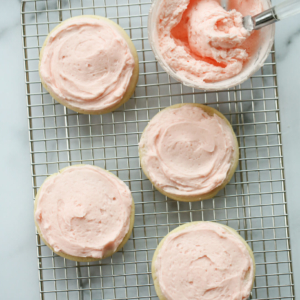 ---
Description
Perfect buttery sugar cookies that can be baked either thick and soft or thin and crisp.  They hold their shape well and are perfect for decorating!  Pair with our Best Buttercream Frosting for the perfect cookie!
---
1 cup real butter  at room temperature
1 cup sugar
1 large or extra large egg
1 1/2 teaspoon vanilla or almond extract
3 cups flour, lightly spooned into measuring cups and leveled (don't scoop!)
1 1/2 teaspoon baking powder
1/2 teaspoon table salt
---
Instructions
Note:  We recommend a stand mixer for this recipe. 
Cream butter and sugar until light and fluffy- about 2 minutes, scraping the sides of the bowl occasionally. Add in egg and extract and mix to incorporate.
In a separate bowl combine flour, baking powder and salt. A very important note: It's important to correctly measure your flour or you will end up with a dry, crumbly dough. Don't use your measuring cup to scoop up the flour. Use a regular sized spoon and spoon the flour into the cup and then level it off with a knife.
Slowly add the flour mixture to the butter mixture and mix until completely combined.  Your dough will first look crumbly, but keep mixing with a stand mixer and it will quickly turn into a soft cohesive dough.
Refrigerate for at least one hour. Preheat oven to 350 F, then roll out and cut shapes or use our preferred method:
Gather half of your dough and form into a large ball.  Place on a silicone baking mat (or a large piece of plastic wrap) and press down gently.  Place a sheet of parchment paper on top of your dough and then roll on top of the parchment into an even layer about 1/4 inch thick, or thicker if you desire thick cookies.  Pick up your silicone mat and flip the entire thing over.  Peel off silicone baking mat so you are left with your sheet of parchment with your rolled dough on top.  Place this parchment-lined dough on a baking sheet and place in the fridge or freezer.  Repeat with remaining dough.  (See recipe tutorial for photos of this process.)  Refrigerate for about 20 minutes or pop in the freezer for about 10.
Remove chilled dough, cut into shapes and bake for 8-12 minutes depending on the thickness of your cookies.  Baking time is a personal preference.  Watch for the edges and tops to be set. If you like your cookies crisp on the edges, roll them thinner and bake until just golden brown.  If you want thick, soft cookies, remove from oven before you see golden brown.
---