Mexican Style Street corn is a simple dish to prepare at home.  You can find different variations, but it generally involves a slathering of mayonnaise, crumbled Mexican cheese, chili powder and fresh lime juice. In this version, I ease preparation by mixing the seasonings right into the mayo, along with a little sour cream to make a side dish that's quick and easy to prepare.  It's great along side any grilled chicken or steak, especially other latin inspired dishes like Grilled Taco Chicken, or Lime-Chili rubbed Steak.  You might also enjoy my deconstructed version of this dish, Mexican Street Corn Salad.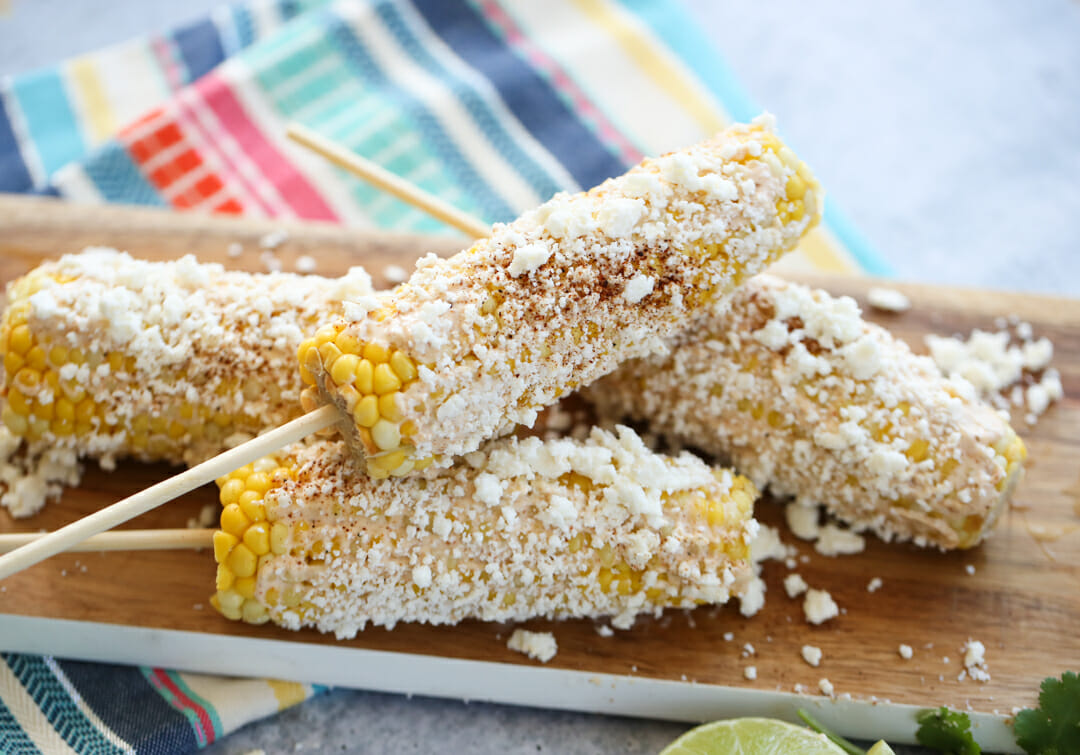 How to Make Elote, Mexican Style Street Corn
This simple side starts with fresh corn on the cob.  You can use any favorite method to cook it, including simmered in water, on the grill, or in a pressure cooker.  While your corn is cooking, simply combine your mixture of mayo, sour cream, and seasonings.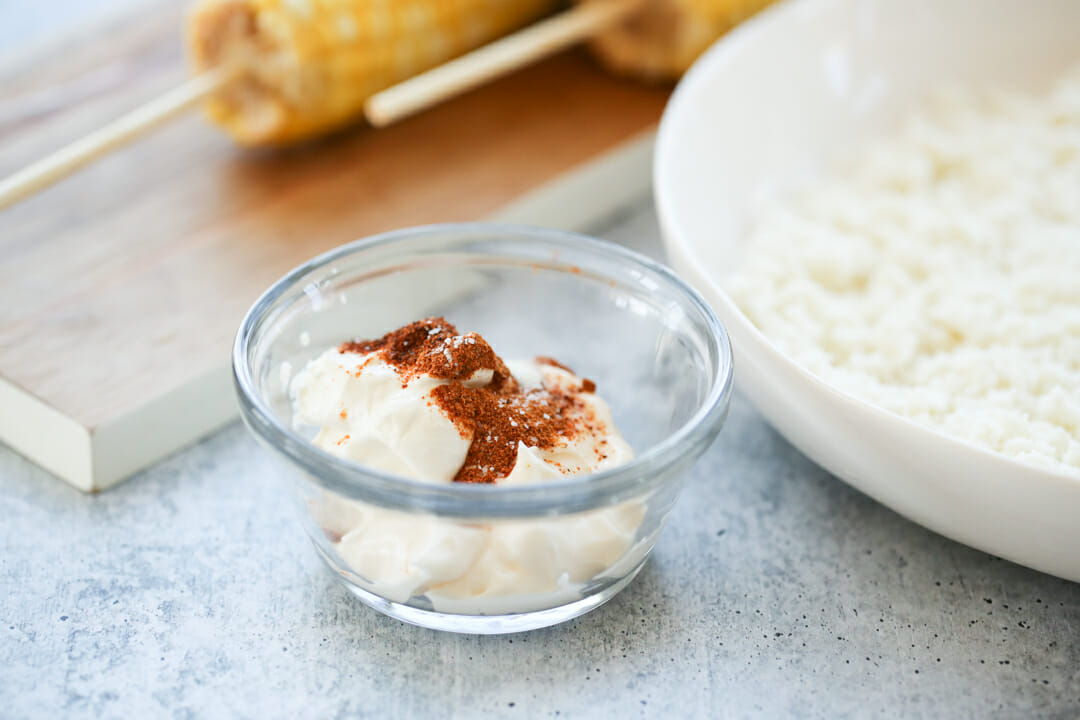 I also like putting my cotija cheese in a large, shallow bowl so the corn can be rolled and sprinked easily.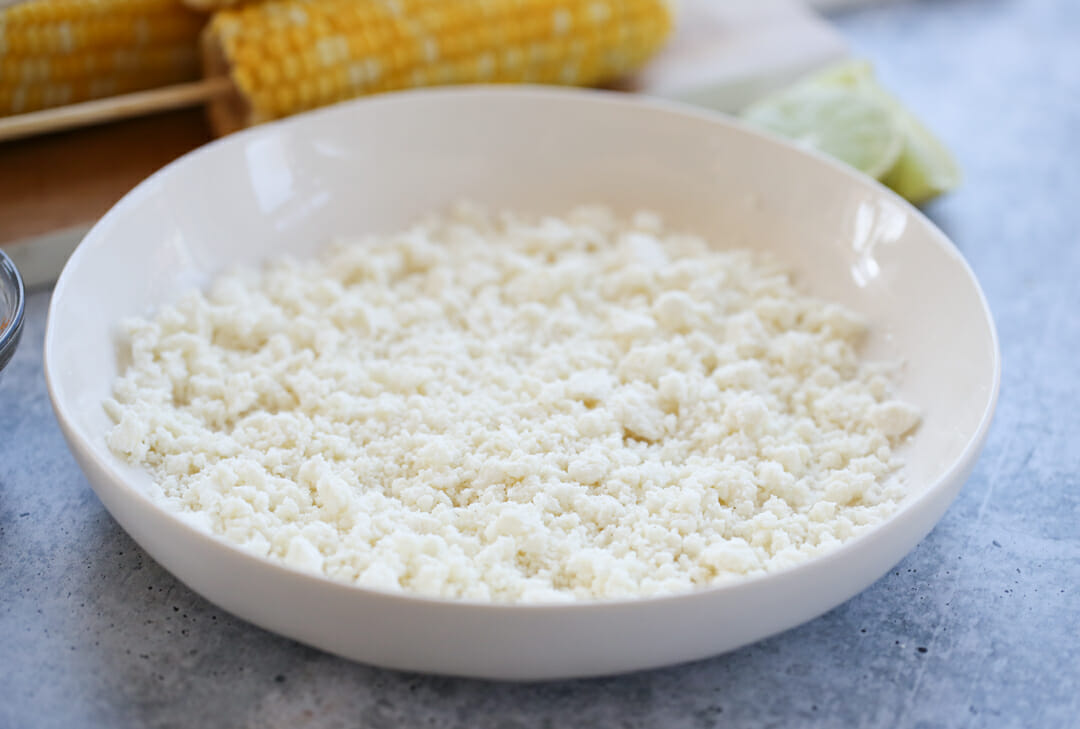 To assemble, use a spoon to spread the mayo mixture on all sides of the corn and then sprinkle all over with the cheese.  It's that easy!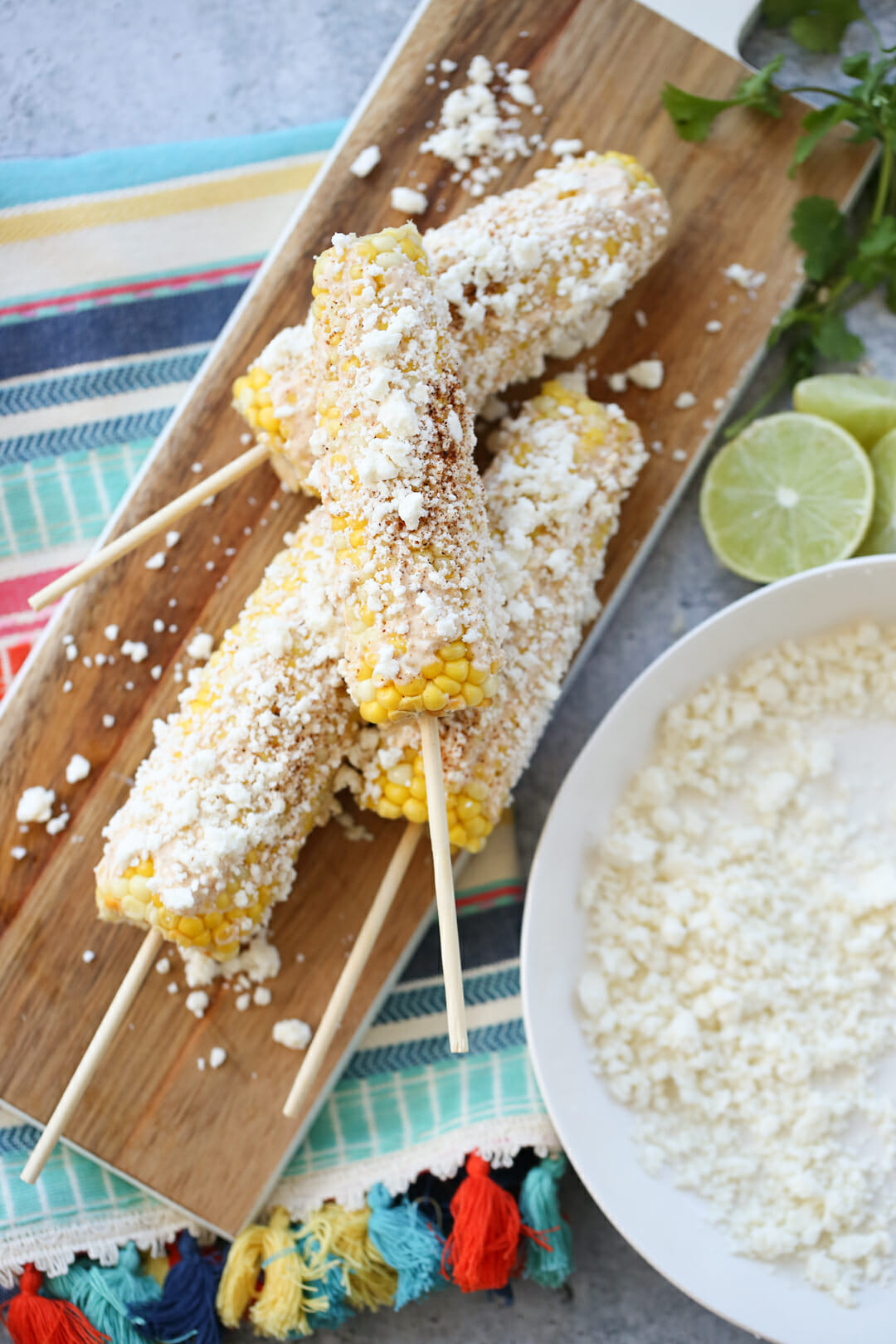 Here's some other Latin Favorites you might enjoy with your Mexican Style Sweet Corn!
Lime-Chili Rubbed Steak
Taco Chicken
Best Fajitas Ever
Homemade Tortillas
Black Bean Soup
Quick and Easy Black Beans
Creamy Chicken Taquitos
Shredded Beef Taquitos
Print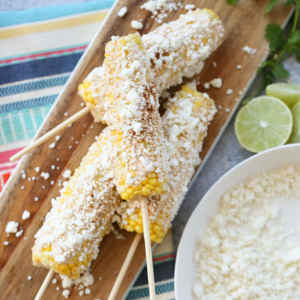 Elote : Mexican Style Street Corn
---
Description
Fresh corn on the cob is brightened with a creamy sauce, flavorful seasonings, and crumbled cheese.  Inspired by the classic street food in Mexico, this corn is super easy to make at home!
---
4 ears fresh corn on the cob, cooked and warm
3 tablespoons mayonnaise
2 tablespoons sour cream
1/4–1/2 teaspoons lime zest
1/2 teaspoon fresh lime juice
1/4 teaspoon cayenne pepper (optional)
1/4 teaspoon chili powder
tiny pinch kosher salt
1 cup crumbled Cotija Cheese* (use fresh parmesan or queso fresco if you can't find Cotija)
---
Instructions
While corn is cooking, combine mayo, sour cream, lime zest and juice, cayenne pepper, chili powder and salt.
Spread mixture on warm corn and then roll or sprinkle with cheese.
---
Notes
*Cotija is similar to Parmesan cheese. It has awesome flavor and a great texture. You may have never noticed it before, but it's available in most regular grocery stores. It's often near the cream cheese/refrigerated cheeses. If for some reason you can't find it at your store, a latin market is sure to have it. You could also substitute Queso Fresco, or Parmesan.