Did all y'all see the recipe from yesterday for Funnel Cakes??  Well this is a little add-on, bonus, because-I-love-you and everyone needs this in their lives on a Saturday post.  A few weeks ago my family and I went to the Western Idaho Fair.  I was trying really hard to not eat a bunch of junk food because fair food is a weakness for me (Turkey legs!  Cotton Candy!  Fried Bacon on a stick!) and I did a pretty darn good job until the end.  That's when I saw a big sign lit up with heavenly choirs singing praises to…deep fried peaches.  It's peach season in this part of Idaho and I had spent the week canning peaches, freezing peaches, freeze-drying peaches and whatever else I could think to do with the pounds and pounds of peaches I gleaned from my Dad's tree.  But I had never thought to fry them, because who does that? You guys.   The. Best. Thing. Ever.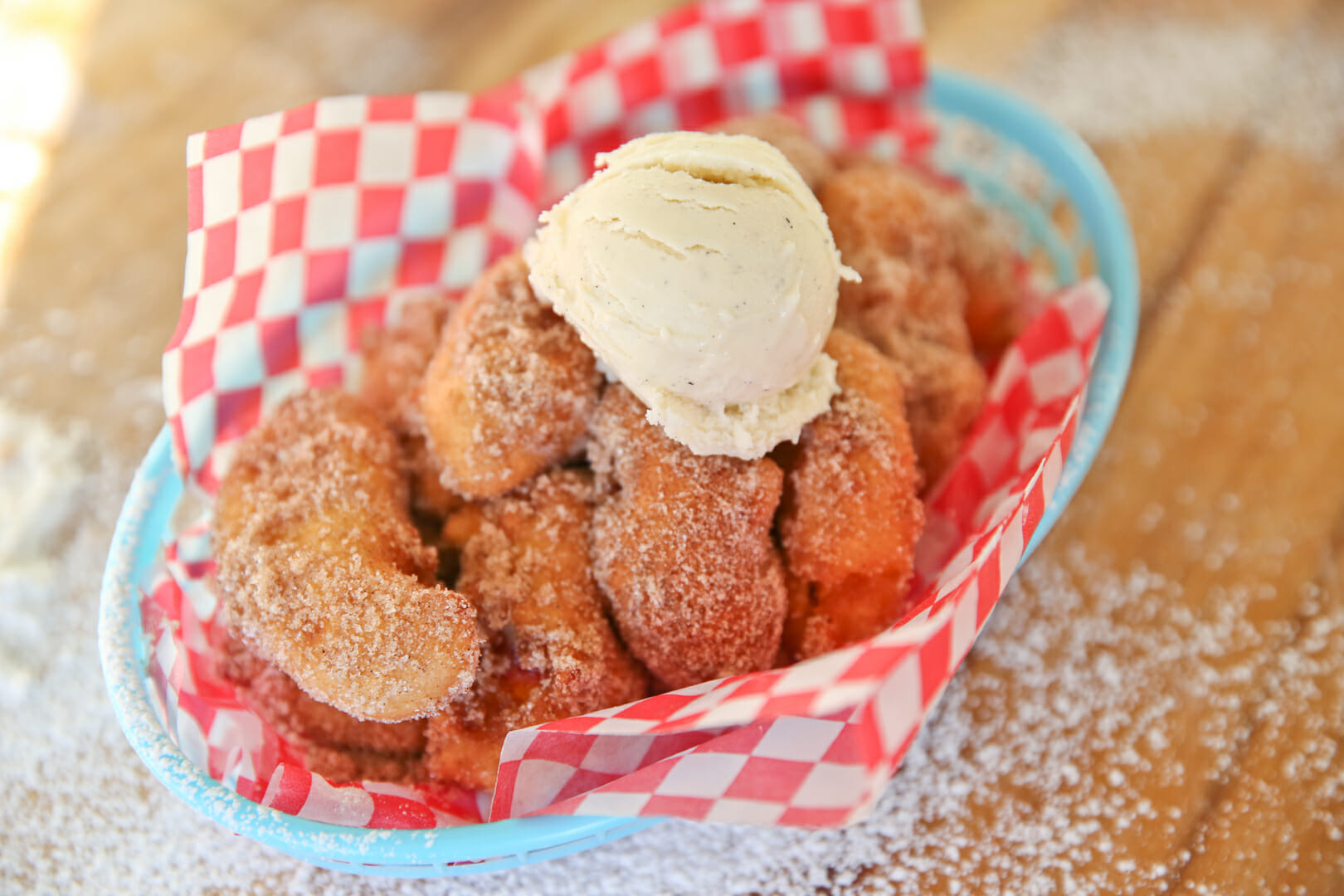 The peaches were dipped in funnel cake batter and then fried, and rolled in cinnamon-sugar and topped with whipped cream.  The warm dough and crispy sugar with juicy peaches and cool cream was one of the best things I'd ever tasted.  I couldn't stop thinking about it for days.  I don't deep fry often, but I knew I had to try this!  These are so easy to make.  Just toss some slices of fresh, peeled and pitted peaches in a little flour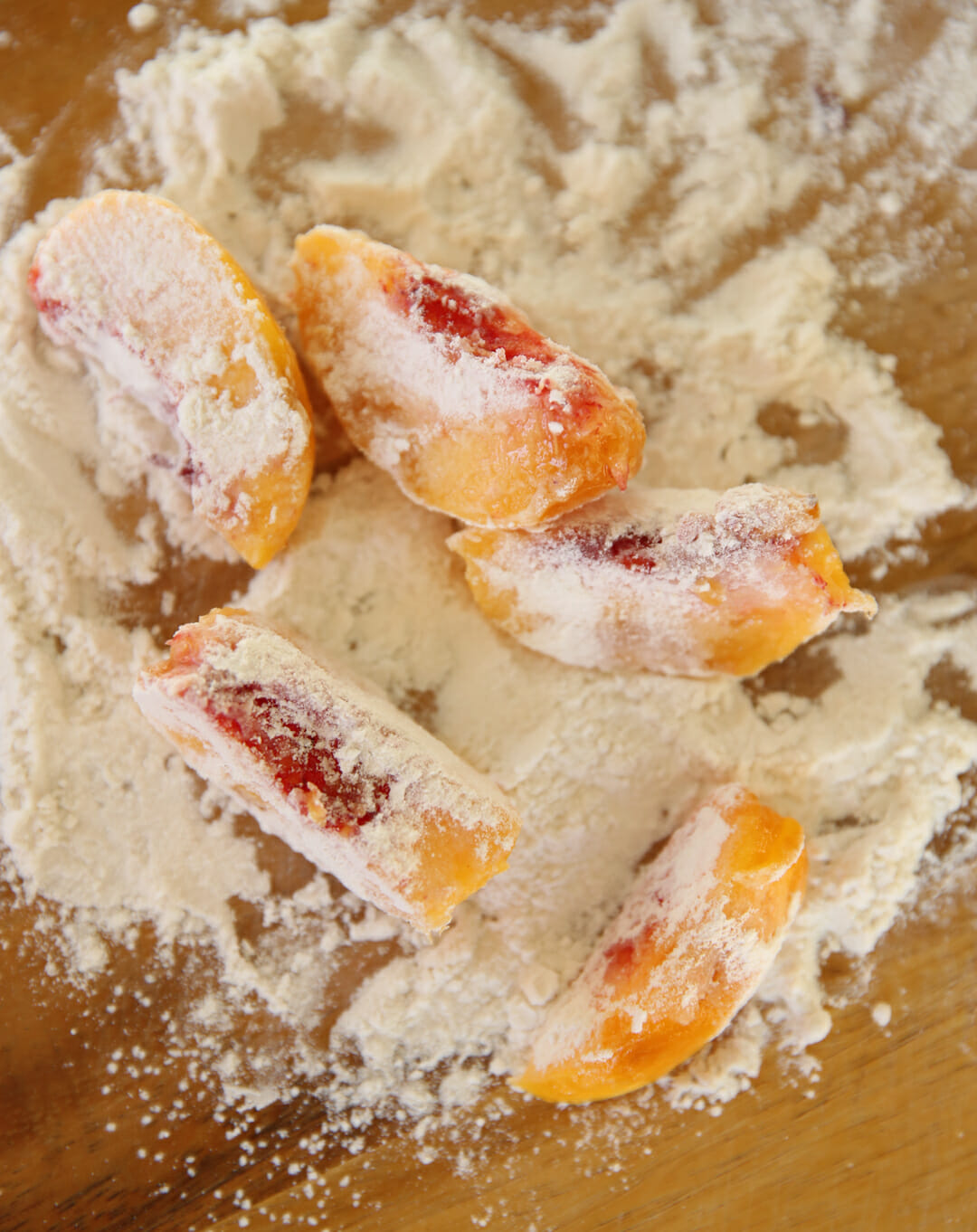 and then dunk them in funnel cake batter and let any excess drip off.  Toss them in some oil and they'll quickly puff up to golden brown perfection.  If you're curious about my little fryer, which I LOVE, I talk all about it in this post.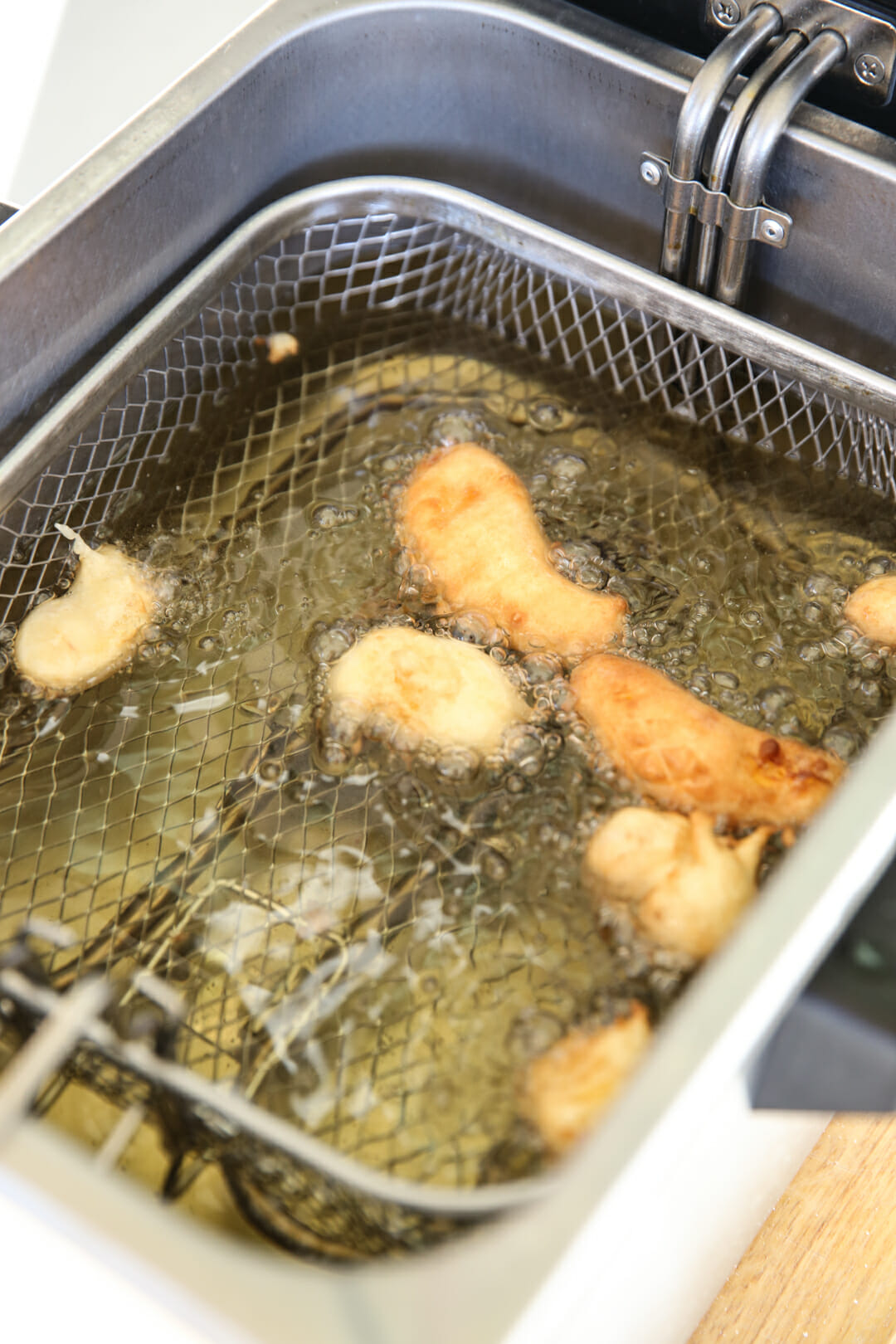 Immediately toss them in cinnamon-sugar.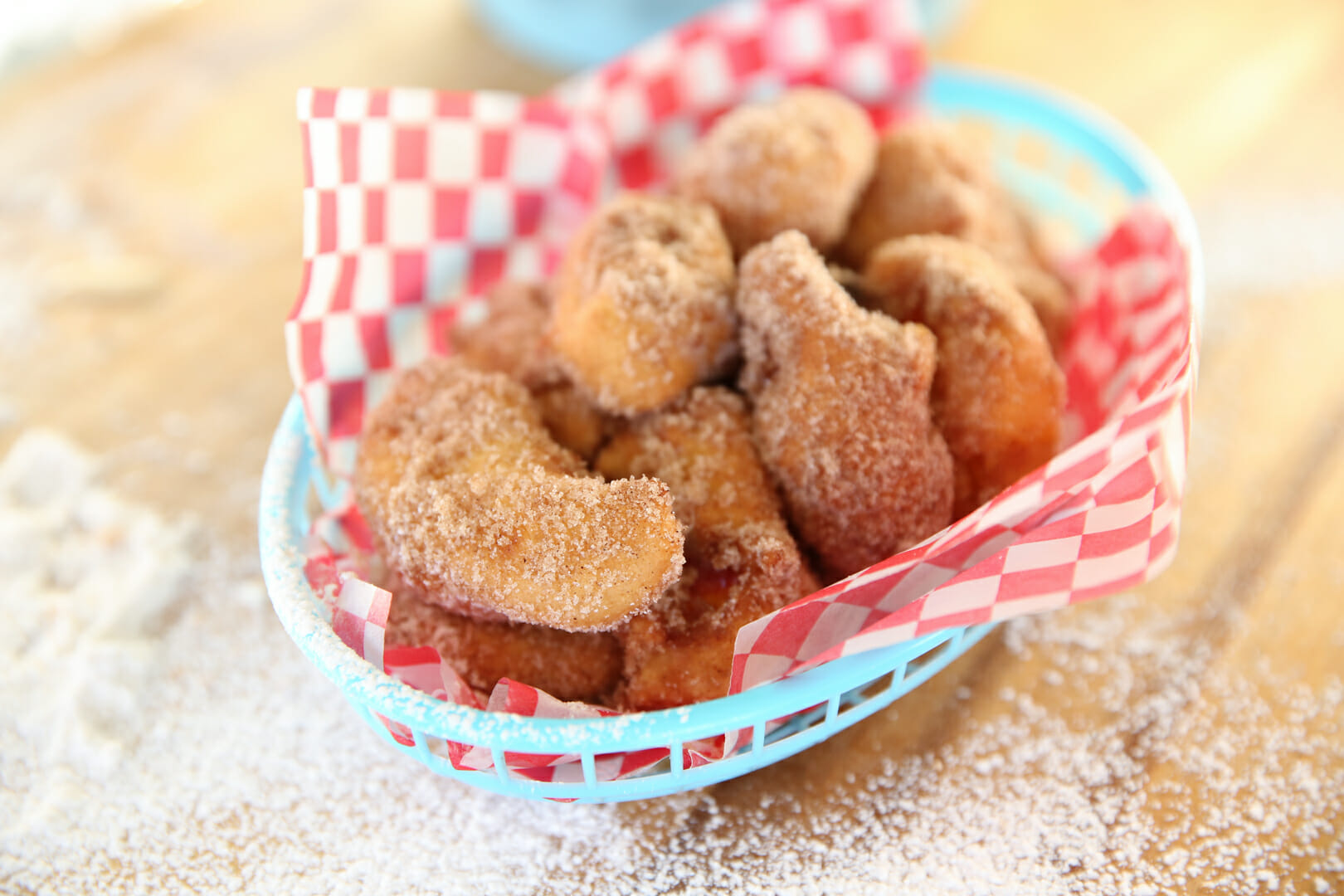 You can top with whipped cream, or we went for ice cream here, which was quite amazing.  A little caramel drizzle would be fantastic on there, too!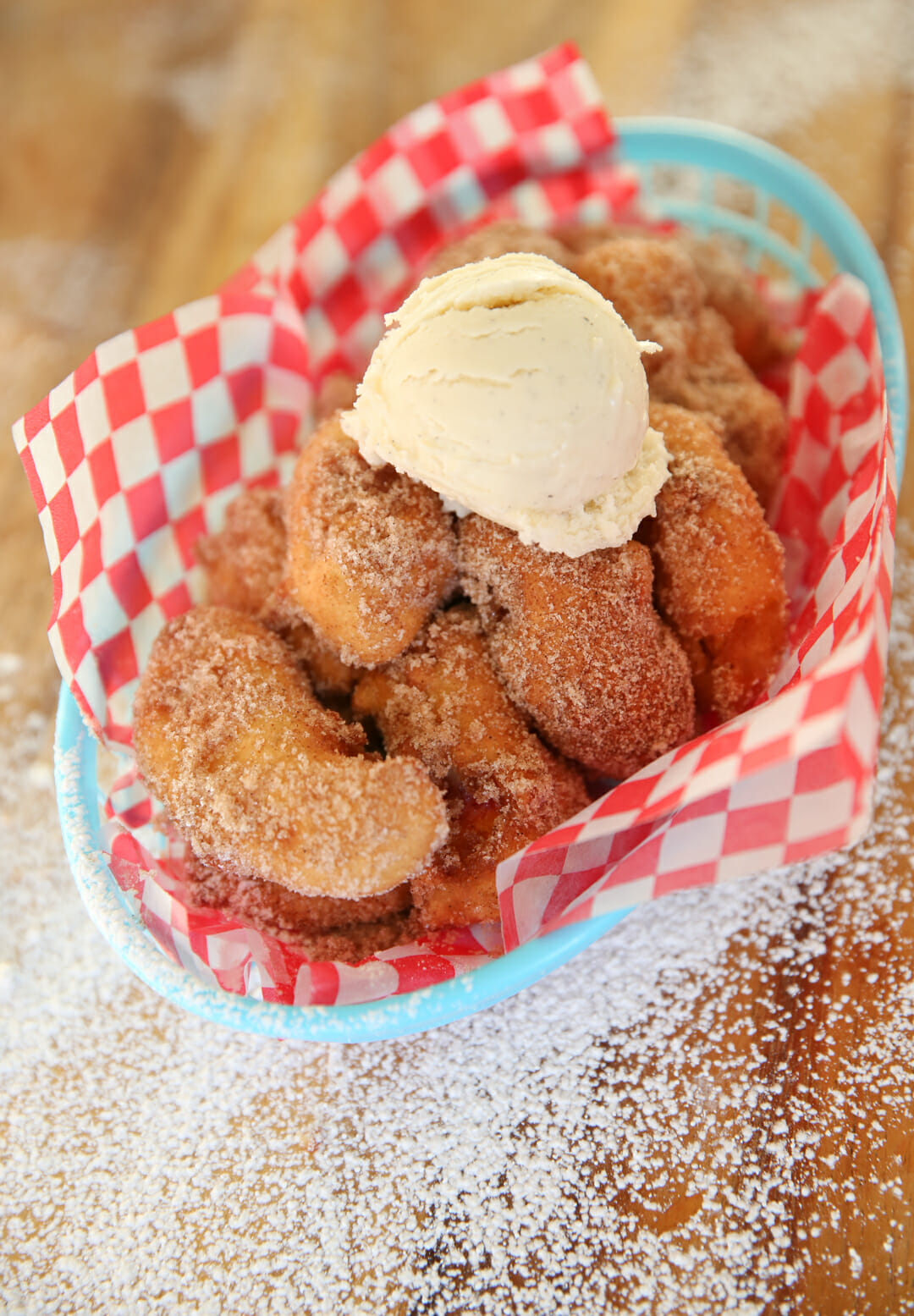 Then as soon as you can hold them without burning your fingers, dig in!  Take advantage of fresh peach season and whip up a batch over the weekend!
Print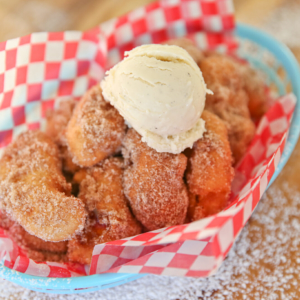 Fried Peaches and Cream
---
Description
Fresh peaches dipped in funnel cake batter, deep fried, rolled in cinnamon sugar and served with whipped cream or ice cream. Need we say more?
---
Fresh ripe peaches, peeled, pitted and sliced
a bowl of cinnamon-sugar (eyeball it!)
ice cream or whipped cream for serving
flour for dusting
vegetable or peanut oil for frying
Funnel Cake Batter
3/4 cups

milk

1

egg

1/2 teaspoon

vanilla

2 tablespoons

sugar

1 1/4 cups

all purpose flour

3/4 teaspoons

baking powder

1/4 teaspoon

salt
---
Instructions
Heat 3-4 inches of oil to 375 degrees in a heavy pot or deep fryer.
Mix all funnel cake batter ingredients together until smooth.
Dust peach slices in flour and dip in funnel cake batter. Immediately place in oil and cook until golden brown.
Place directly in cinnamon-sugar and then top with ice cream or whipped cream.
---