Hey, have you guys signed up for our newsletter yet?  It goes out over the weekend and I'm sharing good stuff this week!  You can sign up on our home page!
Okay, so.  The other day after discussing something completely life-changing I ate at our state fair on Instagram, and then declaring my love for fair food, people started requesting a funnel cake recipe.  I quickly hopped on the blog to grab our recipe to send them and couldn't find it anywhere.  I thought I was going crazy.  I texted Kate to see if she had maybe removed the funnel cake recipe I remembered her once posting.  That's when I found out the hard truth.  Not only had Kate never shared a funnel cake recipe, ever (I imagined that apparently?!)  She'd also NEVER EATEN A FUNNEL CAKE.  Like, what?  I don't understand. I'm confused.  And I'm sad.  All at the same time.  It made me think about how many other people there are in the world that haven't had the experience of biting into those warm, fluffy, fried chunks of sugar-coated dough and this is something that needs to be rectified immediately.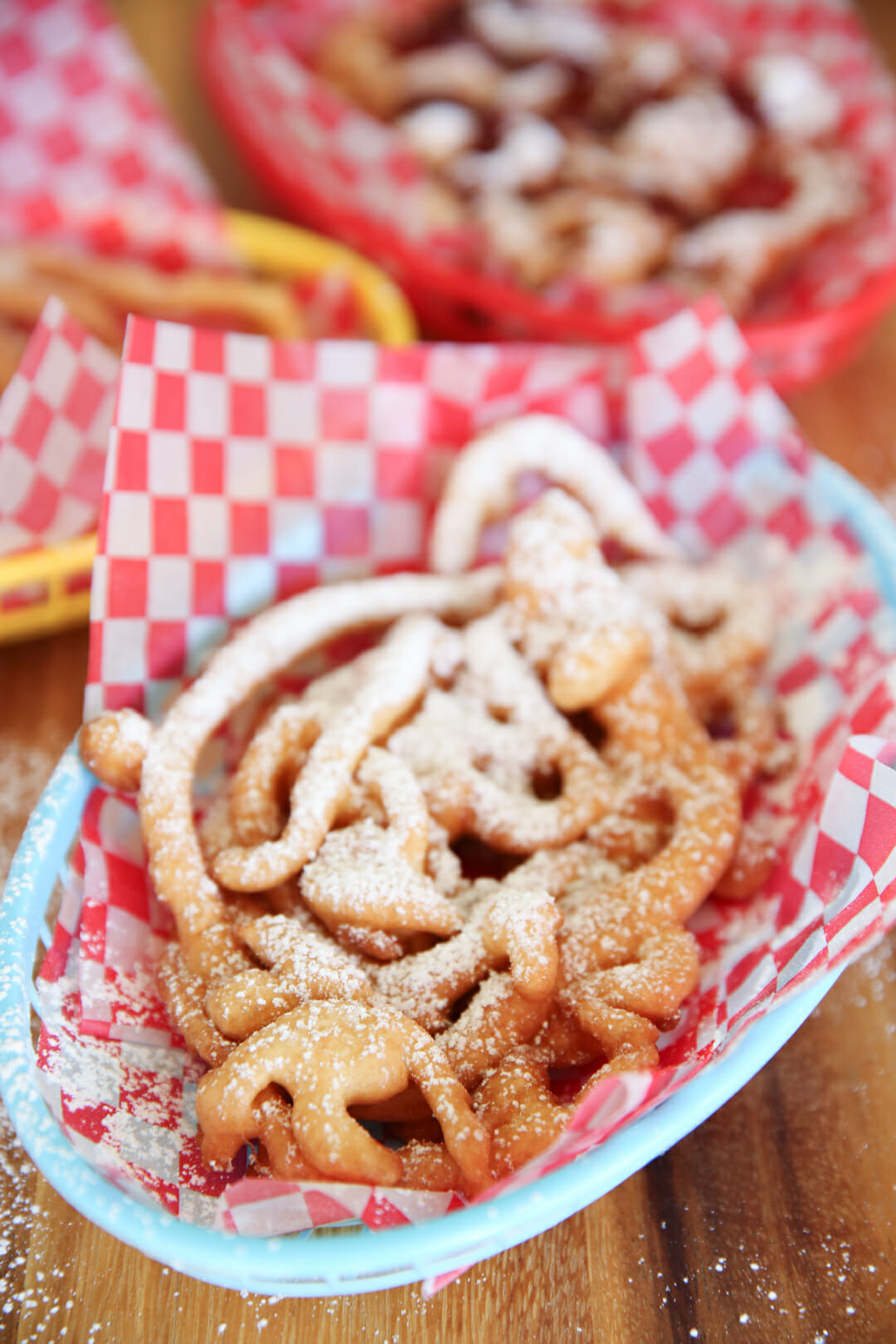 So if you've never eaten a funnel cake, or you have and you need to enjoy them in your own home and not at a sweltering hot fair prepared in a trailer by some high school kid, this post is for you.  Funnel cake.  At home.  SO easy.
For the record, before I share a recipe, I just have to say- this mix is actually fantastic.  I bought it at a restaurant supply store, but looks like it's on Amazon if you're interested in making funnel cake for like, 80 people.   You just mix it with water and it's delicious.  Awesome flavor, awesome texture.  But not super easy to find.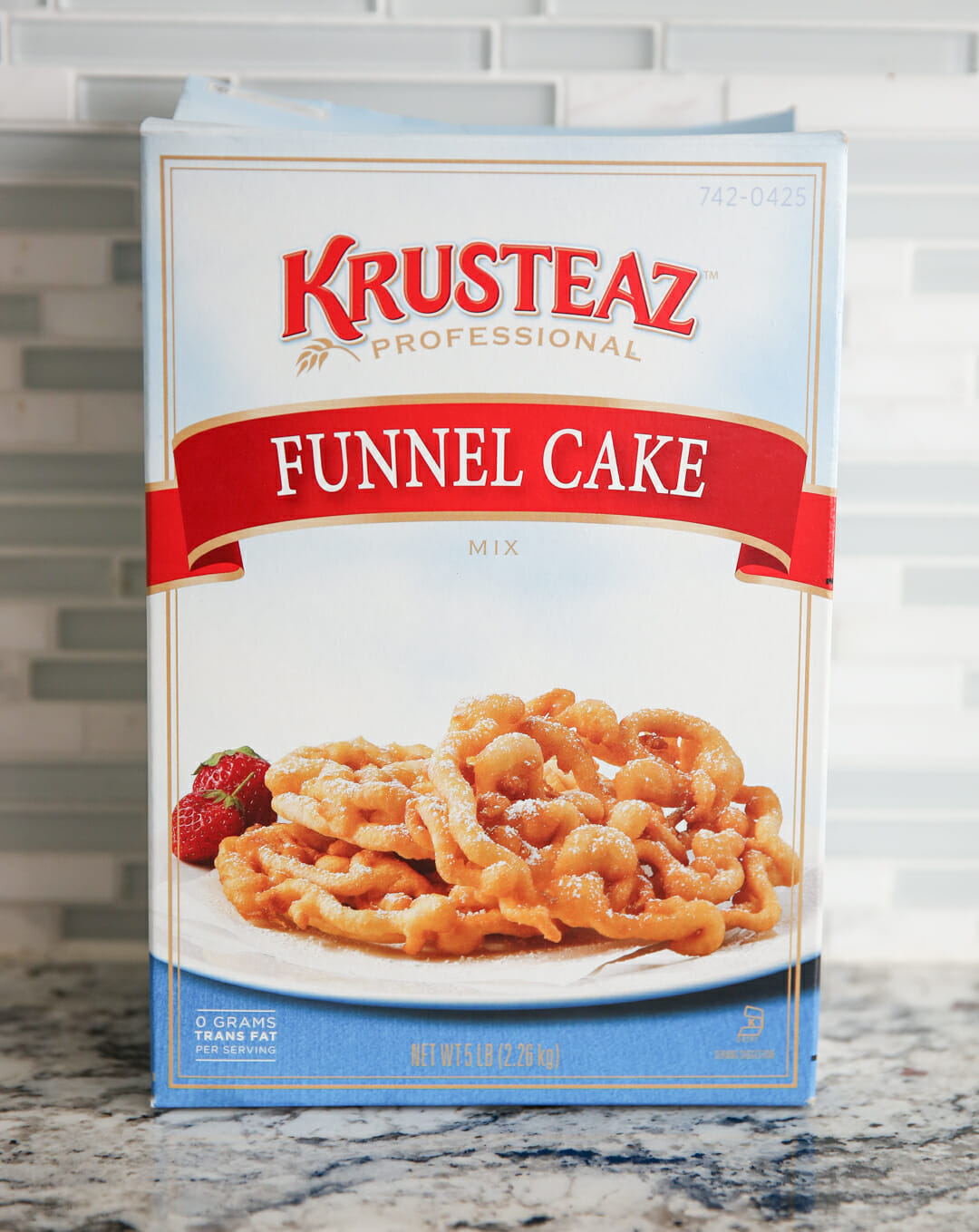 For everyone else.  This is SO easy to make at home in a small batch.   Funnel cake is basically a sweet batter that you pour directly into hot oil.  It's like a big messy doughnut with nooks and crannies for toppings to settle into.  They must be eat fresh and hot, and with your hands!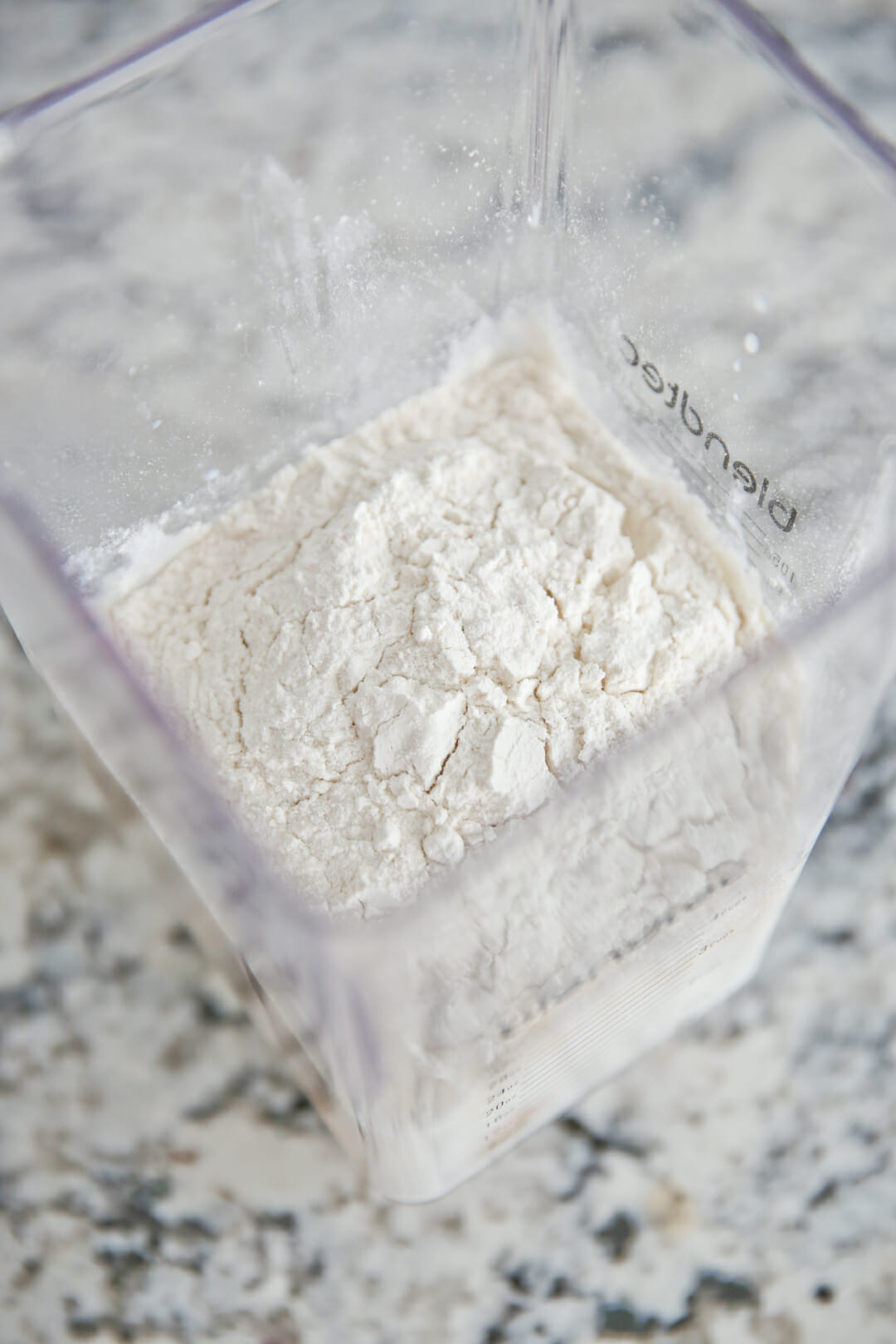 I just toss everything in my blender: flour, sugar, eggs, milk, baking powder, vanilla, etc.  You can adjust the amount of flour or milk after you make one if you find you need it a little thicker or thinner.  It should be about like pancake batter.  It just needs to pour in a continuous stream.
Now, I don't deep fry very often.  I'm not like Paula Dean who has a deep fryer built into her kitchen.  It's an occasional thing for us and always something extra fun like funnel cake or doughnuts!  We  sometimes fry things for a fun game-day or party, or homemade doughnuts or Brazilian treats on special holidays.  You can certainly just use a heavy pot for frying but I have to say I LOVE having a little deep fryer.  I have this Waring and it's the perfect compact size.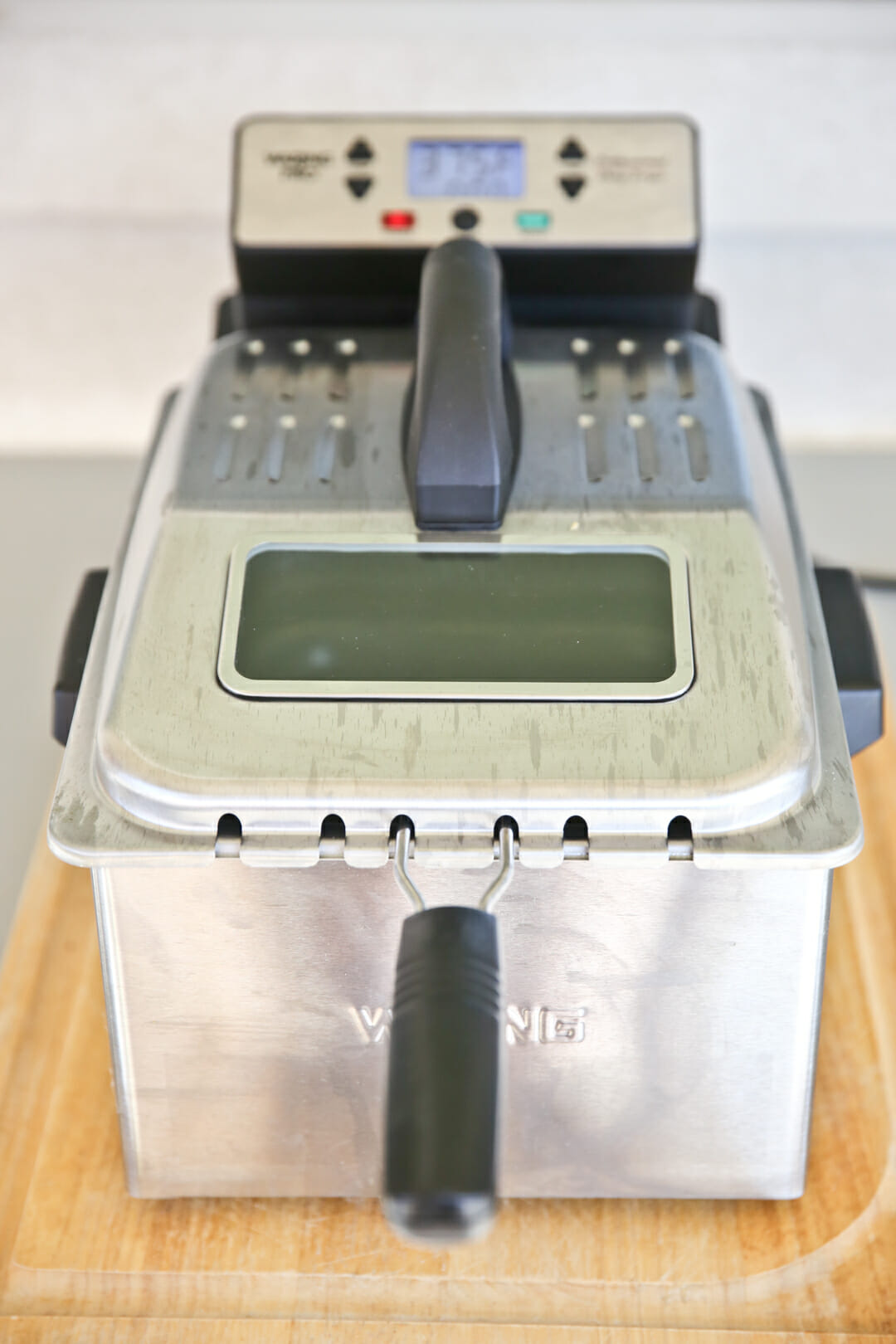 It has automatic heating controls so the oil always stays at the perfect temperature, built in baskets and everything is self-contained, yet comes apart super easy for cleaning.  I also love that it's easy to take this to my back porch, which is where we always do our frying. Keeps the smell out of the house and makes it a breeze to clean up.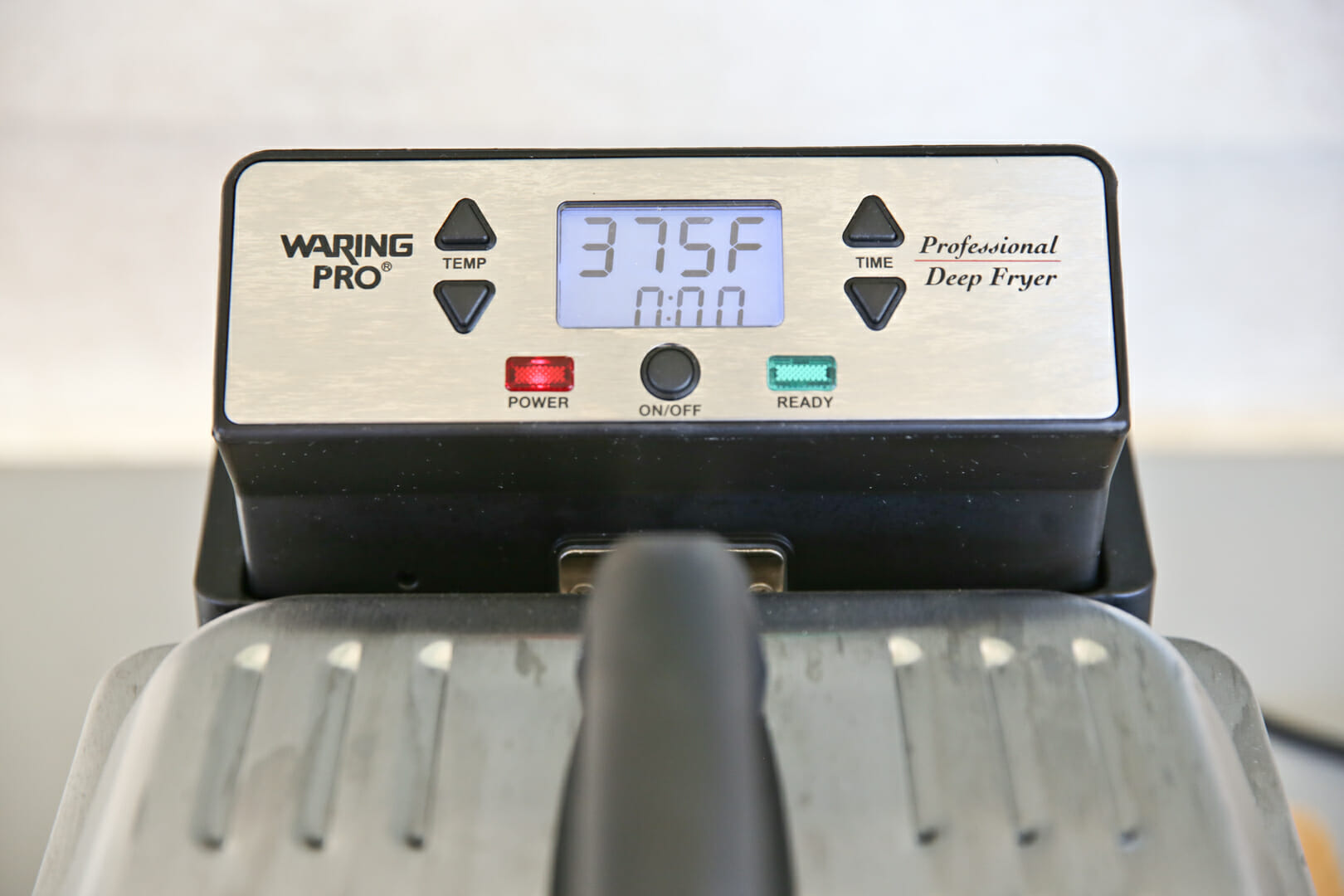 I also have a couple of tools that make funnel-cake-making extra easy.  You don't NEED anything extra special.  These are totally optional if you already have them.  You can simply pour the batter in the oil using a spouted container, but I love a batter dispenser for easy, even, pouring.  I also often use this Tovolo Pancake Pen, too.  All of these help create the "funnel" in funnel cake.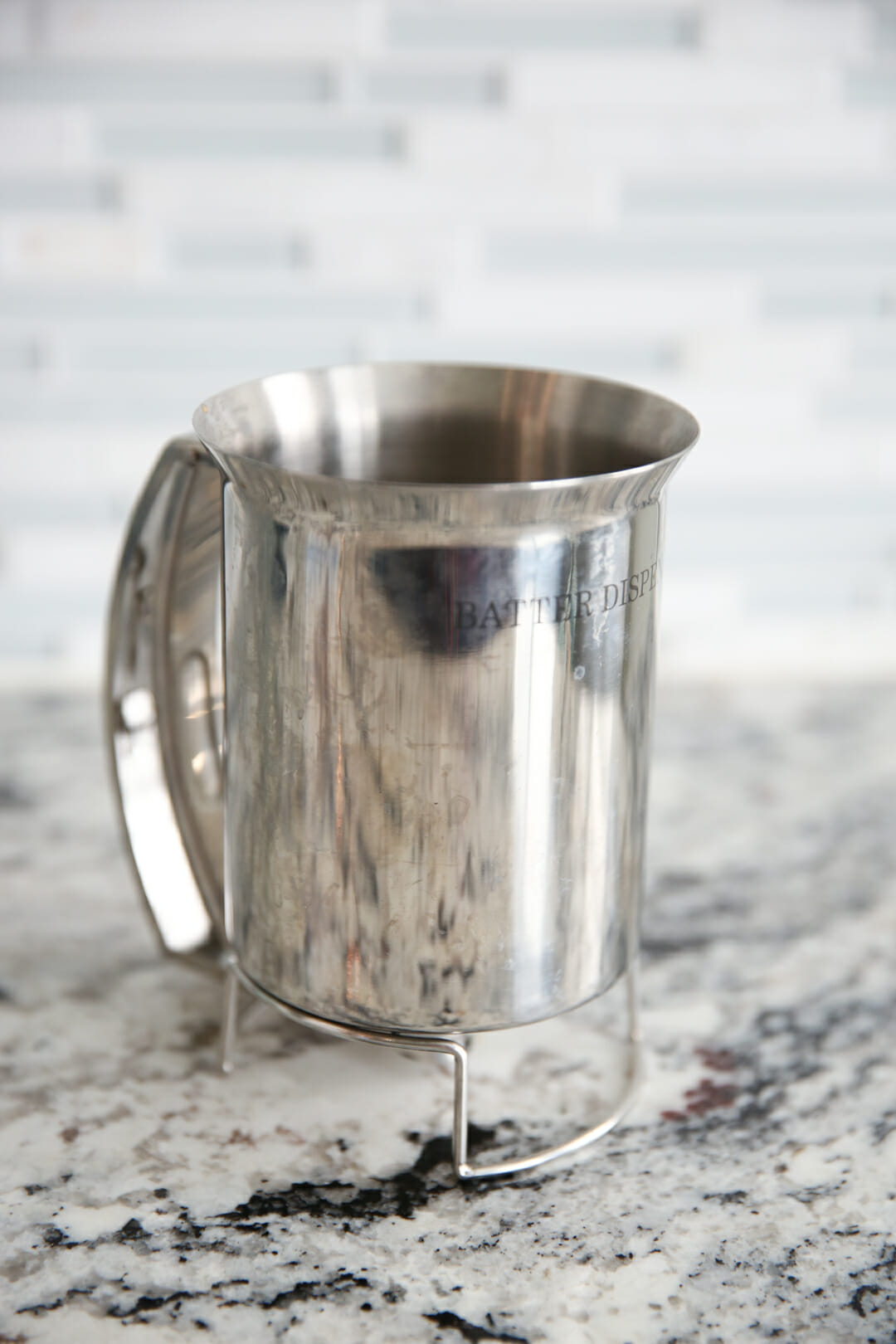 When your oil reaches temperature, just pour some batter in a nice steady stream.  I make a circle shape and then drizzle it all over the place.  There is literally no technique here.  A small child could do this if "this"didn't involve, ya know, boiling hot oil.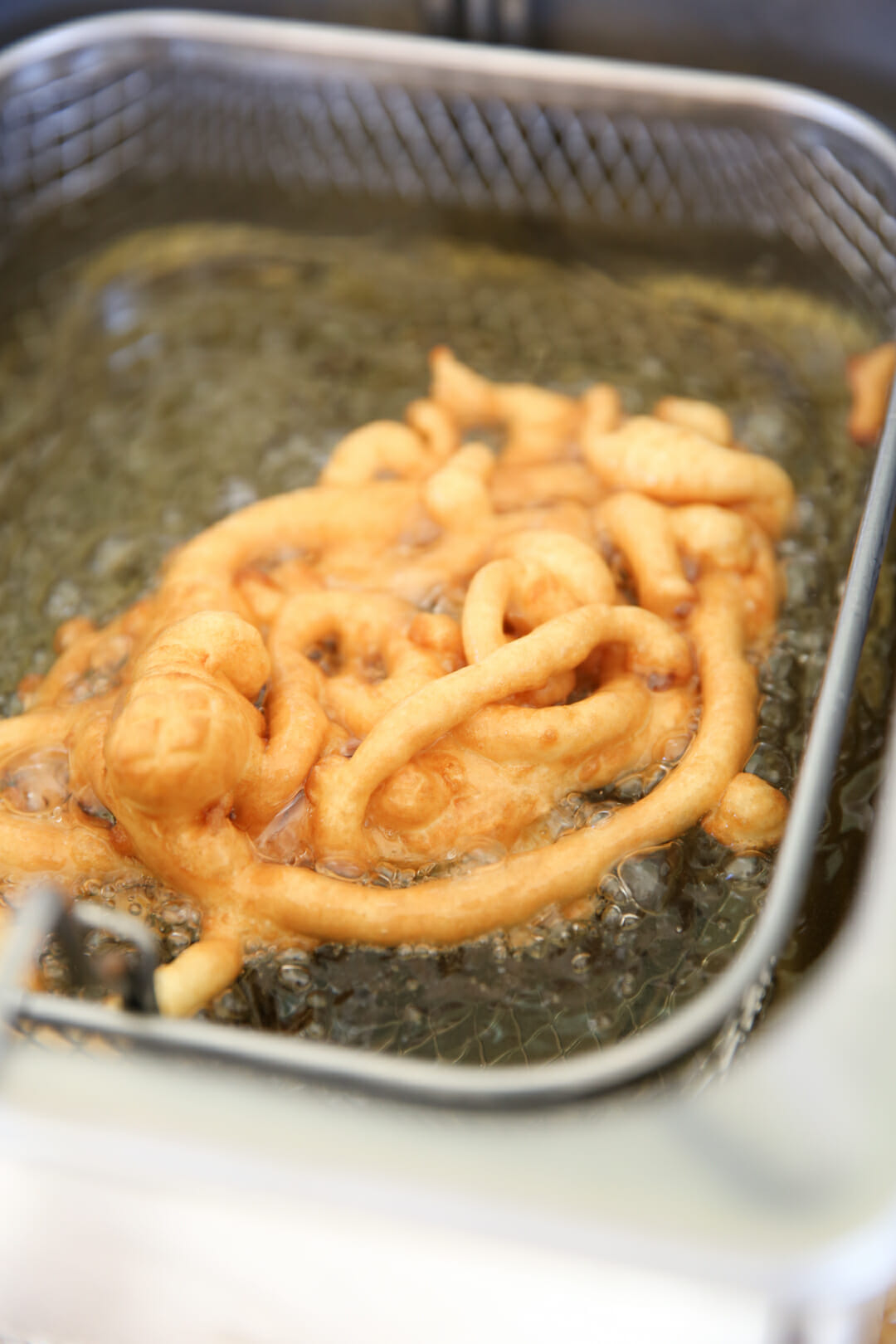 It puffs right up in just a few seconds and you can pull it out and immediately shower it with powdered sugar or whatever else your heart desires. We love the classic powdered sugar, but cinnamon-sugar is another favorite.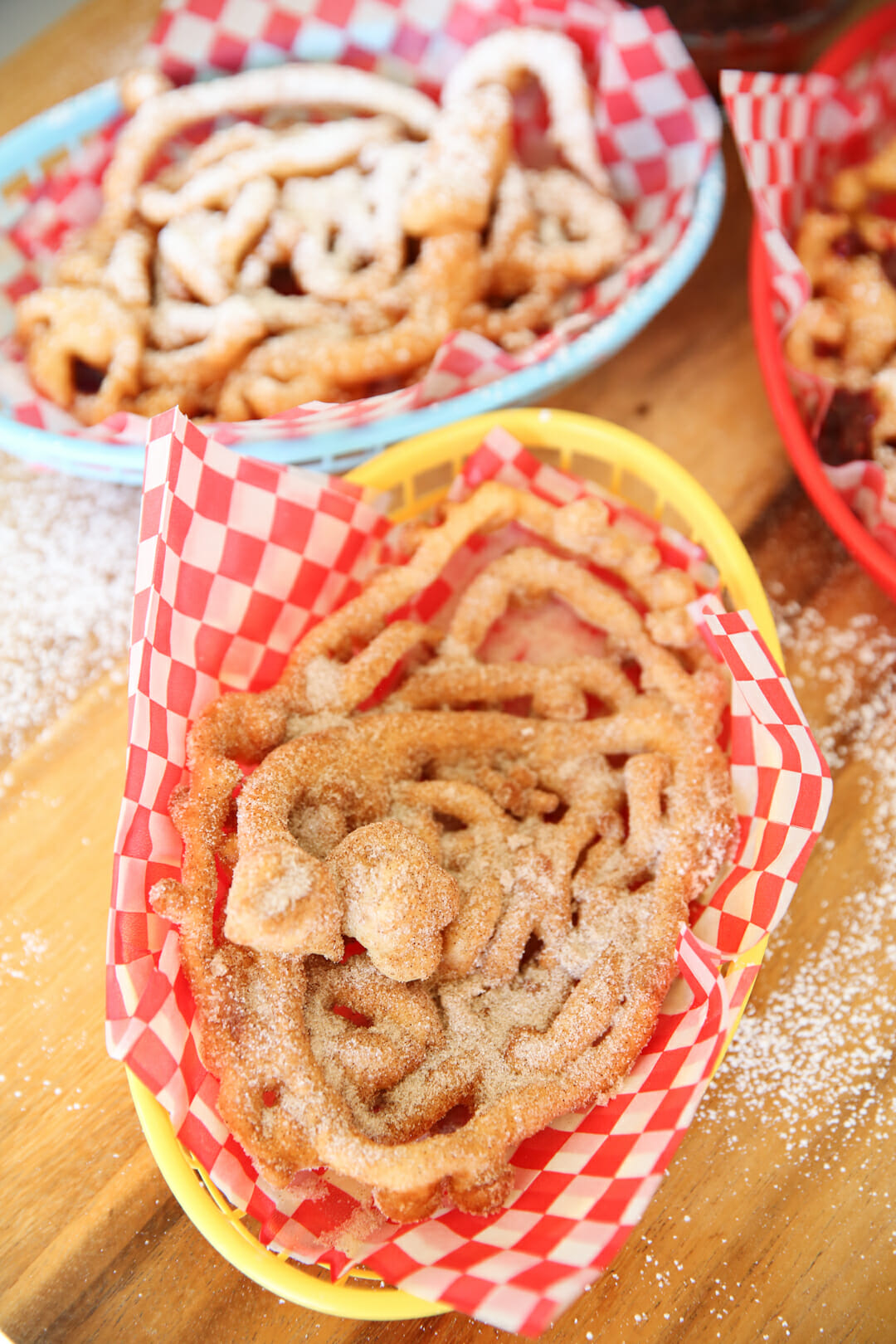 We drizzled some Chocolate-Raspberry Jam over this one and it was pretty spectacular.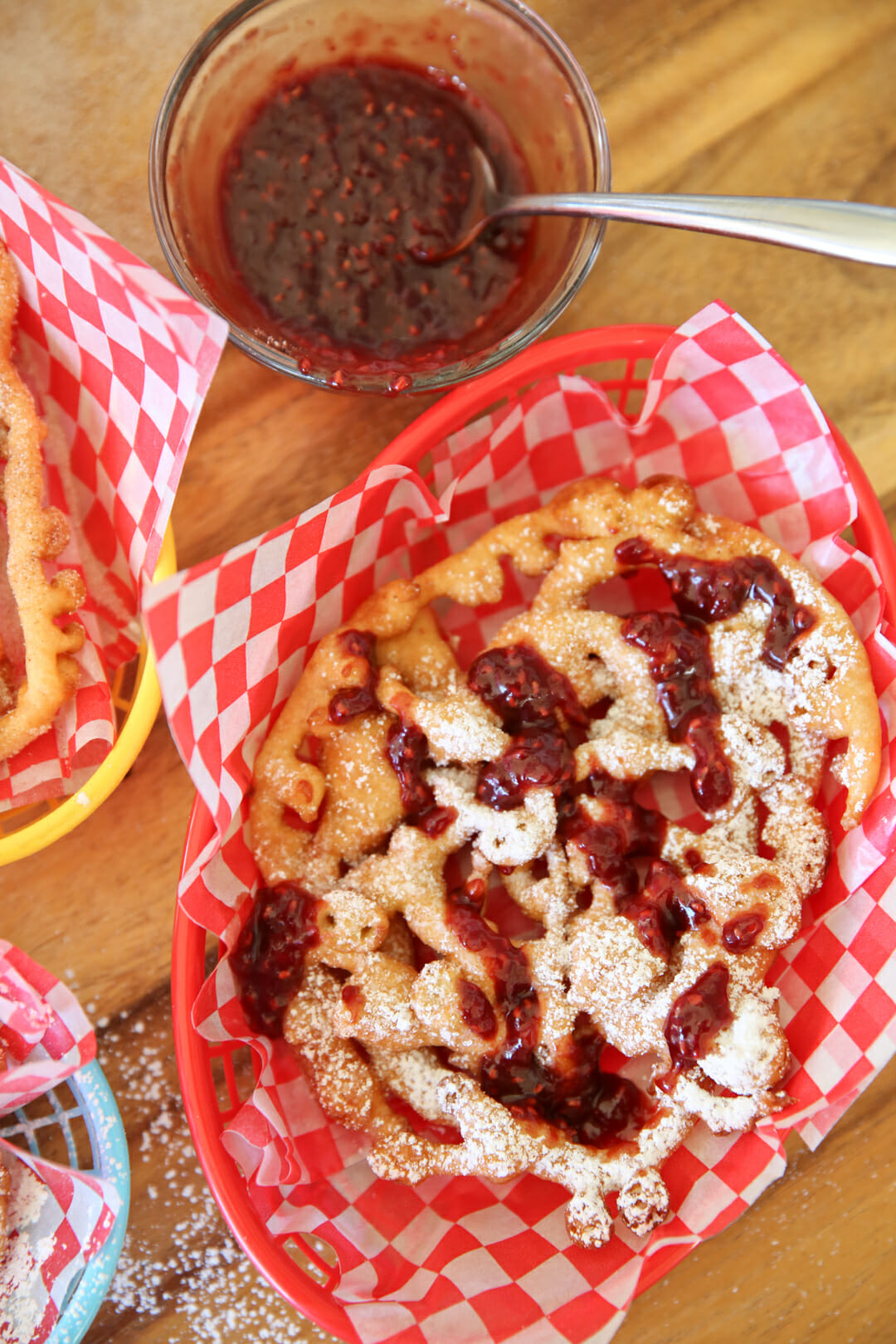 Other favorites I've tried are maple syrup and crumbled bacon, and sauteed apples with whipped cream and caramel. I mean, what's not great poured over hot fried dough??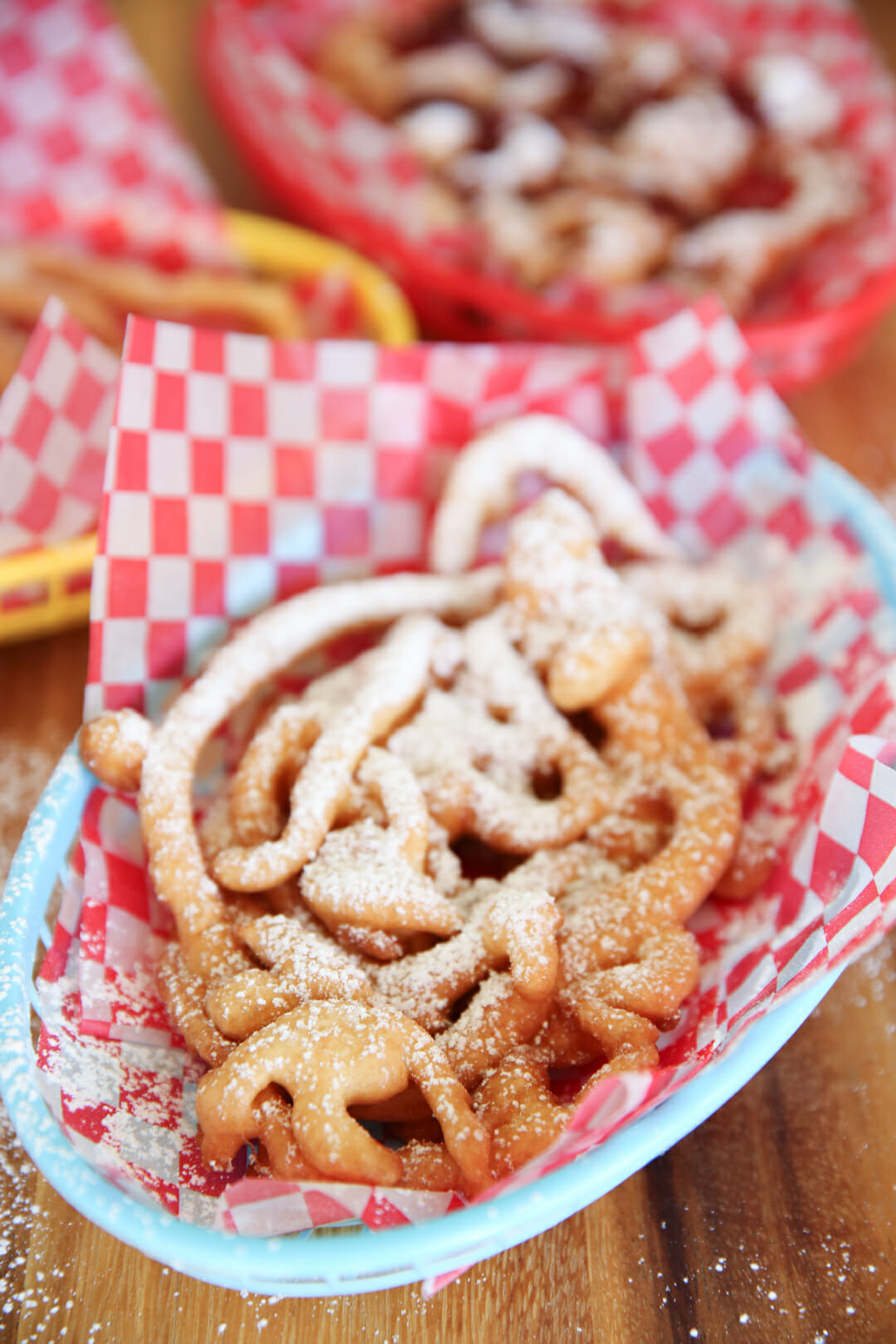 The prep time on these babies is just minutes, maybe even less than a minute.  It's such a fun thing to do on a beautiful fall day when people can gather round the back patio and you can just chat while you fry them up and dish them out.  I love gatherings like that!  If you've got a game to watch this weekend, or you want a fun family treat to create new traditions around, this might be it!  My kids LOVE when we bust out the funnel cake and it's become a hit around the neighborhood with all their friends, too!  If you come up with any amazing toppings, leave a comment and let me know!
Print
---
Description
Fair food at its finest: rustic drizzles of batter fried to perfection and coated in sugar and toppings of your choice.
---
1.5 cups

milk

2

eggs

1 teaspoon

vanilla

1/4 cup

sugar

2 1/2 cups

all purpose flour

1 1/2 teaspoons

baking powder

1/2 teaspoon

salt
peanut or canola oil for frying
Topping ideas
powdered sugar
cinnamon-sugar
maple syrup and bacon crumbles
fruit jam
chocolate sauce
chopped fruit and whipped cream.
---
Instructions
Heat oil to 375 degrees. You'll need at least about 3-4 inches of oil, which will vary in amount depending on the size of pot or deep fryer you are using.
Place all ingredients in a blender and blend, OR combine dry ingredients in a bowl and wet ingredients in a glass measuring bowl and slowly add wet to dry while whisking to avoid lumps. Mix until smooth.
When oil reaches temperature, drizzle batter in a steady stream directly into the oil. Make a circle pattern and then just drizzle it all over. Fry until golden brown on bottom and then give it a quick flip. When both sides are lightly golden, remove from oil using long heavy tongs or fork and either dredge immediately in cinnamon-sugar or dust with powdered sugar and other desired toppings. Serve immediately!
---