Flank steak has been a staple in my house since I was a kid.  It does especially well in a marinade, which both tenderizes and flavors.  For summer months it's fantastic on the grill, or you can always pop it under your broiler inside. This simple marinade takes just minutes to mix up from normal pantry ingredients.  It's how I cook flank steak the majority of the time!  Pair it with your favorite sides, like simple vegetables and rice or potatoes and you have a lovely, easy meal.  Scroll past photo and recipe card for step by step photos!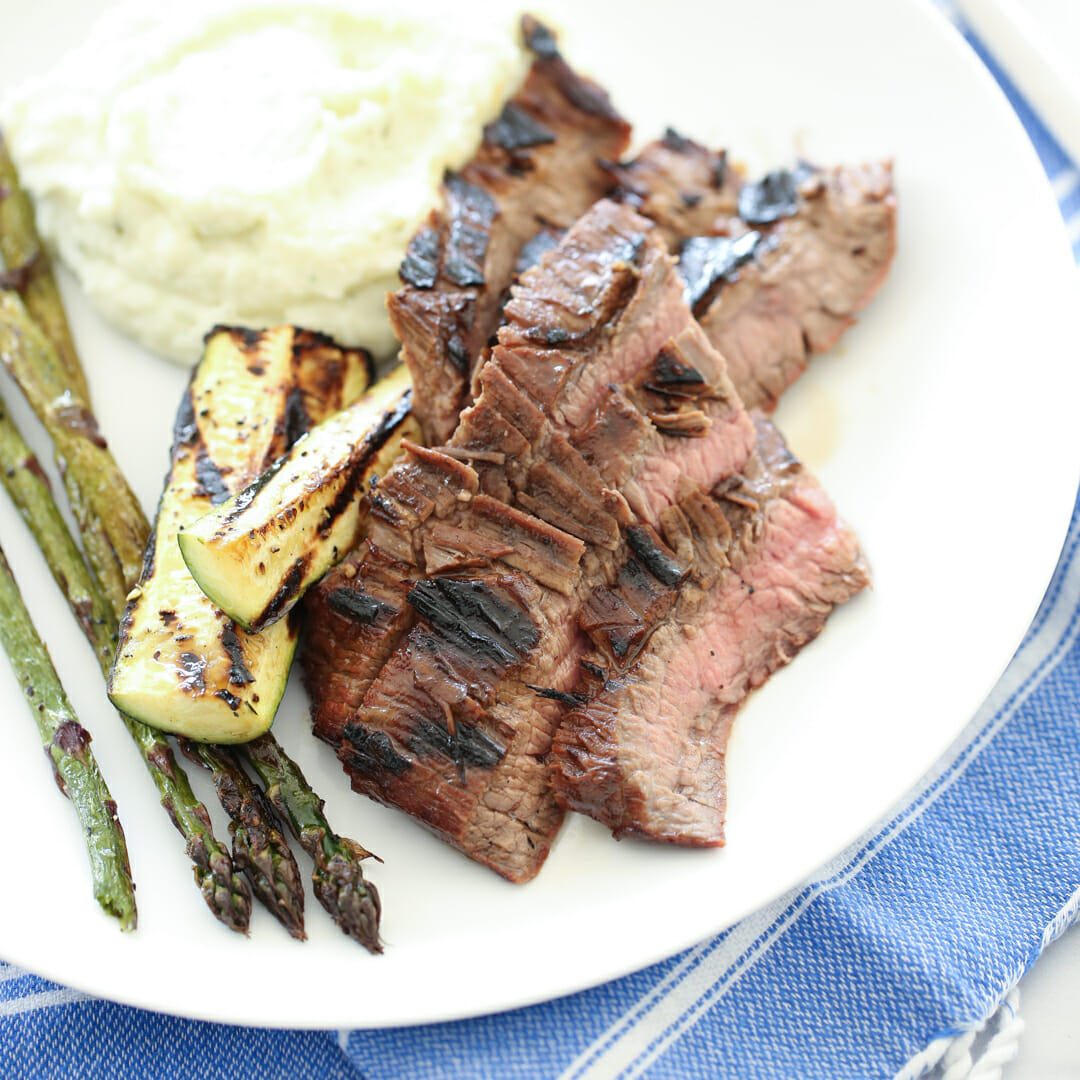 Print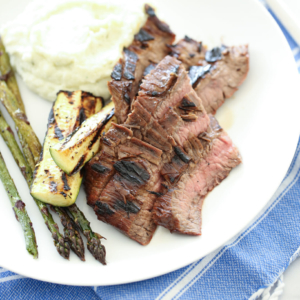 Garlic Balsamic Flank Steak
---
Description
Simple, perfect marinade for flank steak.
---
1 flank steak (most are abt 2-ish lbs)
2 tablespoons balsamic vinegar
2 tablespoons rice vinegar
4 tablespoon Worcestershire
4 tablespoons oil*
2 teaspoons dijon mustard
4–5 cloves garlic, crushed or finely minced
Kosher salt and black pepper
*Feel free to use an oil of your choice.  I tend to use vegetable oil over olive oil in this recipe because olive oil will solidify in the fridge.
---
Instructions
Combine all marinade ingredients except salt and pepper in a 9 x 13 pan and whisk until smooth.  Lay your flank steak in the pan, turning a few times to cover in marinade.  Marinade at least 6-8 hours minimum for best results, and overnight is great as well.  During the marinade process, flip your meat at least once to evenly distribute.
Preheat outdoor grill or indoor broiler to high heat.  Remove meat from marinade and salt and pepper one side.  Place that side down on the grill or facing up if you're broiling in the oven.  Cook for about 5 minutes on each side, sprinkling remaining side with salt and pepper when flipping.
Cooking time will vary depending on steak size.  Check for temperature in the thickest portion and remove from heat around 135-140 degrees for medium rare.  Flank Steak cooked to the upper 140's and beyond has a tendency to be tough so try not to overcook!
Cover with foil after removing from heat for at least 5 minutes before slicing.  Always slice against the grain- for flank steak, that means slice parallel to the shorter side of the rectangle.
---
Make the best Flank Steak Marinade
I make my marinade directly in a 9×13 pan because flank steak is about that size and shape and fits nicely, letting the most surface area have contact with the marinade.  We have balsamic vinegar for sweetness, rice vinegar for acidity, Worcestershire, garlic and dijon for flavor and oil, which helps all of those great flavors adhere to the meat.  Marinading flank steak is pretty much essential for tenderizing.
Place your steak in the pan and flip it a few times to evenly distribute the marinade.  Cover with plastic and store in the fridge for at least 6-8 hours, and even overnight. I like to score my flank steak before putting it in the marinade, you can find out how to do that by clicking here.
Cook your Flank Steak
You can cook flank steak in a variety of ways, but my favorite is under the broiler or on the grill.  Cook for about 5 minutes per side, but that will vary depending on the size of your steak.  Check temperature in the thickest part with a digital thermometer and remove from heat at about 140 degrees.  Tent with foil and let rest for at least 5 minutes before slicing.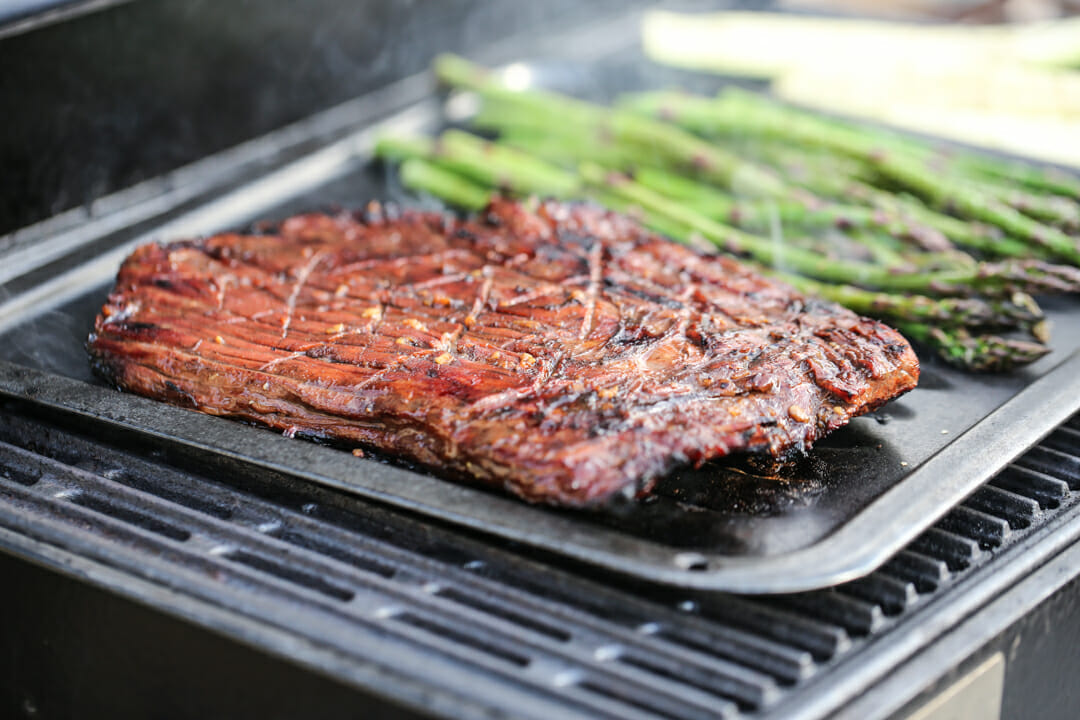 Slice against the grain into thin slices and enjoy!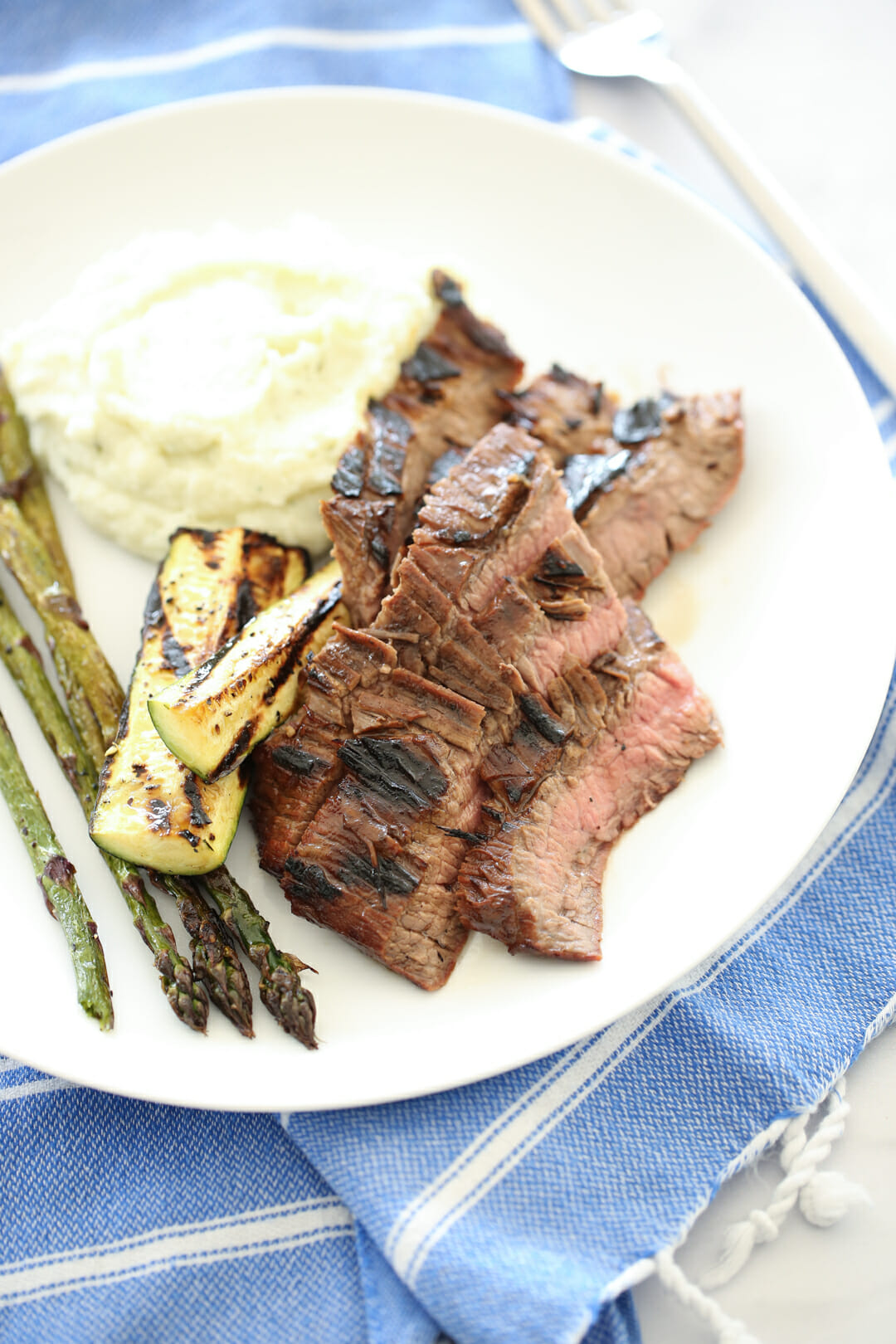 Want more flank steak recipes? Here's a few to try!
Sweet and Savory Flank Steak
Pineapple Rosemary Flank Steak
Chili Lime Flank Steak
Greek Steak and Rice Bowls
Orange Thai Beef Skewers 
Slowcooker Flank Steak Fajitas