I recently shared a recipe for Roasted Rosemary Pineapple, and while the first time I had it, it was served as a solo salad, I really felt like it would be delicious over some sort of grilled protein.  I created this complimentary grilled flank steak marinade to highlight the sweet and savory flavors of the roasted pineapple and robust fresh herbs and it proved to be a match made in heaven.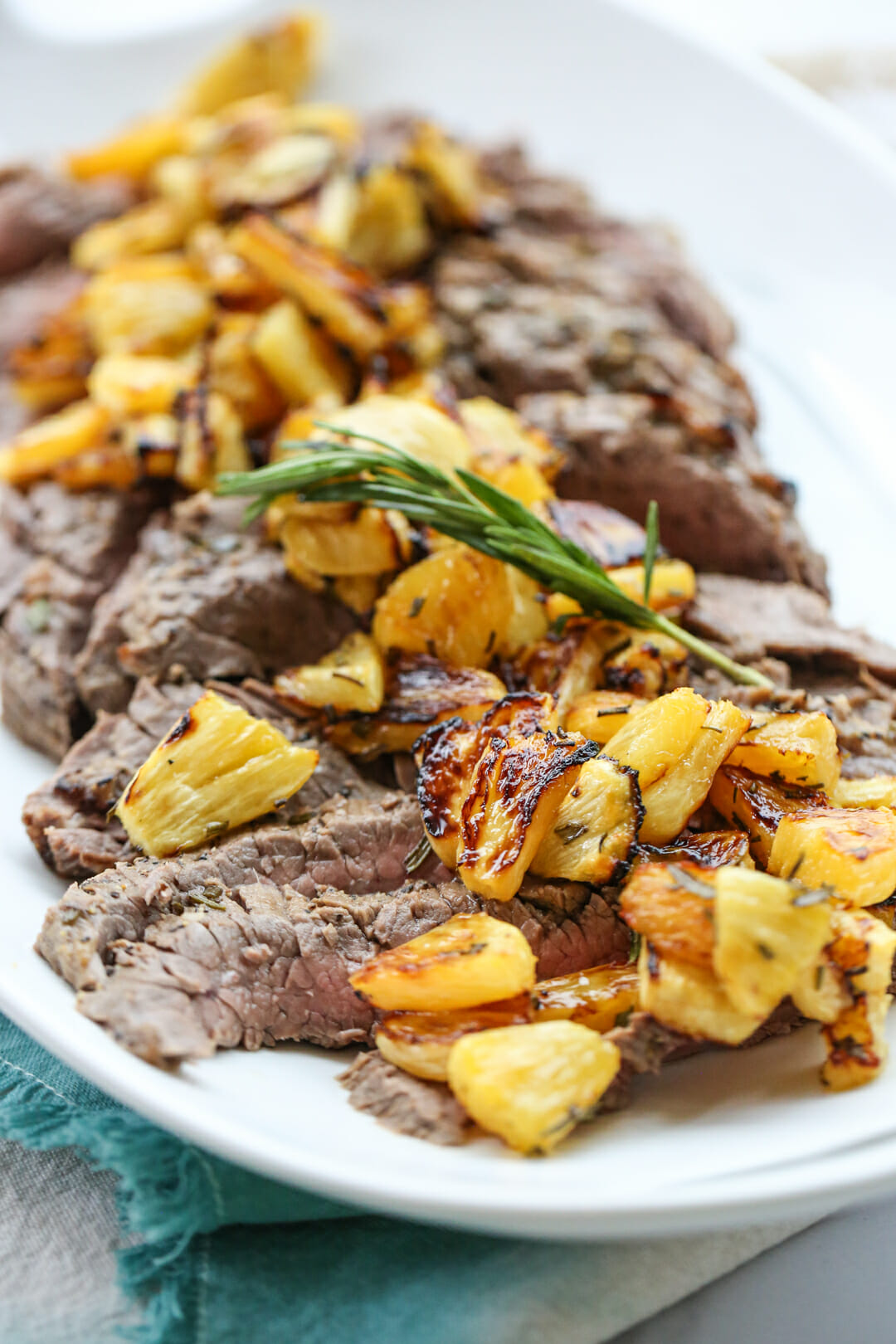 The simple marinade contains pineapple juice, fresh rosemary, a touch of dijon and soy sauce and salt and pepper.  Since these are mild flavors, it does best sitting in this flavorful bath overnight.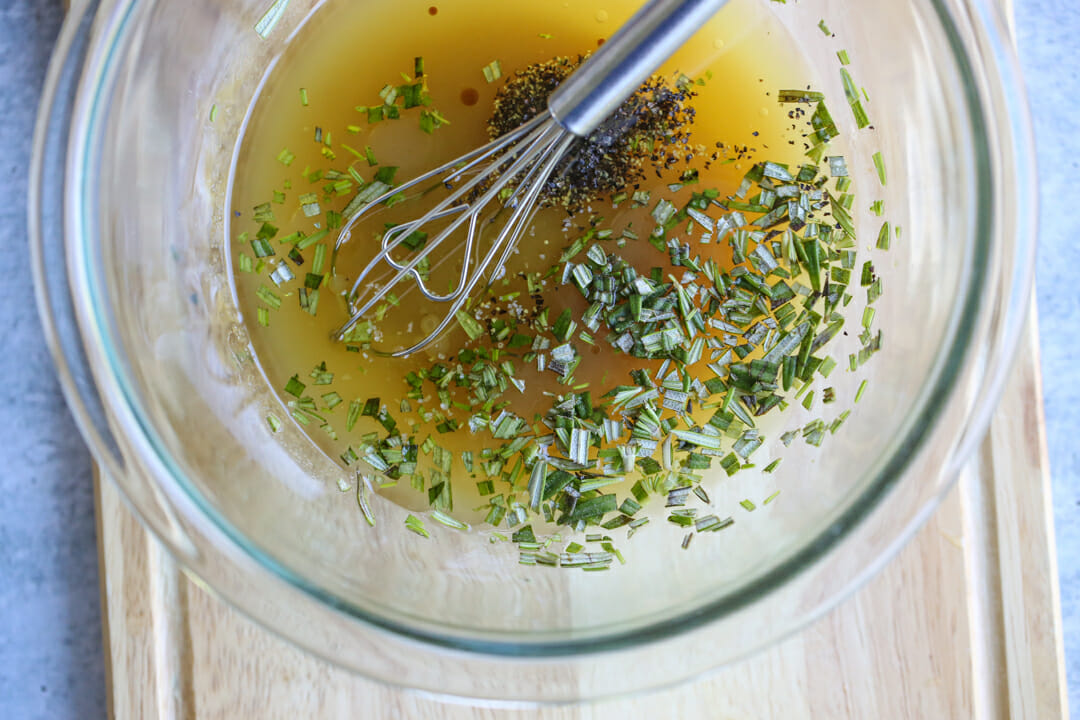 When you're ready to cook, throw it on the grill or under your broiler and when it gets sliced up, top it with the Roasted Pineapple.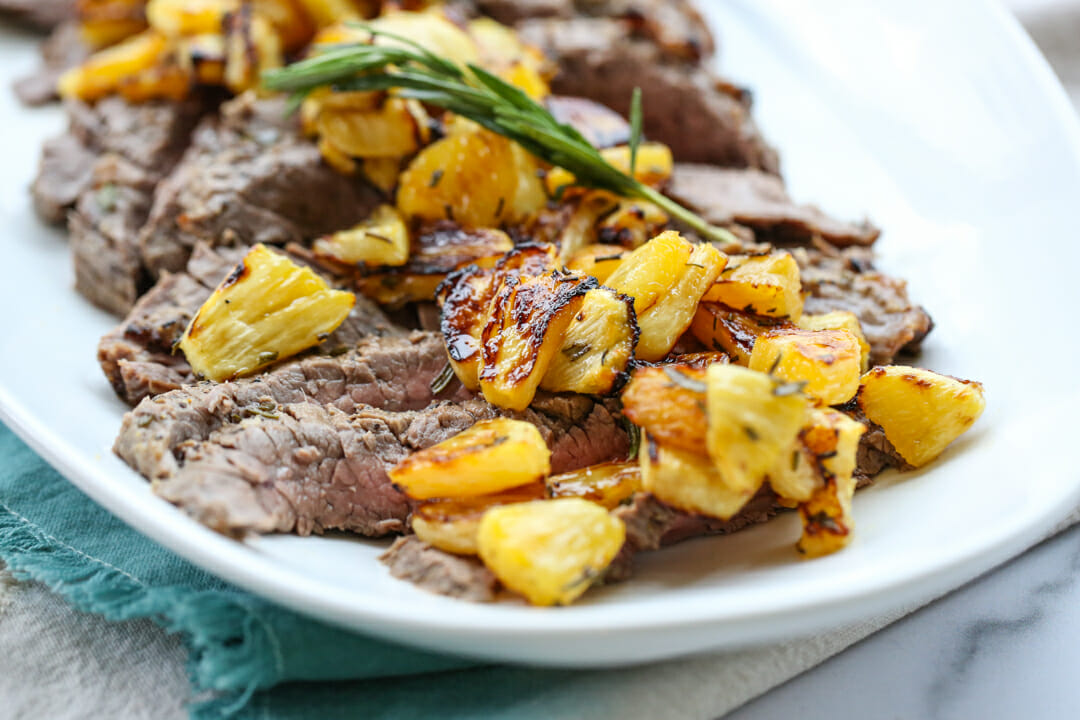 This grilled flank steak would be really delicious with a side of rice (or coconut rice!) or your favorite green salad.  A great grilled meal with a tropical flair!
Print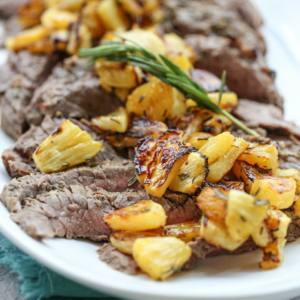 Pineapple Rosemary Flank Steak
---
Description
Sweet and savory grilled steak with roasted caramelized pineapple on top.  Amazing flavor combo!
---
1.5–2lb flank steak
2 6-oz cans pineapple juice , 1 1/2 cups
1 tablespoon minced fresh rosemary
3 tablespoons vegetable oil
2 tablespoon soy sauce
1/2 tablespoon Dijon mustard
1 teaspoon salt
1/2 teaspoon pepper
4 cloves minced garlic
---
Instructions
Place flank steak in a zip-top bag.  In a small bowl, combine all other marinade ingredients and pour over steak in bag.  Press out air and marinate overnight.
Preheat grill (or broiler) and cook, flipping just once, until internal temp reaches 135 degrees for medium-rare or 145 for medium.  Do not cook above 145 degrees.  Remove from heat, let rest tented with foil for 5 minutes, and then slice thinly across the grain.
---