Back in June we did a book signing in Rexburg, Idaho.  When we were walking into the store I noticed a sign for another cook book by a local author, about gluten free cooking.  We were in Rexburg in the first place because we were invited to speak at the annual Business summit at BYU-I.  One of the attendees at our presentation (we talked about developing web-based business strategy, aka how-to-write-a-blog-that-doesn't-suck) was Susan Bell, author of the cook book I had noticed, called Gluten Free Cooking Made Easy.  I told Susan that we get so many requests for gluten free recipes and it's just not something we do much of because, well, Kate and I don't really have a need to cook gluten free so we don't.  At least not on purpose.  However I have a lot of friends who do and I know it's in ongoing struggle to find good recipes that fit their dietary limitations and taste good.  So I thought it would be fun to browse through Susan's book and see if anything caught my eye.
And I figured if I was going to do gluten free, I may as well go all out and try the one thing that people have the most trouble with- bread!  The one thing you absolutely cannot do with gluten free bread is compare it to normal wheat-flour based bread.  It's just not the same, period.  Gluten free breads tend to be a little denser, with a slightly different texture and flavor, so you just have to keep that in mind if you're experimenting in the GF world.  The one thing I hear the most complaints about is GF bread turning out grainy.  I picked this particular recipe because unlike a lot of GF bread recipes, it didn't call for too many unusual ingredients.  In fact, I already had the two flours needed from other recipes I make.  I go through loads of tapioca flour (sometimes labeled tapioca starch) in my Brazilian Pao de Queijo and I used the brown rice flour when I made this multi grain artisan bread.  The only other sort-of-weird thing I needed was xanthan gum, which I grabbed from a friend who cooks gluten free for her daughter who has Celiac disease.  Gluten free baked goods often call for xanthan gum in small amounts and people sometimes leave it out thinking it won't make much difference.  Xanthan gum is a natural carbohydrate that basically acts as the replacement for gluten in baked goods, so it adds volume and holds everything together.  It makes a big difference!  Buy a package now (if you haven't noticed, I love Bob's Red Mill brand of everything) and it will last you a long time since you only use a teaspoon or two in recipes.  Also, if you're looking for specialty flours, check out health food stores like Whole Foods and also any grocery store with a good bulk bin supply.  If you have a WinCo near you, they carry just about every type of specialty flour (and even the xanthum gum) you can think of so you can buy just the amount you need for a specific recipe.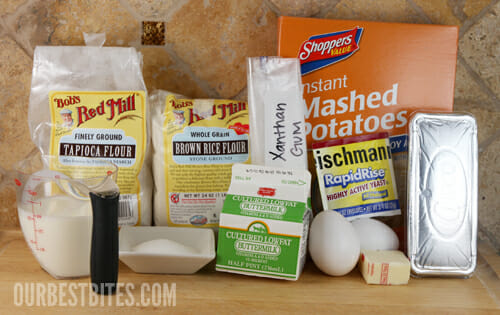 Enough blabbing, let's cook!  We'll start with the gluten free dinner rolls. Start by proofing your yeast by sprinkling it over warm water with some sugar.  Set it aside to get all foamy like the picture below.  Rule of yeast breads #1, if your yeast doesn't bubble up like that don't move on!  It's much easier to re-proof some yeast then to ruin a whole batch of dough.  You'll also heat up your milk in the microwave.  The recipe calls for heating up the buttermilk too, but mine curdled when it got hot, so I tried again and just heated the milk.  I also then added the butter to the hot milk to melt it.
Mix up your dry ingredients.  If you have a KitchenAid or similar mixer, use it!  But you can certainly make these without one.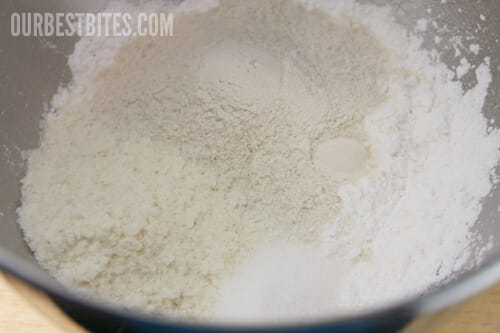 Then you'll basically add everything else into the dry ingredients and beat it all up.  The dough is much softer than a traditional roll dough.  It's almost like a really thick muffin batter.  Just spoon it in a muffin tin.  I'm so glad that while making these, I turned to the next page and saw the variation for the Cinnamon Cream Cheese Rolls.  For those, it's the same dough, but you fill the muffin tin half way with dough, then add a spoonful of cream-cheesy-cinnamony-brown-sugary goodness and put more dough on top.
I wasn't sure if I was supposed to leave the dough mounded like that or flatten it out, but I didn't want the tips of my rolls to get too done so I just got my finger wet with water and patted down the rolls a little so they were more even on top.  I left a few "rugged" looking as well just to test the difference.
These rolls don't rise quite as much as a traditional roll, but they will certainly puff up.  Mine puffed to about the top of muffin wells.
They browned a bit on top and around the sides and I worried I might have overcooked them.
ALL of my gluten free friends had prepared me for disaster, since that was what they usually encountered when trying to make gluten free baked goods so I'll be honest- I was totally nervous.  And skeptical.  But then I broke one open, and was pleasantly surprised by what I saw!  They were tender and soft and smelled delicious.  Definitely a different texture and flavor than a traditional roll, so be prepared for that, but pretty darn tasty- and not grainy.  I wondered if my kids would notice they were different than our standard rolls and they gobbled them right up!
They were extra good slathered in butter and strawberry jam.  I only wish I had some honey butter all whipped up!
And what about those Cinnamon Cream Cheese Rolls?  These stole my heart.  If you're ever in doubt about gluten free bread, just fill it with brown sugar and cinnamon and cover it in frosting.  I could have eaten the entire pan of these in one sitting.
I tried them a few different ways to see which form worked best.  You can sort of hide the filling inside and pat down the tops like this:
But I liked the more rustic version with the filling spilling out a little and slightly bumpy tops:
Either way, you can't beat biting into that:
If you're not gluten-free, you could try this out with a regular roll like our favorite dinner rolls.  I should note that I'm not positive if the glaze consistency is supposed to look like that- I just eyeballed the amounts until it looked glaze-y to me 🙂
Luckily I had people to share these with.  My good friend has a sweet little 3 year old with celiac so I went right over with a plate of warm rolls.  She sent me a picture of that little cutie gobbling one of these up and said they were a hit!  So if you or someone you know follows a gluten free diet, copy this link and send these their way!  And be sure to check out Susan's book, Gluten Free Cooking Made Easy.  I see it's on Amazon, and also at Deseret Book, where our cook book is sold.   I wanted to note that one of the biggest complaints I hear about GF cook books is that they are catered toward adult gourmet tastes,  and many people I know are just wanting good, simple, all-around family friendly (and especially kid friendly) food.  This is definitely a good family-friendly book with lots of recipes that even people on non-gluten free diets would enjoy.  It also has great information on stocking your pantry, eating out, and things like that.
Print
Gluten Free "Favorite Rolls"
---
Description
Tender, soft, and delicious; who says the gluten-free crowd can't have it all?
---
1/2 cup

lukewarm water

2 teaspoons

yeast

2 tablespoons

plus 2 teaspoons sugar, divided

3/4 cup

milk

1/2 cup

buttermilk (or in place of milk + buttermilk use

1 1/4

C soy or almond milk)

2 cups

brown rice flour

1 1/2 cups

tapioca flour

2 1/2 teaspoons

xanthan gum

1/2 cup

dried potato flakes

1 teaspoon

salt

1/2 cup

vegetable oil or shortening (I used oil)

2 tablespoons

butter

2

eggs
---
Instructions
Preheat oven to 170 degrees, or "warm" setting.
Place warm water in a small bowl and sprinkle yeast and 2 teaspoons sugar onto it. Set aside.
Microwave milk for about 1 minute, until hot. Add butter and stir to melt. Add shortening if using as well. (Susan's recipe doesn't call for melting the butter but I though it was easier that way)
Combine flours, 2 tablespoons sugar, xanthun gum, potato flakes, and salt in a large bowl (use your mixer bowl if you're using a kitchenaid or similar mixer.)
Add yeast mixture, warm milk mixture, oil (if using), buttermilk, and eggs into dry ingredients. Beat at high speed for 3 minutes.
Spray a muffin tin pan with cooking spray (I rubbed mine with butter). Spoon dough into muffin tins, around 3/4 full. (I then used my buttered fingers to pat down the tops of the rolls)
Set muffin tray on open oven door to rise (or turn oven off and place rolls inside with door closed like I did). Let rise for approximately 20 minutes for rapid-rise yeast, and 30 minutes for regular yeast. (I used rapid rise and it took about 30 for them to look plumped up, it's always better to go by what breads look like rather than time noted in a recipe since all oven/house/weather conditions are different).
Turn heat up to 375 and bake for 20-24 minutes. (I took my pan out of the oven while I preheated it and they were done right at 20 minutes) Yields: 16-18 rolls (I halved the recipe and got 6 regular and 6 cream cheese rolls)
---
Print
Cinnamon Cream Cheese Rolls
---
Description
Restrain yourself; you may want to eat the entire pan in one sitting!
---
For the rolls
8 ounces

cream cheese

3/4 cup

brown sugar

1 1/2 teaspoons

cinnamon

1 1/2 teaspoons

nutmeg
For the glaze
1 tablespoon

butter

1 cup

powdered sugar

2 tablespoons

water

1/2 teaspoon

almond extract

1/2 teaspoon

butter extract
---
Instructions
Make the dough for the "Favorite Rolls" and fill greased muffin tins about half full with dough.
Mix cream cheese, brown sugar, cinnamon, and nutmeg. Place mixture into ziplock bag.
Cut a 1/2 inch diagonal opening in one corner of the bag. Holding bag upright, squeeze cream cheese mixture onto roll dough. Add roll dough to cover the cream cheese mixture and fill the muffin tins to around 3/4 full.
Gently press down the dough to even it out if needed.
Continue with rising and baking instructions as described in the above recipe.
After baking, mix glaze ingredients and pour over hot rolls.
---
Annnnd, because I am a mind-reader…
Awesome!  So are you going to start posting gluten free recipes all the time now? As I said in the post, it's not something Kate and I need to do for our families so it's not really on our minds and therefore not a huge focus on this blog.  However we do know that  many of our recipes are either naturally GF or easily adapted to be.  If you've tested out a GF adaptation of any of our recipes, please leave a comment on that particular recipe because it's very helpful to others.  Many times when we see those comments we are able to mention the GF adaptation in the post so others can enjoy it too.  We can also start labeling things as GF if we know people have tested them out that way.
I've been searching for a gluten free version of [enter any type of recipe you can't seem to find here] do you have one? Magic 8 balls says, "unlikely".  But feel free to ask 🙂
I see you added a gluten free label to your post, will you have a whole section of GF food now? umm…sort of but not really maybe?  I labeled this recipe and the Brazilian rolls.  If we remember, I'd like to label things from here on out as GF, especially those that are unusually gluten free (like baked goods) but we probably won't go back and re-label posts already on the blog.  I mean, have you seen how long it's taking us to get our old posts formatted for printing?  Long time folks, long time.  But if you guys who have tested out GF adaptations of our recipes will leave comments on them explaining your modifications, we'd love to add those recipes to a GF section so we can start building a good GF reference section on OBB.
I have a question about Celiac, GF cooking, [insert anything else related to being gluten intolerant] Okay, we'll have to stop you right there; we're not experts.  But do feel free to post your question or comment below and I'm sure there are plenty of readers who would be happy to pipe in!